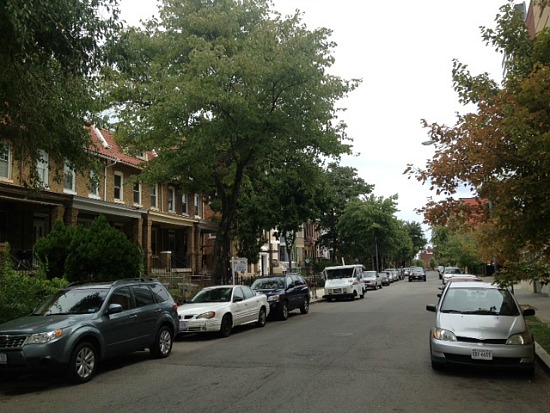 Zoe Jones new block.
Zoe Jones * and her husband loved living in Columbia Heights, but with the arrival of a new baby, space was getting tight in their two-bedroom condo. As they set about looking for a larger home, they realized that the only way they could stay in the neighborhood would be if they were able to offset the mortgage by renting out portions of a new home.
"I knew we couldn't afford a full house in the neighborhood on our own," Jones calculated.
Homes with basement rentals are prevalent in Columbia Heights, but as Jones and her husband searched, they wondered if they could take their rental plan a step further. Many rowhouses in Columbia Heights are on the larger size; could she divide up the home and rent out two, or maybe three other units?
This prospect started to become more realistic when Jones and her husband decided to go the 203(k) loan route, which would help cover the cost of a renovation in addition to financing the home. The numbers seemed almost too good to be true. Jones could put down as little as 3.5 percent of the total purchase price, borrow money to divide and renovate the house into separate units, and then end up with a monthly balance that would be high, but would be completely covered by the rent brought in by tenants.
This past spring, the couple happened upon a property on Craigslist that seemed like it might work: a four-bedroom, two-story home on Girard Street with a legal basement unit and the potential to be divided up further.
Jones contacted the buyer, who was planning to list the home the next day for $899,000. She made an offer of $900,000 as soon as it hit the market; the offer was accepted on the spot.
The renovation plans seemed relatively straightforward. The two upper floors would be divided into separate units and the attic would be extended up and back to create another unit. Once the three units were complete, they hoped to rent them out for between $2,500 and $3,000 a month, which together could cover the just-shy-of-$8,000/month mortgage. Originally, the plan was that Jones and her family would live in one of the upper level units, but the way that the costs worked out, it soon became evident that living in the basement would make more sense.
They hired a contractor and planned out their renovation in detail for the bank, which needed an itemized budget before approving the loan. The bank ultimately loaned them $270,000 for the renovation costs.
While the prospect of being income-positive was appealing, Jones and her husband ran into complications almost immediately after closing.
"Getting the city permits for the work has been hell," said Jones. She only secured permits a couple weeks ago, a full three months after closing. Her contractor also took a vacation, and work hasn't been progressing as quickly as she'd hoped. Currently, she estimates that tenant move-ins could occur in January; at that point they will have carried the $8,000 a month costs for six months without any way to defer the costs.
To compound an already frustrating situation, the renovation is proving to be more expensive than the couple anticipated. Because the 203(k) loan is designed to cover a basic renovation, payment for any higher-end products needs to come from the owners.
For example, the loan provides about $100 per bathtub. However, Jones was hoping to furnish the bathrooms with clawfoot tubs; the best offer she has received for a finished clawfoot tub is about $600, and most cost about $1,000. So, she and her husband have been scrambling to find used or salvaged materials from places like Community Forklift that fit their taste level and would allow them to rent the units for a price point that works for their budget. Of course, the hunt for materials only adds to the overall timeline of the project.
Jones estimates that the renovation will end up costing a total of $370,000, or $100,000 over the amount of the loan. The mounting cost and outflow of cash has, needless to say, been stressful.
"This house drinks cash like a thirsty cow drinks water," lamented Jones. "I see now why people don't routinely do this. In the long run, it'll be worth it, but you need to be somewhat liquid in the interim."
So, would she recommend going this route to other industrious buyers out there?
"The better plan would be to find a house that looks move-in ready, or only needs a facelift," Jones said. "Then the carrying time and costs would be less. It's going to take us a while to recoup the money that we had to shell out during this period."
* Name has been changed at the subject's request.
This article originally published at http://dc.urbanturf.com/articles/blog/the_pursuit_the_pitfalls_of_amateur_development/7522
DC Real Estate Guides
Short guides to navigating the DC-area real estate market
We've collected all our helpful guides for buying, selling and renting in and around Washington, DC in one place. Visit guides.urbanturf.com or start browsing below!
First-Timer Primers
Intro guides for first-time home buyers