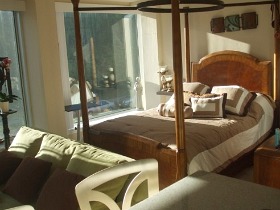 Home for rent from Attache Properties
Justin is a 33-year-old editor at a DC area trade publication. In February, he's taking a Caribbean cruise and to help pay for it, he is going to rent out his apartment while he is gone.
Earlier this week, Justin posted a Craigslist ad to rent his fully furnished, 800 square-foot, one-bedroom apartment near Mount Vernon Triangle for $50 a night. The short-term tenant will have use of Justin's 42-inch flat screen TV and the building's fitness center. In return, Justin requires that the subletter provide him with their credit information and driver's license (for screening and security purposes), a $300 deposit and a promise to keep an eye on his two cats while he's gone.
"If I can get $400 from a renter that's a quarter of the cost of my vacation," he said. Justin told UrbanTurf that he has sublet his apartment eight or nine times for short stints since 2007 and has yet to have a bad tenant.
"I've had a few young professionals who were moving to DC to start a new job and needed a place they could stay while they looked for permanent housing. I've had parents of people who were having a baby. And there was one retired couple coming to DC on vacation who were trying to save money on a hotel," Justin said. "I would say about 80 percent of the time I have been successful after advertising on Craigslist."
We'd like to post pictures of the apartment but Justin declined and asked that we redact his last name as, not surprisingly, he told us that the whole endeavor is forbidden in his lease.
"My landlord does not know about it. It's something I do completely under the table," he said. "But rent is extremely expensive in DC and if I go out of town for two to three weeks it's a valuable asset that I'm just leaving behind."
Justin is not alone in his search for a short-term subletter. Between January 10th and January 14th, there were approximately 100 new posts on Craigslist for renters in DC offering short-term stays at their apartment or house. And with hotel room prices ranging from $150 to $400 a night, the $50 a night rate for most listings is very attractive.
The constant influx of new Federal workers, contractors and interns makes DC a prime market for temporary housing. Over the past ten years demand for furnished, short-term housing in the District has grown by 5 to 10 percent nearly every year, according to Tim Touchette of Attache Property Management, a furnished housing firm in the District.
"More companies are relocating their employees or new hires here [and they] need a temporary place to stay until they can find something more permanent to rent or buy," Touchette said.
Attache Properties manages over 100 condos and houses and rents them out for three to four months at a time. He estimates that, on average, furnished corporate rentals in DC can fetch somewhere between $2,500 and $3,000 a month, depending on the unit's size, location and amenities.
"The price our clients typically pay is around 40 to 50 percent less than a hotel since they're able to stay for 30 days or longer," he explained.
But short-term housing in DC isn't limited to well-heeled corporate leaders or Federal contractors. Every summer, throngs of interns come from around the world to lend a hand to many of DC's businesses and institutions. And they, more than anyone, will explore some of the more creative housing options in the District.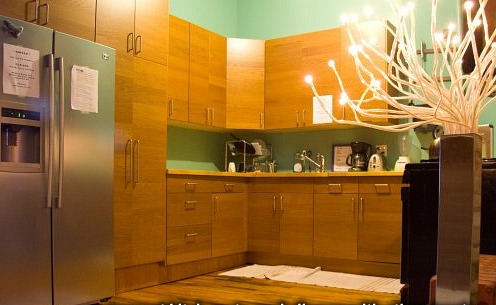 Kitchen at Loftstel
Jeff Pan is the owner of the DC Lofstel, a temporary housing operation in Petworth that primarily caters to seasonal interns. Pan said that depending on their location in DC, short-term lessors can charge between a 5 to 10 percent premium over the value of typical year-long lease.
"There is an intern season in the city that starts in April and ends in September when students go back to school. That's usually the best time to start subletting," he said.
Pan's Lofstel charges $700 to $900 per month for a bunk bed in a furnished 200 square-foot room with close access to the Petworth Metro, and guests may have to share the room with three other people. Not an ideal arrangement, but many interns find themselves short on housing options when they come to DC.
"For interns and international students, they really don't have too many options and there is that trust issue about sending a deposit or wiring money to someone you don't know," Pan told UrbanTurf. "We make it really flexible. There's no lease, no deposit, they can stay for one to six months and as soon as they find something permanent they can check out."
Pan noted that the headaches of renting to short-term residents might not be worth it for area residents and landlords. "You have to constantly market the unit, screen tenants, handle security and cleaning and it's a bit tougher for a regular mom and pop owner to do all that," he said. "For a lot of people, if you're looking to maximize your revenue from a rental you are probably better off with the consistency of a year-long lease."
So far, Justin has not been successful in his search for a short-term subletter, having received just one reply to his ad from a woman who was looking for a two-week sublet (he is only going to be gone for a week).
"Winter is a slow time to try to sublet, so my expectations are low for finding a renter for my upcoming trip," Justin said, noting that last February he was also unable to find a subletter when he took a trip for his birthday. "I suspect there aren't as many people moving to Washington or visiting the city during winter, hence less demand for temporary apartment rentals."
This article originally published at https://dc.urbanturf.com/articles/blog/the_not-so-secret_and_profitable_world_of_dcs_short_term_rental_market/2873.
DC Real Estate Guides
Short guides to navigating the DC-area real estate market
We've collected all our helpful guides for buying, selling and renting in and around Washington, DC in one place. Start browsing below!
First-Timer Primers
Intro guides for first-time home buyers