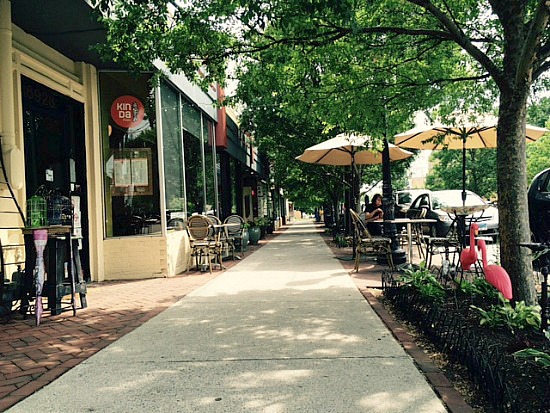 Laurel Avenue in Takoma Park
Over the past five years, UrbanTurf has profiled more than 80 neighborhoods in the DC area. See them all here. We are revisiting each of those neighborhoods to update our profiles and see how they've changed over the years. Once the unquestionable hippie colony of the DC area, Takoma Park may be transitioning to an ever so slightly more mainstream profile. Compromises made to the Maryland neighborhood's nuclear-free zone ordinance and the dissolution of the Free Burma Committee are perhaps the most palpable signs of this shift. A transforming population and increased commercial options work to reaffirm the area's mellowing views. Despite these changes, Takoma Park remains a little neighborhood full of socially conscious individuals trying to make a difference.
A Maple Leaf Shape
The borders of Takoma Park form a leaf-like shape. At its southernmost point, Eastern and New Hampshire Avenues meet. The northern border, while irregular, extends to include Washington Adventist University and Takoma Park Middle School. Northeastern and northwestern tips of the neighborhood reach to the outskirts of Silver Spring and Langley Park, respectively.
Don't Get Them Confused
Takoma Park was established in 1883 by developer Benjamin Franklin Gilbert. His goal was to create a neighborhood where federal workers could commute into DC via the railroad. When the neighborhood attempted to incorporate in 1890, however, Montgomery County government could only do so to the Maryland side, splitting the town in two. Thus, Takoma, DC and Takoma Park, Maryland were born – one of which is decidedly not to be confused with the other. Takoma Park's border is about a five-minute walk from the Metro station (on the DC side).
DC's Hippie Enclave
It's nearly impossible to learn about Takoma Park without being made aware of one of its monikers, most notably the "People's Republic of Takoma." The town's liberal tendencies gained a foothold early on in its history when the Seventh-Day Adventist Church established in the area in 1903, bringing its advocacy of a vegetarian lifestyle with it. In the 1960s, hippies gravitated to the area because it was close to University of Maryland, a prime location (as any college campus) for protests. Over the years, several other factors have added to its left-wing reputation. The city's nuclear-free zone ordinance, water bottle ban, corn silo, neighborhood food co-op, and the Takoma Wellness Center (a medical marijuana dispensary just across the state border on the Takoma, DC side) all contribute to the progressive vibe permeating the town.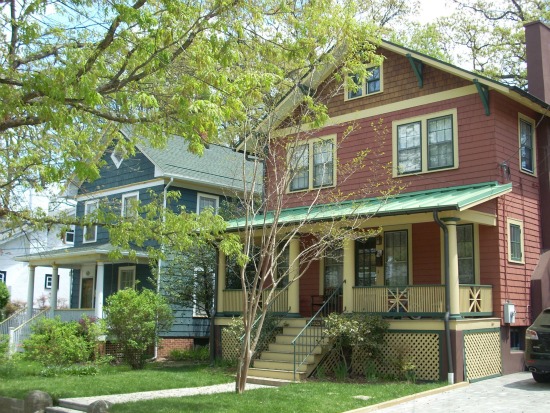 Homes in Takoma Park.
Joelle Rabion, who moved to the area in February 2015 specifically wanted to live in Takoma Park because of the community's eco-friendly reputation. "It was described as 'Berkeley East,' and the people here are really in touch with the environment," Rabion told UrbanTurf. "When we came here, it was kind of like, 'We want what they're on!'" Rachel Hardwick, President on the Board of Directors for Takoma Park Silver Spring Co-op (TPSS) and resident since 1998, echoes this feeling. "There's a liberal bench to it…It's a haven for activist-type people." The presence of Obama's White House domestic policy director Cecilia Muñoz, chief of staff Denis McDonough, and labor secretary Tom Perez (two of whom are known to bike to work) locks the liberalism in the air.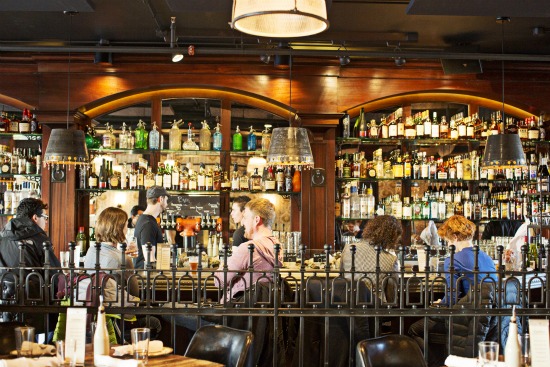 The bar at Republic. Scot Suchman Photography.
Diversity on a Number of Different Levels
Housing styles in Takoma Park vary from late 19th century Victorians to craftsman Colonials, bungalows from the 1920s, Cape Cods, American foursquares, farmhouses, and more. "One of the interesting things about Takoma Park is the diversity of homes, different ways of living, different tastes, and different price points," Long & Foster's Dan Metcalf said. "So in terms of families, you encounter a nice range of shapes, ages, and sizes." Rachel Hardwick cites the neighborhood's colorful population as one of its selling points for her family. "It's a very diverse community. Not only in race or ethnicity, but in religion, sexual orientation, socio-economic and income levels." One will find brightly colored houses and fanciful lawn ornaments in the neighborhood as well. True to the area's sense of individuality, there's no homeowners association enforcing guidelines for how residents must maintain their property.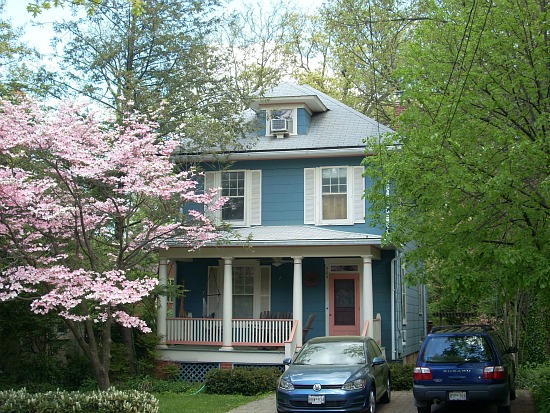 Is Takoma Park Losing its Green Thumb?
Liberal presence aside, some argue that Takoma Park's hippie days have started to wane. The activists who once rocked the town's establishment are now becoming local government officials or school board members. The Free Burma Committee dissolved in 2012, and in the same year an exception was made to the nuclear-free zone ordinance when it came to ordering new computers for the library from Hewlett-Packard, a company that has worked on nuclear weapons programs for the U.S. government.
Also, like the rest of the region, it is becoming a more expensive place to live. On average, home prices within the past year for single-family homes averaged $452,000 to $470,000. But, just last month, one detached home on Elm Avenue sold for $676,000. Those looking to buy need to act quickly. The median number of days that homes were spending on the market for the greater part of 2014 sat below three weeks, and for several months, homes were selling in about eight days. Some say these market conditions work to edge out the more progressive population who flocked to the area a decade or so ago when prices were about half that. Taking their place are young, well-off families. "It's becoming a little more inundated by yuppies," Hardwick said. "It's a great place to have kids, so I think that's part of it."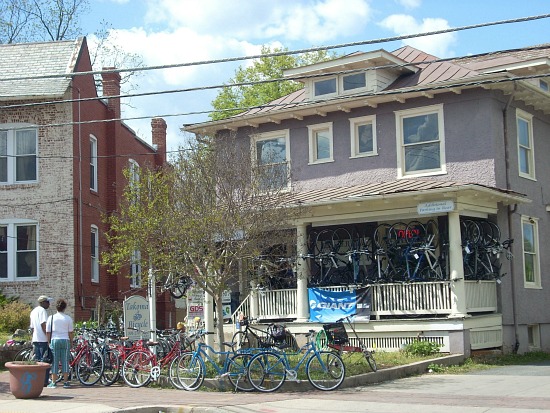 Takoma Bicycle
New Additions to the Neighborhood
In recent years, new businesses popping up have made Takoma Park's main strip along Carroll Avenue more enticing. One notable addition is Republic, a restaurant from local impresario Jeff Black. The restaurant is self-described as "a casual yet refined neighborhood bistro serving a seasonally driven menu in an offbeat, non-conformative setting reflective of the surrounding neighborhood." Places like Mark's Kitchen (est. 1990) and Capital City Cheesecake (est. 2010) have been local favorites since opening, and newly opened branches of Busboys and Poets and Spring Mill Bread Co. promise to fare equally well. With the co-op, an Ace Hardware, a few vintage clothing stores, yoga studios, bicycle shop, and a mechanic, Takoma Park residents have a small, eclectic sample of all the essentials. In addition to extended retail options, Takoma Park has gained new housing options as well. In December 2014, Takoma Central opened, a chic new apartment building comprised of 150 studio, one-bedroom, and two-bedroom apartments ranging from $1,485 to $2,455/month. The bright red brick building lies on Carroll Street, and in keeping with the Takoma Park vibe, the building materials are composed of a minimum of 20 percent recycled content. Embedded in the building's ground floor is Busboys and Poets' recently added Takoma branch.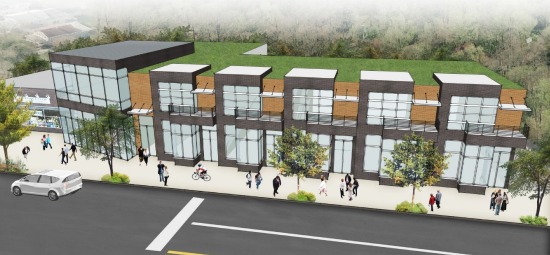 Rendering of Takoma Junction project.
In April, after receiving several development proposals, the City Council chose Neighborhood Development Company to take the reigns on redevelopment of the Takoma Junction Lot, the lot adjacent to TPSS Co-op. The project, estimated to take four years, will contain both residential and commercial space, as well as parking and bike storage. And earlier this year, Douglas Development started construction on two more apartment buildings and three single-family homes across the border in Takoma. The apartment buildings will contain 50 and 49 units respectively, and a 92-space parking lot. Ten of the apartments and one house will be designated affordable housing. The developer plans to uphold the historic early 20th century style of the three houses previously on the property in the three new houses to be developed. Construction is currently slated to complete in Spring 2016.
The Bottom Line
Despite conflicting views about whether or not the town remains purely full of tree-hugging vegans, or has been infiltrated by smartphone-glued professionals, Takoma Park maintains the integrity of its core identity. The community's active nature and institutions ensure that the area will always maintain its cooperative nature. Note: An earlier version of this article had Takoma Central as being located in Takoma Park. It is actually located in Takoma DC and we have made the correction.
This article originally published at https://dc.urbanturf.com/articles/blog/takoma_park_a_lighter_shade_of_green/9931.
DC Real Estate Guides
Short guides to navigating the DC-area real estate market
We've collected all our helpful guides for buying, selling and renting in and around Washington, DC in one place. Visit guides.urbanturf.com or start browsing below!
First-Timer Primers
Intro guides for first-time home buyers