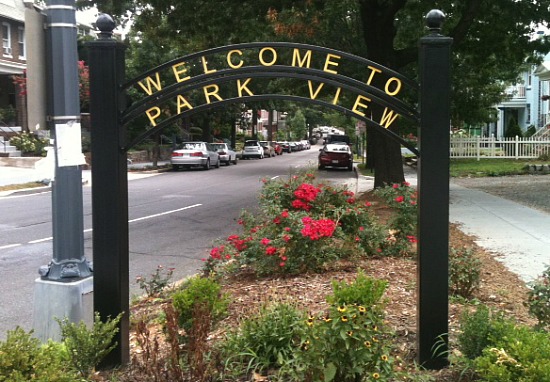 Surrounded by Columbia Heights, Petworth and Howard University, Park View tends to be lumped in with one of these more prominent destinations, its name often confused or left out of the dialogue altogether.
Once inside the NW DC neighborhood, though, the sense of identity is one of the main factors that residents cite for attracting them to the area, or keeping them there.
"There's a Facebook group that everyone follows to get updates and know what's going on," said Lucy Plaugher, who settled in Petworth and then Park View when she moved to the city a year ago. "Within days, I knew the people around us."
Park View has historically been a residential hub for black families, but its population has soared and diversified over the past decade. Occupants like Plaugher — who shares a house with several other 20-something professionals — represent the latest addition to the still-residentially focused community.
However, like the neighborhoods around it, Park View is coming into its own as a magnet for development, with new bars and restaurants popping up and more on the way.
Overlooking a Park
Historical records show that Park View came into being in 1908 when several neighborhoods were combined. It sits east of Columbia Heights, bounded by Rock Creek Church Road to the north, Gresham Place to the south, Georgia Avenue to the west and Park Place and the grounds around the Old Soldier's Home to the east. There's also a small triangle formed by Park Road, Georgia Avenue and New Hampshire jutting out to the west that is included, depending on who you ask.
The "park" in Park View refers to the nearby grounds of the Old Soldiers' Home, which used to be open to the public as a space comparable to New York City's Central Park. The home has since been fenced off, yet the majority of neighborhood streets running east to west dead end into the grounds. This past July 4th, some 1,500 people were able to celebrate on the sizeable grassy area around the Old Soldiers' Home, and the hope is to replicate this in the future.
Beginning to Fill a 'Pent-Up' Need
Retail in Park View is concentrated along Georgia Avenue, especially in the blocks closest to the Petworth Metro. It may not seem like an exciting opening, but ANC Commissioner Kent Boese, who writes a popular blog about goings-on in Park View, touts the 2010 addition of a CVS Pharmacy as important in providing a "staple" store close to residents' homes.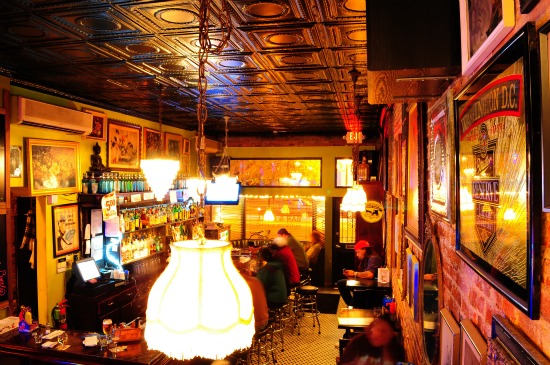 The bar at The Looking Glass Lounge. Photo courtesy of
The Looking Glass Lounge
.
Since the addition of CVS, a handful of bars and restaurants have opened around it. The Looking Glass Lounge serves cocktails in what used to be Temperance Hall. DC Reynolds only opened its doors a few months ago, however the eatery and adjoining patio has developed enough of a following to cause the owners to start serving weekend brunch.
"It really showed that there was a pent-up need for more restaurants," Boese said.
Another business along that stretch is Fish in the Hood, which sells fresh fish cooked to order for dine-in at one of the four tables or to go. Much was made about the fact that the owner recently opted to rename the establishment Fish in the Neighborhood, thus putting a spotlight on the area's gentrification. Gena's Creative Beauty Salon, on the same block as DC Reynolds, has become regarded as an institution as well.
The lingering problem now is to open even more businesses. Walking around the streets of Park View, vacant storefronts and empty properties still persist. According to Boese, blight is being tackled, yet in a piece-meal manner.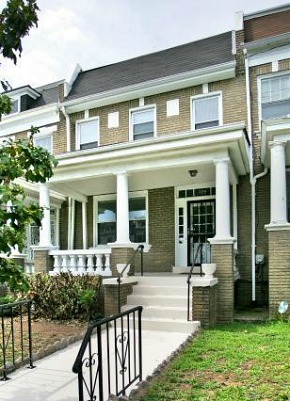 A home that recently sold on Otis Place.
First-Timers Snatching Up Limited Housing
By and large, homes in Park View are row houses in the DC-trademark Wardman style. Like the rest of the city, the inventory of homes for sale is historically low, which means that those on the market tend to sell quickly, and prompt bidding wars. The house pictured recently sold after receiving approximately 20 offers.
Realtor Kevin Wood of William Sawyer & Co. said that despite rising prices, Park View is still a relatively affordable place to buy a home.
"I sold a house last year that was totally renovated with three bedrooms and 3.5 baths for $535,000," he said. "The same house on the other side of Georgia probably would have gone for $650,000. This year a house fully renovated will go for even more."
Developers have started to take notice of Park View, as evidenced by projects like The Avenue, a new rental building at 3506 Georgia Avenue NW. Still, the area is primarily seeing an increase in young couples who want to make their first home purchase come in to Park View.
"There are a lot of people who have been renting in DC for awhile, and now want to transition to buying," he said. "Georgia Avenue used to be the boundary for this, but the boundary has been breached."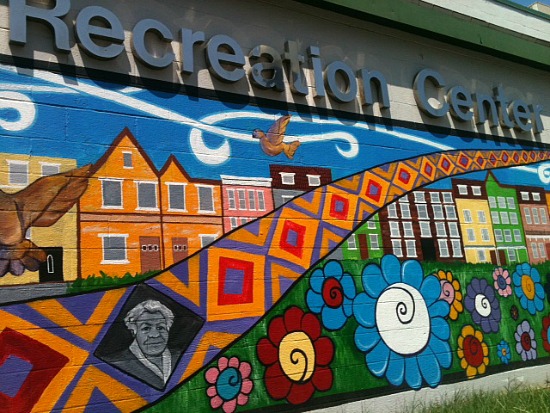 A mural alongside the recreation center.
Gardens and Recreation Serve As Uniters
With ample greenery, Park View has become home to a few notable community gardens in the past year, including Wangari Gardens and a garden affiliated with the Armed Forces Retirement Home. The gardens have been a way to grow fresh produce as well as unite neighbors in a collaborative project.
"This is the kind of thing that would have never happened six or seven years ago when we first moved here," Debra Brunk said while working in Wangardi Gardens with her husband. "There are 50 plots inside, and a requirement for having one is to put in two hours of work a month. But we're pretty much here every day."
Another project that has taken on particular pride in Park View was an effort to fix up the neighborhood recreation center on Otis Place. Resident input resulted in the construction of new basketball courts, a soccer field and a playground structure, giving children an outlet after school, on weekends and during the summer, Boese said.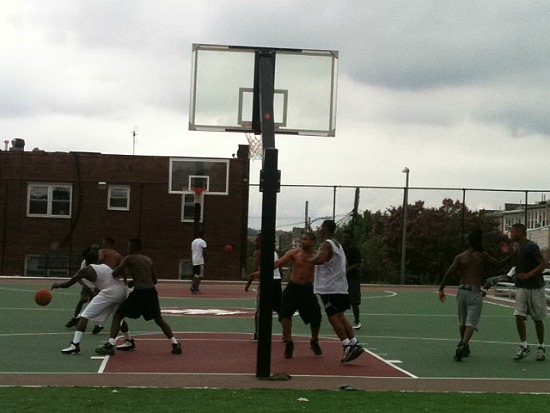 The pride and joy of the recreation center seems to be the new outdoor basketball facility.
Theft Concentrated to Cars
The one category of crime that's seen a steady increase in Park View of late is theft, particularly from vehicles. According to crime statistics from the Metropolitan Police Department, this subset has climbed between 100 and 200 percent over the past year, depending on the section of the neighborhood that is being analyzed. Violent crime, however, remains low.
Boese said that the increase in thefts makes sense given that individuals and families of greater means are moving to the community. "For lack of a better term there are simply more things to steal," he said.
The Bottom Line
Park View may be a small neighborhood that's frequently mistaken for Petworth, but it has a strong sense of community among its residents who will pitch in to fix up neighborhood infrastructure. As retail grows along Georgia Avenue and home prices remain reasonable, the area will continue to be a draw for years to come.
Dena Levitz is a freelance writer and digital strategist whose work has been featured in The Atlantic Cities, Washington Post, City Paper and Bloomberg News.
This article originally published at https://dc.urbanturf.com/articles/blog/park_view_its_not_petworth/5851.
DC Real Estate Guides
Short guides to navigating the DC-area real estate market
We've collected all our helpful guides for buying, selling and renting in and around Washington, DC in one place. Start browsing below!
First-Timer Primers
Intro guides for first-time home buyers