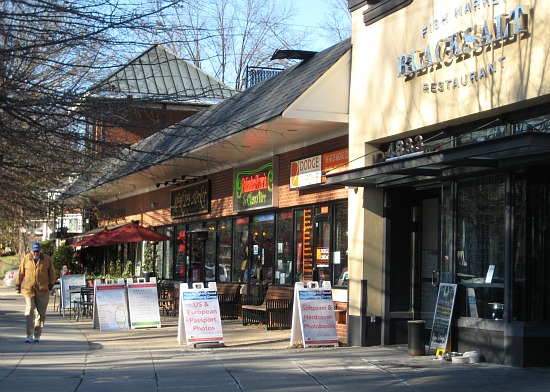 MacArthur Boulevard in Palisades
The DC neighborhood of Palisades, a quiet community northwest of Georgetown University, is a place that many DC residents have heard of, but not visited. And unless you're a neighborhood resident or a commuter who enters the city via MacArthur Boulevard, the largely residential area with a smattering of stores and restaurants along the Potomac River is not a popular destination. However, it is an area that many residents have called home for decades, a place that hosts a July 4th parade that would not be out of place in Mayberry with a main drag that now touts some high quality restaurants to accompany other retail staples. For these reasons, it is not surprising that its prideful residents refer to it as "a small town in a big city."
A Skinny Neighborhood Not Easy To Map
Palisades is not the easiest DC neighborhood to define on a map. While the Palisades Citizens Association includes neighborhoods to the northeast like Kent and Berkley in its definition of Palisades, we believe those borders are a little too broad. Palisades' southeast border really runs from the intersection of Foxhall Road and MacArthur Boulevard to the Potomac River and the neighborhood then moves north and west in a skinny line bordered by MacArthur and the Potomac River all the way to the District line near Sibley Hospital. (Houses a couple blocks to the east of MacArthur Boulevard along this stretch are also considered to be in Palisades.)
Most of the area's residential streets run perpendicular to MacArthur and get very little through traffic. In a category of its own is Potomac Avenue, a narrow lane lined on one side by some of the neighborhood's larger homes and on the other side by a grassy bank dropping off to a vast expanse of trees that leads to the Potomac River.
Just a Handful of Homes on the Market
Initially connected to Georgetown by the Great Falls Electric Railway that ran from 36th and Prospect Streets out to Glen Echo, Palisades is a community that is slightly older than others nearby. Most of the homes, though, were built in the early 20th century and represent a wide range of styles. In addition to a number of charming bungalows, the area is filled with Cape Cods, Colonials, and even a few surprisingly modern creations.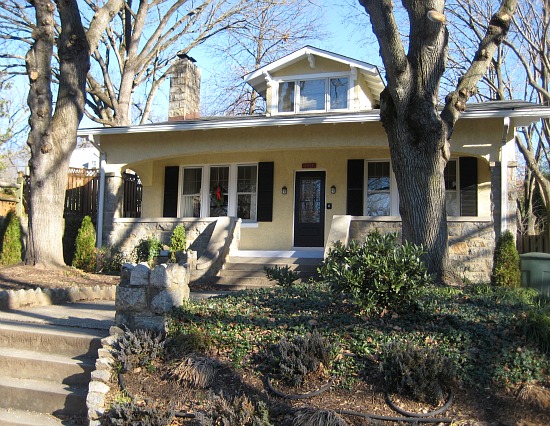 A bungalow in Palisades
Unlike Spring Valley to the north, the homes are not huge, but Todd Stein, vice president of the citizens association, said that's changing. "Around the corner from where I live was a modest house that was recently torn down, and we expect something big to go up in its place," said Stein. "That is happening in other places in the neighborhood as well." While the Palisades housing stock is largely single-family homes, there are a few condos, townhomes, and apartment buildings along MacArthur, mostly clustered at the southeast end of the boulevard.
$700,000 to $1 Million
Palisades residents and real estate folks say that prices for single-family homes usually start at "only" $700,000 (with a few exceptions on the lower end), but according to real estate agent Payam Bakhaje single-family houses average $843,000 with larger homes and those that run along Potomac Avenue fetching well above $1 million. Currently, there are just 10 single-family homes on the market.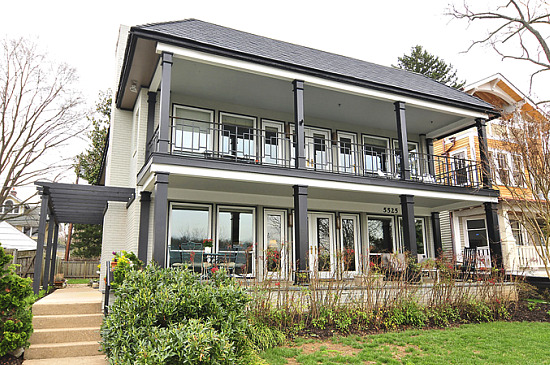 A million-dollar home along Potomac Avenue
"People get here and they tend to stay put," said Nancy Hammond, who works for Evers & Co. Real Estate. "So at any given time, there usually isn't that much on the market." Condos, while few and far between in the neighborhood, are a far cheaper housing option. Studios can start as low as $150,000, and one-bedrooms range from $200,000 to $300,000. Apartments rent for between $1,300 and $1,800 for a one-bedroom unit, or between $1,600 and $2,100 for a two-bedroom.
A Fierce Sense of Loyalty
While it is hard to generalize about who lives in Palisades, it has been labeled (like other suburban-ish areas of the city) as a place where lots of young families and long-time residents reside. "Some of these bungalows have been in families' hands for generations," Todd Stein said. "Plenty of people have been here for quite a while." The small town, tight-knit vibe becomes apparent when talking to residents. Most will invariably mention the Fourth of July parade, an old fashioned affair that includes kids on decorated bikes and local politicians glad-handing onlookers. The Sunday year-round farmer's market on MacArthur Boulevard has also become a neighborhood gathering spot. In 1995, residents banded together and formed the Palisades Community Fund, pooling donations to support local schools and the branch library. A similar effort, Palisades Village, is a non-profit formed in the last couple of years that focuses on helping local seniors stay in their homes. "There's a pretty fierce sense of loyalty and neighborhood pride," said Hammond, who's lived in Palisades for 25 years.
Makoto
The MacArthur Commercial Corridor
The small commercial strip along MacArthur Boulevard is home to services like dry cleaners, convenience stores, a CVS Pharmacy housed in a former iconic move theater, and a Safeway. The restaurants, however, have come a long way in the past few decades. There is Black Salt, half seafood market/half high-end restaurant with a strong following outside the neighborhood; Makoto, a traditional Japanese restaurant that serves an excellent tasting menu with an accompanying lofty price tag; and Et Voila and Sur La Place, two Belgian restaurants not far from each other, which have both received good reviews from diners. There are also some neighborhood mainstays, like Listrani's, which offers homey albeit average Italian fare, and the Palisades Pizzeria and Clam Bar.
The School That Has Been Attracting Families for Decades
Families have decided to settle in Palisades for a variety of reasons over the years including the library, the rec center and the green space around the C&O canal. But one of the neighborhood's biggest draws is nearby Francis Scott Key Elementary School. Having served the area since 1928, Key is one of the highest-ranked elementary schools in the District. "We know people who've moved to the area specifically to go to Key," said Stein, echoing local realtors and online buzz. "It's a great public elementary with a good principal and teachers that get very good ratings." The area's also home to several private schools including Our Lady of Victory, the Lab School, and the lower and middle schools of Georgetown Day School.
Quiet And Safe
All of the Palisades residents UrbanTurf spoke with said that they feel safe in their homes and walking around in the evenings. However, resident Dan Gibbons, 58, pointed out that the neighborhood shuts down relatively early, which means people aren't on the sidewalks much past 10pm. Positive perceptions are borne out by police statistics. UrbanTurf looked at crime stats for a select area of the neighborhood and found had only one violent crime had occured in the past two years, and just twenty property crimes have occurred in the last twelve months -- roughly half the amount that have taken place over the same time period in a similar area in Cleveland Park.
Not A Transit Lover's Dream, But Good For Commuting
Palisades isn't served by a Metro station, but it is served by Metrobus lines D3, D5, D6, and M4. However, for those residents who own cars, it is something of a commuter's dream. Key Bridge is close by, leading to the George Washington Parkway, I-66, and Route 50, and driving to the Kennedy Center, Georgetown or out to Bethesda is quite easy.
The Bottom Line
With its cute houses, interesting restaurants, and fairly secluded yet close-in location, Palisades is a neighborhood with few faults. But like so many other DC neighborhoods, there's one barrier to entry, and it's a big one: high home prices. Amanda Abrams is a Washington, DC-based journalist who has written feature stories for The Washington Post, Christian Science Monitor, and Washington City Paper.
More Info on Palisades
See other articles related to: hoods
This article originally published at https://dc.urbanturf.com/articles/blog/palisades_the_long_skinny/2809.
DC Real Estate Guides
Short guides to navigating the DC-area real estate market
We've collected all our helpful guides for buying, selling and renting in and around Washington, DC in one place. Start browsing below!
First-Timer Primers
Intro guides for first-time home buyers