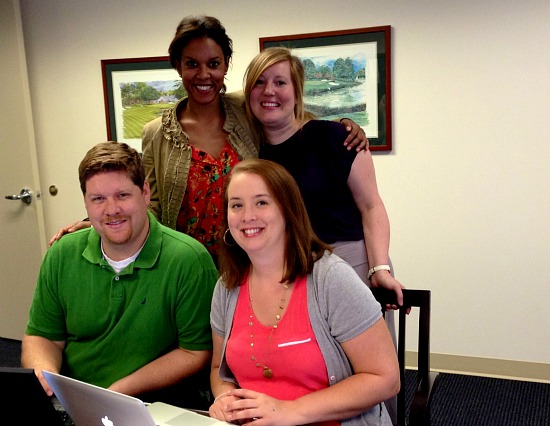 Clockwise from bottom left: Chris Pencikowski, Dominique Fortune, Austyn Brickler, and Megan Hubbard, the founders of Lee Montessori. Photo courtesy of Clara Smith.
For this edition of One on One, we talked to Austyn Brickler, one of the founders of Lee Montessori, a proposed Montessori charter school that just received approval from the DC Public Charter School Board. Brickler and her co-founders are preparing to open up in the fall of 2014, and are currently at work finalizing the curriculum and finding a building.
UrbanTurf last reported on Brickler's plan in the winter. Now that they have been approved (provided that they meet a few conditions), we wanted to touch base again. We chatted about the rise of charter schools in DC, the intricacies of the lottery system, and why they decided to start the school.
You and [your co-founder, Megan Hubbard] are both teachers at Thurgood Marshall Elementary, a DC public school that is closing this year. You are a good example of the overall trend of what's happening in the city: people are tired of waiting for public schools to get better, so they are moving to charter schools. Do you have an opinion on neighborhood schools vs. charter schools?
I've always been a big public school advocate. I grew up going to my neighborhood public school, and I don't think we should be taking that option away. However, when we were notified Thurgood Marshall was closing, the first thing many parents said was "I don't have an option, because I can't get my child somewhere else. I don't have a car and I don't want to be on a city bus taking them four miles away."
We believe all students should be within one mile of an excellent public elementary school. And neighborhood schools should be a place where services and activities are provided for the entire community, especially outside of school hours. Layered on top of that, would be school choice, where families planning for their child's education would have the ability to choose between a thriving neighborhood school or another high-performing school with different, specialized services. But, that's not where we are in the District; communities with the greatest need for high-quality schools are often the ones where their community schools are failing them the most. Charter schools are a viable, and often the best, choice for many families.
Regarding the charter school movement and how its all lottery based, I hope that one day it can be more neighborhood based.
Where will the parents of your students end up sending their kids?
Langdon Education Campus is their new in-zone school. Many of the parents applied to DCPS programs around the city through the lottery, but no one got in. The charter school lottery was later, so I recommended that they try that. A number of families were able to get in to charter schools that way.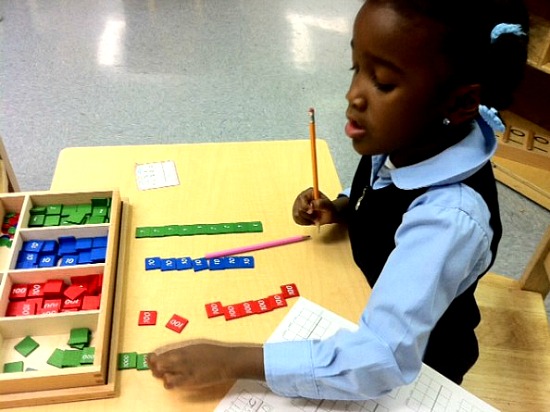 Courtesy of Lee Montessori.
Why did you decide to start the school?
In the spring of 2011, a number of parents came to us expressing their frustrations with the scarcity of Montessori programming within a traditional public school system. Many wanted the Montessori education to continue past the early childhood years. In order to implement a true Montessori curriculum, we felt we needed the autonomy and potential for sustainability that charter schools offer. With these ideals in mind, we began to reach out to others in the community that we knew would help further our mission and help us build strong education, business, and operation plans. We now have charter board approval, the beginnings of a great team, and a board with a shared vision of using a Montessori model to close the opportunity gap for the District's students.
Will you and Megan be teaching?
That's the plan right now. We have to apply for our jobs. That's something we talked about extensively. There are people who are more experienced. If they apply, they should get the job.
Where are you looking for a building?
DCPS released a list of 16 buildings. We are looking at a few in Ward 5 and one in Ward 7. We are a small school, and a lot of these buildings are massive. We'll have 70 students in the first year, and 250 by the fifth year, so we are open to co-locating with another school, maybe a new one that just passed or an existing on that is looking to expand.
So, how does funding work?
We're applying for Title 5b funding, which is something all charters can apply for, but right now, our budget is very conservative. We budgeted based on the Title 5 funding, and a private fundraising effort of $10,000 each year. We pretty much know we'll surpass our $10,000 goal each year.
Materials are very expensive in a Montessori classroom, but those materials last for years. It's not like a textbook or workbook that needs to be replaced. So, our initial material budget, that is a large chunk of money, however, we wont have to do that the following few years.
The interview has been edited and condensed.
This article originally published at https://dc.urbanturf.com/articles/blog/one_on_one_the_founder_of_dcs_newest_montessori_charter_school/7183.
DC Real Estate Guides
Short guides to navigating the DC-area real estate market
We've collected all our helpful guides for buying, selling and renting in and around Washington, DC in one place. Visit guides.urbanturf.com or start browsing below!
First-Timer Primers
Intro guides for first-time home buyers