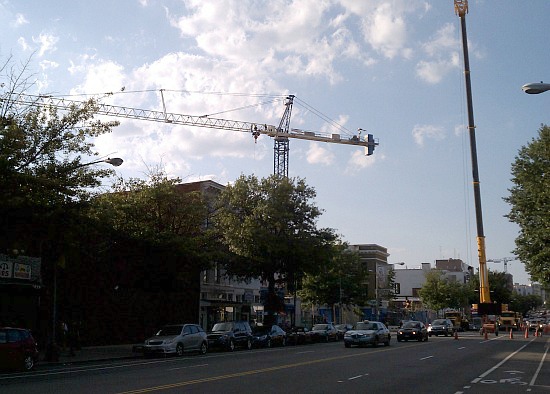 Construction on 14th Street NW
In this edition of One on One, UrbanTurf chats with Michael Hamilton, the DC resident behind In My Backyard, or IMBYdc.
As the name suggests, In My Backyard attempts to counterbalance the NIMBY or Not in my Backyard movement which, Hamilton believes, leads a small group of active opponents to sometimes derail developments that the more-silent majority may favor. IMBYdc diagnoses developments and issues that are in danger of being shot down by NIMBYs, and organizes a sort of counter-campaign to support them.
Below, Hamilton discusses the issues that IMBYdc tackles, why he created the group, and his dream for the city.
Why did you start IMBY?
I started IMBYdc after reading about the proposed liquor license moratorium centered on U Street. It bothered me that a small group of residents could potentially derail development in such a large area, and do so against the wishes of the thousands of people who live in or near the affected area.
While the moratorium is our primary focus now, we plan on moving on to other issues in the future. You can expect IMBYdc to support development that improves the District and creates more options for our residents.
How do you feel that NIMBYism has gotten in the way of progress in DC?
Small groups are able to delay new buildings or businesses for months or years simply by complaining loudly enough. Sometimes they're able to stop a project completely. This is extremely costly, particularly for small businesses, or developers who don't have the resources to deal with the entitlement process. Due to this leverage, NIMBY groups can often extract concessions from developers for their own benefit, but these concessions often end up hurting the community at large.
For example, a plot of land might be most profitably developed as a large apartment building, which would provide affordable housing for DC residents. The costs associated with the legal process to build such a building—including dealing with the NIMBYs—might leave a much smaller, luxury condo building as the only profitable option. Alternately, a failed bid to develop a parcel could leave it vacant or boarded up for years. This makes DC less affordable and leaves residents with fewer options.
What are your limits? In other words, are there situations where you believe development should be stalled?
I would only oppose a development in the face of actual, demonstrated harms, like building a factory in a residential neighborhood. My definition of harm is more narrowly defined than others. I wouldn't oppose a project simply because I think there's a better use for that parcel, because it doesn't fit my tastes, or because I have a different vision for development in that area.
Realistically, I can only foresee IMBYdc opposing a project if eminent domain is used to seize private land and give it to a developer for private use.
Which neighborhoods do you pay closest attention to, and why?
IMBYdc has members from every part of the city, but right now we're focused on the U Street area simply because of the moratorium. I'm interested in Columbia Heights because it's a great neighborhood that I'm glad to call home, but we'll probably focus primarily in areas undergoing lots of development in the future.
In your ideal world, what will DC look like in 15 years?
Free rent, tropical weather, flying cars, and tourists who stand on the right side of the escalator.
Fantasies aside, it's very expensive to live in DC relative to most cities, so I would like the District to become more affordable. I think a lower cost of living probably entails tall buildings and greater density in the city's more popular neighborhoods, but I don't think that's something the local government should require people to build. Making it easier to open a business would also help the situation.
I actually don't think it's a good idea to try to design a city around someone's sole vision. Cities are best when they evolve organically based on residents' preferences and interactions. It's my hope that this process determines what DC will look like in 15 years.
This article originally published at https://dc.urbanturf.com/articles/blog/one_on_one_in_my_backyard/6829.
DC Real Estate Guides
Short guides to navigating the DC-area real estate market
We've collected all our helpful guides for buying, selling and renting in and around Washington, DC in one place. Visit guides.urbanturf.com or start browsing below!
First-Timer Primers
Intro guides for first-time home buyers