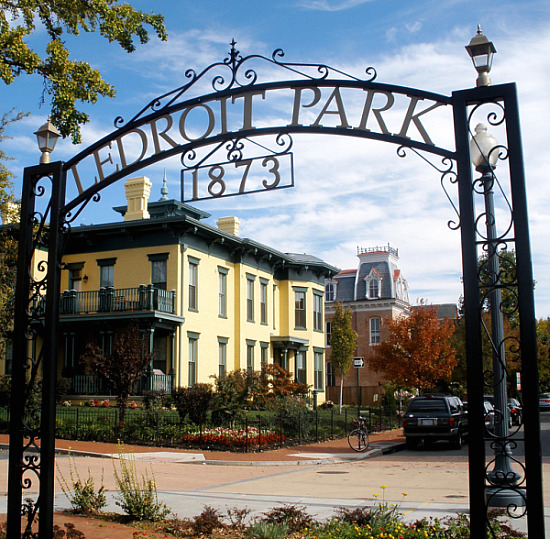 As one of the older neighborhoods in DC, LeDroit Park is a place that has maintained many of its historic qualities while comfortably evolving into an area that people love to live in. Since its founding in 1873, LeDroit Park has faced good years and bad. In its early years, it served as one of DC's first suburbs (as it lay just outside the original boundaries of DC), a popular option for those who worked downtown. By the 1920s, the neighborhood had become home to a number of famous African-American scientists, poets, and musicians. However, the 1970s, 80s and 90s were years during which the area's characteristic Victorian homes became dilapidated, and some blocks turned into drug markets. These days, however, LeDroit Park is on the upswing again; houses have been restored, the brick sidewalks that line most streets are clean and even the long-suffering 100 year-old Howard Theater, located just across Florida Avenue, is finally scheduled to be restored to its former glory. Despite the turnaround, residents feel that the small, easily-missed enclave is still relatively affordable -- relative, that is, to the high quality of much of the area's housing stock.
Historic Gate Leads to Historic Homes
Bounded by Florida and Rhode Island Avenues to the south, 2nd Street to the east, Howard University to the north, and Bohrer Street and Howard University Hospital to the west, LeDroit Park is distinct from the nearby neighborhoods of Shaw and Bloomingdale (though it runs right into the latter to the east). The neighborhood's original developers intentionally set LeDroit Park off the street grid from the rest of the city so as to discourage people from passing through. However, its iconic gate, which reads "LeDroit Park 1873" is hard to miss.
LeDroit Park is known for the James McGill-designed Victorian homes that the local developer built in the 1870s. Fifty of the original 64 McGill properties are still standing in the neighborhood, and the area also has a number of brick and frame rowhouses that were built toward the end of the 19th century. The three-block stretch of T Street between 6th and 3rd showcases some of the neighborhood's choicest real estate. Now the area also has boxy apartment buildings, brand new row homes, and low public housing complexes. But the Victorian architecture dominates: the multi-roofed detached homes are unlike anything else in the city. Some of the neighborhood homes have been fully restored and are now painted charming colors and surrounded by small gardens. A few of them have been divided into condos, and more of those are on the way. Other properties are still pretty rundown, and that's probably why LeDroit is still vaguely affordable.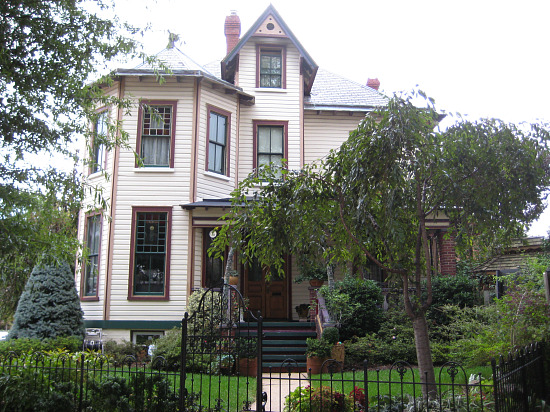 Restored Victorian in LeDroit Park
Residents Old and New Co-Exist
The wide mix of people living in LeDroit Park reflects the neighborhood's in-between state. There are longtime residents, "pioneers" who invested when the area's potential wasn't quite so obvious, and renters who are finding that living alone or with four friends can be fairly inexpensive. Clifford Dowe has lived in his LeDroit Park house for nine years, but the home has been in his family since the 1950s. Standing near the corner of 6th and T Streets, he pointed out the many houses now occupied by new residents as well as the ones that were bought for a song and restored by visionaries. "It's a nice neighborhood, but in my opinion, it's always been nice," Dowe said. "There was a rough period, but it's a whole new neighborhood now."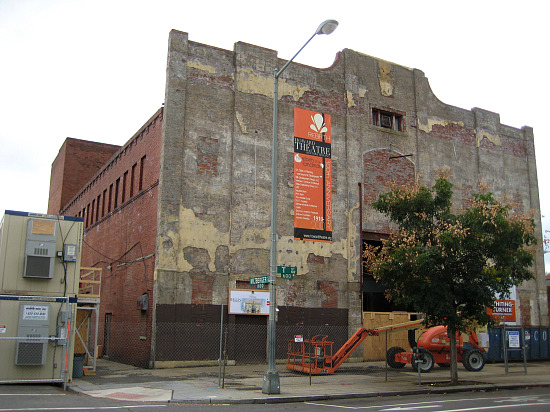 Howard Theater Undergoing Renovation
Sluggish Prices Can Be Good
Gerard DiRuggiero, a broker and managing member of UrbanLand Company, thinks that home prices in LeDroit Park are downright "sluggish" for what the neighborhood offers. Three-bedroom row houses are currently selling for between $275,000 and $575,000, depending on their location and condition; four-bedrooms run for between $330,000 and $680,000. One-bedroom condos, meanwhile, are currently selling for between $260,000 and $315,000; two-bedrooms go as high as $480,000. According to DiRuggiero, the community still has real potential as an investment. "Now that the Howard's Theater's [renovation] has kicked off, all of these homes will be validated."
A (Very) Small Commercial Stretch
LeDroit Park is a neighborhood that will likely never have the amenities of Logan Circle. Currently, businesses in the neighborhood are numbered at two. There's the LeDroit Park Market, a convenience store, and Cookie's Corner where Cobra malt liquor and Sierra Nevada sit side-by-side in the cooler and sandwiches are made to order.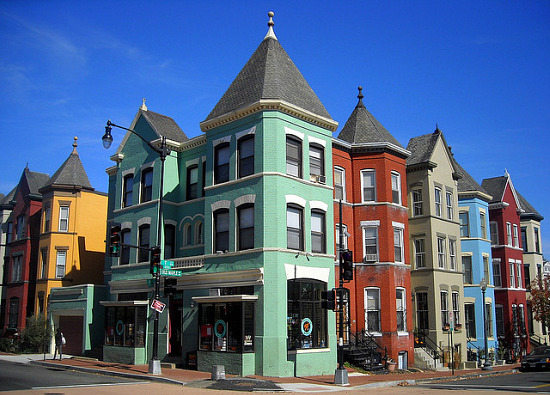 LeDroit Park Market at the corner of 4th and T Street
Still, LeDroit isn't far removed from the city's hustle and bustle. "Hanging out usually requires leaving our small neighborhood, but you don't have to walk very far," said Eric Fidler, a computer programmer who lives in the neighborhood and runs the Left for Ledroit blog. He pointed to Big Bear Café in nearby Bloomingdale, and a Trinidadian restaurant and bar that are about to open just across Florida Avenue. For a larger selection of restaurants and bars, Fidler heads up to U Street. "What's nice is that the neighborhood is close enough to walk to U Street, but far enough away that we don't have to live with the noise and traffic."
Jungle Gyms Coming Soon
Relative to neighboring communities, LeDroit Park is a peaceful area. Still, many of the streets are chockablock with houses and it's hard to forget that it is in the middle of the city. As such, it's not necessarily the most kid-friendly place. Nevertheless, you will see strollers on the sidewalks, and parks scattered around. In particular, the Gage-Eckington Park, to the north of the neighborhood, should become more amenable to families in the near future, with a large community garden already in place and the planned addition of a dog park and playground equipment.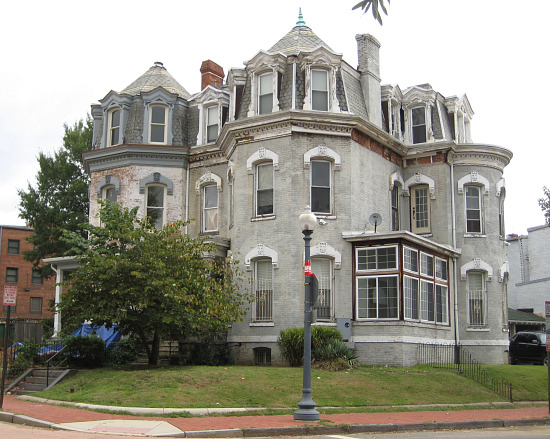 LeDroit Park Mansion Being Converted to Condos
Crime Still Exists
Even recently, LeDroit Park's reputation as a good place to live has been hindered by the inevitable caveat: "except for some crime." But these days, residents point out that things are much better than they were several years ago. "I haven't lived here long enough to compare safety, but older residents say it has vastly improved over the past two decades," Fidler, who moved to LeDroit roughly 18 months ago, said. "I'm told my street used to be an open-air drug market in the 1990s, but now I see no such thing, and feel safe walking around at night." Emily Freed, a renter who's been in LeDroit for the past year, echoed this sentiment. Nonetheless, it's definitely not crime-free. The LeDroit Market was held up a couple months ago and other residents that say they're careful when they go out.
The Heart of the City
If you live in LeDroit Park, it is just a short bike ride to downtown, 14th Street, and Columbia Heights, and the neighborhood is near a number of bus lines including the 90, 92, 93, 96, and X3. The closest Metro station is Shaw-Howard University on the Yellow and Green Lines, a short walk from the area. The ease of finding street parking in LeDroit Park depends on the time of day. At night, when everyone is coming back from work, it can be a hassle. During the day, however, there are usually a good number of spots.
The Bottom Line
When we first profiled LeDroit Park back in 2008, a local real estate agent described the area as "a sleeping bear which has been steadily waking from its slumber." It seems like that bear is still stirring. It doesn't have the space of neighborhoods located farther west, east, or north, and being in the middle of the city means residents can never ignore the prospect of crime. But LeDroit Park is a still point in an otherwise crowded area, offering great architecture and a relatively affordable opportunity to live in a community that still feels, in many ways, like a quiet enclave. Amanda Abrams is a Washington, DC-based journalist who has written feature stories for The Washington Post, Christian Science Monitor, and Washington City Paper.
Real Estate Agents Serving LeDroit Park
The following real estate agents are active in LeDroit Park. Call or email them to get in touch.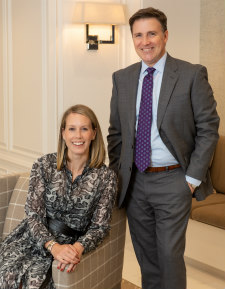 Matt McHugh and Heather Davenport
Compass Real Estate
Phone: 202-276-0985
Website: View website
Listings: View listings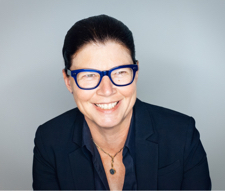 Beth Hughes
Compass
Phone: 202-277-7553
Website: View website
Listings: View listings

More Info on LeDroit Park
Zip code: 20001
Schools: LeDroit students can attend Garrison Elementary School, Seaton Elementary School, Emery Education Campus, or Shaed Education Campus (the latter two are also middle schools); Shaw Middle School at Garnet-Patterson; and Cardozo Senior High School.
LeDroit Park real estate data and profile from Redfin
LeDroit Park rental listings from Craigslist
This article originally published at https://dc.urbanturf.com/articles/blog/ledroit_park_a_quiet_enclave_in_the_middle_of_the_city/2567.
DC Real Estate Guides
Short guides to navigating the DC-area real estate market
We've collected all our helpful guides for buying, selling and renting in and around Washington, DC in one place. Start browsing below!
First-Timer Primers
Intro guides for first-time home buyers