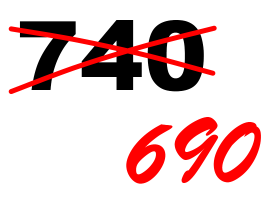 The start of spring is just a few days away, which means that the housing market will soon be in full swing. To get prospective homer buyers ready, UrbanTurf is running a series of articles to help educate readers on the process.
From the offer to the down payment to the mortgage, we'll touch on every facet of the home buying process and more. And if there is another topic that you want covered, just shoot us an email at editor2017@urbanturf.com.
---
A very good credit score is crucial if you want to be pre-approved for a home loan and get the lowest interest rate possible. And, as the publisher of UrbanTurf found out the hard way when he was trying to buy a home a few years ago a few years ago, it just takes one slip-up for that credit score to be adversely affected.
I had guarded my credit score for years, going so far as to shell out $5 every month to FreeCreditReport.com to notify me of any activity that might affect my credit. So, when my mortgage broker told me that my credit score was 690, 50 painful points below the 740 level I'd kept it above for years, I was equally surprised and miffed.
The irony is that it was the direct result of trying to keep my credit score high that it ended up much lower.
I'd always heard that one of the ways to keep your credit score high was to never close a credit card account, even if you've stopped using the card. The idea is that the more credit you have access to, the less of a risk you will appear in the eyes of the credit agencies.
So, I had a Capital One card that I had stopped using but kept open for this very reason. Unfortunately, I'd forgotten that my web hosting company charged me annually – just once per year – and that my Capital One card number was the one on file with them. That annual charge occurred in February in the amount of $107.40. Because I was no longer monitoring the credit card, I never became aware of the charge. So I didn't pay it off – not when it was due in March, not when it was 30 days late in April, and still not when it hit the key 60-day threshold in May.
Finally, in June I got an email from FreeCreditReport.com warning me of activity on my credit record. I immediately logged in, saw the charge and associated late fees, cursed my oversight a couple times, paid off the balance (which had ballooned to over $200 because of the late fees), and considered the matter settled.
It wasn't until December, when I applied for a mortgage to purchase my first home that I learned just how dear my oversight had been.
Not only had my credit score plummeted by over 50 points, but I was now forced to put 20 percent down to secure the mortgage. According to my broker, conventional loans require 20 percent down if the borrower has any 60-day late payments during the last 12 months. Fortunately, I had planned to put down 20 percent anyway. But if I hadn't been able to, I likely would have lost the opportunity to purchase a home at that time.
But the 50 point drop had another adverse effect as well. When my mortgage came through, my interest rate was 3.625 percent, 25 basis points above the market rate of 3.375. This difference was directly attributable to my new, less-than-perfect 690 credit score. My broker said that I could still get the market rate if I paid 1.5 points at closing. The cost of those points? $2,358. In essence, that one little $100 charge to my credit card that had gone unpaid for a few months had cost me $2,358.
If I chose not to pay the 1.5 points and move ahead with the higher rate of 3.625, the additional monthly cost amounted to about $22 per month. It's not a huge number, but the idea that I would waste twenty bucks, month after month for the next 30 years…well, it's irritating to say the least. All those $22 payments amount to $7,920 over the life of the loan.
My broker insists my story isn't uncommon. A variation on the theme is people who move but don't remember to update their mailing address across all their accounts. So a bill arrives at their old address from some account they forgot to update, they never see it, the charge goes unpaid and becomes delinquent, and poof: credit score, sunk.
If there is anything good that came out of this, it's that you can learn from my example. If you have multiple credit cards that you don't use, do yourself a favor and check them regularly to be sure there aren't charges you're unaware of. As illustrated, even one little charge can have serious consequences for your credit score.
This article originally published at https://dc.urbanturf.com/articles/blog/how_to_sink_your_credit_score_with_100/6514.
DC Real Estate Guides
Short guides to navigating the DC-area real estate market
We've collected all our helpful guides for buying, selling and renting in and around Washington, DC in one place. Start browsing below!
First-Timer Primers
Intro guides for first-time home buyers