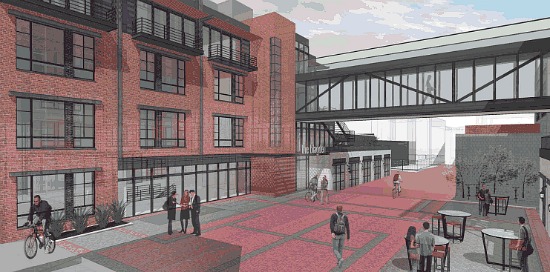 Rendering of proposed Blagden Alley development.
In a recent submission to the Board of Zoning Adjustment (BZA), developer SB-Urban made its case for not including parking at its proposed Blagden Alley development. The project's developers say their tenants won't have, need or want cars because of ample public transportation, and that being forced to provide parking would ultimately detract from the historic alley.
Per the zoning documents on the development:
"Given the very low likelihood of residents having cars, the cost per parking space would be prohibitively expensive and add an unnecessary cost to the project, particularly when most of the spaces would go unused. Constructing parking that will go unused will lead to unnecessarily higher rents. In addition, providing a few surface parking spaces at the rear of the property would create automobile-pedestrian conflicts … while harming the historic character of Blagden Alley. If underground parking were provided, the entrance would have to be off the alley, which would generate more automobile traffic in Blagden Alley and would be to the detriment of the historic district."
As we've reported, SB-Urban is simultaneously working on three developments in the DC area: A 90-unit project at the Patterson Mansion on Dupont Circle; a 140-unit project for Georgetown's Latham Hotel; and a new, 125-unit development in Blagden Alley.
The Patterson Mansion project has already received zoning approval, as it required only a "special exception" to the parking rule. At the BZA, a special exception is more straightforward to grant than a variance because it requires only that developers meet a legal test. And the project's address on Dupont Circle means residents couldn't apply for residential parking permits even if they wanted to. Still, SB-Urban said it would provide tenants with a car-share and bike-share membership through the initial lease term, among other common measures.
SB-Urban had initially proposed offering the car- and bike-share memberships for the development's first five years only. Following a suggestion from the District Department of Transportation and the BZA, they later changed it to apply for the length of the initial lease for the life of the development.
SB-Urban's president, Mike Balaban, told the BZA he didn't think it was necessary to continue the provision for the life of the development, but they would do it anyway.
"Our research indicates that the customer to whom we will provide this product really doesn't have, doesn't want and doesn't use a car," he told the board. "As an indicator of our commitment to providing a product that in these locations contributes to the urban fabric and the community, we're prepared to commit to the bike share and the car sharing in perpetuity. We don't really believe that that is necessary in order to convince our customer. Our customer is already convinced that he or she doesn't want a car. But we're delighted to make that accommodation."
Chairman Lloyd Jordan asked Balaban how SB-Urban would guarantee its tenants wouldn't have cars.
"I meant to indicate that we earnestly believe that our profile of customer is not one who wants a car and that it will be unusual, trending towards rare, for any of our customers to have a car," Balaban replied.
The Patterson Mansion units will be marketed to tenants making $100,000 to $125,000 a year and rent for $2,500 to $3,000 a month. The furnished apartments will measure about 350 square feet.
Both the Latham Hotel and Blagden Alley developments, which have been filed almost simultaneously with the BZA, require variances to zoning parking requirements. That same request delayed a micro-unit project in Logan Circle for almost a year. Developers Brook Rose and Gregg Busch ended up providing every new tenant with a one-year car- and bike-share membership "for the life of the project," as well as two on-site car share parking spaces, designated visitor parking rented in a nearby parking garage and a complex provision prohibiting residents from obtaining residential parking permits.
The Blagden Alley development would provide car- and bike-share memberships for residents' initial lease duration for the first five years of the project, among other more basic measures. The developers say they will prevent residents from obtaining a residential parking permit, but don't say how they'll accomplish that.
The Latham Hotel project has a more extensive transportation plan. It would provide 20 offsite parking spaces, likely for customers of the project's retail component. It would also include:
Bike-share and car-share for a residents' initial lease for the life of the project;
A new bike-share station out front;
A $20 SmarTrip card for residents who don't have one;
Two car-share spaces out front;
Two new metered spaces out front for the retail part of the project.
BZA Chairman Lloyd Jordan voted against the Logan Circle project, because he said the provisions should be available to all residents for as long as they live in the development, including at lease renewals.
"Just doing it for one year doesn't do anything for me," he said at the time.
But the Board's speedy approval of the Patterson Mansion project, which also provided car- and bike-share only for the initial length of the lease, may portend good things for SB-Urban. Both the Blagden Alley and Latham Hotel projects are scheduled to appear before the BZA this fall.
This article originally published at http://dc.urbanturf.com/articles/blog/how_sb-urban_plans_to_get_its_no-parking_developments_zoning/8880
DC Real Estate Guides
Short guides to navigating the DC-area real estate market
We've collected all our helpful guides for buying, selling and renting in and around Washington, DC in one place. Visit guides.urbanturf.com or start browsing below!
First-Timer Primers
Intro guides for first-time home buyers