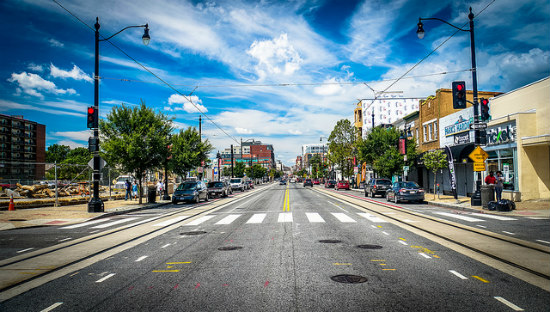 Looking down H Street NE.
UrbanTurf has profiled more than 50 neighborhoods in the DC area. Starting this week, we are revisiting each of those neighborhoods to update our profiles and see how they've changed over the years.
---
It's a sound Robin Jones thought she'd never hear. In February 2011, when the now-35-year-old analyst for the Department of Health and Human Services purchased her row house in the H Street Corridor, the neighborhood's long-awaited revival of streetcar service was slated to begin later that year. That April, when she officially moved into her home, the project was delayed until 2012. It would be another four years for the streetcar to finally arrive in January 2016, announcing itself at each stop with a clanging bell. The day it started running, Jones proudly rode the streetcar to dinner. Rides like hers, along the 1.5 mile stretch from the streetcar's first stop at Union Station to its H Street terminus at 15th Street (before it tips down for a few more stops along Benning Road) offer great perspective on the transformation of this northeast DC neighborhood in a single journey.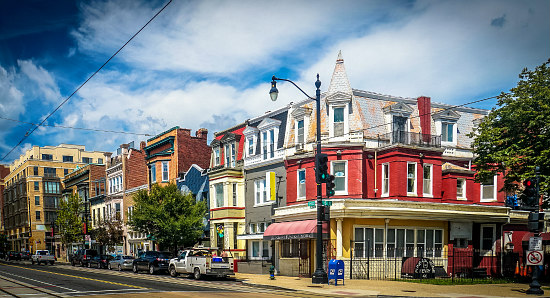 On the western side of the H Street Corridor, titanic luxury apartment buildings and new chain stores are punctuated with cranes announcing the impending arrival of new developments. As you make your way eastward, you see the street slowly shrink into the more modest, historic, and trendy restaurants and bars of its past and present: The Queen Vic, a true-to-form British pub; Crown Fried Chicken, a take-out spot catering to late-night crowds; the H Street Country Club, popular for its roof deck and mini-golf course; and the Asian street market concept Maketto. Through the streetcar windows, the H Street Corridor strikes a delicate balance between its storied past and its transformation into something new.
Russell de Leon, a bartender at The Pug, one of the neighborhood's many popular watering holes, has seen firsthand the growing diversity of the neighborhood's residents reflect an intriguing blend of old and new. "There are a lot of folks that have been here forever, and a lot of young families that just moved here over the past few years," he said. "Everyone intersects." Ian Tuck, a senior budget analyst with the U.S. Department of Housing and Urban Development who considers The Pug a home away from home, agrees. "The more visceral reason I love H Street is the people," the now-married Tuck, who first moved to the H Street Corridor in 2009 said. "I've formed friendships here that will last a lifetime. In a city that can at times seem lacking in interpersonal connections, the atmosphere of H Street breaks down those barriers."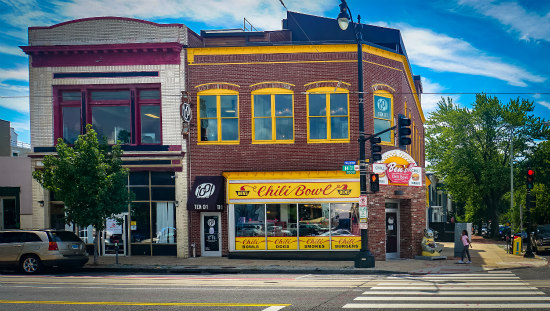 Ben's Chili Bowl location on H Street.
Hopscotch to Starburst
The H Street Corridor begins east of Union Station at the locally known "Hopscotch Bridge" at 2nd Street NE. From there, it extends in a straight line along H Street NE until it hits 15th Street NE at the "Starburst Intersection" of Benning Road, Maryland Avenue, Florida Avenue, and Bladensburg Road.
Along the north, the H Street Corridor is bounded by the diagonal slash of Florida Avenue, which separates it from Trinidad and Ivy City. The commonly considered southern boundary of the H Street Corridor is two blocks south, along F Street NE.
Rising Buildings, Rising Prices
While the streetcar affords riders a look at the mix of apartment buildings and storefronts lining H Street, it doesn't reveal what's behind them: mostly townhomes that either remain single-family houses or have been converted into two- and three-bedroom condos. On the northern end of the neighborhood, one finds smaller rowhomes stacked on streets thick with trees, along with larger grand dame federal style dwellings. When Tuck first moved into a cozy man-cave two blocks south of H Street, the housing market was more generous than it currently is in the wake of the neighborhood's eastward wave of development. "In 2009, it was much more affordable to rent on H Street than most anywhere in Northwest," he recalled.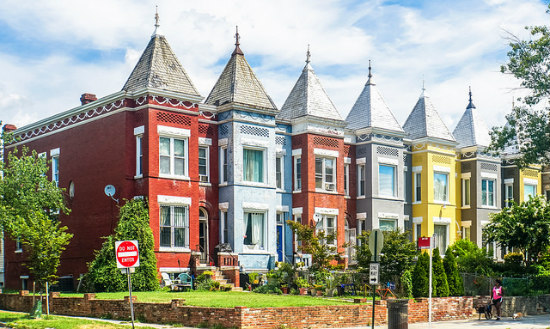 Rowhomes in the H Street Corridor.
Since then, housing and rent prices have steadily risen. Between July and September 2016, the median prices in the neighborhood were $689,000 for a townhome and $405,000 for a condo. One-bedroom apartment rentals in the newer developments start at $1,900 a month (studios start a little less, around $1,700). "In September 2016, the median sales price in the neighborhood was up 8.6 percent compared to a year prior," real estate agent Steve Centralla told UrbanTurf. The development boom that UrbanTurf has frequently reported on in the neighborhood continues in earnest. Large-scale residential developments on the boards include the Apollo, a 431-unit apartment complex whose ground floor will be home to a Whole Foods; H Street Connection, a shopping center demolished in summer 2016 to make way for a mixed-use project; and the potential redevelopment of the Hechinger Mall at the intersection of H Street and Benning Road. In total, almost 1,500 new residential units are under construction or planned for the area.
Five Things to Do: From Performing Arts to Perfect Fries
"To me, a thriving and vital neighborhood has something to offer everyone within walking distance," said Jones. "The H Street Corridor has dive bars and wine bars, nice restaurants and cheap eats, and music and theater venues." Here are five things that we recommend doing if you head to the area: * Have a beer (and make friends) at The Pug: A dimly lit dive bar, The Pug isn't just no frills—it's taken those frills and tossed them in the trash. This is the place where you pass on a fancy cocktail for a canned beer, and you chat with strangers. "The Pug has probably played a larger positive role in my social life than I thought any bar ever could," said Tuck. * Get cultured at the Atlas Performing Arts Center: A powerful presence on the eastern side of the H Street Corridor, the Atlas Performing Arts Center is responsible for the neighborhood's other moniker, the Atlas District. The beautiful art deco building is one of the area's mainstays and is home to jazz concerts, dance performances, theatrical productions, and family shows.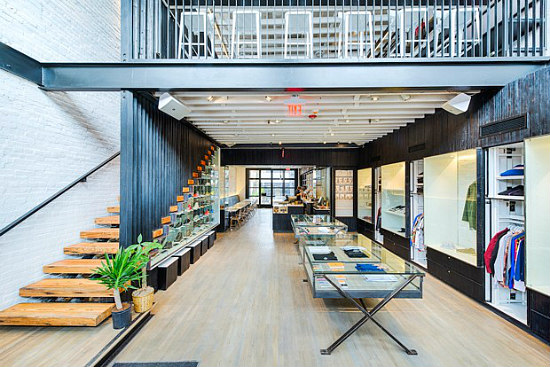 Inside Maketto. Courtesy of
Maketto
.
* Eat the frites at Granville Moore's: Some of the best fries in the city can be found in this humble little Belgian gastropub. For $6, you get a generous basket of fries, flecked with salt and parsley and accompanied by several dipping sauces. * Shop and snack at Maketto: One of the most exciting new spots in the neighborhood is the 6,000-square foot Maketto, a market-style building that satisfies everyone's inner hipster. Inside, you'll find a modest shop with casual-cool shoes and clothing, a coffee bar, and a restaurant whose dim sum brunch offers a delicious mix of Taiwanese and Cambodian flavors. * From the all-90s-sounds of White Ford Bronco to the synth-pop sounds of Ladyhawke, the Rock n' Roll Hotel has been bringing music lovers to the corridor for years and showcasing acts before they get big and head to venues like the 9:30 Club.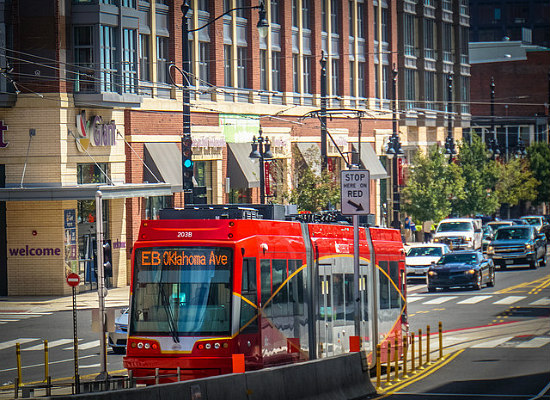 The streetcar running along H Street NE.
Streetcar Struggles
While the streetcar launched to much fanfare, it is certainly not without its critics. "It goes from nowhere to nowhere," Margaret Holwill, who has lived in the same house in the area since 1975, told UrbanTurf. "The other day I was sitting at a stoplight and I watched the streetcar go by and there were 5 or 6 people on it. When the X2 bus went by, every seat was filled." "Speed and efficiency are the worst aspects of the streetcar," Jones said. "I'd like to see one or two more cars added so there's less time to wait. Regardless of the streetcar's impact, WMATA has provided insufficient transportation options in this part of the city." Of the alternate options available, Metro is the weakest. There's no dedicated stop in the neighborhood, so residents have to rely on the Union Station and NoMa-Gallaudet U stops on the Red Line. Metrobuses are the most reliable form of transportation, with routes X1, X2, X9, 90, and 92 servicing the area. On days when the weather is cooperative, residents can grab a bike at one of five Capital Bikeshare stations. And if you're looking for the nearest highway, I-295 is just a few miles east along Benning Road.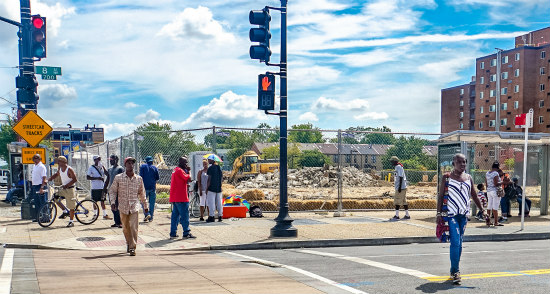 Construction site along H Street.
The Bottom Line: No Longer Emerging
While it continues to grow, it is no longer accurate to describe the H Street Corridor as emerging or up-and-coming. The neighborhood once considered unsafe attracted over 100,000 people to the popular summer street festival bearing its name in 2016, and ranks alongside Logan Circle and U Street as one of the city's prime nightlife destinations. For those like Russell de Leon, however, it is the little changes that matter. "Really, the biggest change since I moved here is lunch," he said. "There are a lot more places to get lunch now."
---
Zak M. Salih is a freelance writer based in Washington, D.C. His work has appeared in publications including Washington City Paper, the Richmond Times Dispatch, Baltimore City Paper, the Chicago Tribune, and the Christian Science Monitor. Photos by Ted Eytan.
Real Estate Agents Serving H Street
The following real estate agents are active in H Street. Call or email them to get in touch.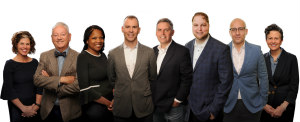 Joel Nelson Group
KW Capital Properties
Phone: 202-243-7707
Website: View website
Listings: View listings

This article originally published at https://dc.urbanturf.com/articles/blog/h_street_corridor_from_new_west_to_old_east/11951.
DC Real Estate Guides
Short guides to navigating the DC-area real estate market
We've collected all our helpful guides for buying, selling and renting in and around Washington, DC in one place. Start browsing below!
First-Timer Primers
Intro guides for first-time home buyers