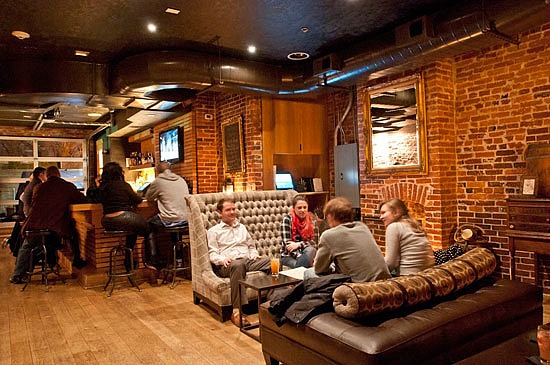 Inside Smith Commons
Much has been written in recent months about the maturation of the dining scene on Adams Morgan's 18th street. To that, the new swath of restaurateurs on H Street NE might say: "Took you long enough."
Over the past year, the restaurant and bar scene along H Street has evolved at breakneck speed, as high-quality, cuisine-centric restaurants opened along a strip that catered mostly to bar-goers and weekend partiers in its early days of redevelopment. When bar magnate Joe Englert began redeveloping properties and opening up his string of H Street bars less than 10 years ago, he probably didn't envision that by 2012 the area would be a bona fide restaurant destination.
In the last 18 months or so, new restaurants along the strip, such as the Atlas Room and Smith Commons, have leapt onto the city's dining scene. People are waiting several hours for a table at Belgian joint Granville Moore's or Toki Underground, an authentic ramen bar that received 2.5 stars from the Washington Post's scrupulous Tom Sietsema. H Street now even has a restaurant noteworthy enough for a presidential visit. (Obama took some supporters to the newly opened Boundary Road in February.)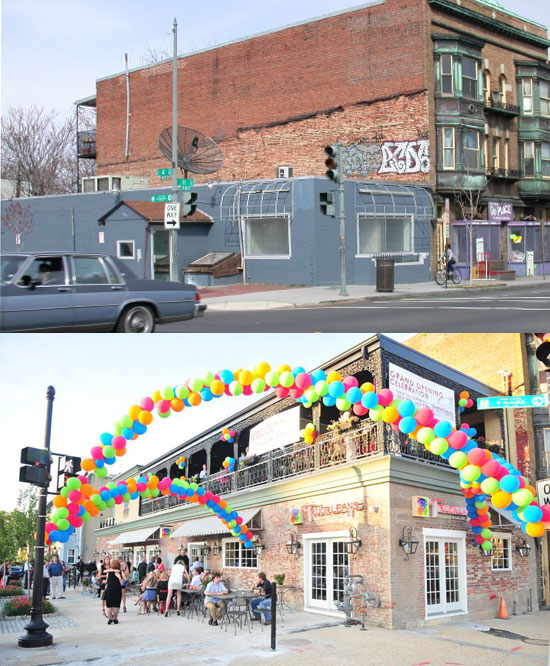 400 H Street NE before and after it became TruOrleans.
"We were trying to play on the trend of restaurants that were more of hybrids, bar/restaurants, with gourmet quality food, high-end craft beers, but presented in a much more comfortable, approachable environment," Miles Gray, managing partner at Smith Commons, told UrbanTurf. That's not to say the recent restaurant additions don't recognize the type of neighborhood they moved into. Smith Commons has both a lounge and patio that attract the demographic that flooded the blocks when the area was getting hip. Still, an increasingly diverse mix of folks can be seen roaming the streets on weekend nights.
"The new influx of restaurants and bars is giving a reason for people who don't live in the area to come over and check out what's going on," says Gray.
Frank Harkins, who opened SOVA Espresso & Wine in 2007, says the diversity of the crowd coming into his business on a daily basis has increased steadily for the past couple of years. "Before [people said] 'oh, H Street, it's so hipster,'" Harkins remarks. "Now you've got places catering to more mature adults." Such is the reason why he decided to open a wine bar as the nighttime foil for his coffeeshop.
"I saw a playhouse to the right, a performing arts center to the left, and I realized, not everyone there is going to want to see sword swallowers at the Palace of Wonders," Harkins says. "There's a demographic similarity between latte drinkers and wine drinkers. It just smacked me in the face."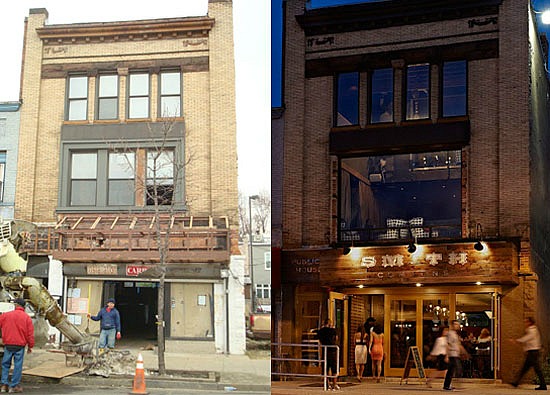 Before and After — Smith Commons.
Because all the new places that have opened have tried to do something substantially different than what's already going on in the neighborhood, local businesses that have been in the area for years have not suffered, says Shaaren Pine, who co-owns the Argonaut with her husband, Scott Magnuson.
"You would think that more places would take away from our business, but it just gets more people to the street," she says. "And nobody's really doing something that's already been done."
The Argonaut, one of the avenue's trailblazers, has undergone its own maturation, but that's actually been more a product of circumstance than anything else. The restaurant suffered a devastating fire in 2011, requiring a substantial renovation. When rebuilding, Pine and Magnuson took the opportunity to add a number of new tap lines for a top-notch craft beer program. "There were some people that were not as happy that we were not as divey," she says. "I think we're still pretty divey."
As things have changed around it, the Argonaut has shifted into being more of a restaurant than a bar. "We grew up and had a baby," Pine says. "We looked around and realized that everyone in the neighborhood was pregnant and having babies, so we wanted to have a place where their kids were as welcome as they are."
The changes to H Street's restaurant and bar landscape will continue into the coming year. The folks behind Taylor Gourmet have a cheesesteak place in the works and work is ongoing at The Casbah, a southeast Asian-themed restaurant that will sit at 1128 H Street NE. For a more detailed picture of how the scene has evolved over the past several years, check out the chronological list below:
The Old Guard
Argonaut (2005): One of the originals, divey bar now turned stroller happy hour hot spot.
H Street Martini Lounge (2005): Live music and 63 kinds of martinis, including one that comes with a lollipop.
Palace of Wonders (2008)/Red and Black (2006): Sideshow-themed burlesque bar and tiny, hip live music venue that in 2011 merged into one venue/restaurant.
Rock & Roll Hotel (2006): Intimate live music venue that hosts indie acts, upstairs can be anything from a drunk spelling bee to private parties to late-night dance destination.

SOVA

(2007): Coffeeshop and wine bar that's become a busy weeknight neighborhood hang and a must for Atlas Theater ticket holders.
The Pug (2008): Boxing-themed, no nonsense bar with simple rules: No idiots; no shooters; no bombs.
In Between
Sticky Rice (2008): Sushi bar that puts its own twist on the concept by featuring signatures like the massive red dragon roll, sticky balls, and tater tots.
Granville Moore's (2009): Turns an old, tiny doctor's office into a gastropub with killer mussels and a beer list right out of Belgium.
Little Miss Whiskey's Golden Dollar (2009): Wild west-tinged bar that has regular DJ nights and weekly Kostume Karaoke, but also has a serious beer list.
Newbies
The Atlas Room (2010): Semi-formal dining room and a kitchen manned by two veteran chefs cooking high-quality world cuisine.
TruOrleans (2011): New Orleans style restaurant with cajun menu, deadly Hurricanes, and a bottomless mimosa brunch that rivals the best in the city.
Big Board (2011): The latest to catch on to the gourmet burger craze, the restaurant also features entree salads and a craft beer program whose prices are dominated by a ticker-esque "big board".
Smith Commons (2011): Chic, sprawling restaurant and bar with locally-sourced menu and an ever-growing craft beer program.
Toki Underground (2011): Taiwanese ramen and dumplings outpost that has become a go-to spot for the city's culinary connoisseurs.
Boundary Road (2012): Recent addition that made headlines with a foie gras-laced PB&J sandwich, and an Obama visit within weeks of opening.
---
Photo Credits
* Before and After Smith Commons — HStreet.org and Smith Commons
* 400 block of H Street NE — HStreet.org and TruOrleans
This article originally published at https://dc.urbanturf.com/articles/blog/growing_up_h_streets_rapid_restaurant_maturation/5378.
DC Real Estate Guides
Short guides to navigating the DC-area real estate market
We've collected all our helpful guides for buying, selling and renting in and around Washington, DC in one place. Start browsing below!
First-Timer Primers
Intro guides for first-time home buyers