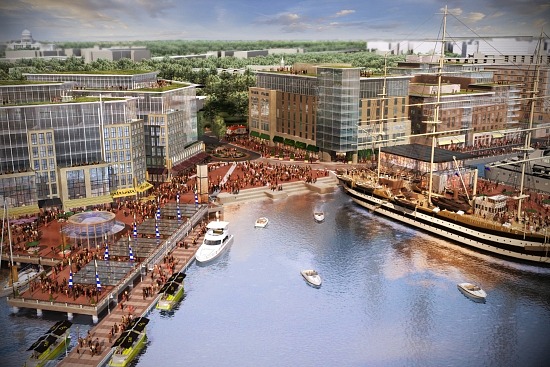 Rendering of big plans for the waterfront in Southwest
In a city where real estate watchers are always speculating about the next hot neighborhood, it is curious that DC's Southwest quadrant gets so little attention. Neighborhoods like Brookland, Trinidad, Capitol Riverfront, and Historic Anacostia are circulated as "the next" Logan Circle or Columbia Heights, and yet Southwest Waterfront appears to offer as much promise, if not more, than these areas. UrbanTurf spoke with agents and bloggers active in Southwest to try to understand whether this neglect of "the little quadrant that could" is justified — or whether it represents a great opportunity for forward-thinking home buyers.
The main reason to pay attention to Southwest is the $1.5 billion-dollar redevelopment plan that is set to transform the area over the next decade along the neighborhood's waterfront. While this plan has been in the works for years, two redevelopment initiatives that have already occurred — the new Arena Stage theater and the retail plaza Waterfront Station/4th Street — are widely considered big successes and have fueled development momentum.
"The Waterfront Station redevelopment along M and reopening of 4th Street absolutely changed the feel of the neighborhood," Monument Realty's Kirk Salpini, whose firm is selling the Potomac Place Tower condo project at 4th and I St SW, told UrbanTurf. "Waterfront Station has been the single greatest revitalization impact that we've experienced in the neighborhood. When paired with Arena Stage, it provided a strong one-two punch to shine the spotlight on Southwest."
Despite those successes, all the scheduled development hasn't had much of an impact on the psychology of recent home buyers. Greg Rooney, vice president of development at The Bernstein Companies, said that buyers at his company's Waterfront Tower condo project reacted to the plans with relative indifference.
"As much as we've tried to co-market alongside all the redevelopment, it hasn't been of primary importance to our buyers," Rooney explained. He said that next-door Metro access and price were the factors that drove the success of Waterfront Tower, where four units out of a total 123 are left for sale.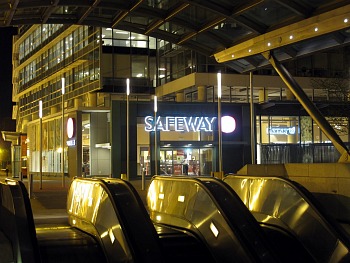 Waterfront Station, courtesy
The Little Quadrant That Could
Rooney also noted that while buyers themselves might not be cognizant of the big changes coming to Southwest, evidence of that change is starting to show up in neighborhood real estate metrics. "When we started Waterfront Tower, no one thought we'd sell at the price per square foot that we did," he said of the average pricing in the building. He also pointed to the building behind Waterfront Tower, an apartment called 1001 at Waterfront, where rents have increased over 25 percent in just the last year and there is now a waiting list to move into the building.
That's not to say that real estate appreciation has started sweeping across the neighborhood. On the contrary, one of Southwest's strongest selling points is the affordability of its homes (by DC standards). According to Redfin.com, the average price per square foot is about $300; in Columbia Heights that figure is $483 and in Capitol Hill $561.
"The prices are so depressed there," says Coldwell Banker's David Bediz. "It's a fantastic place if you're looking for a good bargain." Bediz recently sold a completely renovated 1,000 square-foot two-bedroom with a balcony and parking spot for $359,000. He sold another two-bedroom — 1,200 square feet, balcony with a view, decent condition — for only $335,000. "You can barely touch an efficiency for that price in Dupont," he said for comparison's sake.
As to why home prices aren't yet reflecting the coming development, Jenn Smira, an agent with Lindsay Reishman Real Estate who is active in Southwest, thinks it's still too early for home buyers to be drawn in by it. "Once we see more development, that's when people will really start to take notice of Southwest and begin buying there," Smira says, comparing it to the H Street Corridor before streetcar construction began.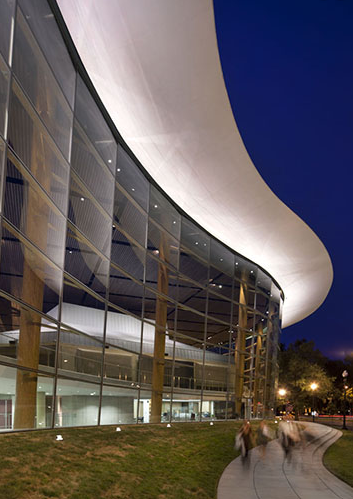 Arena Stage, courtesy Bing Thom Architects
Bediz thinks that the on-again, off-again progress of the redevelopment plans have hurt the perception that anything big will ever really materialize. "A lot of people are fatigued of hearing about this planned development and then not seeing it come to fruition," he said, noting that the big plans for Southwest redevelopment have been talked about since the early 2000's, but it's only recently that there appears to be real momentum.
Earlier this month, the Washington Kastles announced they would move to a new 3,000-seat stadium at The Wharf, the name given by the Hoffman-Madison Waterfront team to the redevelopment of the Southwest Waterfront. A few weeks later, The Graduate School announced plans to lease 190,000 square feet of space in one of the planned buildings at The Wharf. Securing The Graduate School as an anchor tenant was a boon for the larger efforts toward the area's redevelopment.
With the DC area seeing tentative signs of a new real estate cycle, William Rich, author of neighborhood blog Southwest…The Little Quadrant That Could, believes that the time is finally right for Southwest to benefit from new development. "This will be the real estate cycle that Southwest gets redeveloped," Rich predicts, noting that if it is executed as developers intend, the new waterfront will be a regional draw.
Does that make Southwest a good option for strategic home buyers hoping for some real estate appreciation? Rich thinks so. "Now would be a good time to get in on the ground level for what aspires to be an exciting destination in the coming years. All of the development promises are starting to become more concrete."
David Bediz agrees. "The first place I recommend to buyers looking for a good investment opportunity is Southwest. If I was to invest my money right now, I'd consider Southwest pretty seriously."
As for it getting less attention than other up-and-coming areas, agents say that should be seen as a positive to would-be buyers, not a negative. After all, once a neighborhood's improvement becomes obvious to everyone, the opportunity to buy there at a good price rapidly disappears.
"I think folks who are purchasing in Southwest now are making a really wise investment precisely because it is before the development begins," says Jenn Smira, who is listing the Southwest Waterfront condo where Hubert Humphrey once lived.
To be sure, there are reasons to be wary about buying in Southwest, not least of which is that all the planned development could, once again, stall. And even if all the plans are fully realized, it will take a decade or longer. In the meantime, the area is pretty light on amenities, especially restaurants and bars. For those who prefer a bustling urban neighborhood, Southwest will feel sleepy and a little isolated. Finally, condo/co-op buyers will be frustrated by the eye-popping monthly fees evident in many buildings. (This two-bedroom, two-bath corner unit looks like a great deal at $279,000 — until you notice the monthly condo fee of $950.)
Even given those issues, Southwest Waterfront is worth a look by DC home buyers who are priced out of the city's more well-known neighborhoods. The planned redevelopment of the waterfront is a once-in-a-generation effort that could reward those who buy early and stick around long enough to see that transformation come to life.
For more on Southwest Waterfront, see:

This article originally published at https://dc.urbanturf.com/articles/blog/getting_in_on_the_ground_floor_in_southwest/3242.
DC Real Estate Guides
Short guides to navigating the DC-area real estate market
We've collected all our helpful guides for buying, selling and renting in and around Washington, DC in one place. Visit guides.urbanturf.com or start browsing below!
First-Timer Primers
Intro guides for first-time home buyers