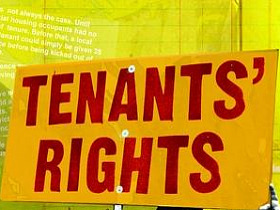 Despite having some of the highest rents in the country, DC renters enjoy particularly strong tenant rights when compared to other metropolitan locales. These rights are largely the result of legislation enacted in the last three decades to protect renters from abuse.
For example, the Rental Housing Act of 1985 and the Tenant Evictions Reform Amendment Act of 2006 limit the ability of landlords in the city to evict their tenants. The Rent Control Reform Amendment Act of 2006 limits how much landlords can increase rent and protects the elderly and disabled from high rental increases. And the Rental Housing Conversion and Sale Act gives tenants the right to purchase their abode before their landlord puts it up for sale. The law also gives tenants the right of first refusal in a sale that lets them match any contract between an owner and another party.
To find out a little bit more about tenants rights here in the city, UrbanTurf spoke with four people who have an intimate knowledge of the District's residential apartment market, and asked what they thought of the city's current tenant laws and what changes they would make if they could. Here's what they had to say:
Mark G. Griffin, attorney at Griffin & Murphy, a DC law office that specializes in real estate litigation.
"Before rent control was implemented there were a lot of abuses. But now I think the pendulum has swung too far. It discourages good landlords from operating in DC. I would like to see time periods for the Tenant Opportunity to Purchase Act reduced substantially. I would also like to see an exception to purchase if the new owner wanted to use their building as a rental for five years, and the registration process for rent control to become easier. And the biggest thing is to make it easier to convert a building with central utilities to one with individually metered utilities."
---
Jim McGrath is the chairman of TENAC, the DC tenant's advocacy coalition. He has spent over a decade mediating landlord governance issues in the District.
"DC has a model of rent control that is probably the strongest in the U.S. But over the years the law has been weakened and now the protections under rent control law protect far fewer people than were originally intended. I think the rent control law needs to be revisited. Some exclusions need to be thrown out and the rent caps need to be changed by scaling down entry level rents."
---
Richard Luchs, attorney at Greenstein DeLorme & Luchs P.C., a DC law firm that specializes in real estate litigation.
"The biggest concern is that housing policy in the District is virtually non-existent. As a consequence, too much is done piecemeal. Any kind of economic controls have proven over the years to be bad policy. They are not good for growth and they do not protect those who are intended to be protected. If you are going to have protections for low income persons, persons with disabilities and the elderly (the groups the law was intended to protect), the District has to have a comprehensive housing policy. The city needs to create incentives for the development of housing for people who forgo market income to protect those individuals that need protection. And do away with economic protections for people who can afford to pay."
---
Joel Cohn is legislative director at the District of Columbia's Office of the Tenant Advocate.
"The District needs strong tenant protection laws in part because of chronic problems in the rental housing market, like the lack of proper maintenance and unaffordable rent increases, and also because tenants usually are on the wrong end of an unlevel playing field with their landlords. We need to strike the right balance between the competing purposes of the rent control law. That means maintaining an affordable rental housing stock, not eroding the incomes of low and moderate income households, while also ensuring a reasonable profit for housing providers. Regarding maintenance, a very positive development just in the past few months is the D.C. Superior Court's creation of a "Housing Conditions Calendar." Landlords have always had an expedited process to evict tenants who aren't living up to their lease obligations. Now, for the first time, tenants have an expedited process to make derelict landlords fix housing code violations."
---
A comprehensive guide of tenant rights in the District can be found on the website of the Office of Tenant Advocate. Representatives at the OTA are also available to answer any questions you may have about tenant's rights, and can be reached by calling 202-719-6560.
This article originally published at http://dc.urbanturf.com/articles/blog/four_takes_on_tenant_rights_in_dc/2421
DC Real Estate Guides
Short guides to navigating the DC-area real estate market
We've collected all our helpful guides for buying, selling and renting in and around Washington, DC in one place. Visit guides.urbanturf.com or start browsing below!
First-Timer Primers
Intro guides for first-time home buyers