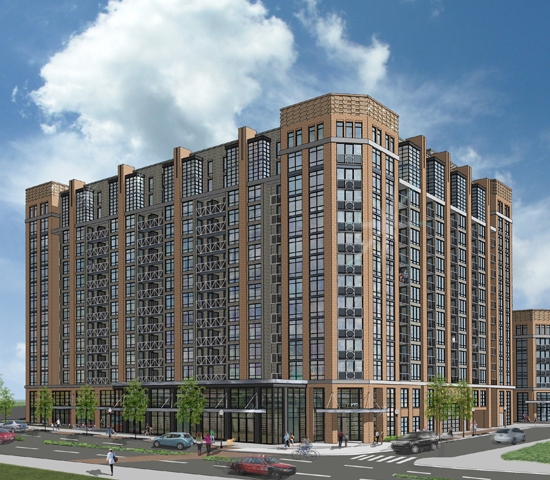 Virginia Square Towers, over 1,000 apartments planned in Arlington
An age-old complaint among city dwellers is that rents are high and just keep going up. The complaint not only serves as a frequent cocktail party discussion topic, but also the basis for the occasional rant, and even as the platform for a New York City political campaign.
DC has been particularly affected as two forces at work – low vacancy and high demand – have resulted in worse-than-usual rent hikes in recent years.
In January 2011, a report from local real estate research and consulting firm Delta Associates concluded that average rents for mid and high-rise apartments in the region had increased almost 8 percent in 2010, and a tremendous 14 percent in Northwest DC neighborhoods like Dupont Circle and Georgetown. As the year progressed, the trend continued. In October, it was reported that rents in the DC area had risen 3.7 percent during the previous 12-month period, while vacancy rates sat at just 2.8 percent, the lowest for any metro area in the country except New York.
But earlier this month, the upward surge began to subside. A new report showed that while DC area rents were still on the rise, they weren't rocketing skyward like they had done in years past, rising only 2.1 percent over the course of 2011, an increase that paled in comparison to what happened in 2010.
The report also stated that the sheer number of apartments expected to deliver in the coming years would likely put "downward pressure" on rents, with modest declines expected by the end of 2012. So what constitutes a modest decline? At the metro level, rents may decrease by about 1 percent by the end of the year, then remain flat in 2013 and start going up again in 2014 and 2015.
"With so many units under construction, combined with high demand and high rents, something is going to get squeezed out," Mark Franceski, director of market research at real estate sales and marketing firm McWilliams|Ballard told UrbanTurf. "We'll find out if it's demand or price."
Here are some numbers that will help put the delivery statistics for rentals into perspective. In the second and third quarter of this year, 8,000 total rental units will deliver in the DC area. The typical delivery schedule for rental apartments over the course of an entire year is 5,000 units.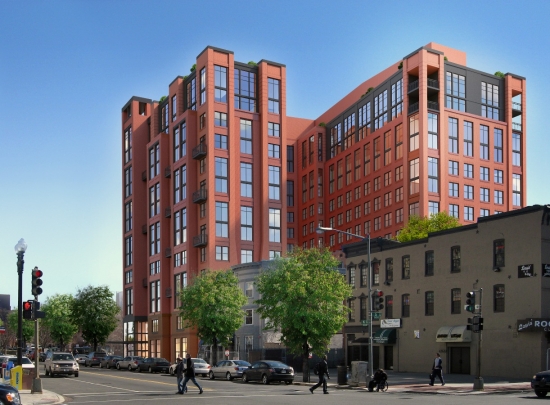 450 K Street, a 250-unit planned apartment building
The increased supply is not only likely to result in dropping rents, but raises the specter that the number of apartments in the construction pipeline far exceeds near-term demand.
"Will we overbuild? Yes, we always do," Delta Associates vice president Grant Montgomery told UrbanTurf. "Real estate moves in cycles. Apartment starts in the area from 2008 to 2010 were well below the norm. In 2010, it went back up to a more normal cycle, now we have the most prolific quarter of starts in 18 years."
The too-many-apartments prospect is compounded by the fact that larger rental projects will be unable to convert to condos, regardless of buyer demand and low for-sale inventory.
"Builders who got their financing through Fannie or Freddie are prohibited from switching to condos," Mark Franceski explained of the large-scale rental projects on the boards. "They would have to pay back their whole loan first."** Unlike 2005, when large condo buildings could get financing, the type of for-sale projects that get financing these days cap out at about 100 units; many of the rental projects that will deliver in the next several years far exceed that number.
"The condo world has changed from what it was in 2005. The type of condos that get financing are smaller, more boutique condos," Montgomery said. "There is a chance that a limited number might switch to condos, but not enough to make a significant dent."
Conversions or no conversions, the supply of new apartments coming online in the region is staggering. In total for 2012, 12,472 units are projected to deliver and of those 97 percent are under construction; in 2013, 10,877 will deliver, with 61 percent under construction already. Only by 2014, will those delivery figures will start to trail off.
**Projects that are financed through HUD 221 loans are difficult to convert because the loan provisions don't allow it, unless the full loan is paid back. Also, mortgages for individual buyers from Freddie Mac, Fannie Mae and FHA require a certain percentage of a building to be sold before they will back a home loan. These days, a 200-unit project would need to sell at least 30 percent of its units without any government-backed financing. This is difficult to do for 60 units (30 percent of 200), which is why smaller condo projects have a better chance of getting financing.
This article originally published at https://dc.urbanturf.com/articles/blog/falling_rents_likely_as_dc_supply_increases/4999.
DC Real Estate Guides
Short guides to navigating the DC-area real estate market
We've collected all our helpful guides for buying, selling and renting in and around Washington, DC in one place. Visit guides.urbanturf.com or start browsing below!
First-Timer Primers
Intro guides for first-time home buyers