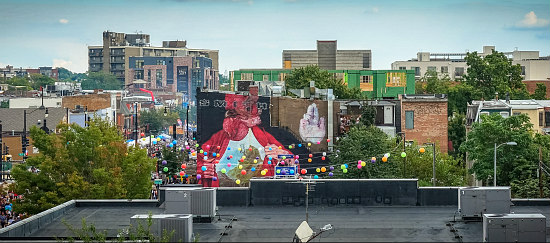 Above the H Street Corridor. By
Ted Eytan
.
In the wake of Amazon's announcement that it is searching for a second headquarters location, a number of cities — including the District — are doing everything they can to bring the company to their town. The new headquarters would occupy upwards of 8 million square feet of real estate and employ 50,000 people, and there would undoubtedly be an effect on the local housing market for the city that Amazon chooses.
Would housing prices and rental rates rise, and if so, by how much? How much more constrained would housing supply become? With these questions in mind, UrbanTurf asked a few local industry experts for their thoughts as to how a new Amazon headquarters in the DC area would effect the market.
---
An Area-Wide Increase in Demand, With Spiking Rents Near the Headquarters
By William Rich, President at Delta Associates
The arrival of a new Amazon headquarters to the DC area would likely result in spiking apartment rents in the jurisdiction where the headquarters would be built. The degree that rents would rise would depend on the amount of existing inventory on the market and occupancy levels. The arrival of the headquarters would also spur new apartment development, however the amount and type of new development would depend on where the headquarters is built. For instance, a new headquarters in Prince George's County could put transit-oriented development near its Metro stations in high gear since that kind of development historically has been lacking in the county compared to other jurisdictions in the region.
Housing prices in the District could increase significantly since there are relatively few new rowhouse and single-family homes being built in the area and not all of the 50,000 new employees will want to live in apartments or condos. Whichever jurisdiction is selected, it would have an impact throughout the region – on average, about 45,000 new jobs have been added to the region per year over the long term, so 50,000 new jobs from one employer will have implications across the region since Washingtonians often live in one jurisdiction and work in another.
---
A Decade of High-Value Job Market Stimulation
By Jeannette Chapman, Deputy Director and Senior Research Associate at George Mason University's Schar School of Policy and Government
If the Washington region is the home of the new Amazon headquarters, it will fill its 50,000 positions by either moving people from the current headquarters and other sites or through organic growth from this region's labor force. I think a very small percentage of the growth will be explicitly imported by Amazon. Some top-level executives and key positions may be transplants but I think the majority will be organic.
The transplants filling roles at the top levels are more likely to be home buyers. If they are splitting their time elsewhere, they would fit the high-end condo market profile. If they are based here year-round, then they would fit the high-end single-family detached profile. In some ways, the arrival of a new headquarters could mirror the modest increase in the higher-end markets when a new administration comes to town.
In general, high-value add job growth bolsters home sales, but the specifics (location, price points) are harder to pin down. The average total compensation for an employee at the new headquarters would be about $100,000 or about $75,000-80,000 in base salary. That annual compensation could translate into a small rental bump, especially for a younger worker with student debt or those in a single-earner household.
To put some very rough numbers around it, the 50,000 new workers would not be hired all at once. I'd assume a baseline average of about 5,000 workers hired per year over ten years, which roughly fits with the commercial development phases. Those 5,000 workers translate into 2,000-3,000 households. Assuming that all of those households bought, or all of them rented, could noticeably change the market. However, these households will be split, which diminishes the aggregate effect at the metro-level. That said, depending on where in the region the headquarters would be located, the neighborhood-level would likely have increased demand near the site and near major transportation nodes that lead to the site.
---
More Demand May Bring More Home Construction
By Jonathan Hill, Vice President at Bright MLS
A large, non-government employer like Amazon would add stability to the employee population in the DC area. Most of the positions at the new headquarters would likely be in the $100,000 salary range, so the high cost of living in our area will not be a limiting factor.
A large influx of home buyers with the new headquarters would encourage builders to be more aggressive in their new construction plans, increasing the number of units they're willing to spec. That would bring some relief to local homebuyers who have been precluded from new home purchase due to scant supply. I doubt there would be any significant impact on prices. Inventory may rise slightly, due to home builders adding more homes and building more units due to influx of new buyers.
See other articles related to: amazon
This article originally published at https://dc.urbanturf.com/articles/blog/experts_weigh_in_on_what_an_amazon_headquarters_would_mean_for_dc_housing_m/13021.
DC Real Estate Guides
Short guides to navigating the DC-area real estate market
We've collected all our helpful guides for buying, selling and renting in and around Washington, DC in one place. Visit guides.urbanturf.com or start browsing below!
First-Timer Primers
Intro guides for first-time home buyers