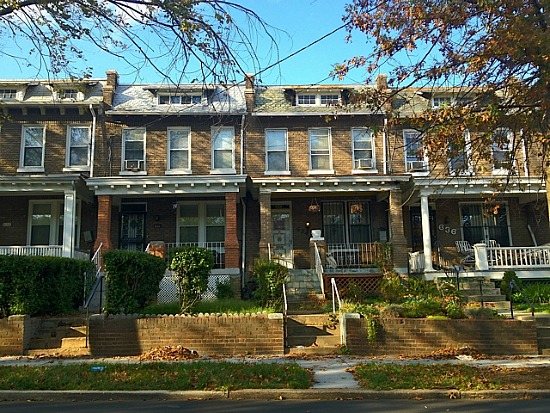 Homes in Edgewood
Edgewood, a densely populated maze of rowhouses and bungalows in Northeast DC, tends to lose top billing to buzzier neighbors: Bloomingdale, Eckington, Brookland all command more headlines, more visitors, and more retailers.
Frequently used descriptors like "friendly" and "under the radar" are used by residents to describe Edgewood, perhaps because a shortage of eateries and bars keeps the foodies and hipsters away. "I feel like we're the forgotten neighborhood," said Sally Hobaugh, who bought an Edgewood house four years ago and authors the blog Life on the Edgewood.
But none of Edgewood's residents want the neighborhood to turn into H Street NE. Residents say they were attracted to the diversity, spirit, and decent home prices the community had to offer.
Attainable Home Ownership Attracts All Kinds
The Edgewood neighborhood sits just to the west of Brookland, roughly bounded by Lincoln Road and Glenwood Cemetery to the west, Michigan Avenue and Monroe Street to the north, the Red Line tracks to the east, and Rhode Island Avenue to the south.
In five years, homes in Edgewood have gone from rock-bottom fixer-uppers to moderately priced gets. Kenn Blagburn, a real estate agent with City Lights Realty, says the neighborhood was "not always people's first choice" when he started selling. In the past three years, though, both interest and prices "have grown incredibly."
A spot in the sparkling new EYA development Chancellor's Row runs in the $600,000 range whereas the solid row houses dotting the rest of the neighborhood might list for $300,000. The range isn't the city's cheapest, but it's attainable for folks who've been priced out of other "up and coming" neighborhoods. Edgewood also offers a healthy rental market, with several large apartment buildings.
Blagburn says he sees no common denominator as to who the buyers are, unlike pockets of the District that are hot among young parents or young professionals. "From investors to first-time homebuyers," he said. "There's no specific demographic looking at it."
Edgewood has seen its population get whiter and wealthier in the last decade, according to census data. "Now, some people will have a problem with that," Michael Henderson, a teacher who moved to Edgewood in 2002, said. "But moreso, people are welcomed and welcoming." He describes a neighborhood where neighbors see him cooking out and stop by, and vice versa.
Chancellor's Row
Sally Hobaugh agrees that Edgewood has remained friendly through it's economic transformation. "I feel like I know half the neighborhood," she said. Hobaugh notes that neighbors responded positively to Chancellor's Row, an upscale development of "Truman Show"-like perfection.
"I know some of [the townhouses] are affordable," she said. "[The developers] also gave money for different things in the community." (A small triangular park at 4th, Lincoln, and Franklin is currently being rehabbed by EYA.)
Houses, Houses Everywhere, But Not a Place to Drink
Neighbors are more likely to complain about the lack of restaurants and retail in Edgewood than gentrification.
"We're not like other neighborhoods," Hobaugh said, referring to the eateries and bars popping up in neighboring Bloomingdale. Besides Chez Hareg, an upscale bakery, and a few carryout spots, Edgewood is a veritable restaurant desert.
"For some reason, we seem to have been left out of the retail changes," she said. "We're not sure why it seems to be hanging back."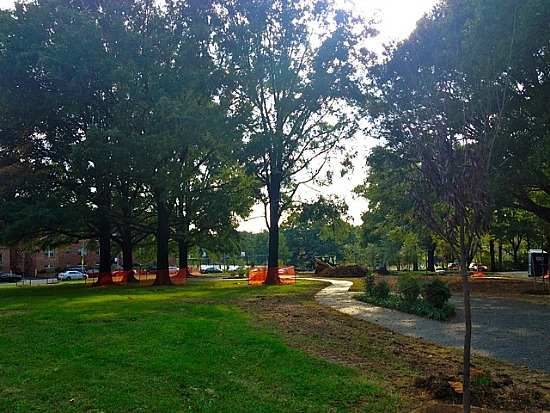 Park at 4th, Lincoln and Franklin streets.
Henderson had a more definite answer. "Retailers, the kind that folks like me really want to set up shop here, are not going to come here until more folks like me are here," he said. Henderson says he appreciates the Home Depot and the Giant (recently spruced up) that serve Edgewood, but longs for more dining options.
"The problem is we don't really have a nice restaurant, where you can sit down and have a glass of wine and a good meal," Henderson said.
Despite the lack of restaurants, other developments in the neighborhood have become points of pride for neighbors. The Chocolate City Brewery, established in 2011, might be the most attractive Edgewood amenity to outsiders, and residents say they enjoy filling up their growlers there on Saturdays. The brewery is located off of another Edgewood amenity, the Metropolitan Branch Trail, which serves the neighborhood's many cyclists.
"Everyone's excited about the Metropolitan Branch Trail," Hobaugh said. "They're supposed to build a bridge from the trail to the Rhode Island Metro. We really can't wait."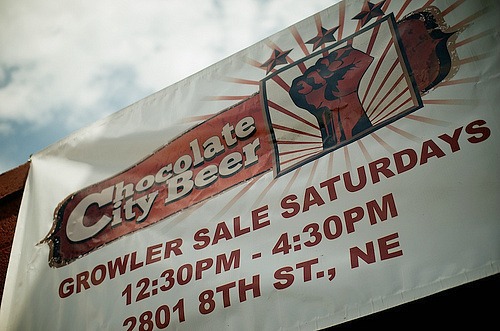 Chocolate City Brewery. Courtesy of
Brookland Avenue
.
Pushing to Make Edgewood Better
Edgewood has shown itself to be more substance than style—short on chic bars, but long on community activism. When residents see something they don't like, they act.
"When I came to Edgewood, Edgewood had no presence," Henderson said. "Not on the city council, not the Internet." In the past 10 years, Edgewood developed a website, a listserv, and a number of civic-oriented projects, including a community garden, a non-profit to develop the Edgewood Recreation Center, free music lessons for kids, and monthly trash clean-up days.
Hobaugh started the trash pick-up four years ago. "When I first moved to the neighborhood, I noticed there was a lot of trash around the rec center," she said. "I asked on the listerv if anyone wanted to do a neighborhood clean-up." A strong response followed, and now neighbors meet monthly to pick up garbage and then enjoy a cookout.
Crime in Edgewood's ANC district is fairly average for a DC ANC, according to city data on property and violent crime, but schools remain a tricky issue for residents. Despite an active neighborhood, the District closed Edgewood's primary elementary school, Shaed Education Campus, last year for under enrollment and under performance. Noyes and Langley serve the kids of Edgewood now, and residents say charter schools are extremely popular; DC Prep's Edgewood middle and elementary schools draw high marks from school ranking site GreatSchools.org.
"A lot of [parents] are trying to figure out the school thing," Hobaugh said. "All my friends who are moms in the neighborhood went through the lottery. Only one went into a DCPS school. A couple are homeschooling, or they got into a charter, or they're waiting for next year."
Hobaugh says she's seen some parents move rather than play the lottery or hope that Edgewood's public schools improve. "I know they all wanted to stay," she said, "but they were concerned about the schools."
The Bottom Line
There's a reason why real estate in Edgewood is still within reach for DC professionals: you have to leave the neighborhood to sit down to dinner, and some might feel they have to leave to get their kid the right education. But for the civically-minded sort who cares about clean streets and grilling out with the neighbors, it's a fine place to call home.
Jenny Rogers is a columnist at the Washington Examiner. Her work has appeared in Slate and TBD.
This article originally published at https://dc.urbanturf.com/articles/blog/edgewood_more_substance_than_style/6152.
DC Real Estate Guides
Short guides to navigating the DC-area real estate market
We've collected all our helpful guides for buying, selling and renting in and around Washington, DC in one place. Visit guides.urbanturf.com or start browsing below!
First-Timer Primers
Intro guides for first-time home buyers