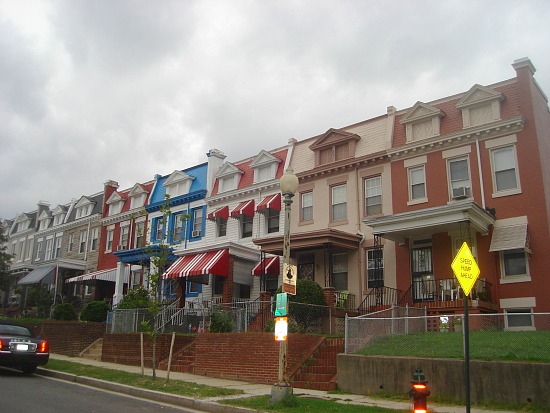 Colorful row houses near 2nd and U Street NE
As one of DC's oldest neighborhoods, it is a little bit ironic that Eckington has a much lower profile than the neighborhoods surrounding it. However, as the city undergoes a "mixed use" renaissance, the neighborhood to the east of North Capitol Street, with its turn-of-the-century row homes and older industrial buildings, is seeing its landscape change as new residential developments break ground.
Location and History
Eckington is bounded by North Capitol Street to the west, Rhode Island Avenue to the north, the Metropolitan Branch Trail to the east, and Florida Avenue to the south. In the center of it all, the campus of McKinley Technology High School looms large over the neighborhood.
The land was originally home to the summer estate of Joseph Gales, Jr., a newspaper editor and mayor of Washington in the late 1820s. Named for the village in England where Gales was born, the Eckington estate was eventually criss-crossed by the B&O Railroad, bringing with it industrial buildings that still define the neighborhood's eastern edge. The property was bought in 1887 by George Truesdell, who began developing it into square blocks that were an extension of the grid laid down in the L'Enfant plan. Truesdell also established a streetcar line that went from T and 4th Streets NE to New York Avenue and 7th Streets NW, and he would oversee construction of the area's first row houses and apartment buildings. In the 20th century, the construction of Union Station and its converging railroad tracks coincided with more industrial development in Eckington, including a biscuit factory and a Schlitz beer brewing plant on Randolph Place. Today, the industrial landscape includes an air compressor rental company, a US Postal Service vehicle maintenance facility, and wholesale flower retailers.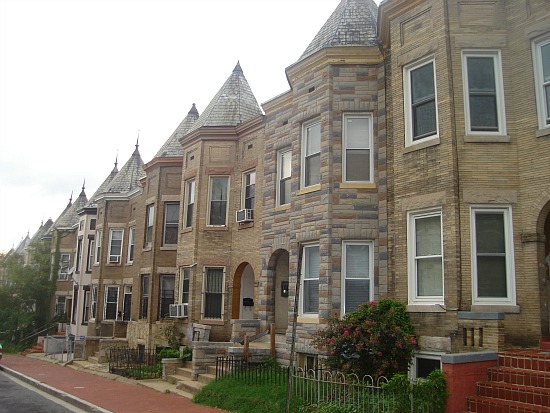 Victorian row houses near 1st and T Street NE
Between Bloomingdale and NoMa
Across North Capitol Street is Bloomingdale, the neighborhood that people often confuse for Eckington. "You will find exactly the same properties on the east side of North Capitol that you will on the Bloomingdale side, they are often just less expensive," Suzanne Des Marais, a real estate agent with Urban Pace, told UrbanTurf. "You're starting to see a lot of competition among home buyers on the Eckington side, as a result." Bloomingdale's retail stretch of restaurants, coffee shops and convenience stores along 1st Street NW aren't that far from Eckington, but Des Marais said that the North Capitol Street boundary creates a geographical divide, since there are very few spots you can cross safely. On the Eckington side, there are small corner markets scattered around, as well as a few carry out spots, but not much else in the way of commercial options.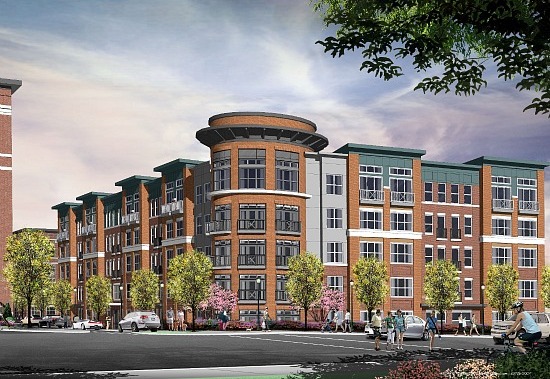 Rendering of NoMa West
To the south of Eckington is NoMa, one of DC's newest neighborhoods, which offers Eckington residents transportation (the New York Avenue/Florida Avenue Metro Station) and grocery options (a new Harris Teeter at First and M Streets NE). As for new development of its own, on the vague edge of the neighborhood at Eckington Place and Harry Thomas Way, a new mixed-use development known as NoMa West has broken ground. It will include 603 residential units and 1,500 feet of retail, according to Sam Simone of Mill Creek Residential Trust, the developer behind the project. On the other side of Eckington, at 329 Rhode Island Avenue, the 21-unit Mint Condominium, which also includes a street-level retail element, is expected to deliver soon. With these projects will likely come some home appreciation (incremental, not huge jumps). But for now, housing prices in the neighborhood are pretty reasonable: the average single-family home price this year has been around $336,000, and the average condo price was $233,000.
The Best Neighborhood We Could Afford
When Katrina Lee bought a home in Eckington a decade ago, she didn't know anything about it. "I don't think you'll find many people [that bought back then] who say 'I drove through Eckington and found it thoroughly charming,'" she said. Still it was the best neighborhood that she could afford at the time. Now, she says that instead of people coming in and buying row houses, newer residents are looking at the condos that have sprung up. Before 2005, there was only one building with condo ownership sales in Eckington. "Since 2006, the number of condo projects has increased to nearly twenty," Des Marais explained.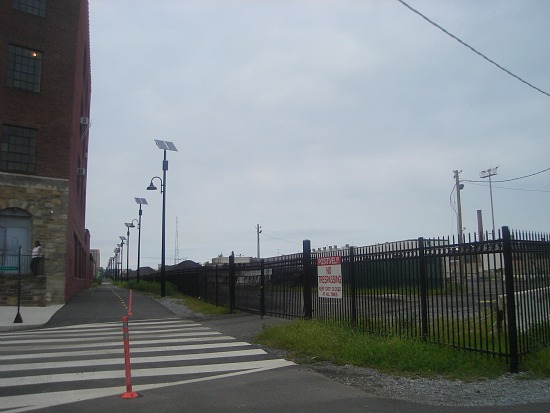 Metropolitan Branch Trail
Signs of gentrification aren't necessarily obvious walking around Eckington, but that doesn't mean there isn't a divide between older and newer residents. Lee thinks that the home buyers in the early 2000s were able to adapt to the culture of the neighborhood more easily by settling down and realizing that there were valuable things about its character. "When you park in front of somebody's house, and they're standing in the front yard, you say hello," Lee said. "Newer residents aren't as quick to do that. They see themselves as moving into a city and not into a neighborhood." Her notion of a split between the two sets of buyers are echoed in the comments of Rossen Tsanov, who moved into a condo conversion at 3rd Street and Seaton Place NE in March 2010. Like Lee, Tsanov was attracted to the area because of the low home prices and convenient geography. But in terms of neighborhood involvement, he is not very charged up. "I am sort of indifferent to the locals, its problems, and its rapid development," he said.
Not Without Its Problems
Despite what Lee describes as a "back fence culture" (neighbors who look out for each other in their alleys), police department statistics show that violent crime in the area has been steady, around 50 instances a year since 2008 within 1,500 feet of the heart of the neighborhood. Theft has also increased: in 2009, there were 114 instances of theft; in 2010 there were 133; and this year to-date there have been 94. And the Metropolitan Branch Trail along Eckington's eastern border, which is never very crowded, has come under the spotlight this year because of a spike in crime against bike commuters and pedestrians. Subsequently, Guardian Angel started regularly patrolling the trail this summer.
The Bottom Line
Eckington will likely continue to be defined by division: between older and newer residents, between its residential and industrial elements, and by major roads cutting it off from retail amenities. But for some, like Lee, Eckington's residents and traditional character gives it what it needs. "It's remarkably convenient, people are still friendly and talk to one another, and there are still some streets that have big trees, and look old and kind of unspoiled."
This article originally published at https://dc.urbanturf.com/articles/blog/eckington_not_to_be_confused_with_bloomingdale/4109.
DC Real Estate Guides
Short guides to navigating the DC-area real estate market
We've collected all our helpful guides for buying, selling and renting in and around Washington, DC in one place. Visit guides.urbanturf.com or start browsing below!
First-Timer Primers
Intro guides for first-time home buyers