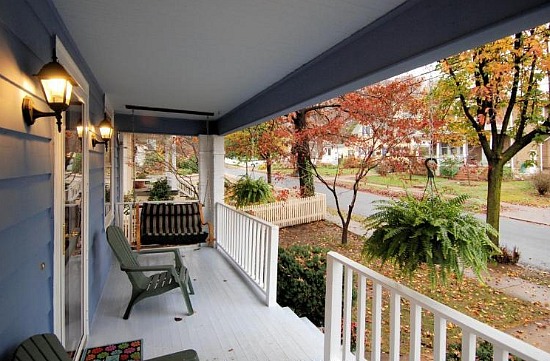 View from a porch in Del Ray
Spending a Saturday afternoon in Del Ray, an Alexandria neighborhood located just northwest of Old Town, it becomes clear why the area has developed a pleasant small-town reputation. Despite the biting mid-winter cold, Mount Vernon Avenue, Del Ray's main thoroughfare, is dotted with neighbors—plus accompanying kids and pets—catching up on the sidewalk. Cafés are packed with groups, couples, and singles on their laptops, and the street's specialty foods stores are practically steamy with shoppers. It's the kind of neighborhood that harks back to an earlier time, where everything was walkable and just about everyone knew your name.
Not Always Cute and Groovy
Del Ray is bounded by Braddock Road to the south; Russell Road to the west; West and East Glebe Road to the north; and Jefferson Davis Highway and Leslie, Glendale, and Mount Vernon avenues to the east.
The neighborhood didn't always have the feel of a small ski town in Vermont. A couple of decades ago, the community was the kind of place you might not feel comfortable traversing at night on foot. But little by little, independently-owned businesses colonized Mount Vernon Avenue until they reached a critical mass. These days, the strip is populated with one cute low-rise store or restaurant giving way to another and the housing stock has become sought after.
Laid-Back, Coffee-Shop Feel
Sam Bailey and Clay Teagle, two thirty-something friends who were hanging out at St. Elmo's Coffee Pub recently, are single and renters, not necessarily representative of the type of people who live in Del Ray. They were quick to point out, as many others have, that the vast majority of residents seem to be youngish families living in their first or second home. "Everyone's either walking a dog or pushing a stroller—or, in a lot of cases, both," said Teagle. But he noted that it's not the place to live if you're interested in the typical suburban lifestyle. "Del Ray has a bit of an artsy, coffee-shop vibe," he explained, adding, "I came from Seattle and knew nothing about Del Ray, but this is what's kept me in DC. It's eclectic, more laid back." David Forbes, who was waiting outside of St. Elmo's with one of his daughters, added that the environment is remarkably friendly. "It's such a small area, you start to see people you know all over the place."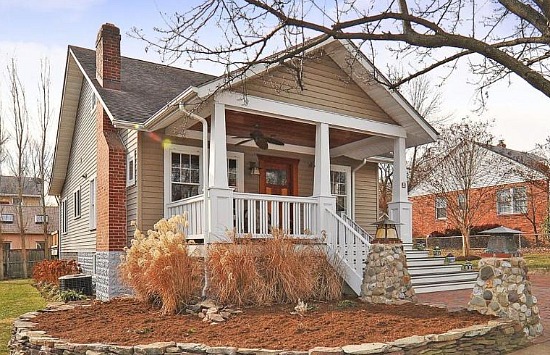 Bungalow for sale on Forrest Street
Varied, Quirky Homes
Although there are a smattering of townhouses, older row houses, and some boxy brick apartment buildings, the housing stock in Del Ray largely consists of detached single-family homes. Yards are relatively small—by suburban standards, that is, not by urban DC standards—but the homes are a quirky and varied mix of Cape Cods, colonials, bungalows, and some Victorians. Some even started out as Sears kits back in the early part of the 20th century. Many houses were originally built for workers at Potomac Yard, a rail yard just east of Del Ray that shuttered in the 1980s. Several have undergone "out and up" renovations, but residents say there have been blessedly few instances of full demolition and rebuilding.
Relatively Insulated, Relatively Affordable
"Del Ray has probably experienced the least negative downturn in this housing market [of any neighborhood in the Washington metro area], because demand has consistently remained high," said Chris Fries, a real estate agent with Urban Pace, adding that 78 days is the upper limit that properties spent on the market last year. Nonetheless, he said, "there's still a good amount of affordable housing." Affordable relative to Georgetown and Dupont Circle, that is. For example, a fully renovated four-bedroom, three-bath bungalow is currently under contract for $969,000. But prices do vary considerably: another four-bedroom bungalow in need of work is currently listed for $575,000. Townhouses are a less expensive option with a semi-detached two-bedroom listing selling for $350,000, and a three-bedroom property for $529,000. "Del Ray used to be the place people could afford to get their first starter home," Scott Hodge, a twenty-year resident, said. "And maybe that hasn't changed, but starter homes are a lot more expensive now." One-bedroom rentals in Del Ray tend to range from $1,200 to $1,900 per month; two-bedrooms rent for $2,000 to $3,000, though an intrepid hunter might be able to find a cheaper deal.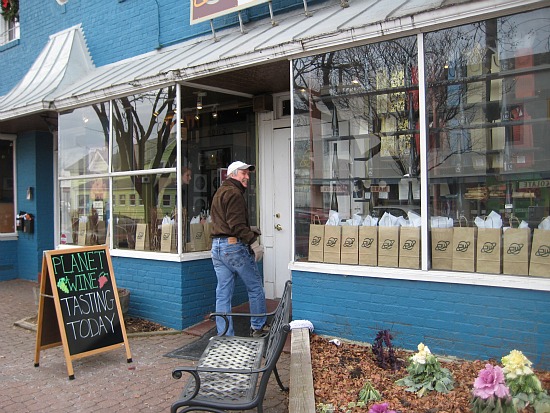 Customer visiting Planet Wine on Mount Vernon Avenue
Main Avenue Lined With Independent Businesses
Mount Vernon Avenue has one independently-owned business after another, and the numbers are still growing. Once in short supply, eateries continue to move into the area, John Patrick, a native to Del Ray and manager of the Del Ray Performing Arts Center, told UrbanTurf. Del Ray Pizzeria opened this past fall and, though reviews have been mixed, residents say they're happy to have another pizza option. Pork Barrel BBQ, which is currently under construction, is planning to open soon at 2300 Mount Vernon Avenue. For years, though, the draw of the avenue has been places with creative names like the Dairy Godmother, a funky custard shop that the Obama family visited in 2009; Planet Wine, a wine store offering 2,000 different labels; and The Evening Star Cafe, arguably the most popular eatery in the neighborhood. The street's also home to a couple of Latino restaurants, Los Tios and Taqueria Poblano, both of which serve "some of the best margaritas in the city," according to Sam Bailey and Clay Teagle. Services, too, have grown over time on Mount Vernon Avenue. There's the inevitable yoga studio, but also a locally-owned hardware store, Executive Lock and Key, a butcher's shop, and Cheesetique, a cheese boutique and wine bar. The one thing Del Ray doesn't have, though, is much of a nightlife scene. The Evening Star Café and the Del Ray Pizzeria both close around 11pm, and little else stays open that late. For more mainstream shopping options, Del Ray is near the Potomac Yard Shopping Center, which has a Regal Cinema, Target, Best Buy, and many other chain stores. Just south of that area and east of Del Ray is the 69-acre Potomac Yard site, where plans to build 7.5 million square feet of residential, retail and commercial space, as well as a new Metro station, seem to finally be moving forward.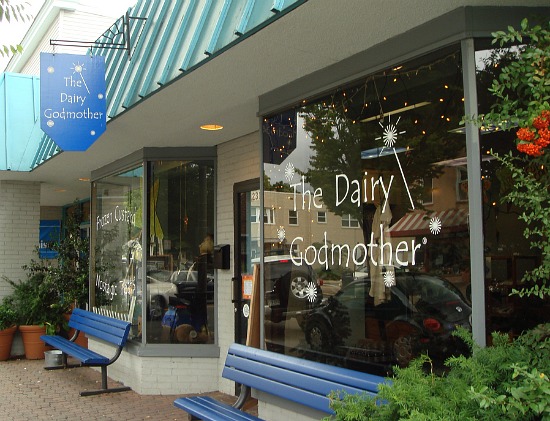 The Dairy Godmother
Family Friendly Activities
David Forbes and his wife Jill rattled off a number of family-oriented events that occur in the neighborhood including Art on the Avenue, an annual art and music street fair that brings in around 40,000 people, and the farmers market on the middle section of Mount Vernon Avenue. Add to that the monthly First Thursday events (outdoor music and activities during warm weather), an annual Halloween parade, and several nice parks, and it seems like a pretty ideal community for kids. That said, Alexandria's public schools—in this case, Jefferson-Houston or Mount Vernon elementary schools, George Washington Middle School, and T.C. Williams High School—aren't considered quite as strong as those in Arlington or Fairfax.
Short Commute By Car, Rail or Bike
Unlike most in the region, Del Ray residents rave about their commute. The neighborhood is very close to the George Washington Parkway and to I-395, and the Beltway isn't too far to the south. "You can get to DC in ten minutes by car," Forbes said. The Braddock Road Metro station on the Blue and Yellow lines is located at the south end of the neighborhood, but the new Potomac Yard station, once complete in 2016 (construction is slated to start in 2013), will add another option near the community's northeast corner. The neighborhood is also served by Alexandria's DASH bus system's lines AT3, AT4, and AT10; bus AT4 goes to the Pentagon, where riders can connect with a web of routes all over Northern Virginia. Chris Fries also pointed out that with the Mount Vernon bike trail is very close. "I know a number of people [in that area] who work downtown and bike to work," he said.
A Stabbing Five Years Ago
Del Ray may have once had a rougher vibe, but these days that reputation seems long forgotten. That's not to say that there aren't a few unsavory neighborhoods to the north and east, but Del Ray residents report that they feel very secure in the area. "I've never had any issues," said Teagle. Sam Bailey nodded his head, then tried to think of the last serious crime he'd heard about in Del Ray. "I think there was a stabbing about five years ago."
The Bottom Line
Del Ray feels a little less urban, a little more cozy and family-oriented than other neighborhoods close in to the District. It is free of Starbucks and Whole Foods, and instead offers a diverse group of local shops and restaurants that cater to a variety needs. And the homes, while not as large as what you would find farther out in Virginia, offer a level of character hard to find in other area neighborhoods. Amanda Abrams is a Washington, DC-based journalist who has written feature stories for The Washington Post, Christian Science Monitor, and Washington City Paper.
More Info on Del Ray
This article originally published at https://dc.urbanturf.com/articles/blog/del_ray_virginias_small_town_near_the_big_city/2903.
DC Real Estate Guides
Short guides to navigating the DC-area real estate market
We've collected all our helpful guides for buying, selling and renting in and around Washington, DC in one place. Start browsing below!
First-Timer Primers
Intro guides for first-time home buyers