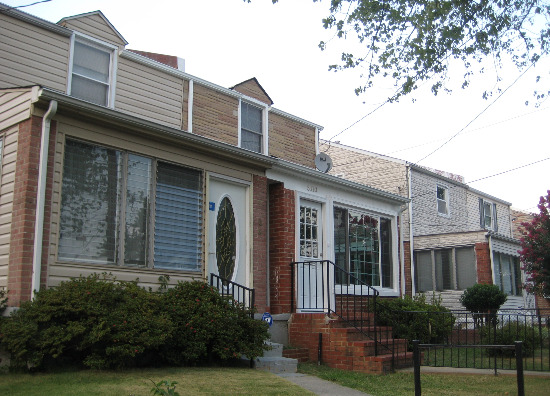 Duplexes in Deanwood
It's easy to get disoriented in Deanwood. Exit the Metro station and walk past the gleaming new recreation center, and the neighborhood quickly takes on a foreign tone. With its hills and one-story frame houses, it's not a stretch to imagine you're wandering around a rural community somewhere—one that isn't particularly open to outsiders. Located east of the Anacostia River and just inside the District's northeast border, Deanwood has long been viewed as a community with a small-town atmosphere. These days, it's got the dubious distinction of having some of the lowest home prices in the District—but no one's expecting a flood of first time homebuyers in the near future.
A Country Feel in the City
Bounded by the Anacostia Freeway, Eastern Avenue, Division Avenue, and Nannie Helen Burroughs Avenue, Deanwood was one of the region's earliest all-African American enclaves. Because of its distance from downtown and the more populated Northwest, the area was viewed as "the country" until after World War II, and still had unpaved roads into the 1960s.
It still has a little bit of a rural feel. Vacant lots abound, giving the area a spacious, wild feeling, and residents are tight-lipped and not particularly eager to talk to inquiring journalists about their neighborhood. A few "new" residents moved into the neighborhood in the late 1990s and early 2000s, but the area has quieted down in the past few years and hasn't seen many newcomers or much new construction since then. Sylvia Brown, who has lived in the area for five years and represents it as ANC commissioner, described Deanwood as "a community-oriented neighborhood in which residents have grown up and know one another, and properties have been in their families for a while."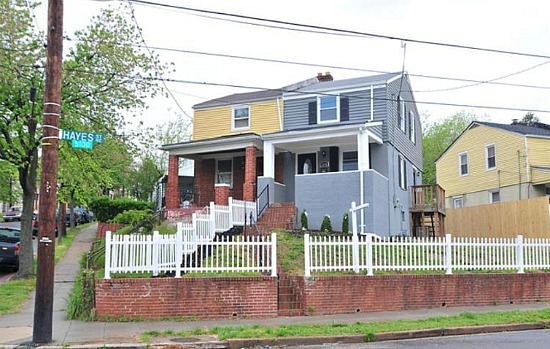 Two-bedroom home for sale on Hayes Street
Housing Styles (and Conditions) Vary Widely
In the early part of the 20th century, Deanwood received a population injection from the southern U.S. and these new residents built their homes in styles they were familiar with; the area is still dotted with small houses that wouldn't look out of place in North Carolina or Louisiana. The majority of Deanwood's homes are detached single-family homes in a variety of conditions; some are well kept, while others are almost falling down. Very few appear to have been built in the last few decades. Though simple frame houses can be found all over the neighborhood, each block is a little different. Deanwood's southeast corner has a suburban feel; its curvy roads are lined with duplexes, many of which come with decks and big backyards. In the middle of the neighborhood, basic brick row houses line Sheriff Road, the main artery bisecting the neighborhood.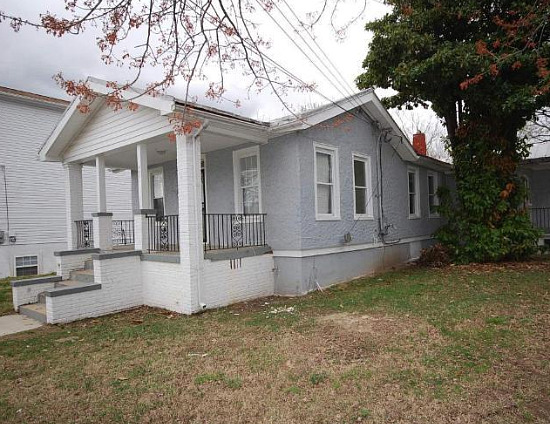 Four-bedroom home in Deanwood on the market for $87,000
Jaw Dropping Prices (For The Most Part)
The falling down houses and out-of-the-way vibe, add up to one thing: very low home prices. The nine two-bedroom homes that have sold since the beginning of the year, for example, went for somewhere between $32,000 and $60,000 a piece. Condos were a bit more expensive—the sale prices ranged from $25,000 to $87,000. Not all homes in Deanwood are listed at bargain basement prices, but even the largest houses don't go for much more than $250,000 But take those numbers with a grain of salt. "Most houses need some work; some might be a shell," explained Darrin Davis, owner of Anacostia River Realty. "[A house] might go as low as $40,000, but will need a total rehab." Davis estimates that Deanwood's housing prices are the lowest in the entire District, but notes that demand is still pretty low. Despite the lack of buyers, he wagers that anyone buying a home in the neighborhood today will build up equity over the next few years.
A Commercial Desert
The elbow grease that a new home in Deanwood might require isn't the neighborhood's only downside. Though its main street was once bustling with shops, today the area is a virtual desert of commercial activity. There are a number of churches throughout the area, but one would be hard pressed to find a single shop or restaurant. Optimists point out that things are changing: the much-heralded Ray's The Steaks East River restaurant, which opened this spring, is located about a mile and a half from Deanwood. In the same area, there's a shopping center with a Safeway and a bank. But it'll probably be a few years—or more—before Deanwood gets its own commercial amenities.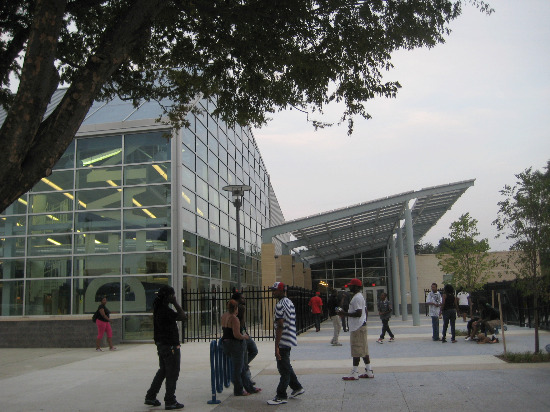 Deanwood Recreation Center and Library
The Awesome New Recreation Center
Deanwood does have one big claim to fame: its new $33 million Deanwood Recreation Center and Library. Opened to the public at the end of June, the place is brag-worthy: the 63,000 square-foot space includes a beautiful, airy library with lots of public access computers; a workout room; a large playing field; a pool; and a large playground with a variety of jungle gyms for kids of different ages. "It's packed everyday, from Sunday to Sunday," explained Eric Jackson, a local resident, pointing to the kids screaming on the swings and teens lounging against a front wall. The neighborhood boasts other new investments as well; Houston Elementary School recently was revamped with new facilities and a wide lawn. But otherwise, there isn't too much available for kids in the neighborhood.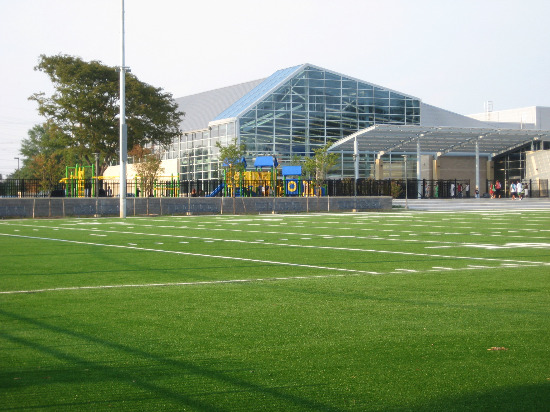 Sports fields at Deanwood Recreation Center
Convenient Enough
The Deanwood Metro station is on the Orange Line and the neighborhood is served by a few bus lines, including the U4, U8, W4, and V15. For drivers, the neighborhood is relatively convenient: on-street parking is ample and the neighborhood is near several main arteries, including Route 50 and the Anacostia Freeway.
Low Crime -- But Rising
Over the past year, the center of the Deanwood neighborhood experienced just over half the number of violent crimes (and a quarter of the property crimes) that occurred in a comparably sized area near Dupont Circle (the Circle itself). But unlike much of the rest of the city, crime has been increasing in the neighborhood over the past year. Still, Darrin Davis thinks it's a safe place to live, and Nathan Campbell, who has lived in Deanwood for two years, agreed. "It's an up and coming neighborhood, getting better. It feels safe."
The Bottom Line
Moving to Deanwood and taking advantage of the area's low housing prices isn't for everyone. Home buyers that will find Deanwood to their liking will be those with more time and energy than money who are willing to go out on a limb and buy a home that might prove to be a good investment down the road. Amanda Abrams is a Washington, DC-based journalist who has written feature stories for The Washington Post, Christian Science Monitor, and Washington City Paper.
More Stuff about Deanwood
This article originally published at https://dc.urbanturf.com/articles/blog/deanwood_a_little_bit_of_country/2408.
DC Real Estate Guides
Short guides to navigating the DC-area real estate market
We've collected all our helpful guides for buying, selling and renting in and around Washington, DC in one place. Start browsing below!
First-Timer Primers
Intro guides for first-time home buyers