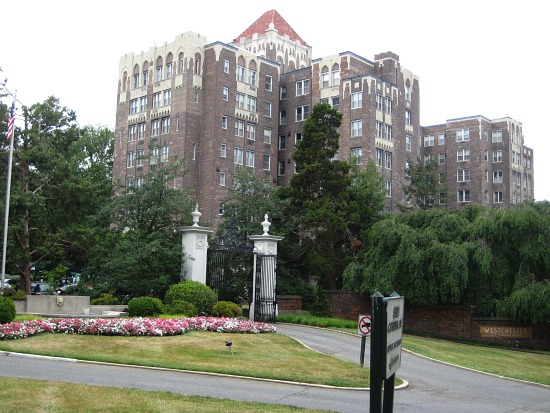 The Westchester in Cathedral Heights
Unlike its neighbors to the north and east, Cathedral Heights isn't known as a place with a tight sense of community or identity. Chat with folks on the street and they can't even seem to agree on a name for the neighborhood. But the slender area that lies just west of the National Cathedral does share one of the key benefits offered by surrounding neighborhoods: a peaceful sense of remove from the hustle and bustle of downtown Washington.
Identity Issues
Determining Cathedral Heights' boundaries is tricky, as the neighborhood lacks a citizens' association and many residents seem unsure of exactly where its borders begin and end. Some call it Cathedral, others swear it's part of Woodley Park.
But the community, which is sandwiched between Glover Park and Tenleytown, can be best defined as lying between Fulton Street to the south, Wisconsin Avenue to the east, Rodman Street to the north, and roughly Glover Archbold Park (an arm of Rock Creek Park) to the west.
The Good Thing About Sprawling Apartment Complexes
Unlike Tenleytown or Cleveland Park, where the streets are lined with tightly packed row houses and detached single-family homes, much of Cathedral Heights' housing stock is in the form of large, older apartment, condo and co-op complexes that sit on swaths of green lawn, with names like the Westchester, the Warwick, and Idaho Terrace.
One-bedroom apartments rent for at least $1,500 a month, while two-bedroom units generally run more than $2,000. As for condos and co-ops, the $250,000 price tag for a one-bedroom listing or $350,000 asking price for a two-bedroom can look very attractive, but many of these units come with steep monthly fees. The buildings tend to be well-maintained, and many come equipped with various services and amenities, like tennis courts, pools and massive lobbies. The Westchester even has a little-known restaurant — the Westchester Dining Room — on the ground floor.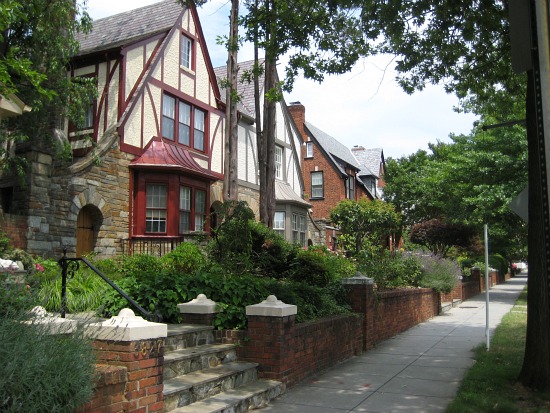 Tudor-style homes
The area does have its share of row houses, duplexes, and a variety of detached homes in Colonial, craftsman, Tudor, or Cape Cod styles, some relatively small and quirky, others massive and impressive. All of them, though, are distinctly more expensive than the condos nearby. Most are priced at over $1 million, and finding a home that sells for less than $750,000 is a challenge.
Demand for homes in Cathedral Heights is robust, according to John Gerrety, a real estate agent who works in the area. "The neighborhood is well taken care of, and there's affluence," he explained, noting that single-family homes have remained stable in past years.
Not the Schmooziest Place
Its upper Northwest location, quality public and private schools, and quiet and safe reputation, not to mention the parks that dot the area, have made Cathedral Heights a popular neighborhood for families. Wander around the neighborhood on a weekday afternoon and there isn't much traffic, pedestrian or otherwise; most of the people out and about, are young mothers pushing strollers and the demographic is largely upper middle-class.
"There's everything here: doctors, lawyers, ambassadors, and a lot of CIA people," said Hakki Muslu, owner of the Westchester Dining Room, with a wink. But perhaps because there are so many renters in the neighborhood, there doesn't seem to be a cohesive sense of community throughout the area. "We used to live in Cleveland Park, and that has more of a neighborhood feel than this," Rebecca Faga, 33, who has lived in the area for two years, told UrbanTurf.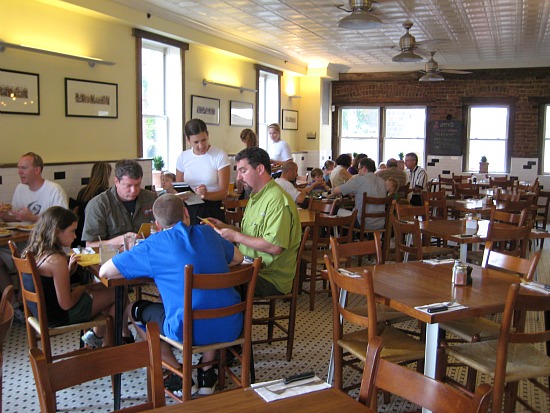 Inside 2 Amy's
There are a growing number of options along Wisconsin Avenue, including the much-beloved 2 Amy's, Café Deluxe, Cactus Cantina (a rowdy fajitas-and-margaritas neighborhood haunt), and a Starbucks, though by many DC residents' assessment, that stretch is the western border of Cleveland Park, not Cathedral Heights.
But, most residents say they go elsewhere for their serious shopping, eating, and drinking needs. Mary Mossap, 60, who's been in the area for 32 years, heads to Tenleytown and Georgetown for groceries, or even up to Friendship Heights. And John Hosky, 23, who grew up in the neighborhood and still lives there, said, "We're within walking distance of Glover Park, and there's five or six really great bars there."
Downside: Lack (And Unreliability) of Public Transit
"There's no Metro here—that's a big minus," said Mossap, pointing out that the closest station (on the Red line) is in Tenleytown, a 20-minute walk to the north. Buses run up and down Wisconsin Avenue, but those that go through the community are unreliable. "You could wait 30 minutes, or it might come right away. It's a big problem," explained Mossap.
In response, most residents own cars. Parking is relatively easy, and while the area isn't near any major highways. Massachusetts and Wisconsin avenues both lead out of the city, and Rock Creek Parkway and MacArthur Boulevard aren't too far away.
The Bottom Line
Cathedral Heights is an area that caters to those who don't plan on going out a lot and are seeking a quiet, residential atmosphere –and especially folks who may be raising a family. But if your idea of a good time is hanging out on the street with neighbors or walking a couple blocks to a local café or bar, it's probably not the best choice.
Amanda Abrams is a Washington, DC-based journalist who has written feature stories for The Washington Post, Christian Science Monitor, and Washington City Paper.
Zip Code: 20016
Schools: John Eaton, Horace Mann or Stoddert elementary schools; Deal or Hardy middle schools; Woodrow Wilson high school
Cathedral Heights real estate data from Redfin
Cathedral Heights rental data from Craigslist
This article originally published at https://dc.urbanturf.com/articles/blog/cathedral_heights/3800.
DC Real Estate Guides
Short guides to navigating the DC-area real estate market
We've collected all our helpful guides for buying, selling and renting in and around Washington, DC in one place. Start browsing below!
First-Timer Primers
Intro guides for first-time home buyers