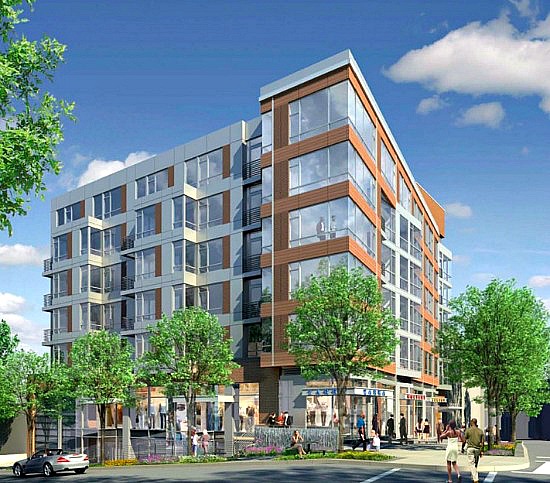 Tenley View, the first building to break the no-parking barrier.
Trying to find street parking in Logan Circle, Columbia Heights or Capitol Hill gets more and more difficult by the week. Multi-family buildings, chopped up rowhouses and an ever-increasing slew of nightlife options mean that the parking space search can turn into a game of musical spaces: there are just not enough spots on the street for every household.
As new residential developments are proposed in the city, developers are taking a new approach to keep the parking problem from getting worse. Specifically, they are prohibiting residents from parking on the street.
A recently proposed micro-unit project in Logan Circle would not have any parking spaces, but to eliminate the extra stress that its tenants would have on street parking in the area, the developers are prohibiting tenants from obtaining a Residential Parking Permit (RPP).
If approved, the Church Street project would join an increasing number of parking-free developments. Douglas Development's Tenley View (formerly The Bond at Tenley) started the trend when it received the go-ahead to move forward, parking-free, in the fall. Like with the Church Street project, its residents will be prohibited from acquiring RPPs.
Developers going this route seem to fall in one of two categories. One group is taking the gamble that their tenants will be carless folks who use bicycles and public transit to get around and have car2go and Zipcar memberships to use when they need four wheels. Both Tenley View and the Church Street project seem to fall in this group; Douglas' Paul Millstein is confident that they can find carless tenants, and the Logan Circle project aims to fill its micro-units with the "consumption-weary."
""There is no doubt in my mind that we will fill the units with 60 people without cars," said Millstein at an ANC meeting last year. At the time, he stated that Douglas Development is planning to set every resident up with a one-year subscription to Capital Bikeshare, a one-year subscription to Zipcar, and a $50 Metro card.
The other group consists of those hoping to redirect its tenants to existing parking lots with excess space. The 41-unit project that we reported on yesterday in NoMa is a good example. A couple years ago, Cohen Companies built the Loree Grand on the same block with a large parking lot. Now, the lot is sitting half empty, and they are hoping that car owners at the new development will utilize the excess spaces. A proposed church-to-condo conversion in Columbia Heights is also forgoing parking, in the hopes that drivers will utilize the nearby DCUSA parking lot.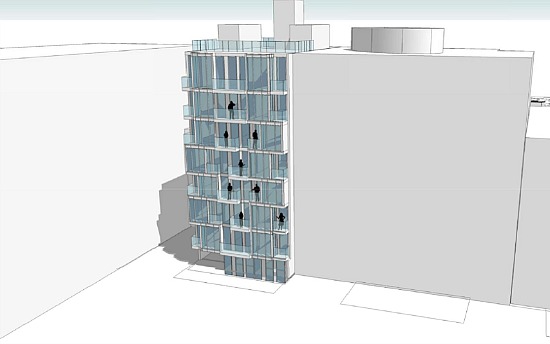 The Church Street project, from the back. Courtesy of Peter Fillat.
When Douglas suggested the solution of prohibiting RPPs, some were skeptical that such a mandate could be enforced. How would the developers know whether or not their tenant covertly requested an RPP from the city? Would the DMV need to monitor each property and each application?
When developer Brook Rose and his team proposed their parking permit ban for the Church Street property, they came to the table with a few solutions in mind: they could periodically check in with the DMV to make sure that none of their tenants had requested a permit, and the RPP prohibition would also be written into the lease, which would be terminated if it was discovered that the tenant had a permit.
Earlier this week, Councilmember Tommy Wells introduced a bill that he is hoping will make this enforcement a bit easier. According to Housing Complex, the proposed bill would allow a property owner to make a particular address ineligible for a permit. This would eliminate the need for developers and building managers to constantly monitor DMV records.
As a Greater Greater Washington discussion noted yesterday, an earlier version of this bill failed because some feel that you can't forbid a few residents from using a public resource — street parking — that other residents are free to use.
In any case, the city is charging ahead towards a less-car-dependent reality.
In his Sustainable DC plan, Mayor Gray stated that he wants public transit, biking and walking to comprise 75 percent of all commuter trips by 2032. To that end, the city has been investing in car-less transit options: the streetcars (are projected) to start running within a year, car sharing outlets are becoming more prevalent, and BikeShare continues to grow.
The new zoning code revision may also make parking-free developments easier for developers to build. Right now, the code dictates that developers provide a minimum number of parking spaces when building a residential complex.
In the proposed revision, the minimum parking requirement may be removed in certain high-density areas, leaving the number of spaces up to the discretion of the developer. This doesn't mean that parking will be eliminated; at a recent ANC meeting, a developer of a building filled largely with two-bedroom units said that they will probably build even more parking spaces than zoning dictated, because their residents are likely to be car owners and parking would be a desirable amenity. If the market seems to demand parking, developers would likely see it as a good investment.
But for those who believe they can rent or sell their units without parking spaces, the new code would allow them to do so without gaining special approvals. Currently, the prohibition has come up in negotiations with ANCs and other community groups worried about overstressing an already burdened street parking system; if negotiations are no longer necessary, will developers still feel moved to prohibit RPPs?
To ANC 2F Commissioner Matt Raymond, the proposed solution and ensuing negotiations are a glimpse of the sort of discussions that are likely to become more common.
"Overall, the District is clearly moving in the direction of requiring less parking and providing more multi-modal transportation options, which I think are good things and definitely in step with our urban environment," he told UrbanTurf. "It's probably in everyone's best interests if we start trying to adapt to this new reality sooner rather than later, and that seems to be at least one signal some of these developers are sending."
Similar Posts:
This article originally published at https://dc.urbanturf.com/articles/blog/can_prohibiting_parking_permits_ease_the_parking_crush/7157.
DC Real Estate Guides
Short guides to navigating the DC-area real estate market
We've collected all our helpful guides for buying, selling and renting in and around Washington, DC in one place. Start browsing below!
First-Timer Primers
Intro guides for first-time home buyers