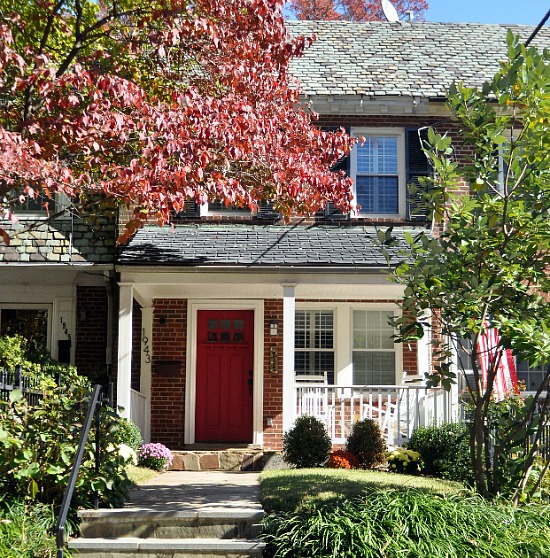 A home on 39th Street in Burleith.
Burleith, a small, completely residential square of a neighborhood in northwest DC, doesn't have nearly the same name recognition as Georgetown or Glover Park, its neighbors to the south and north. If anything, it's thought of as Georgetown-lite, a more modest version of its swanky neighbor. But for people who have found it, the neighborhood of 535 homes offers a distinctive housing stock and a quiet, more affordable way to live close to the action on Wisconsin Avenue.
Tucked Between Two Showier Neighborhoods
Burleith is bordered by Reservoir Road to the south, 35th Street to the east, Whitehaven Parkway to the north, and 39th Street to the west. It is often lumped in with Hillandale, a posher neighborhood to the west that is hugged by Glover Archbold Park to the west and north.
A Planned Development
In the early 1900's, a developer bought up the land that is now Burleith with the intention of building homes on it for the influx of residents coming into DC at that time. (Kalorama was also developed during this era.) Many of the homes went up all at once: between 1923 and 1928, developers Shannon and Luchs built 450 homes in Burleith.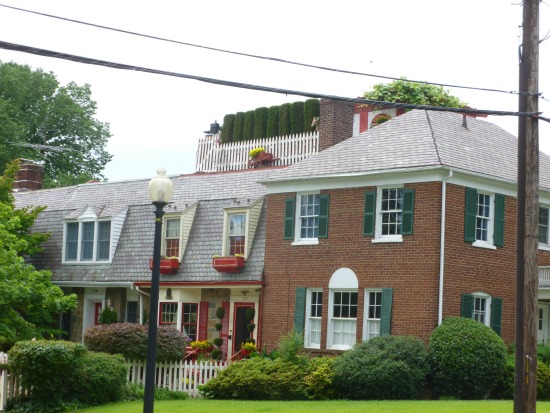 Typical Burleith housing stock
The housing stock offers a break from the very familiar Victorian row houses in Georgetown and Dupont Circle. All of the blocks developed by the Shannon and Luchs team have a recognizable look: the corners are anchored by boxy brick houses with peaked roofs and connected by modest two-story row houses, often with long, sloping roofs hanging down over the second story. The row houses are smooshed together, although the facades vary in color and material to distinguish one from the other. The front gardens are also notable: many are very well maintained.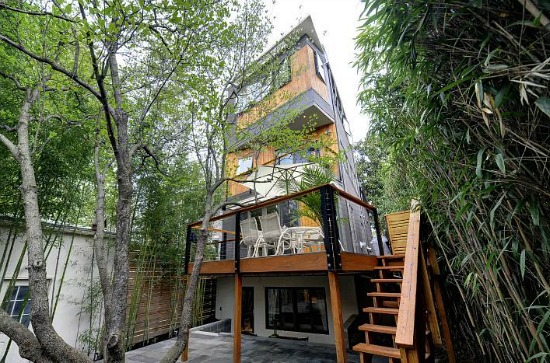 Some modern architecture tucked in the neighborhood.
While the Shannon and Luchs properties make up the majority of homes in Burleith, there are almost a hundred other homes in the neighborhood that vary in architecture and size. According to Burleith's official website, a few properties along S and T Street between 35h and 36th predate Shannon and Luchs, and Tudors can be found on the north side of T Street between 38th and 39th. Of late, homes have been selling for between the high $600's and mid $800s, but given the size of the neighborhood, there are not many homes on the market at one time. There is currently one house available in Burleith: a four-bedroom Tudor built in 1931 with an asking price of $929,000. Tonier Hillandale homes sell for well above $1 million.
An Active Community
"You have a healthy mix between long-time residents, students from Georgetown, and some young professionals," Chris Clements, current president of the Burleith Citizen's Association, said of the population. Clements and his wife moved to Burleith in 2007, looking for a relatively affordable home that allowed them to stay in the District and avoid a long commute. His house is smaller than what one might find in the suburbs -- Burleith properties average about 1,200 square feet -- but the neighborhood, nearby amenities and short commute make the size manageable. Like many neighborhoods in DC, Burleith has seen a boom in young families. "Since we moved here, the number of baby strollers has doubled," observed Clements.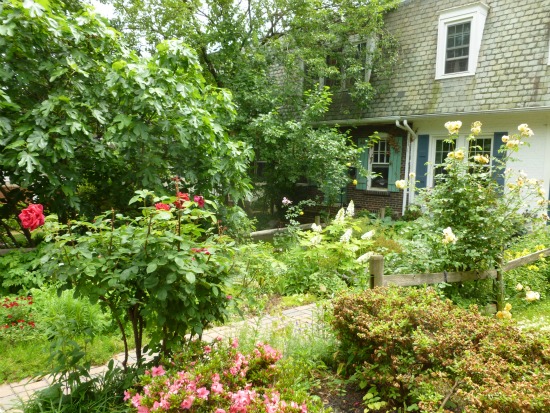 Lush front yards
The list of active participants in the Burleith Citizens Association runs more than a dozen deep. The group maintains a listserv, activates behind causes, organizes book clubs, hiking clubs, dining clubs and publishes a monthly newsletter. Residents of Burleith have been active since the inception of the neighborhood, and are apparently responsible for many of the amenities, including street lights, playgrounds and an improved bus service. While an engaged community is generally a good thing for a neighborhood, a few events over the last couple years might lead outsiders to say that Burleith residents are a little too active. In November 2010, DCRA received a list of 134 properties from a coalition of Burleith neighborhood groups who spent two months (yes, two months) walking the blocks identifying what they believed to be illegal rentals. Using DCRA's Property Information Verification System, the groups entered in property addresses that they believed had illegal rentals to see if the property was registered.
Standout Schools
The exceptional schools in Burleith contribute to the vibe of the neighborhood. Duke Ellington School of the Arts, a public high school for high-achieving arts students, is regularly acclaimed for its stellar faculty, and Corcoran College of Arts and Design is a well-regarded institution (notable alums include David Lynch and Tim Gunn). Washington International School's primary school campus is also in the neighborhood, shielded from view by a thick wall of shrubbery.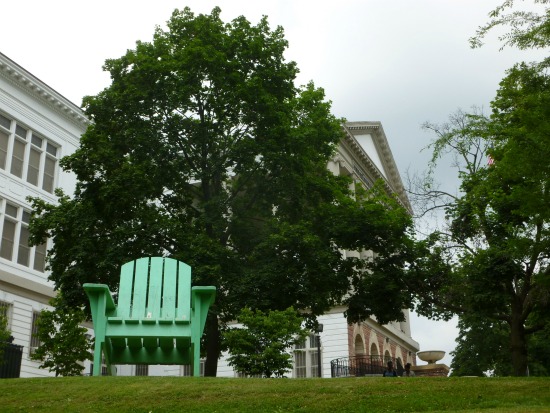 Duke Ellington School of the Arts
Proximity to Action
As mentioned, Burleith is tucked between Georgetown and Glover Park, and homes there are minutes away from the commercial strip on Wisconsin Avenue. Safeway and Whole Foods are both nearby, as well as banks, gyms, restaurants, bars and the Georgetown library. "I can walk to pretty much any store or service that I need," said Clements. "Of course you've got Georgetown, but the Glover Park commercial area has some good places to eat, hang out and drink a beer."
The Bottom Line
Burleith is a small residential neighborhood where resident turnover is rare. However, if you are looking for peace and quiet and can find a home for sale, Burleith is a great alternative to the tony areas that surround it.
Zip Code: 20007
Burleith-Hillandale real estate data from Redfin
This article originally published at https://dc.urbanturf.com/articles/blog/burleith_dcs_535_house_neighborhood/5583.
DC Real Estate Guides
Short guides to navigating the DC-area real estate market
We've collected all our helpful guides for buying, selling and renting in and around Washington, DC in one place. Start browsing below!
First-Timer Primers
Intro guides for first-time home buyers