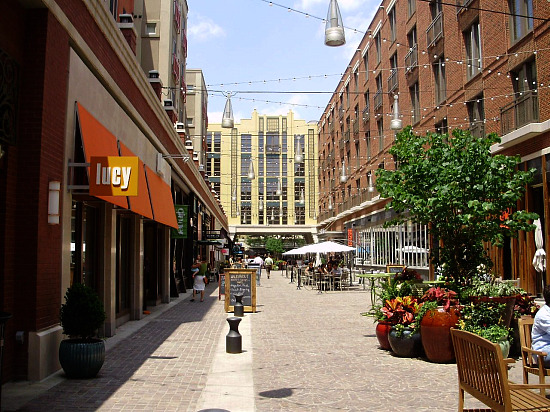 Bethesda Lane
Once considered a dowdy DC outpost bordering the far reaches of Upper Northwest, Bethesda is now an upscale city that attracts the affluent and upwardly mobile. In the last decade, huge investments in retail, restaurants, high-rise condos and new homes have bolstered the reputation of an area already known for its great schools and employment opportunities.
Bruce Simon-Morton recently moved to Bethesda from Rockville to be closer to his job at the National Institutes of Health and has been surprised by how much he likes it.
"But don't tell anybody because I don't want it to get too crowded," Simon-Morton pleaded.
It looks like the word is already out. Downtown Bethesda's sidewalks are almost always crowded on the weekend and real estate agents have said that housing sales have been quite good despite the housing slump.
Just Outside DC
Part of Bethesda's appeal is the fact that it is located very close to DC, but is not actually in DC. For the purpose of this profile, we are using the boundaries of Wisconsin Avenue to the east, the Capital Beltway to the north, River Road to the west, and Goldsboro Road to the south. The eastern border of Wisconsin Avenue is the same road that begins miles to the south in Georgetown, and is one of the main commercial corridors of the area.
It is important to note that there are essentially two Bethesdas: the downtown section that includes Bethesda Row and Woodmont Triangle and is bustling with retail, restaurants and condo developments; and the residential outskirts that range from areas where conventional new townhouses line busy streets to quiet roads where enormous trees shade the extravagantly landscaped gardens of expensive homes and country clubs.
Doctors, Lawyers and Other Affluent Types
Bethesda is one of the most affluent and educated locales in the country. According to Internest, 73 percent of residents own their homes (median value of $736,667), 80 percent of residents have at least a bachelor's degree and the median household income is $131,484, more than double that of DC. Sperling's Best Places puts Bethesda's cost of living at 196 percent of the national average.
"Bethesda is outrageous," Simon-Morton acknowledges. "Outside of Georgetown, it's probably the most expensive place to live in the DC area."
Not surprisingly, Bethesda has developed a reputation as the preferred habitat for some of DC's more successful attorneys, doctors and business folk, and is also home to luminaries like CNN's Wolf Blitzer and former Washington Wizard Antawn Jamison, who lived here before he moved on to Cleveland.
For all the upper-crustiness, resident and art gallery owner Sharon Fine, who moved to Bethesda from Dupont Circle in 1993, told UrbanTurf that it still feels like "my small hometown."
"I still feel very comfortable walking in town in my non-glam clothes."
One thing she does miss about DC, though, is the city's diversity. While Bethesda has a fairly large European resident population, 85 percent of the residents are white.
A Property Type for Every Buyer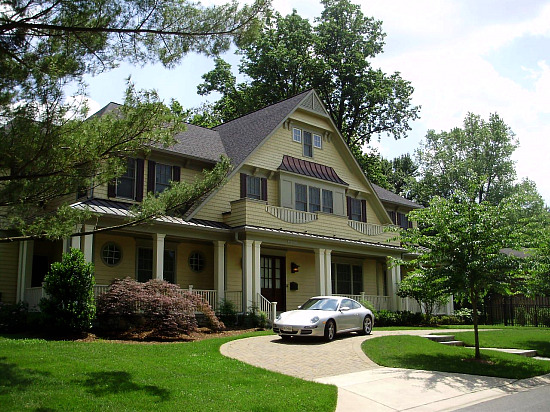 Arts and Crafts Home
If you are looking for a specific property type, you can probably find it in Bethesda. You just may have to shell out a fair amount of cash.
A number of the condos in the area were built in the 1970s and 1980s, but luxury high-rises such as the Adagio, Lionsgate, and The Chase at Bethesda have popped up over the last five years. Each new development caters to a certain buyer. Just two blocks from Bethesda Row, the Adagio boasts a 35,000 square foot Washington Sports Club and unit prices range from about $700,000 to $1.4 million. The uniformed doorman at Lionsgate typifies the atmosphere at the luxury development, where residents sip cocktails on the roof, and condos are priced from about $800,000 to $2 million. The Chase is one of the area's more affordable options with one-bedrooms in the low $300,000s and two-bedrooms in the mid-$500s as well as amenities like an outdoor pool, two tennis courts and a fitness center.
New single-family home construction is transforming the fairly homogenous stock of 1940-60s colonials, Cape Cods and split-levels with more stylish designs like Arts and Crafts houses built on teardowns. Star architects, like Robert Gurney and Mark McInturff, have designed a couple of interesting contemporaries here as well.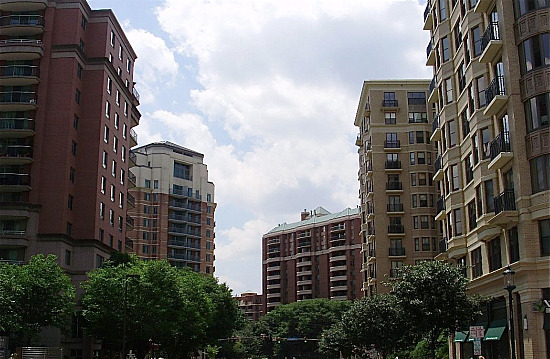 High-rise Residential in Bethesda
Existing single-family homes start in the low $600,000s for small ramblers (about 1,200 square feet), but most homes hover in the $800,000 range, according to realtor Lise Howe. But anything large, new or recently renovated is likely to be priced above $1 million. Howe said that the most expensive property on the market right now is $3.7 million for a house on Merrick Road, and there is an 8,000 square-foot property on Goldsboro for $3.5 million that Howe describes as "a Cinderella's castle that tried to escape from Tours in France."
The high price tags are music to the ears of long-time residents. Ronnie Goldberg bought her 1950s Cape Cod in 1984 in Bethesda's Windgate section. Many of her neighbors are knocking down their homes and replacing them with new ones, and Goldberg estimates they have raised her home in value from about $650,000 to close to $1.5 million.
"It is a goldmine for me just having these on the street," Goldberg explained.
Homeowners Get a Break for Going Green
Montgomery County recently passed a number of initiatives to cut greenhouse gas emissions 80 percent by 2050. One of the measures requires that new homes be built to the EPA's Energy Star standards. Residents are also eligible for a $250 tax credit if they retrofit their homes with energy-saving solar and geothermal devices and can get similar breaks for other sustainable practices.
Schools – A Main Attraction for Families
One of the main reasons that families move from DC to Bethesda or choose Bethesda over DC when moving to the Metro area is because of the public schools. (Both Goldberg and Fine moved here for their children's education.) Montgomery County public schools are some of the best in the country, and Bethesda's Walt Whitman, Bethesda-Chevy Chase, and Walter Johnson high schools all ranked in Newsweek's top 100 public high schools. Fine says that though she always attended private school, she decided not to shell out the tuition for her three children.
"Their education never ceases to amaze me. I'm just blown away that these are public schools!"
The Action is Downtown
Almost two years ago to the day, Bethesda Lane, a pedestrian strip of shops and restaurants, opened up near Bethesda Row, and its arrival further revved up a downtown that was already drawing shoppers with stores like a mammoth Barnes and Noble, upscale retailers like Bang and Olufsen, and Bethesda Row Cinema, one of the few theaters in the DC area where you can go and watch the latest independent and foreign films.
The retail and restaurants along Bethesda Lane are in keeping with the area's upscale reputation: Redwood serves high-end American cuisine and made The Washington Post's list of top area restaurants, the expensive cookware store Le Creuset has a shop there as does Dolcezza, which serves some of the best and most expensive gelato in the area. Naturally, an Apple Store can be found just across the street.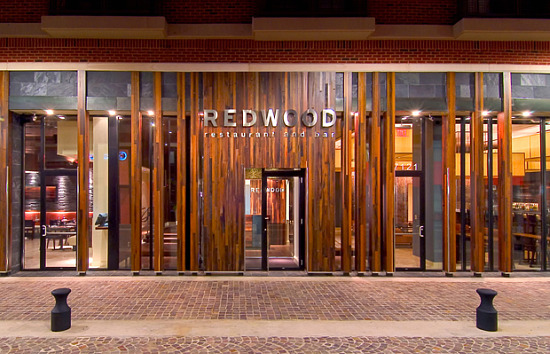 Redwood Restaurant. Photo by
Hospitality Furniture Group
.
In addition to Redwood, Bethesda's restaurant options are numerous. Steakhouses include Morton's and Ruth Chris, for American there is Café Deluxe and Daily Grill, and the ethnic options are not shabby: Divino (Argentinean), Shangri-La (Nepalese), Jaleo (Tapas), and Tako Grill (Japanese) get regular raves. Vace Italian Deli and Breads Unlimited offer great gourmet treats, and Bethesda has two farmers' markets. There are also a multitude of grocery stores: Trader Joes, Whole Foods, Balducci's, Safeway and Giant.
Attempts to create a Bethesda nightlife scene have failed, evidenced with the recent closures of an R&B joint (Fuzion) and a hip-hop venue (Café Peju). The only live music you'll find is of the low-key, lounge variety, like the Irish folk music at Flanagan's Harp and Fiddle. There are plenty of watering holes, however, with Saphire Café, Union Jacks, The Barking Dog, Tommy Joe's and Rock Bottom drawing the biggest crowds.
Ditch That Ride
You wouldn't think it by the number of cars that usually line the streets, but Bethesda is one of the few suburbs where a car is not a necessity. Red Line Metro stations on Wisconsin Avenue (Bethesda and Medical Center) serve the area, along with a dozen Ride-On bus routes. The free Circulator that runs around the downtown sections comes every ten minutes at each stop. A beautiful off-street bike path runs from central Bethesda to the C&O Canal and Rock Creek Park.
Still, many people drive, causing bottlenecks on the small streets and lots of honking.
"It is a loud group that needs to work on their manners," Sharon Fine complained, adding those drivers make biking treacherous. "It has taken years off my life because of all these people honking."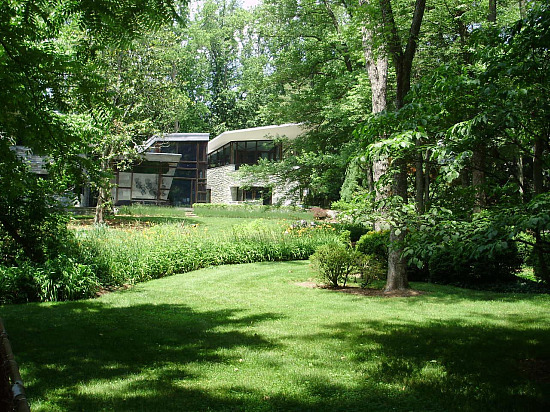 Contemporary Home in Bethesda
Parking
Parking gets tight on downtown Bethesda's streets, particularly on the weekends, but there are 17 public parking garages and surface lots. Short-term parking (3 hours or less) is $1.00 per hour; long-term parking (more than 3 hours) is $0.65 an hour.
Safety
A recent rash of muggings has caused some jitters, but most of Bethesda's crime targets property, not people. The chance of becoming a victim of a violent crime here is one in 1,305 while for property crime it's one in 69, according to NeighborhoodScout. The combined violent and property crime rates put Bethesda lower than 62 percent of other US communities and lower than nearly 70 percent of Maryland's other cities and towns.
Worth the Price?
Bethesda's image upgrade has surprised some of its old-timers and prompted snide monikers like "Bethesda 90210." But for some, it's a happy compromise for those like Simon-Morton who love cities but enjoy suburban comforts.
"We're renting right now because we wanted to make sure we could stand condo living," he says. "It took us about two or three days to decide that the area was right, so we will eventually buy here."
Gretchen Cook is a Washington, DC-based journalist whose work has appeared in The New York Times, The Washington Post and Washingtonian Magazine.
Real Estate Agents Serving Bethesda
The following real estate agents are active in Bethesda. Call or email them to get in touch.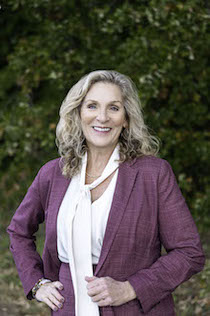 Victoria Ray Henderson
HomeBuyer Brokerage, LLC
Phone: 301-922-1677
Website: View website
Listings: View listings

More Stuff about Bethesda
This article originally published at https://dc.urbanturf.com/articles/blog/bethesda_bedroom_community/2144.
DC Real Estate Guides
Short guides to navigating the DC-area real estate market
We've collected all our helpful guides for buying, selling and renting in and around Washington, DC in one place. Visit guides.urbanturf.com or start browsing below!
First-Timer Primers
Intro guides for first-time home buyers