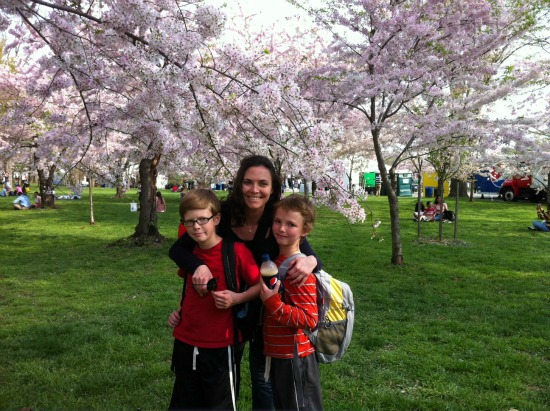 Jen DeMayo, a founder of Moms on the Hill, with her two sons.
A couple years ago, when Evelyn Boyd Simmons' son was approaching school age, she did what many parents who live in Logan Circle do: applied for a lottery slot at a few of the well-regarded public schools around the District. Garrison Elementary, her in-bound school at 12th and S Street NW, did not seem appealing.
While the lottery attempt failed, Simmons was contacted by a DC Public Schools representative, who had created a Facebook group for three families that lived within Garrison's boundaries to communicate with each other.
"Parents knowing each other through the community has a big impact on whether or not they feel comfortable going to the school," said Simmons, who is now the vice president of the Garrison parent-teacher association (PTA).
DC is in the midst of a sort of a baby boom in part as a result of the District's decade-long effort to consciously draw in young people to revitalize the city. Now that many of those young people have coupled up, settled down and started having babies, a new generation of parents are focusing their attention on a familiar problem: the city's troubled public school system. Schools with good reputations fill up quickly, and more families are now forced to consider their neighborhood schools and the low test scores and crumbling facilities that sometimes go along with them.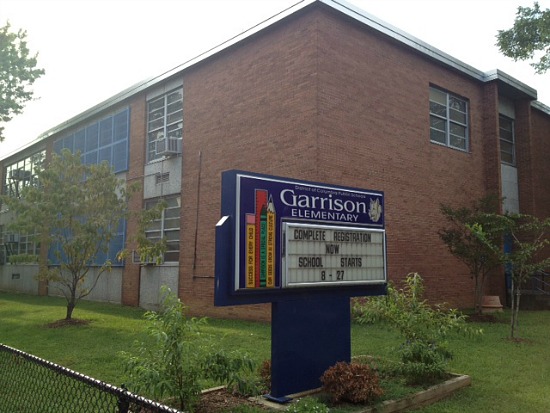 Garrison Elementary School
However, in neighborhoods like Logan Circle, residents are working to revitalize area schools in a grassroots fashion. PTAs and community groups have formed, the Logan Circle Community Association (LCCA) regularly holds education-related discussions, and parents, particularly mothers, are reaching out to each other through the relatively new Moms in Logan Circle listserv to strategize.
Ann McLeod, President of the Garrison PTA and one of the three parents that Simmons met through the Facebook group, thinks that parents can do a lot to make schools better.
"We re-organized the PTA and tried to work with the school to hold activities, provide opportunities for volunteering and support the staff," McLeod told UrbanTurf. "We're asking questions: Please explain to me why our test scores went down so much. What are we doing to raise scores? How can we help? Please provide resources for parents so they can help their kids at home. Why has there been a broken swing for three months? Have you asked for a new one? Unfortunately, sometimes parents demanding things works far quicker than when the local school employee asks."
This form of activism creates all kinds of feedback loops, thinks McLeod. If other parents see that there are people who care, they may feel more comfortable sending their kids to the school, which in turn creates a school with more of these sorts of parents. And if the kids see that people expect them to succeed, they feel more motivated.
On Capitol Hill, a very similar grassroots movement has been going on since the George W. Bush years.
Eleven years ago, a group of moms on the Hill — who regularly ran into each other at Eastern Market and on the street — had an idea: create an online group to talk about schools, child care, real estate and anything else on their minds. Now, Moms on the Hill (MoTH) has more than 4,000 members and Capitol Hill elementary schools are famously desirable. "There are waiting lists at all the schools," Jen DeMayo, one of the founders of MoTH, told UrbanTurf.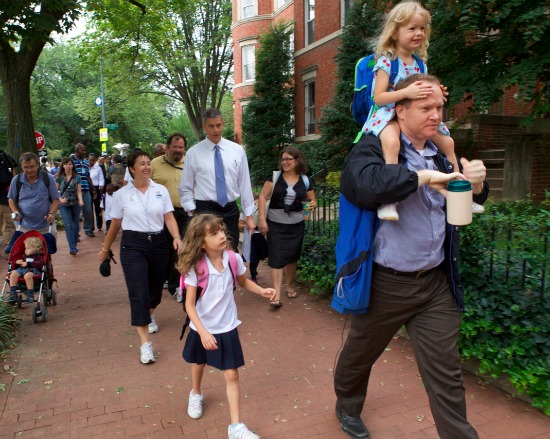 Secretary of Education Arne Duncan walking with Maury Elementary parents and administrators. U.S. Department of Education.
In the early days, MoTH was simply a way for the stroller-laden to communicate with each other. However, as they talked, a few interesting school-related developments occurred.
First, like in Logan Circle, MoTH parents motivated each other to consider neighborhood elementary schools besides Peabody and Watkins, which were highly regarded but filled up quickly.
Second, parents who met on MoTH went on to found the charter school Two Rivers, now a highly rated Pre-K and elementary school. Two Rivers spurred plenty of controversy amongst MoTH members, some of whom would rather parents committed to neighborhood public schools, but DeMayo, one of the founders, believes that the charter ended up having a positive impact on the other schools.
"The school had a program for three-year olds," said DeMayo. "When it opened in 2004, it was the only public three-year old program on the Hill. In having to compete with Two Rivers, other schools like Tyler, Maury and Brent started having a three-year-old program. I think that was very smart on the part of DCPS, because it got parents involved and helped them feel comfortable with the schools early on."
Competition has led schools to diversify and excel in a variety of ways. Tyler Elementary, just to the east of Barracks Row, has a Spanish immersion program as well as an arts program and Brent Elementary, which is near the Capitol South Metro, attracts parents with its museum magnet program. Before MoTH, not many who lived in the vicinity of Brent were sending their kids there, said DeMayo. Now, home buyers intentionally look for homes within Brent's boundaries.
Though it's still early, Logan Circle parents report a sense of momentum surrounding Garrison.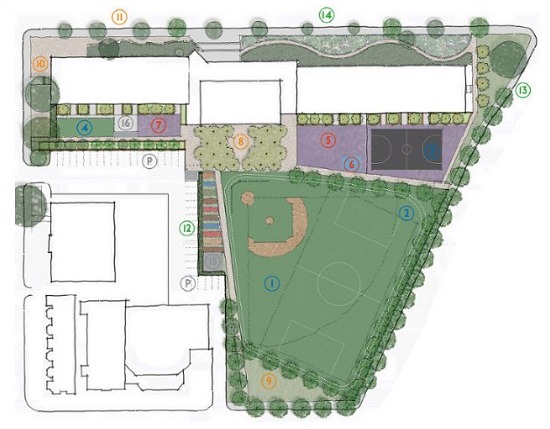 Garrison Elementary's new playground. Courtesy of the
LCCA
.
This year, Collin Hill, an education veteran with experience in school reform efforts took over as principal. Residents hope to also see a prettier Garrison soon enough. Plans are in the works for the school's grounds to get a complete makeover, including a new playground and athletic field. While Councilmember Jack Evans has secured funding to remove a defunct pool at the edge of the school grounds, the funding for the additional improvements has yet to be found.
Parents are also starting to think about education beyond elementary school. Simmons, who is also ANC 2F's education committee chair, has been working to "connect the dots" between businesses, the ANC, the LCCA, churches and other groups.
Still, change takes time and some parents, even those active in the effort to change schools in Logan, have turned to better options for now. Simmons ended up sending her kids to Oyster-Adams in Woodley Park when spots opened up. "It was a really hard decision for us, because of the work that we've been doing with Garrison and how invested we are," she said. However, Simmons remains committed to her in-bound system, recently creating a group for parents in the feeder system for Cardozo Senior High School to meet regularly.
"Change doesn't happen overnight," said Ann McLeod. "My hope for the school is that we continue to build this momentum and really make Garrison a place where the entire community is engaged — students, parents, teachers, neighbors. I hope that people will remain committed and stick it out."
This article originally published at https://dc.urbanturf.com/articles/blog/activist_moms_listservs_prompt_school_reform/5921.
DC Real Estate Guides
Short guides to navigating the DC-area real estate market
We've collected all our helpful guides for buying, selling and renting in and around Washington, DC in one place. Visit guides.urbanturf.com or start browsing below!
First-Timer Primers
Intro guides for first-time home buyers