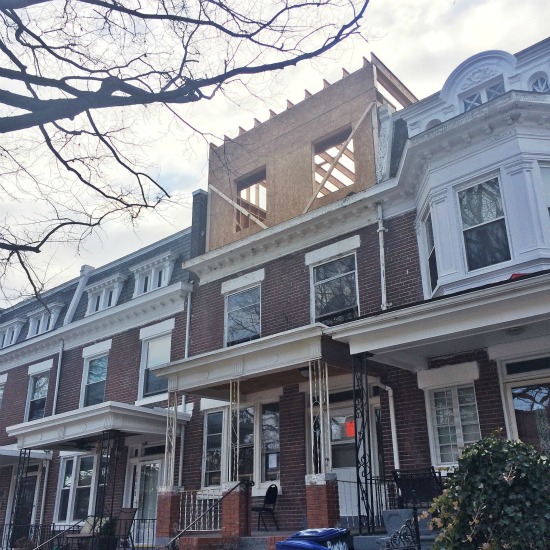 A pop-up on Buchanan Street NW.
The Zoning Commission is strongly divided on a proposed rule aimed at stopping residential pop-ups in DC. But if commissioners' opinions hold steady, the rule is likely to be implemented on a divided vote.
The proposal, floated by Office of Planning, would limit the by-right height in R-4 districts to 35 feet and essentially prevent conversions of rowhouses into apartments in these districts. It's been applauded by neighbors of some existing pop-ups, but also critiqued for being overly broad without addressing the real issue many have with pop-ups: Ugly design. For a primer on what's being proposed by the Office of Planning, head over here.
Here's the breakdown of where commissioners seem to stand on the issue currently:
Chairman Anthony Hood: In favor of the rule. Hood says he is ready to adopt the rule and tweak it if necessary, and seemed annoyed at requests to slow down the process and get more data and information. Key quote: "There's a crisis out there. There's something that needs to be done."
Vice Chair Marcie Cohen: Strongly anti-rule. She said it will limit housing supply in R-4 neighborhoods and drive up prices, with an adverse impact on affordability. Key quote: "We need to continue to increase the supply of housing. … To downzone — and it is a downzoning — I don't think that's the proper road to take."
Robert Miller Strongly anti-rule. Miller believes it infringes on property rights and doesn't address bad design. He pointed out that many of the young people coming into the city can't afford rents in high-rises on 14th Street and in NoMa. Key quote: "I think the issue is obviously a design issue. I think this proposal has taken a sledgehammer approach to a legitimate concern about the design of some of the pop-ups."
Michael Turnbull: In favor of the rule. Turnbull agrees that there's a design issue with pop-ups, but doesn't know how the zoning regulations can address that problem. He thinks action should be taken right away. "I think OP has done a lot of hard work and held a lot of meetings on this already. We don't need to beat this horse into the ground."
Peter May: In favor of the rule, though he says pop-ups have been going on for decades and agrees the problem is largely a design issue. He believes three-bedroom family housing should be protected in the District. Key quote: "We do need to reduce the incentive to take regular rowhouses and turn them into these multi-unit buildings."
Though May and Turnbull agree that there's a design problem with pop-ups, both seemed comfortable with the broadest implication of the proposal: Limiting conversions. If the commissioners hold their ground — and many seemed resolute at a hearing on Monday night — the vote will come out 3-2 in favor of the proposed rule or something similar to it. The commissioners won't vote on the proposal until a later date.
Both Miller and Cohen, who were wary of the new rule, pointed out that the city's demographics are rapidly changing. They're right. Middle-class families with young children are more likely to move away from the District (many say that has to do with the District's public schools). Developers say there's little demand for larger residential units. And between 2010 and 2020, the city's expected to add 200,000 people aged 25-34.
Those are mostly single young people living alone or with roommates who won't be able to afford rents over $1,750 a month at the very high end, according to George Mason University's David Versel. Studios in DC's Class A housing stock, where the vast majority of housing stock is being added, generally eclipse $1,750. But as Versel told UrbanTurf, many young people share housing in more far-flung parts of the city (often R-4) that rents for much less a month. Hood, May and Turnbull didn't address the demographics argument in Monday's hearing.
This article originally published at http://dc.urbanturf.com/articles/blog/zoning_commission_divided_on_proposed_pop-up_rule/9513
DC Real Estate Guides
Short guides to navigating the DC-area real estate market
We've collected all our helpful guides for buying, selling and renting in and around Washington, DC in one place. Visit guides.urbanturf.com or start browsing below!
First-Timer Primers
Intro guides for first-time home buyers