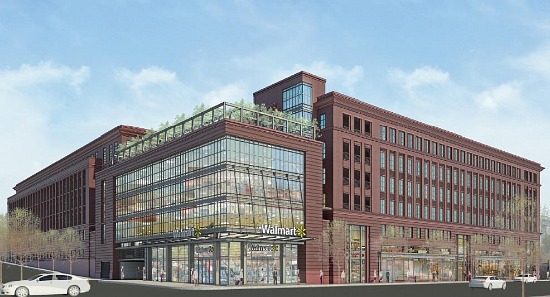 Rendering of Wal-Mart planned for 801 New Jersey Avenue NW
It was as if a bomb had exploded in DC's blogosphere.
When Wal-Mart, that ubiquitous symbol of suburban bloat, announced in mid-November that it would be building four new stores around the city, everyone from foodies to smart growthers weighed in on what they thought the mega-retailer's presence would mean for the city and its inhabitants.
"Wal-Mart is coming to DC, and residents who value vibrant urban places should worry," one blogger wrote.
"Do we really want Wal-Mart in DC? I don't care if they design a building that wins every progressive award – it's still a predatory retailer famous for it's cut-throat practices that degrade surrounding business opportunities and attract low-rent shoppers," a commenter opined on another blog.
The stores won't be open until at least 2012, but for those who are keeping score between the "Wal-Mart go home" camp and the "Bring it on" folks, it looks like, on balance, the stores will probably be a win for the neighborhoods that'll host them.
This is one of Wal-Mart's earliest forays into the urban landscape: with America's suburbs and rural areas pretty much saturated, cities are the final frontier for the company. But these stores won't be the typical models—they're all within 80,000 to 120,000 square feet, as opposed to the store's typical 200,000 square feet, and each of the stores will be built by a different developer in a different DC neighborhood. One is a no-mans's land close to downtown; another is a busy avenue surrounded by quiet streets; a third is a very pedestrian-unfriendly main artery; and the last is a low-income neighborhood that has recently been redeveloped but is still starved for retail.
So figuring out what these areas might look like once the behemoth from Bentonville, Arkansas, moves in is fraught with uncertainties. Still, here's a stab at it, neighborhood by neighborhood.
---
801 New Jersey Avenue NW (map)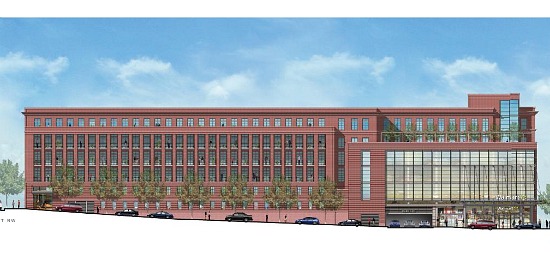 Rendering of Wal-Mart planned for 801 New Jersey Avenue NW
For a variety of reasons, the 801 New Jersey Avenue store (map) is the one that's got new urbanism advocates excited. First, the store (which won't open until mid-2013) will be mixed use and densely designed: according to plans by developer JBG Rosenfeld Retail, the building will be five stories with small retail on the ground floor, the Wal-Mart store behind that, underground parking, and over 300 apartments on the upper floors. The façade is broken by small details and lines of windows that make it look unlike anything one would associate with Wal-Mart.
The location is also promising. Currently, the site is a vast gravel parking lot, one of the few plots of land on the fringes of downtown that's not yet built out. Gallery Place Metro station is roughly six blocks to the west, and Union Station is three blocks to the east. And one of the streetcar's final extensions—running from H Street NE all the way to Georgetown—will go right by the site.
To Matt Bell, professor of architecture and urban design at the University of Maryland, building here—and subsequently extending the commercial area to the southwest by a few blocks—is a natural next step. "You're seeing the downtown moving east," he said. "There's a lot of interest in the land between North Capitol and the convention center."
Plus, with the public housing project Sursum Corda, which lies directly to the north, being completely redeveloped and NoMa, just to the northeast, gradually coming into its own, the site could connect several recently developed areas with the city's more established commercial centers.
"I think it'll spur development in that area," said Liz Price, president of the NoMa Business Improvement District, adding that she's not worried local independent retail will be hurt. "I don't think it's particularly close to traditional smaller scale corridors that would be negatively affected."
But according to Ed McMahon, a senior fellow with the Urban Land Institute, small retail isn't the issue. "The big competition," he said, "is the grocery stores." And of the four proposed locations, this site is probably the location already best served by supermarkets. Just a few blocks away is CityVista's like-new Safeway, and the new Harris Teeter in NoMa is open for business as of today. Both could lose sales because of the new store.
Still, this Wal-Mart has a lot of possibility. With transit options close by and other commercial zones just a few blocks away, it might even rival the Columbia Heights Target one day as a hands-down improvement to the neighborhood.
---
Georgia and Missouri Avenues NW (map)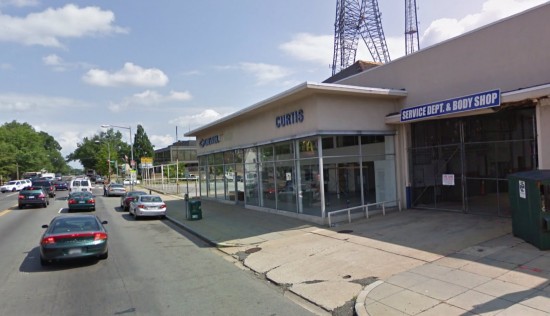 The vacant ex-Chevrolet dealership on Georgia Ave NW. Image courtesy of Google Maps.
It's more difficult to imagine what kind of effect the planned Georgia Avenue Wal-Mart might have on the Brightwood neighborhood where it is located. The design for the store (which is slated to open in late 2012 or 2013) was recently unveiled at a small community meeting: a one-story project with an underground parking garage for 362 cars. While the building will be pedestrian-friendly and urban, there won't be any living spaces in the development. Dick Knapp, a senior vice president with Foulger-Pratt, says the plans are open to community input, but that may be limited to tangential issues like landscaping, hardscaping, and the building's setback from the street.
Georgia Avenue is a major artery from Maryland and the intersection of Georgia and Missouri Avenue (map), where the development will be built, is one of the busiest in the city. However, the stores lining the avenue near the future Wal-Mart location are largely lower end—a motley collection of liquor stores, hair and nail salons, and carry-out joints—and many residents complain about the lack of shopping and dining options. There's no Metro station close by, though eventually a streetcar will go straight up Georgia Avenue.
Whether the Wal-Mart will spur the kind of changes many residents would like to see is open to debate. On the yes side is Joseph Martin, chair of the region's Area Neighborhood Commission (ANC) and a Brightwood resident.
"I think any new business is good—it shows that the area's quite viable," Martin said. Currently, the car dealership where the store will be built is empty, "and there's no more negative a statement than a building that's not in use."
Dina Paxenos, a Long & Foster realtor who works in the area, agreed. "I think it'll spur development," she said. "The area desperately needs something, so if this is the way to start—if it takes a national company—then that could be the beginning, and that'll bring more of what everybody wants."
But ULI's McMahon disgreed, pointing out that new businesses act as catalysts for further growth only in those areas that have a sense of place—developments that people simply want to hang out in—and he doesn't think this store is going to have that effect.
Meanwhile, some residents are worried about the downsides.
"Wal-Mart will more than likely be making a large portion of its revenues from shoppers outside the neighborhood," wrote resident Faraji Whalen, a real estate professional and member of the Georgia Avenue Community Development Task Force, on a community blog recently. He worried about increased traffic and decreased parking spaces as a result of shoppers, as well as from the big trucks delivering merchandise to the store.
---
New York Avenue and Bladensburg Road NE (map)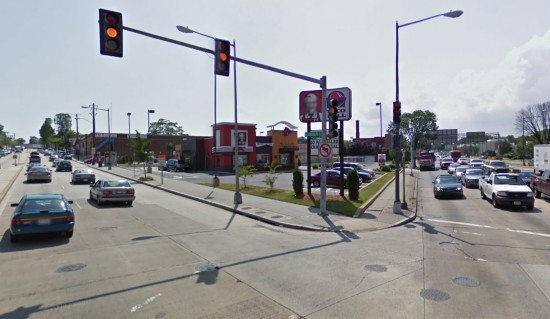 Northwest corner of block at New York and Bladensburg where Wal-Mart will sit.
Image courtesy of Google Maps.
If there's any consensus in the chatter over the coming Wal-Marts, it's that New York Avenue isn't necessarily a bad location for one of the stores. A major road that's one of the city's key entrance points, the boulevard is currently pretty unsightly; a cluster of car repair shops are its most prominent feature. The 14-acre site where the development will be built, bordered by New York Avenue, Bladensburg Road, and Montana Avenue (map), is currently dominated by warehouses and dilapidated commercial buildings.
"Our residents are eager to see that site developed to better serve the community and to eliminate the blight that currently exists on the site," said Bleik Pickett, president of the Arboretum Neighborhood Association.
The development will undoubtedly bring changes to the area, and developer Rick Walker seems committed to making sure that they benefit the area. A decade ago, Walker built the Home Depot development on Rhode Island Avenue, and while he's not particularly proud of the shopping center's design today—fronted by a vast parking field, it's been roundly condemned by the city's smart growth set—he does see it as a model of community collaboration that he hopes to utilize with this new project. "We'd hoped to open in late 2012, but we'll take whatever time is necessary for the community to be comfortable with the project," explained Walker.
From an urbanist perspective, the plans don't sound quite as ambitious as the ones for the New Jersey Avenue store; nonetheless, it won't be the typical big box store. First of all, the 120,000 square-foot main building on the site will be two stories: another anchor tenant (likely Lowe's) will be on the bottom, accessible to New York Avenue; the Wal-Mart will be on top, opening to Bladensburg Road. The site will include a three-story parking deck and some smaller retail stores, a few of which will be earmarked for locally-owned businesses.
Walker says the entire site will be accessed by five separate entrances. "We're very concerned about traffic and congestion, so they provide maximum opportunities for people to get in and out," he said.
This location should see some out-of-town traffic, but there's actually another Wal-Mart just a few miles away, in Landover Hills, Maryland. The biggest beneficiaries of the store, then, will probably be Northeast residents, who otherwise don't have many shopping options.
Gerard DiRuggiero, founder of UrbanLand Company thinks the neighborhood is a great fit for a Wal-Mart. "I think they could fit it in and have a big positive benefit on the surrounding area," said DiRuggiero. "I wouldn't like to see a lot of stores like that there, but it being an industrial location, it could swallow up a store like that and still have some residential development happen around it. It could certainly kick off more development down the line."
Additionally, the jobs created by Wal-Mart stores—an estimated 1,200 in all—will, in many cases, benefit residents who live nearby. In Ward 5, where the site is located, unemployment is almost 16 percent; those who live in the area and work at the store will also spend money in the neighborhood, further enriching it.
---
East Capitol and 58th Street NE (map)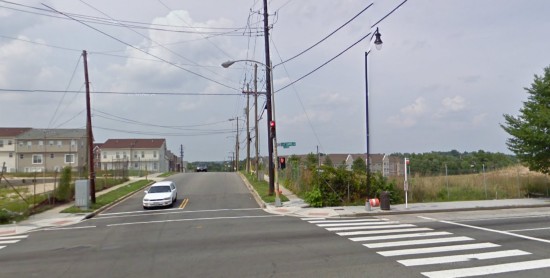 East Capitol and 58th St. NE. Image courtesy of Google Maps.
The final site, near the District's distant eastern boundary, is the most mysterious. Located in the east-of-the-river neighborhood of Capitol View and just a block from the Capitol Heights Metro station (map), the store will be part of a former public housing complex that was recently redeveloped. Now called Capitol Gateway, the development is a cluster of 380 new townhomes, duplexes, and single family homes, some of which are set aside as affordable housing; a second building phase will include almost 300 more units.
The development was always designed to hold a supermarket. The building will have both underground and surface parking, said Dena Michaelson, director of public affairs for the DC Housing Authority, which owns the property. But that's all she could say about the development's design: the Housing Authority is still in negotiations with the company and the developer, A&R, so no one's saying much.
Residents in the area are excited but wary. "[The store] will increase visibility for the area, but people have reservations because they aren't sure what the urban model is that's being proposed," explained Khaliq El Hillali, ANC chair for area, adding that he and other neighborhood leaders would be holding educational sessions to hear residents' views and then share them with Wal-Mart and the developer.
But worries expressed in other parts of town about Wal-Mart pushing out small businesses aren't particularly applicable here. "We don't have anything now that could be chased out," said Ronnie Streff, vice president of the Capitol View Civic Association. He pointed out that nearby businesses—a liquor store, hairdresser, and barbeque joint—wouldn't be competing with Wal-Mart.
The new store isn't the only change planned for the area. Two main streets nearby, Nannie Helen Burroughs Avenue and Benning Road, have been targeted for redevelopment, and improvements are planned for nearby public housing projects.
For residents of this area, the store could be a big advantage. Few supermarkets exist east of the river, and there isn't another Wal-Mart close by, even over the Maryland border in Prince George's County. And the jobs will be very welcome to an area with an unemployment rate of 19 percent, roughly double the national average.
"Yippee yay, that's what I think," said Tanya Slade, a real estate agent with Long & Foster and a Northeast resident. "There just aren't many good services east of the river to accommodate the neighborhoods, so anything you put there will be wonderful for the area."
---
No matter how much the developers of the new stores conform to urbanist designs and work with local communities, many Washingtonians remain unhappy that Wal-Mart is coming to town. It's still Wal-Mart, they say, still the ruthless big-box retailer with a reputation of hurting locally-owned businesses.
But it's hard to argue with the fact that the developments will bring much-needed investment and jobs to depressed areas of the District—and in today's economy, the city isn't in a position to be picky. Plus, all four stores could potentially have a multiplier effect on the neighborhoods where they will be located, ideally spurring additional interesting development in areas that are in need of a commercial pick-me-up. If that occurs, it may mark a new chapter in Wal-Mart's history—and might force the store's naysayers to reconsider their position.
Amanda Abrams is a Washington, DC-based journalist who has written feature stories for The Washington Post, Christian Science Monitor, and Washington City Paper.
This article originally published at https://dc.urbanturf.com/articles/blog/the_wal-mart_effect_dc_style/2746.
DC Real Estate Guides
Short guides to navigating the DC-area real estate market
We've collected all our helpful guides for buying, selling and renting in and around Washington, DC in one place. Start browsing below!
First-Timer Primers
Intro guides for first-time home buyers