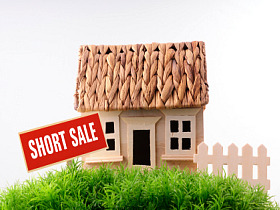 One of the first things many new buyers say to us in our initial meetings is: "We want to buy a short sale" or "I've heard you can get a good deal on a foreclosure." Our first instinct is to roll our eyes and pat them on their arm, all the while thinking about how naïve and helpless they look sitting across the table —- all wide-eyed and salivating over the inevitable steal they're going to be getting in this "buyer's market." So begins the process of educating them about the process of actually buying a short sale or foreclosure.
Suffice it to say: Buying a short sale or foreclosure is not for the faint of heart. To say the least.
Yes, you can get a great deal on a short sale or foreclosure (note, we didn't say "steal"), but there are many hurdles to clear before you'll get the keys to your new home. With a bit of input from our broker, Marj Rosner, we've put together a list of things for you to think about before you head out to start looking at short sales and foreclosures. We have listed them below:
Many of these distressed properties are going to be sold in "as-is" condition, as of the time you view them. Banks do not typically make any repairs, and short sale sellers often do not have the funds to make repairs. Further, if the bank is selling the property through foreclosure, there will not be any property condition disclosures. We advise our clients to inspect any property carefully before making an offer. Consider investing the money in a home inspection in advance; it may cost a bit (usually a few hundred dollars), but is worth it if you end up purchasing the property. Sometimes the seller and/or the bank will treat for termites if an infestation is discovered, but more often than not, it will be the responsibility of the purchaser to treat an infestation or damage. If your lender requires such repairs, be prepared to cough up the money for these repairs before you actually own the property.
Utilities may or may not be working when you view prospective properties. Between October and April, most vacant properties are winterized, so do not attempt to use any appliances. Keep your flashlight handy! In the event that you do have a home inspection, tell your inspector prior to the inspection if the utilities are not on, and/or you will need to make arrangements with the listing agent to have utilities turned on —- usually at your expense. Invariably, there will be a fee for de-winterizing and re-winterizing the property before and after the inspection. Oh, and you'll also need to do this before your pre-settlement walk-through inspection too.
The bank and/or the listing agent may request that your earnest money deposit be placed with the listing agent's broker. They may also request that you settle at a title company of their choosing. This can be disastrous. What if the listing broker mishandles your deposit? What if the seller's title company does not adequately research the chain of title? Occasionally, these "requests" are really "requirements." If we think it's feasible, we recommend some pushback at this juncture. You may want to consider selecting a settlement/title company to represent your interest; and you can write your earnest money deposit to that organization. It is also important to select your settlement company early for several other reasons. First, once your offer is accepted, or occasionally before it is accepted, many banks want to see an estimated

HUD

-1 settlement statement at the offering/acceptance price before approving the sale. Your settlement company is usually the best place to get an accurate estimated

HUD

-1. Second, your settlement company will perform an independent title search of the property's chain of ownership so as to provide you with assurance that there are no outstanding liens or encumbrances on the property and to provide you a valid title insurance policy.
At the time you submit an offer through your agent, you should be prepared to provide proof of funds and/or a letter of approval from a lender, along with a photocopy of your earnest money deposit check. Many banks will not process an offer without this information. Please make certain the name, address, phone, and fax of the lending institution are clearly legible on the letter.
Most of the banks approving short sales and foreclosures are out of town, in different parts of the country and in different time zones. At best, you will need to wait several days for a response. In some cases, the wait is weeks. Occasionally, you will wait for several months for approval. (Last year, we had a buyer who waited

NINE

MONTHS

for a response!) Some buyers ask us to put a written deadline in their offer. Don't bother. Most lenders simply ignore such deadlines. The time you'll wait for a response varies greatly depending on which bank or banks are involved. Also, you should understand that, in many cases, there is not just one lien holder, but several, and that all of these lending institutions must approve a sale. We can't stress the following enough (so we'll "shout" it for you): IF

YOU

HAVE

A

RIGID

TIME

DEADLINE

BY

WHICH

YOU

NEED

TO

MOVE

,

THINK

SERIOUSLY

BEFORE

ENTERING

INTO

A

CONTRACT

ON A

SHORT

SALE

OR

FORECLOSURE

. If you're trying to take advantage of the $8000 tax credit and need to settle by June, good luck. If you want to be in your new home before your baby is born, good luck. You will have very little control over the timing of the process. No amount of calling these banks, cajoling asset managers, dropping off doughnuts (as one client did), threatening or screaming will speed this process up. We encourage massive doses of patience!
Although it is counter to anything you have ever been told, many banks do in fact negotiate verbally. Be prepared to hear that your offer is accepted but you may receive no accompanying paperwork whatsoever. It can be days or weeks before you will see anything in writing. This can be a tense time. (Additionally, banks almost never accept offers contingent upon the sale or settlement of another property. Expect such offers to be rejected or ignored entirely.) You and your agent may feel frustrated by the absence of responses/information. This is nearly always a function of the bank(s)' procedures and is not an excuse to abuse either your agent or the listing agent!
Settlement and title issues DO occur with short-sale and foreclosure properties. These can delay any time frame. We advise you to have a back-up plan if settlement does not occur according to the schedule in the contract.
While this list is by no means exhaustive, we hope that it gives you a glimpse of what the process of buying a short sale or foreclosure. Like we said, these properties can be good deals, but only you can decide if you have the temperament to make it through the process!
This article originally published at http://dc.urbanturf.com/articles/blog/the_truth_about_foreclosures_and_short_sales/1823
DC Real Estate Guides
Short guides to navigating the DC-area real estate market
We've collected all our helpful guides for buying, selling and renting in and around Washington, DC in one place. Visit guides.urbanturf.com or start browsing below!
First-Timer Primers
Intro guides for first-time home buyers