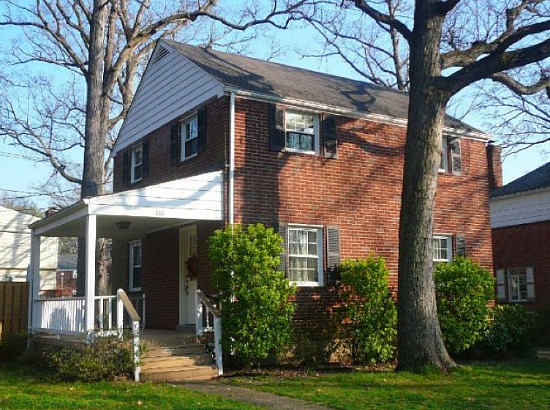 Rob Wittman's client's new home.
It is no secret that the home-buying process has been enhanced by the internet. From sifting through listings to looking at comps, buyers can now tackle the initial stages of the house hunt from the comfort of their couch. However, we recently heard about a home buyer who, with the help of a Northern Virginia-based agent, chose a home, made an offer, went under contract and had it inspected, all from a computer in Bulgaria.
A few months ago, Redfin agent Rob Wittman got a message from a State Department employee. He was stationed in Bulgaria, but was coming back to the region and needed a house for his family. The issue is that he wasn't going to be able to come to the city before the move, and didn't really know anyone in the area who could search on his behalf. So, he wondered if there was any way Rob could work with him from abroad.
Neither Wittman nor his buyer had done anything like this before. "We had a 45-minute conversation just speculating how it might work," Wittman told us. "And I didn't know if it would." Technology would be invaluable to the process, and Wittman didn't know if his cell phone's video capabilities would be helpful as he toured homes. His client mentioned Skype and soon, they had a plan: Wittman would walk through homes while connected via Skype to his client and describe as much as possible. The camera video would provide images.
As for parameters, the buyer wanted a multi-bedroom house with yard space. He needed to be close to the Foreign Service Training Facility, and wanted a home that could potentially be rented out when he left for his next assignment. Wittman decided to concentrate on Arlington Forest, and together they zeroed in on a few houses.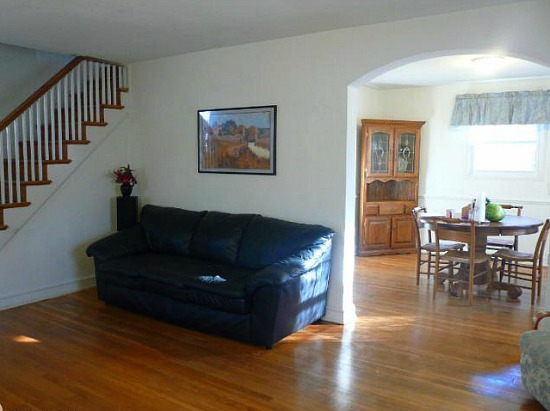 Living room
When Redfin customers find a property they want to see, they usually click through to request a house tour on the website and Redfin employees coordinate with agents to set it up; in this situation, Wittman's client would type in "pre-arranged Skype tour, speak to Rob Whitman" to alert Wittman that he was ready.
"The first house was our test," Wittman said. He walked through the house for 30 minutes, describing what he saw and holding his phone up so that his client could see. As a test run, everything went smoothly: cell phone reception held up throughout the tour.
After looking at a few more homes that way, Wittman and his client started gaining confidence in the process. Even when cell phone reception would drop off, the buyer felt happy with Wittman's descriptions.
A few weeks into the process, Wittman and his client found a three-bedroom, one-bath home in Arlington Forest that seemed like a good fit. Wittman walked around, but reception was pretty bad in some parts of the house and the client wasn't able to see a few areas. While the main floor and upstairs looked good, Wittman was having a hard time describing one particular feature that would likely impact his client's decision.
"There was this very peculiar smell, kind of like cedar chips," said Wittman. Turns out, the sellers were guinea pig breeders, with 20 cages full of the animals in the basement. Despite that, the client felt good enough about the property to make an offer, which was accepted.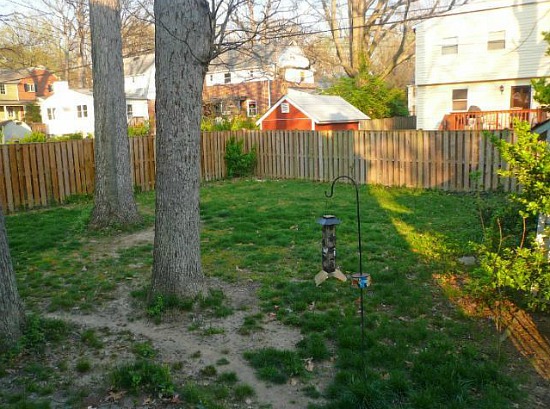 Backyard
Now, there were a few more challenges to work around. Wittman recommended a home inspector and lender he had worked with before and trusted, and the client used DocuSign to sign the stream of paperwork that came his way. They tried to Skype during the inspection, but the cell phone reception kept cutting out; instead, the client talked to Wittman and the inspector at length immediately afterwards about what they had found. The inspector was able to itemize potential problems and gave the client cost estimates. The client ended up making a request for credit, in lieu of repairs.
The closing is scheduled for May, and Wittman is still figuring out how that will work. The buyer may Skype in to the settlement and/or use the power of attorney, in addition to signing as many documents as possible in advance using DocuSign.
So after this guinea pig (in more ways than one) trial, will Wittman keep offering the service? "I would make sure that the person didn't really have many other options, and would have to be comfortable that they were technologically savvy. It's not for everyone."
Still, Wittman seems proud to achieve this first in his real estate career. "Five years ago, you couldn't use the internet at all [for your home search]," he noted. "It's amazing how far we've come."
This article originally published at https://dc.urbanturf.com/articles/blog/the_pursuit_a_skype_bought_home/5443.
DC Real Estate Guides
Short guides to navigating the DC-area real estate market
We've collected all our helpful guides for buying, selling and renting in and around Washington, DC in one place. Visit guides.urbanturf.com or start browsing below!
First-Timer Primers
Intro guides for first-time home buyers