Please see our 2015 updated profile on Takoma Park here: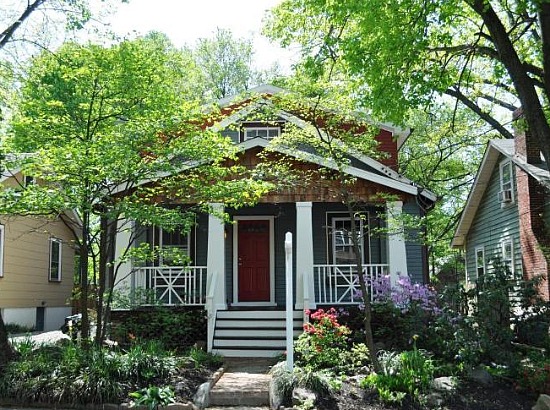 Home on Houston Avenue
Still known in some circles as Berkeley East or The People's Republic, Takoma Park can usually be relied on to take the most liberal stance possible. A nuclear free zone, it was Maryland's first municipality to legalize gay marriage, and the big fight these days is between solar panel enthusiasts and those who don't want to see any trees felled on behalf of green energy.
But the liberalism isn't just talk. By and large, Takoma Park residents seem to value community over consumerism, and the town is the kind of place where engaging with fellow neighbors around shared interests is seen as far more important than who owns what.
It Hasn't Taken a Right Turn Yet
Don't confuse Takoma Park with Takoma, its DC neighbor to the south. The two straddle the District boundary and seem to merge into one another, but Takoma Park is a distinct municipality of almost 20,000 residents in Montgomery County. Its southern boundary is a clean V sliced by Eastern and New Hampshire Avenues, but to the north, the town reaches up to Langley Park and west to Silver Spring with jagged fingers of land.
The town has been the Washington area's most hippie-ish since the 1970s, but while the metro region and the country have become more conservative since then, Takoma Park hasn't changed too much. "It hasn't made that right turn," said long-time resident Alex Rounds of the town's left-wing flavor.
A close look at its homes brings that point into focus: some are painted bright, whimsical colors, and a number are decorated with sculptures or prayer flags. And many have a distinct lived-in look: it's not that they're falling down, but the whole idea of keeping a house's exterior spic and span in order to keep up appearances doesn't seem to apply here.
Kooky But Friendly
Resident Eric Torelli, who works at the Takoma Park Silver Spring Food Co-op (TPSS), smiled when he described his customers.
"The people here are more friendly and probably a bit kookier," he said, comparing the area to the part of Silver Spring where he used to live. "In a lot of other places, people aren't that open about who they are. In Takoma Park, they mostly let you know who they are right away."
Residents—a group that includes international development professionals, artists, and idealistic nonprofit types—tend to be pretty engaged. There are almost 50 active Takoma Park listservs covering a range of topics like gardening, bicycles, and babysitting, plus a variety of regularly-occurring events that bring people together, including a year-round farmers market, Fourth of July parade, and several street fairs and music festivals.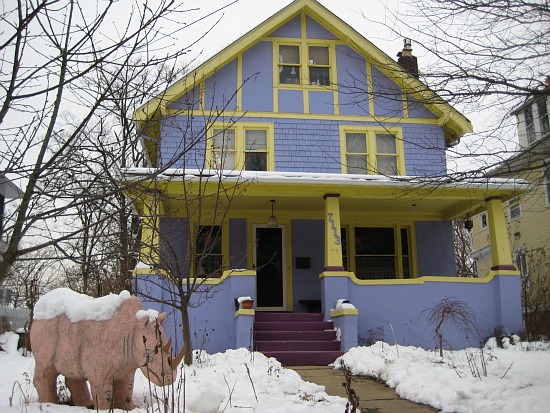 Colorful Takoma Park Home
A Varied But Not Expensive Housing Stock
Takoma Park has a few condo buildings, including a recent conversion project, Takoma Overlook, that's located on the east side of town. But like many of DC's older suburban neighborhoods, most of the housing stock is made up of single-family homes in a variety of styles, including Victorians, bungalows, Cape Cods, and a few ramblers and more modern structures.
"One of the things that makes Takoma Park stand out is that the homes are so varied," said Valerie Brown, a realtor with Long and Foster and a serious fan of the neighborhood. "They're not McMansions, but I think you'd be hard pressed to find a home that hasn't been modified—more bathrooms added or closets manipulated."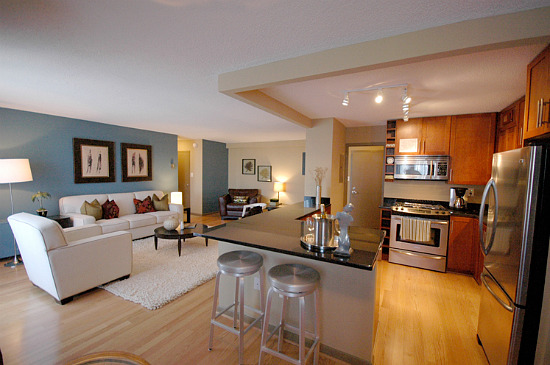 Unit at Takoma Overlook
Relative to some other close-in suburbs, housing prices—which dropped in 2009 but are back up again—are very reasonable. According to Brown, the average sales price for a three-bedroom detached home in 2010 was $437,518, though actual prices ranged from $149,000 to $804,000. The average condo sales price was $178,462, but it was possible last year to find a unit for as cheap as $64,000.
The monthly rent on a one-bedroom Takoma Park apartment ranges from $800 to $1,500; for a two-bedroom, it's between $900 and $1,700.
You'll Get to Know The Commercial Strip Pretty Quick
For a pretty big town, Takoma Park doesn't have much in the way of commercial areas. To an outsider, the strip of shops along the community's main street, Carroll Avenue, seems pretty limited, particularly when it comes to restaurants. But residents, ever loyal to their town, aren't complaining.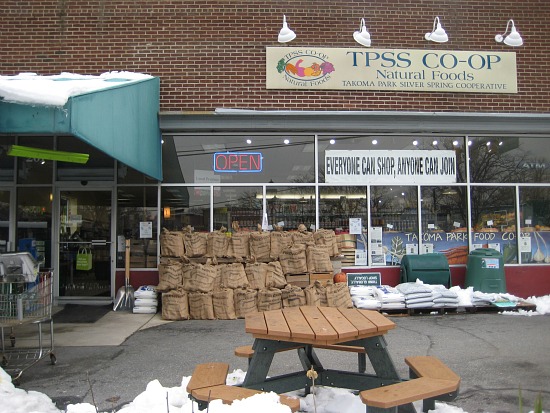 Takoma Park Silver Spring Food Co-op
Alex Rounds pointed out Roscoe's, a new pizza-slash-Italian restaurant that opened within the last 18 months, and the sister-run Capital City Cheesecake. Carroll Avenue also has Mark's Kitchen, a reasonably-priced vegetarian standby, and a Middle Eastern restaurant next door. New Hampshire Avenue has a number of ethnic restaurants, but few that stand out.
"Judging by how crowded they all get, we probably could handle one more," Rounds conceded of the restaurant selection.
But there are some upsides. First of all, Takoma Park isn't a chain store type of town: the main food market, TPSS, is an incredibly popular cooperative, and just about all of the community's stores are independently owned. "People are focused on supporting neighborhood businesses, and they want the main street to thrive," explained Bruce Sawtelle, who opened Takoma Bicycle last year.
And if you get tired of the small handful of restaurants, Silver Spring is only ten minutes away.
An Exception to the Small-Town Thing
Despite his enthusiasm for Takoma Park, Rounds gave one downside.
"I don't know the statistics on it, but as a carpenter, I've fixed two houses that had been broken into in the past nine months," he attested. "I've also had my car stolen once and broken into twice." Rounds did acknowledge that it might be slightly worse closer to Takoma Park's eastern border, where he lives, but nevertheless, property crimes do seem to be an issue.
At the end of January, Takoma Park made regional headlines when a man robbed a bank in town, took hostages and wound up shot and killed. The bank robber notwithstanding, there's been very little crime in Takoma Park over the past month, particularly compared to Silver Spring. The little that has occurred has largely been near the town's northern and eastern boundaries.
Convenient Transportation
Takoma Park is served by the Takoma Metro station on the Red Line just within the DC borders. A network of bus lines through the town lead to the station, as well as to the Silver Spring and Fort Totten stations. WMATA buses go into the District, and several Montgomery County lines head to other towns in Montgomery County. For those with cars, Takoma Park is relatively close to the Beltway, as well as to I-95 and Route 1 heading north.
The Bottom Line
Takoma Park residents' laissez faire attitude toward certain amenities like hip, fashionable eateries or perfectly kempt homes means the area probably isn't for every urban dweller. But for those who tend to favor community-minded places populated by a friendly, engaged, and left-leaning demographic, Takoma Park could be a good fit.
Amanda Abrams is a Washington, DC-based journalist who has written feature stories for The Washington Post, Christian Science Monitor, and Washington City Paper.
More Info on Takoma Park
Zip codes: 20912
Schools: Piney Branch Elementary School, Rolling Terrace Elementary School, Takoma Park Elementary School; Takoma Park Middle School; Montgomery Blair High School
Takoma Park real estate data and profile from Redfin
Takoma Park rental listings from Craigslist
This article originally published at https://dc.urbanturf.com/articles/blog/takoma_park_more_than_a_little_bit_quirky/2944.
DC Real Estate Guides
Short guides to navigating the DC-area real estate market
We've collected all our helpful guides for buying, selling and renting in and around Washington, DC in one place. Start browsing below!
First-Timer Primers
Intro guides for first-time home buyers