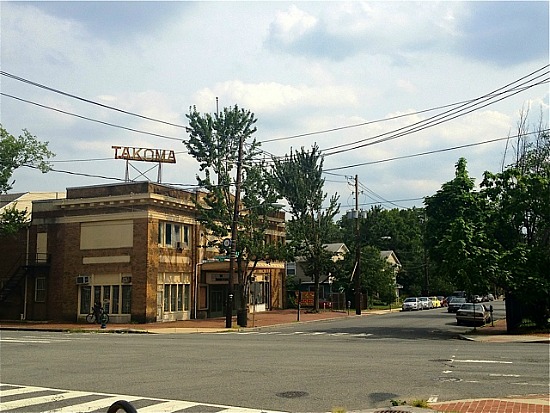 The Takoma Theatre.
You can say a lot of things about Takoma. You can call it "eclectic," a catch-all for the liberal, vegan-friendly vibe that persists there; you might say it's dead after 9 p.m., thanks to a limited bar scene; or you can call it bargain territory for a young homebuyer. Just don't call it Maryland. The DC neighborhood shares a name and a border with Takoma Park just over the Maryland state line, creating a level of confusion that drives the residents a bit nuts. "People say, 'Oh you're in Takoma Park?'" says Jackie Jones, a 15-year neighborhood resident. "I tell them Takoma is a neighborhood in DC; Takoma Park is a city in Maryland. They'll rave about Roscoe's Pizzeria, and I have to remind them that it's on the Maryland side." Nominal annoyances aside, Takoma is beloved by its residents, many neighbors for decades and others part of an influx of young, first-time homebuyers. They praise the community spirit and proximity to the District's hotspots, even if the restaurant and retail scene is moving along a bit slowly.
The "Delightful Shade" of Northwest
Takoma sits at the northeastern tip of the District, with Eastern Avenue separating it from Maryland. To the west, Georgia Avenue separates it from Rock Creek Park, and somewhere between Tuckerman and Van Buren Streets marks Takoma's southern border.
Established in 1883, Takoma was the first railroad suburb of the city, promoted as having "no malaria," "pure air," and "delightful shade." The neighborhood originally stretched across the state line, and even after the Maryland General Assembly incorporated Takoma Park in 1890, the two communities continued to share a name and a common identity. After the arrival of the Seventh Day Adventists in 1903, businesses were closed on Sundays and alcohol sales were prohibited. The teetotaling, community activism, and vegetarianism popularized by the Adventists all linger in Takoma today. (Takoma Park, Md. only lifted a ban on carry-out alcohol sales in 2010.)
A Buyer's Market
Takoma is a green and leafy neighborhood with old homes intact, thanks to the residents who fought against a 10-mile freeway that was set to rip through the neighborhood in the 1960s. Condos and rentals exist, but the real market is for Takoma's colonials, Cape Cod-style homes, and bungalows. These houses, built mostly between 1920 and 1950, can be had for reasonable prices by DC standards.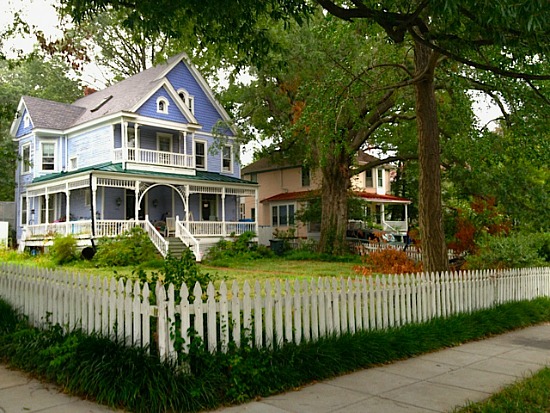 A Victorian stunner on Cedar Street.
A dated but livable house can still be found in the mid-$300,000s, but bidding wars have pushed the updated homes into the $500,000 to $600,000 range, with some outliers. "The price points are generally a little bit lower than what you can get elsewhere in Northwest," Pamela Wye of TTR Sotheby's Realty said, noting that other selling points include the big yards (think 5,000 square-foot lots), decent space (typically 1,300 square feet for a three-bedroom, two-bath house), and garages. Like neighborhoods across the city, new buyers in Takoma tend to be on the younger side, replacing residents who've lived there a lifetime. In addition to below average home prices, a below average crime rate, the proximity to parks, and the free Takoma Recreation Center (complete with pool) make the neighborhood an attractive one for young families. Sara Cherkis moved into a home in Takoma with her husband and baby two years ago. "We wanted to have a little bit more space but still be close to the Metro," she says. Parks and a playground have made Takoma a pleasant place for Cherkis to raise her 18-month-old, and she loves the friendly neighbors. Like many Takoma homebuyers, living in D.C. was important to Cherkis, even if it's only a quarter-mile inside the District boundary. Takoma enjoys greater diversity than its Maryland counterpart--or, as one resident put it, Takoma Park is "probably more white."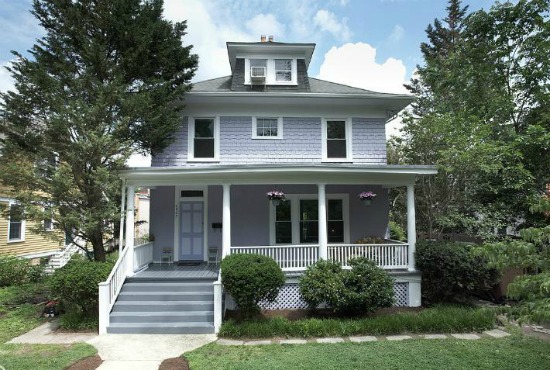 A home on 5th Street that recently sold for well above its asking price.
But the Schools...
Newcomers like Cherkis have been welcomed by long-time residents, partly because they hope that the young blood will continue to invigorate specific aspects of the community. "I think it's important that we have people with investment in the schools," Jackie Jones said of Takoma's influx of new folks. The public schools that serve Takoma, particularly Takoma Elementary and Coolidge Senior High, have yet to climb into the city's top echelon. (Shepherd Elementary, one of the most sought-after public elementary schools in the District, shares a zipcode with Takoma.) Residents seem to talk about local schools optimistically in the future tense, but pragmatically in the present. "We don't know what to do about the school situation," says one young Takoma mother. "The idea of navigating the school lotteries is pretty daunting, and that's the reality for this part of the District." She added, "I would love to send my child to public schools."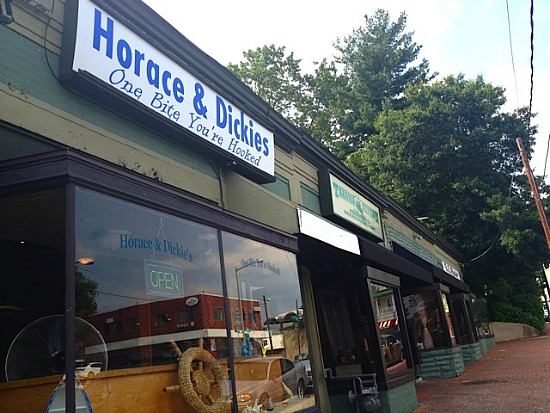 Horace & Dickies arrived on 4th Street NW early in 2012.
All Dressed Up With Nowhere to Go
Perhaps the biggest knock on Takoma is the lack of amenities and restaurants compared to other neighborhoods. "We could have more, frankly," says Jones, who likes to patronize local spots but often heads down Georgia Avenue to eat out. Cherkis struggled to name a bar before coming up with a few restaurants that have bars in them. It's not for lack of enthusiasm that the restaurant scene suffers in Takoma. "Every time something new opens, people really rally around it," says Cherkis. Sharon Villines, a Takoma resident, agrees. "We've worked very hard on this," Villines says. "I moderate the TakomaDC neighborhood list[serv] where I encourage new businesses to post frequently until everyone is familiar with them and no longer needs reminders." New business are admittedly received with wild excitement. "I am deliriously happy that Horace & Dickey's has come to Takoma," Jones says of the classic D.C. franchise, which opened up shop in the neighborhood earlier this year. To be sure, some restaurants thrive around the Takoma Metro, including a few vegan and vegetarian options. Soupergirl, an upscale soup outfit that offers delivery, arrived on Carroll Street in 2011 and has plans to expand. Popular vegan spot My Little Bistro and Cedar Crossing, a tavern and wine bar, round out the options around the slowly developing downtown.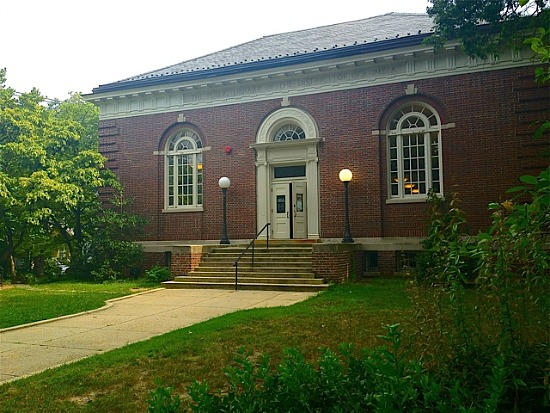 The Takoma Park Neighborhood Library opened in 1911.
Takoma is served by a Safeway (and the beloved Takoma Park farmer's market just over the state border, which is packed year-round), but residents want more. "Desperate for a Harris Teeter," says Villines. "Some place that serves freshly prepared food that is good quality but not elitist." Many would like to see a bit of culture return to Takoma as well, specifically the re-opening of the Takoma Theatre, but that could be many years and many dollars away. Residents have fought for decades to "save" the theatre, a 1924 building that remains unused on 4th Street, and a conservancy group dedicated to its survival formed in 2007. The city awarded the group a grant in 2008 in order to study how the theatre would affect the surrounding area if re-opened, and its future remains unknown. One big plus in the neighborhood's amenities column is the Takoma Community Center, which is free for D.C. residents. The center features an indoor pool, fitness center, children's pool (complete with fountains), and classes ranging from water aerobics to water polo. The pool is competition-quality and hosts several invitationals.
The Bottom Line
Takoma is a middle-class neighborhood with upper-class aspirations, and the social liberalism attracts a spirited, community-oriented set. The proximity to Rock Creek Park and more urbane offerings of the city make Takoma an attractive choice, even if you have to leave the block to get a decent meal. Jenny Rogers is a columnist at the Washington Examiner. Her work has appeared in Slate and TBD.
This article originally published at https://dc.urbanturf.com/articles/blog/takoma_not_to_be_confused_with_takoma_park/5908.
DC Real Estate Guides
Short guides to navigating the DC-area real estate market
We've collected all our helpful guides for buying, selling and renting in and around Washington, DC in one place. Start browsing below!
First-Timer Primers
Intro guides for first-time home buyers