Outdoor cafe seating at Busboys & Poets
Ask an Arlington resident where Shirlington is and you're likely to get a handful of answers. Most know Shirlington Village, a four-square-block cluster of shops, high-rises, and restaurants, but beyond that, it's not quite clear where Shirlington ends and surrounding neighborhoods begin.
Despite the fact that its borders are up for debate, Shirlington is an increasingly popular area, the kind that new housing developments claim to be a part of even when they're a few miles away. Like many young "urban villages" that have sprung up as the result of careful planning, the Shirlington of 2010 still feels new and doesn't yet have the character of a long-established neighborhood. But the planning seems to be paying off as the neighborhood has become a dense, pedestrian-friendly area of restaurants, retail, and culture.
The Boundaries: A Moving Target
Let's get the tricky business of Shirlington's boundaries out of the way. Some folks might say the area is anything in the 22206 zip code, but that would include a number of nearby neighborhoods that have their own distinct identities. Or you could say Shirlington is the diamond bounded by I-395, Four Mile Run Drive, Walter Reed Drive, and King Street, except that the residents of Fairlington have squarely claimed much of that area. So to be safe, the best way to define Shirlington would to be limit it to the top northeast half of that diamond.
But that's not a hard and fast description. Already, housing developments to the north — such as Shirlington Crest, on the other side of Four Mile Run stream — and the northwest are claiming to be part of Shirlington.
A Neighborhood Renaissance
One thing is for certain: the neighborhood fans out from its core at Shirlington Village, where the restaurants and shops are. As a general rule of real estate in the area, the closer to the Village, the better.
Shirlington Village has actually been around since the 1940's, when it was one of the first shopping centers in the entire country. It grew through the 60's, then declined in the 70's and 80's. But it really came into its own in the past decade, after Arlington County decided to invest in it by expanding the main street, adding hundreds of units of residential housing, and building a new theater, library, and grocery store. According to a 2005 article by The Washington Post, the goal was "to increase the number of people in Shirlington to create a round-the-clock environment there."
Clarendon, Jr.
These days, the hallmarks of Arlington's planning process abound. One of the county's key aims was to increase density in the area, and the commercial section is now dotted with several large, spanking new apartment and condo buildings like IO Piazza and Windsor at Shirlington Village.
Getting away from Shirlington Village to the northwest, as well as in Fairlington to the southwest, are low, sprawling condo and townhouse complexes separated by wide swaths of green. Most of these — like Windgate, Courtbridge, and Heatherlea — were developed as apartments after World War II and later renovated.
Unsurprisingly, Shirlington has become a mecca for young professionals who work in the District or at nearby federal agencies. There are tons of young singles living in the area's condos and apartments, as well as lots of small families. Typical of the region, the population is remarkably cosmopolitan, though markedly less diverse than comparable District neighborhoods. You might think of it as Clarendon junior: there's a similar youthful, preppy vibe, but Shirlington's a little lower-key and smaller.
Still Affordable (Except for Renters)
Another thing that distinguishes Shirlington from other dense neighborhoods in Arlington like Clarendon or Rosslyn: home prices. Shirlington isn't directly Metro accessible, and this is reflected in lower housing prices.
"The area is very affordable," said Ginger Harden, a real estate agent who focuses on Shirlington. "Prices are 10 to 15 percent lower than in Rosslyn; it's not on the Metro line, and that gives value." Sale prices in 2010 of one-bedroom condos — garden styles, townhouses, and high rises — ranged from $235,000 to $425,000; two-bedroom condos started at $300,000 and went up to $575,000.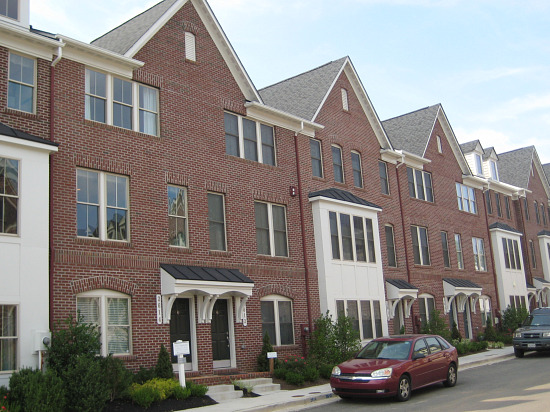 Shirlington Crest
While there is still some light industry just north of Shirlington, much of that may be converted to residential in the next few years. Harden, along with many others, is convinced that Shirlington is poised on the cusp of a boom.
She illustrated the area's growing popularity with the example of Shirlington Crest, a still-in-development community north of Shirlington Village that claims to have "the top selling townhomes inside the Beltway." The company began selling units during an economic bust, without any model homes, in an untested area — and still sold way more than expected.
"Would I buy here as an investment?" asked Harden. "Absolutely."
Rentals, in contrast, tend to be a little more expensive than average, simply because many of the new buildings in the commercial district are relatively high end. A one-bedroom apartment in IO Piazza, for example, runs from $1,700 all the way up to $3,500 per month. But some of the outlying, older developments may include one-bedroom units for $1,200 and up.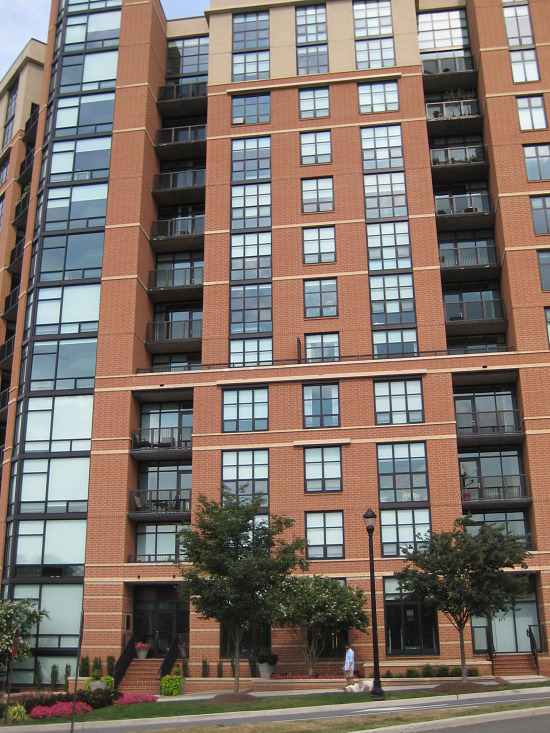 IO Piazza
Great Amenities
It's hard not to wax enthusiastic about Shirlington's amenities. There's tons. Some are quality-of-life additions like bike lanes and parks for people and dogs. Shirlington is near the start of the Washington-Old Dominion bike trail, and that's partially what drew resident Dennis McBride. "I like being on the bike trail," he said, still in his work clothes. "I'm about to go biking."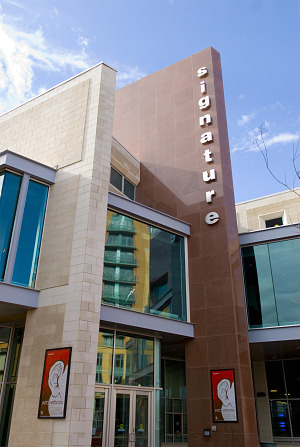 Award-winning Signature Theatre
But it's the walkable commercial corridor of Shirlington Village that really shines. With parking neatly tucked behind the buildings, the area feels like a multi-faceted urban village. There's the gorgeous new library that dovetails with the nationally-recognized Signature Theatre, both built in 2007 and fronted by a pedestrian-friendly plaza. Nearby is a Harris Teeter, around the corner is one of the city's few art-house movie theaters, and most of the neighborhood's stores are independently owned, not chains.
Then there are the restaurants, a long string of options that include District favorites like Busboys and Poets, Luna Grill, and Capitol City Brewing Company, as well as Carlyle, Thai in Shirlington, and the popular and unpretentious Bungalow Billiards.
Hub for Young Families
Taking a walk with his son (two and a half) and daughter (one and a half), Brian Alula nodded emphatically when asked about the area's family friendliness. "The parks are fantastic," he said, mentioning that he and his wife moved to the area from DC's Columbia Heights. "It feels like a neighborhood. I know a lot of people just by walking up and down the street with the kids."
The commercial area boasts a few kids' stores, and children are welcome in most of the restaurants. But because Shirlington has virtually no standalone single-family homes — and there aren't many developments nearby — it doesn't tend to be a hub for more mature or larger families.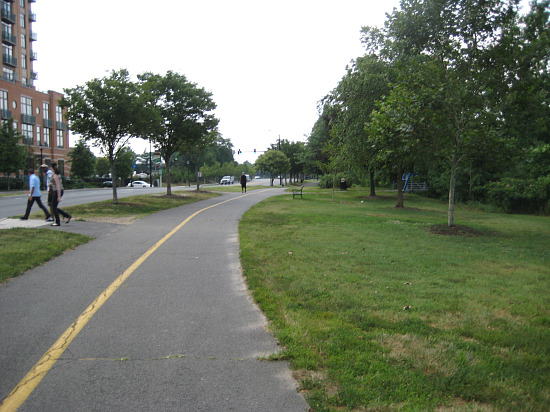 Four Mile Run bike trail
Highly Accessible (Even Without Metro)
When Arlington County chose to invest in Shirlington, it tackled the transportation issue head on to overcome the neighborhood's lack of Metro. The neighborhood now boasts a $2 million commuter hub, with buses that can get to the Pentagon in seven minutes, and from there to points north via Metro's Blue and Yellow lines or other buses. The area is served by Metrobuses 7A, C, E, and F, 10B, and 22A, as well as Arlington Transit buses 77 and 87.
For those with cars, Shirlington is very well-situated. It abuts I-395, which offers a straight shot north into downtown DC (less than 15 minutes with no traffic) or south to other parts of Northern Virginia. Arlington's Clarendon/Courthouse and Old Town Alexandria are both about ten minutes away.
Most condo and apartment complexes include parking.
Crime? What Crime?
Like much of Arlington, crime is not a problem in Shirlington. While property crime can be an issue, residents say they feel comfortable walking around at all hours. Brian Alula said he's not particularly worried about crime. "I haven't experienced anything in the five years since we've been here," he explained.
Bottom Line
There's no doubt that there are lots of reasons to love Shirlington: its many cultural and commercial amenities, its walkability, its green space. And all of those are reasons why the area will probably only grow in popularity. It may feel too pristine for the urban dweller that prefers a little more grit and history, but for many others it offers urban-esque, pedestrian living with still-affordable prices and very little crime.
More Stuff about Shirlington
This article originally published at https://dc.urbanturf.com/articles/blog/shirlington_an_urban_village_hitting_its_stride/2227.
DC Real Estate Guides
Short guides to navigating the DC-area real estate market
We've collected all our helpful guides for buying, selling and renting in and around Washington, DC in one place. Start browsing below!
First-Timer Primers
Intro guides for first-time home buyers