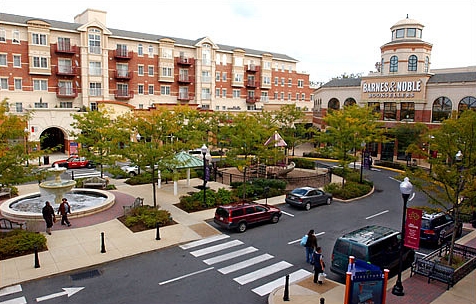 Market Commons in Clarendon
"When I lived in DC, I told my husband that I wouldn't move to the suburbs unless he could find me a duplication of my walking lifestyle. And he did." Designer Beth Singer's explanation of how she wound up in Clarendon neatly sums up the neighborhood's appeal. Just across the Potomac from DC, Clarendon is an area that has grown tremendously in popularity for those who prefer a locale that straddles the line between city and suburb. The prevalence of suburban amenities like Whole Foods and Starbucks (made famous in a satirical rap last year) are as much a draw for the neighborhood as the small music venues and quality restaurants that line Wilson Boulevard. "The gestalt of Clarendon is the urban vibe and the suburban areas near it—that's what makes it so irresistible," Singer explained to UrbanTurf while taking her dog for a walk in central Clarendon recently. That ideal combination—plus the neighborhood's proximity to DC—comes at a cost: homes in the area are some of the county's priciest. But the neighborhood's urban core and the residential neighborhoods surrounding it—Lyon Village to the north and Lyon Park to the south, all of which are considered part of Clarendon—include a wide range of housing options that help maintain a mixed population.
Where is Clarendon?
The borders of Clarendon are hardly fixed, and as the area has evolved in recent years, so too have its boundaries. It is particularly difficult to designate where Clarendon ends and Courthouse, its close sibling to the east, begins. (In fact, you'll often hear the two neighborhoods used interchangeably.) We have approximated Clarendon's borders as Lee Highway to the north, Kirkwood Road and Irving Street to the west, Route 50 to the south and southeast, and Barton and Veitch Streets to the east
Twenty-Somethings and Sixty-Somethings
Clarendon residents represent a wide range of ages and backgrounds: they may be people in their early 20s attracted to the area's music scene; condo-living young professionals who work on the Hill or in private-sector jobs; families in townhouses; or older couples who've lived in the area since long before the real estate boom sent prices climbing. Because of Clarendon's relatively high housing prices, residents tend to be on the more affluent end of the spectrum. The population isn't quite as diverse or international as comparable neighborhoods within the District's borders, but it's nonetheless a pretty cosmopolitan group.
Housing Stock – A Bit of Everything
The neighborhood has a fairly diverse housing stock. Clustered in the center of Clarendon are large multi-unit buildings, including several large apartment complexes (as well as one under construction that will add almost 250 more units by the end of the year) and five large condo buildings, all of which were built after 2003 and together contain roughly 1,000 units. The area also has a few scattered townhouse developments on the fringes of the central area.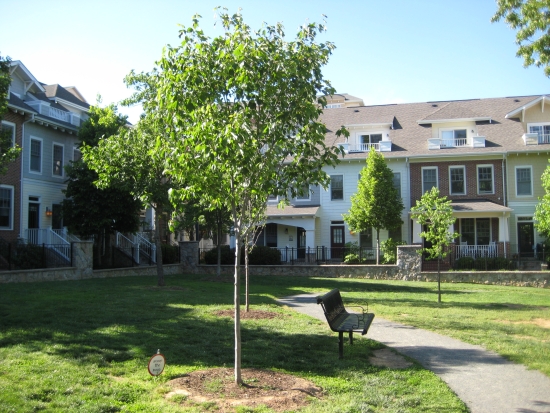 Single-family homes are located in the areas north and south of the center. Lyon Park, to the south, includes bungalows, Cape Cods, brick colonials, and some brand new homes sitting on relatively small plots of land and fringed by towering hardwood trees. To the north, Lyon Village includes larger houses—brick and stone colonials, some Tudors—that are set back on wide green lawns.
It is Not Cheap to Live Here
Living in Clarendon means paying a premium for the neighborhood's walkability, amenities, and proximity to the city. Rent on a one-bedroom starts around $1,500 and can go as high as $2,500. Condos are similarly expensive: the average selling price in March for a one-bedroom was $385,000; a two-bedroom, two-bath unit was averaging $575,000. And single family homes? "To even get a leg in for a teardown, you're starting at $500,000, and that's for a home that needs to be gutted and redone," said Keller Williams Laura Rubinchuk who lives in the area. "If you're looking for something habitable, it's at least $600,000 for a two-bedroom, and townhomes start around $700,000." In March, the average price for a four-bedroom, 2.5-bath house was $894,500. Rubinchuk added that because the neighborhood is so small and yet so desirable, the resulting imbalance of supply versus demand means that it will probably remain a good investment for years to come.
Local Favorites and National Chains Coexist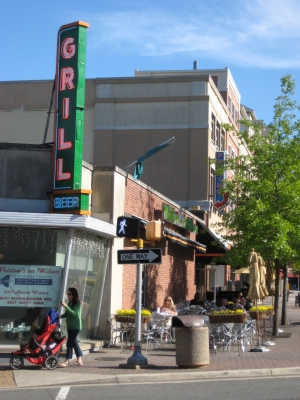 Clarendon institution Whitlow's
Clarendon's commercial area is a huge part of its appeal. It's the go-to spot for nightlife and dining in Northern Virginia, and draws more than a few District residents on the weekends. Clustered near the Clarendon/Courthouse Metro are a string of stores, bars, restaurants and clubs, and while the neighborhood has seen an increasing number of chain outlets move in, it's still home to several one-of-a-kind spots. Those include Iota and Galaxy Hut, small venues offering live music, from folk to experimental and a great beer selection; Whitlow's on Wilson, perhaps the most popular grill and bar in Clarendon, evidenced by the young professional set that flocks there Thursday through Sunday nights; and Liberty Tavern, a local favorite known for the omelettes and French press coffee it serves at brunch. In central Clarendon you will find the always-crowded Whole Foods, as well as Market Commons, a small outdoor mall that's home to suburban mainstays like Ann Taylor Loft, Barnes and Noble, and Pottery Barn as well as the mall's most popular resident: The Apple Store.
Family Friendliness
The neighborhood is home to scores of young families, most of whom live in Lyon Village and Lyon Park. Both areas are remarkably safe for kids: though major thoroughfares border both regions, the streets are largely protected from heavy traffic and are dotted by several spacious parks.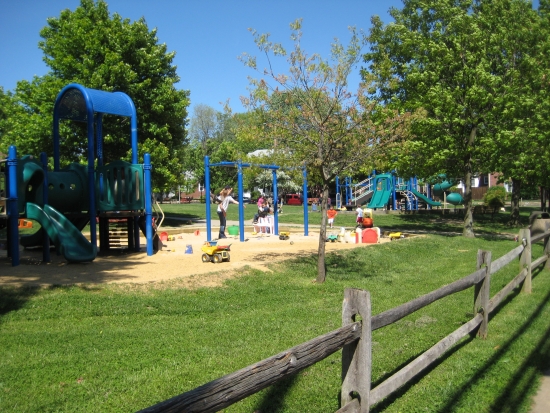 Arlington public schools are considered some of the best in the DC area. Those in Clarendon include: Arlington Science Focus School and Key Elementary School on the Lyon Village side and Long Branch Elementary on the Lyon Park side. Area public school students attend Thomas Jefferson Middle School and Washington Lee High School. "At 7:45am, you see droves of moms with strollers walking up Fillmore to the school," said Wendell Brown, a long-time Lyon Park resident who lives just down the street from Long Branch Elementary. "Those parents think they run that school," he said with a smile, noting the high level of parental involvement. H.B. Woodlawn, a magnet middle and high school perennially rated one of the very best in the country, is also nearby, and many Clarendon parents hope their children are admitted through the school's annual lottery.
Crime? What Crime?
Clarendon is a remarkably safe area. In 2009, Arlington County experienced only two homicides (compared to the District's 143). The most significant crime problem seems to be theft from autos. "Most of that is from people who left their valuables in plain sight or didn't lock their car doors," said Nate Foster, the Arlington County Police Department's crime analyst. Foster said that aside from this type of crime, there's hardly any crime otherwise. "It's a very safe area."
Transportation and Parking
Clarendon is on the Metro's Orange Line, and its station is at the center of the neighborhood's commercial district. It's also accessible to the District by Metrobus 38B, as well as to other Arlington areas via the county's ART 41, 42, and 77 buses. The area also has wide bicycle lanes on the main roads to and from DC.
While traffic can be an issue in the area, many side streets are closed to through-going vehicles, so the problem is limited. The neighborhood is close to many of the area's main roads, including Route 50, I-66, and the George Washington Parkway. While parking in the area's commercial zone can be not only difficult, but risky—parking inspectors are viewed as ruthless about expired meters—residential areas have few problems. Streets closer to the retail strips do face some parking overflow, but many are zoned for residential parking, which keeps outsiders' cars out.
Bottom Line
Last year, The Washington Post described Clarendon as "the hippest spot north of Richmond and south of the Potomac." While this is not a huge feat given the competition in Northern Virginia, Clarendon's restaurants, bars and retail have not become a destination by default. When you factor in that the area has a number of safe and walkable communities, good schools, and residents that cover a variety of demographic quotas, the idea of choosing Clarendon over some of the more popular neighborhoods in DC does not seem that far-fetched. And in a still-expanding metropolitan region like Washington, it's hard to imagine the demand for an area like Clarendon will change. Amanda Abrams is a Washington, DC-based journalist who has written feature stories for The Washington Post, Christian Science Monitor, and Washington City Paper.
More Stuff about Clarendon
More Photos
Below are more photos of the streets of Clarendon. Click on any photo to enlarge into a slideshow.
| | |
| --- | --- |
| Clarendon's Apple Store | Clarendon bungalow |
| High-rise condos in the commercial corridor | Colonials along Clarendon's side streets |
And last but not least...
The (in)famous Clarendon Rap, from 2009:


This article originally published at https://dc.urbanturf.com/articles/blog/clarendon_happily_straddling_the_line_between_city_and_suburb/2057.
DC Real Estate Guides
Short guides to navigating the DC-area real estate market
We've collected all our helpful guides for buying, selling and renting in and around Washington, DC in one place. Start browsing below!
First-Timer Primers
Intro guides for first-time home buyers