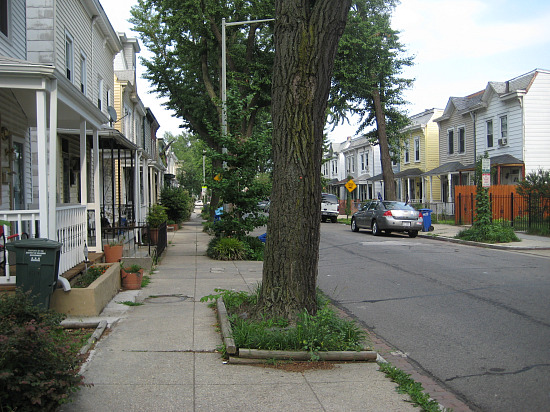 Gales Street
In real estate, there are usually three types of neighborhoods: those that are already established, areas that are well on their way to being part of the first group and those that are risky enough that you break out in a sweat just thinking about investing in a home there.
This makes Rosedale, just east of the H Street Corridor and northeast of Capitol Hill, a bit of an anomaly. It definitely doesn't fit into either of the first two categories — parades of baby carriages, cute corner cafes, or hordes of renovation-ready young professionals have yet to arrive. But according to Rosedale residents, it's a good place to live that is getting better.
The housing stock is beautiful, amenities are slowly improving, and safety is not quite as much an issue as it has been in the past. There are not a lot of options for hanging out within the neighborhood's borders, but bustling areas like H Street aren't far away. Lets just say that you wouldn't be playing roulette with your savings if you were to buy here.
Still More Old-timers than Newcomers
For decades, Rosedale — which is bounded by Benning Road, 15th Street NE, C Street, and Oklahoma Avenue — was inhabited mostly by middle and working-class residents whose roots in the neighborhood went back generations. That group of folks, which includes young families on up to seniors who are still in their homes, still comprises a majority of Rosedale's population. There are also newer, more transient residents who live in Rosedale's apartment buildings or in the low-income housing developments in the area's northwest corner.
In recent years, Rosedale has also seen a demographic influx similar to that of H Street: single, young professionals who've come to the neighborhood because they want to buy a home, but can't afford other locations in the District.
Amanda Clarke, an architect who has lived on Gales Street in Rosedale since 2004, has gained a good sense of the area's growing diversity.
"There are people on my block whose families have been in Rosedale for 40 years, others for ten years, and some are brand new," she said.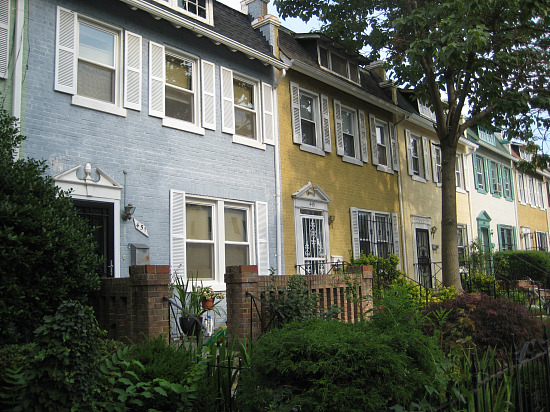 Row Houses in Rosedale
Some Good Blocks, Some Not So Good Blocks
Most of the homes in Rosedale are federal-style row houses that were built in the 1920s and 30s. The neighborhood also has a number of small apartment buildings, some of which have recently been converted into condos.
The quality of the homes varies from block to block. Some of the not-so-good streets — such as Gales Street from 16th to 21st Street — are immediately apparent: the houses are covered in vinyl siding, lack a porch, and have little or no yard. However, there are more good streets than bad, and some of the good ones are amazing, lined with old hardwood trees and stately brick row homes fronted by broad porches. These houses have been well-maintained and often include nicely tended gardens.
Some of the nicest streets in Rosedale are the blocks of 21st to 25th Streets from Oklahoma Avenue to Benning Road and D Street between 15th and 17th streets. However, there is no hard and fast rule, and the only way to tell which areas feel and look good is by visiting in person.
Though neighboring H Street is currently undergoing a major boom, Rosedale doesn't have any new construction, and a plan for a new development near RFK Stadium has been tabled for now.
Home Prices Are Low, Property is Likely to Appreciate
Like the neighborhood's streets, Rosedale's housing prices vary considerably.
"With a nicer block, you'll have to pay more; not a great block, you can get more home for your money," Brandon Green of Brandon Green Companies told UrbanTurf.
The average sale price for a two-bedroom home in Rosedale is $296,385 and $367,805 for a three-bedroom. One-bedroom condos average $232,290. In the past year, there have been 96 home sales in Rosedale.
Green pointed out that a number of Rosedale condos are in foreclosure, which can be to the buyer's advantage, but if other condo units in a building are in foreclosure, financing can be difficult — if not impossible — to acquire.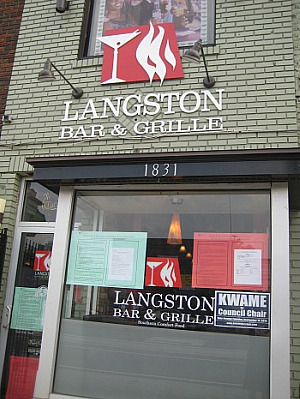 Langston Bar and Grille
Restaurants and Bars? Wrong Neighborhood
There isn't a whole lot going on in Rosedale. Langston Bar and Grille, an upscale soul food restaurant on Benning Road, is the area's main restaurant. Check cashing outlets, a catfish takeout spot, and a thrift shop round out the neighborhood's businesses. (There is a Safeway across Benning Road in the Hechinger Mall). Otherwise, residents have to head a few blocks west to H Street, which has a surfeit of bars, restaurants, cafes, and clubs, or southwest to Capitol Hill to get a bite to eat.
Not Yet the Place for Lots of Wee Ones
The swarms of young families are holding off on moving to Rosedale for now. On warm nights, neighborhood children can be seen hanging out in front of their houses, but most of the new residents are, by and large, childless. That said, Amanda Clarke says she sees more baby carriages than she did two years ago.
"I think that's something that's coming in little by little, people feeling safe enough to raise families here," she said.
While Rosedale doesn't have a ton of green space, Anacostia Park, just east of Oklahoma Avenue, includes bike trails and playground equipment. Rosedale Recreation Center doesn't look so great now — the grounds are weedy and overgrown — but it is due for a renovation and the addition of a library next year.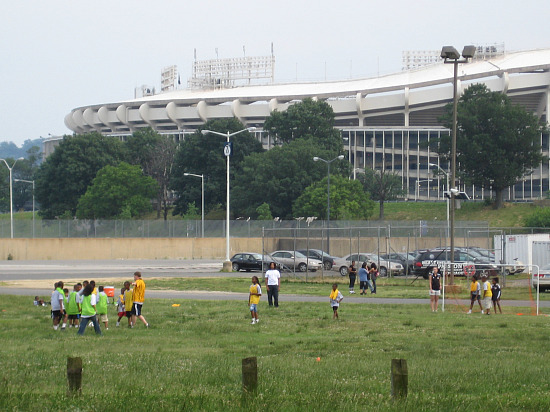 Green Space Near
RFK
Stadium
Doable With a Car or Without
While Rosedale is close to I-395 and residents say finding a parking spot on the street is easy regardless of the time of day, a car isn't necessary. The closest Metro station, Stadium-Armory on the Blue and Orange lines, is a 15 to 20 minute walk and the neighborhood is served by the B2, D6, X1, X2, and X3 bus lines.
Getting around should only get easier in the next few years. The much-heralded streetcar is slated for completion in 2012 and will run the length of Benning Road, meaning that most homes in the neighborhood will be just a quick stroll from the new public transportation.
Crime: The Caveat
Rosedale is not the crime and drug-infested neighborhood of the late 1990s or even early 2000s.
"It's changed a lot," ten-year resident Victor Davis told UrbanTurf. "Five or ten years ago, you wouldn't be comfortable riding a bike around here."
Despite improvement, crime remains an issue.
"From my perspective, crime is still much higher than we'd prefer," said ANC representative Kelvin Robinson. "The issue we're concerned with currently is juvenile crime, crimes of opportunity. We saw a rash of carjackings a few months ago, and a rise in burglaries and thefts from autos."
Over the past 12 months, Rosedale experienced 93 incidents of violent crime (robbery or assault) and 187 incidents of property crime (homes or automobiles).
"There might be police in the area, but that makes me feel more safe," Amanda Clarke said. "I don't walk around at 4am, but I do see other people walking around late at night. There's a good amount of foot traffic."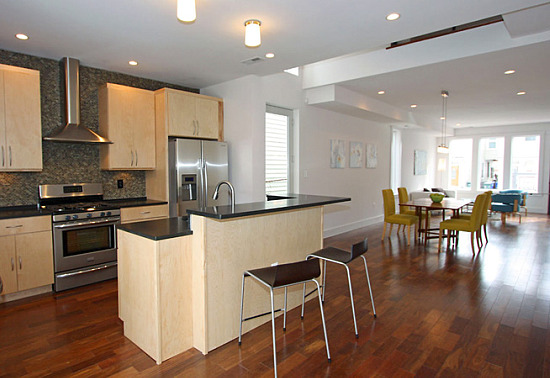 1524 Gales Street, UrbanTurf Deal of the Week
The Bottom Line
Evidence of Rosedale's growing popularity can be seen in an UrbanTurf Deal of the Week from this past March. The featured property was a three-bedroom home that had been renovated on the 1500 block of Gales Street. Within days of hitting the market, the property had seven offers; eventually it sold for $40,000 above the asking price.
Bidding wars could eventually be the norm in Rosedale. While it will likely not be Capitol Hill in the near future and a viable restaurant and retail scene are years away, the growth of H Street to the west bodes well for Rosedale's future. If the crime rate continues to go down, homes will likely appreciate quickly.
Whatever happens, current residents appear happy with the neighborhood as it is.
"I really like it," Amanda Clarke said. "It has a good feel to it, like it's becoming something."
Amanda Abrams is a Washington, DC-based journalist who has written feature stories for The Washington Post, Christian Science Monitor, and Washington City Paper.
Want to Know More?
Borders: Benning Road to the north, 15th Street NE to the west, C Street NE to the south and the Anacostia River to the east.

ZIP

code: 20002
This article originally published at http://dc.urbanturf.com/articles/blog/rosedale_ripe_for_investment_right_about_now/2164
DC Real Estate Guides
Short guides to navigating the DC-area real estate market
We've collected all our helpful guides for buying, selling and renting in and around Washington, DC in one place. Visit guides.urbanturf.com or start browsing below!
First-Timer Primers
Intro guides for first-time home buyers