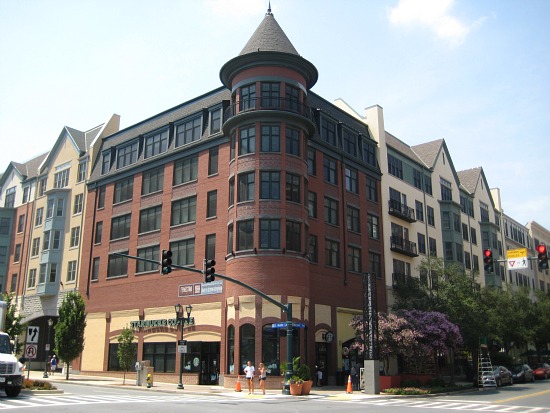 Rockville Town Square
The 12-acre Rockville Town Square is the kind of development that makes "new urbanism" fans smile. The developers succeeded in creating a mix of retail, restaurants, residences, and public space while maintaining a focus on pedestrian traffic. On a warm afternoon, the plaza at the center of the community is full of frolicking kids, shoppers, and businesspeople on their way somewhere important.
However, the thing that might give a visitor pause is that it's all a bit generic. While the development is in the middle of Montgomery County, it could easily be located in Reston, Silver Spring, or even National Harbor.
A Bit Disorienting
Rockville Town Square opened in 2007, created from scratch after a dingy strip mall and several other buildings located on the site were demolished. It now consists of 642 residential units and 180,000 square feet of restaurant and retail space. The development is bounded by Rockville Pike to the east, East Middle Lane to the south, North Washington Street to the west, and Beall Avenue to the north.
Other parts of central Rockville also have cute eateries and green spaces, but the flavor of the Town Square area is completely different from that of the surrounding streets. Everything's newer, and restaurants and shops are chockablock along the streets running through the development. That disconnection is part of why wandering around the area is a bit disorienting: it simply doesn't feel like the rest of Rockville.
A Surprising Sense of Energy
The fact that it doesn't feel like Rockville is not really a negative. The three square blocks that make up the area are attractive and bustling with people unlike anywhere else in town. The plaza in the center features a covered gazebo and a fountain, both of which are a big hit with kids. The library located at one side of the plaza is humming with users, and outdoor tables at various lunch establishments are full of diners.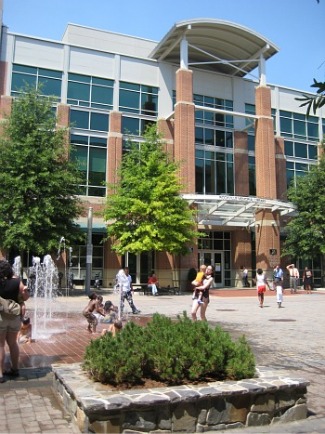 Fountain in front of library
Most of those folks don't live in the Town Square, however, where the residential component is limited to condo and apartment units that sit above the retail spaces. Because the development doesn't include any single-family homes, the only kids tend to be very young ones.
"There's a few retired people, but it's not quite senior citizen-friendly," said Howard Markowitz, a retiree himself who moved to the area a couple of years ago after living for eight years in Bethesda. "It's really a young population."
Luxury Units, With a Good Deal Thrown In
Unfortunately for the developer, the area was built just before the economy tanked. But that's actually been pretty good news for potential residents: it means the condo and apartment units are well-built and come equipped with community amenities like swimming pools and fitness centers, as well as the features that have become de rigeur in units built in the past 5 to 7 years — granite countertops, maple cabinets, and hardwood floors.
Fenestra Apartments
But because of the weak housing market, the developer chose to market some of the condos as "lease-to-own." Here is how it works: 75 percent of a first year's rental payment can go towards a down payment. That means someone renting a one-bedroom at $1,900 a month will, after a year, already be $17,000 towards a down payment on the unit they are renting, should they choose to buy.
Still, Yvette Chisholm, an agent with Long and Foster, told UrbanTurf that she'd heard sales have been slow. Unlike the District, where the housing market hasn't been profoundly affected by the economy, Rockville is feeling a pinch, and top-of-the-line condos aren't moving quickly.
The development's dedicated apartments rent for anywhere between $800 and $3,800/month, depending on floor plan and amenities. The average one-bedroom goes for around $1,900 per month, and two-bedrooms rent for about $2,200.
Five Minutes to Metro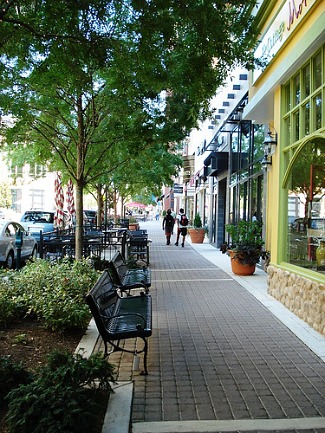 Image courtesy of
CondoAuthority
.
If asked, most of the area's younger residents will mention convenience as one of the reasons they chose to live there.
"It's close to the Metro," said Justin Michaels, 30, when asked why he picked the neighborhood; he and his girlfriend both head to the District for work during the week.
The Rockville Metro station, on the Red Line, is a five-minute walk, and the trip to Metro Center takes roughly 30 minutes. Montgomery County Ride On buses also run through the area, connecting it with Bethesda and Silver Spring.
But many residents still drive. Rockville is located very close to I-270, and the Beltway, is just a few miles down Rockville Pike. Traffic can be pretty grueling, though.
Most residents have private parking beneath their buildings, which is helpful, because the Town Center can be very busy on weekends, with virtually every parking spot taken.
Not The Place For a Dive Bar
In a nod to the younger crowd, most of the restaurants and bars are fairly low-key and informal. There's Gordon Biersch brewery, that's packed on weekends, as well as other popular eateries like Lebanese Taverna, Thai Pavilion, and Oro Pomodoro.
But while many of the restaurants are locally owned or part of small, DC-area chains, they're all new, which means very few seem to have much character. "I'd rather have a nice dive bar than all these franchises," Justin Michaels said.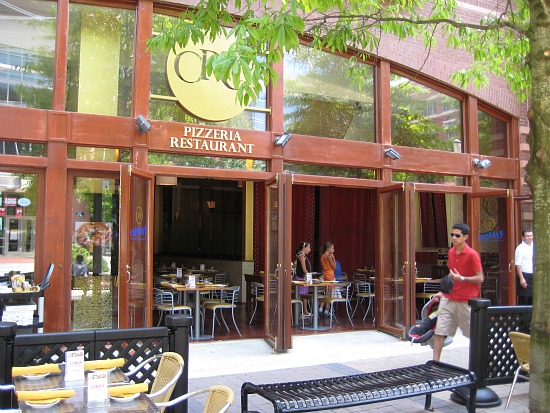 Oro Pomodoro
But the area was only built a few years ago, which means its personality is still very much under construction. While just about every storefront is currently occupied—except one, which is slated to hold an Ellwood Thompson grocery store next spring—several businesses have already come and gone.
"[Businesses] will come and go until it stabilizes," explained Markowitz. "The same thing happened in Bethesda—turnover until they found the right combination of businesses."
The Bottom Line
Rockville Town Center is a bit of a strange place. Despite the feeling of energy that comes from all the people on its sidewalks and plaza, the area still feels somewhat bland, lacking an identity linking it to the rest of Rockville and Montgomery County. But it's a bit like a bush that's just been transplanted: given some time, the development will likely grow into its surroundings, until the area is unimaginable without it.
Amanda Abrams is a Washington, DC-based journalist who has written feature stories for The Washington Post, Christian Science Monitor, and Washington City Paper.
Zip Code: 20850
Schools: Beall Elementary School, Julius West Middle School, Richard Montgomery High School
Rockville real estate data from Redfin
Rockville Town Square rental information from Craigslist
This article originally published at https://dc.urbanturf.com/articles/blog/rockville_town_square_despite_the_dynamism_still_somewhat_generic/3847.
DC Real Estate Guides
Short guides to navigating the DC-area real estate market
We've collected all our helpful guides for buying, selling and renting in and around Washington, DC in one place. Visit guides.urbanturf.com or start browsing below!
First-Timer Primers
Intro guides for first-time home buyers