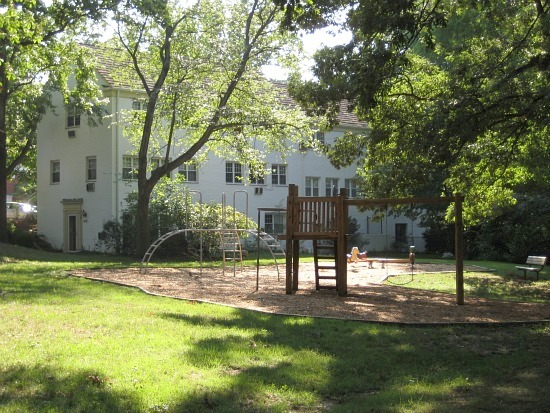 Wandering around Parkfairfax in Alexandria, one might start thinking they're on a college campus—or in a 1950s housing development. Sited on 132 green acres, the area is serene, leafy, and almost wholly lacking in any kind of adornments, be they quirky or commercial. It's like being in a bit of a time warp, but a very pleasant one.
Built Into U.S. History
Like Fairlington just to the west, Parkfairfax was built in the early 1940s in response to a housing shortage affecting Pentagon workers. At the request of President Franklin Roosevelt, the Metropolitan Life Insurance Company bought the land where Parkfairfax is located at the western edge of Alexandria, and built almost 1,700 units.
The buildings are fairly simple—few rise above three stories and the Colonial exteriors are spartan—but the grounds are hilly and wooded, and the area is listed on both the National Register of Historic Places and the Virginia Landmarks Register. The development was built as an apartment complex but converted to condos in the 1970s. These days, it's an assortment of mostly one- and two-bedroom units, just about all of which have been renovated to include updated kitchens or open floor plans. Most still feature the original hardwood floors, though, and residents say the solid construction keeps them from overhearing their next door neighbors' goings-on.
Nixon, Ford, But Not A Lot of Kids
According to Parkfairfax lore, Richard Nixon and Gerald Ford both lived in the development at some point during their careers. But these days, it is home to a mix of Defense Department workers as well as other federal employees and contractors, longtime northern Virginians and others who simply appreciate Parkfairfax's verdant atmosphere. People seem remarkably friendly, and anyone walking around the community is bound to receive smiles and greetings from residents.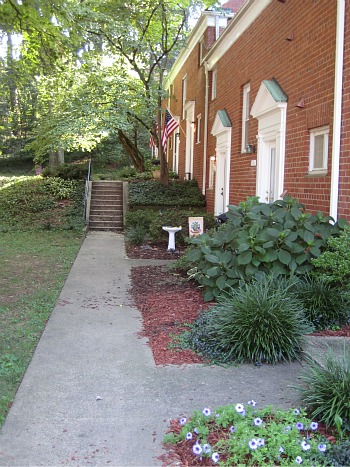 Homes in Parkfairfax
What you don't see much of are children. Here and there, young mothers push strollers on hot afternoons, but since the enclave includes few condos larger than a two-bedroom unit, it's not the place for a growing family. Still, MaryAnn Raybuck, a psychotherapist who's lived in the area for 20 years, said she's seen more families ever since the economy sank a few years ago.
The development includes three swimming pools, tennis and volleyball courts, and a library, as well as acres of woods and gardens that are dotted with gazebos and climbing equipment. Plus, the area's about as safe as they come; traffic through its streets is light, and the worst crime is the occasional car break-in, according to Raybuck.
The Good and The Bad of a Tight Community
Scheduled activities in Parkfairfax are designed for adults, like outdoor jazz concerts during the summer that can draw hundreds of residents. The high-quality maintenance of the grounds, pools, and landscaped gardens, in addition to other services, are the product of high condo fees and a well-organized board that residents say contributes to the area's tight community feel.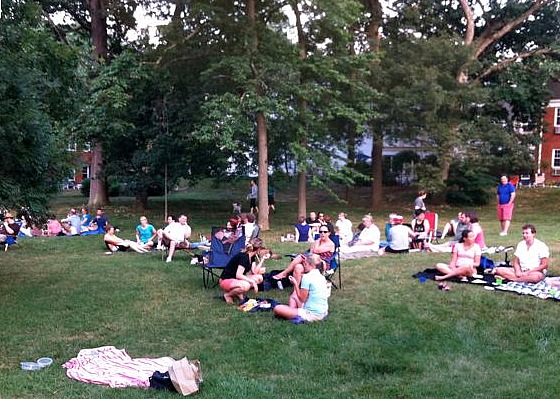 Crowd at summer jazz concert. Courtesy of parkfairfax.info.
But that feel has a downside, at least for some. Because Parkfairfax is a designated historic area, any external renovations or even landscaping changes have to be approved. Also the complaints from residents can be a little extreme.
"Some people can be a bit stuffy," Larry Boyd, 29, said, explaining that neighbors complained about boxes he'd left outside one day after a run to Costco, and another time when he played music on a Saturday afternoon that was deemed too loud. Still, he admitted, people mostly seem like they want to get along with each other.
Parkfairfax is a wholly residential area that doesn't include any commercial services. Nearby Quaker Lane, Braddock Road, and King Street have commercial strips that include drugstores and supermarkets, but most residents say they head to Shirlington to hang out. Just a few minutes walk across a pedestrian bridge over I-395, there are a range of bars and restaurants, including DC imports like Busboys and Poets and Capitol City Brewing Co. The best part, said Parkfairfax resident Eugene Hernandez, is that it's easy to get home after imbibing one too many drinks.
A Good Deal?
Units in Parkfairfax range in price from $220,000 for a one-bedroom to $367,000 for a two-bedroom "that's been totally renovated, with another half bath added" John Welch, a real estate agent with The John and John Team and a Parkfairfax resident, told UrbanTurf. First-floor units with back patios are in particular high demand currently. The relatively reasonable price point isn't quite as great, though, after factoring in the roughly $350 in condo fees that owners of a one-bedrooms have to pay every month.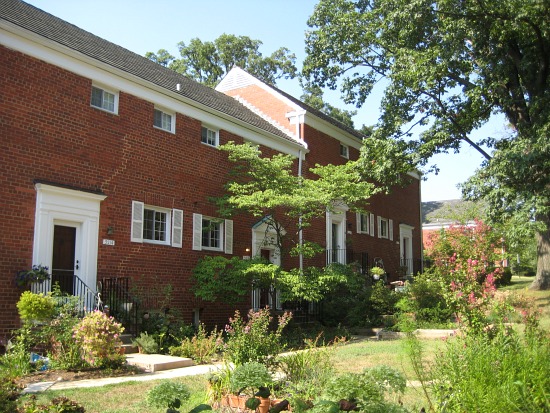 By Wheels, It's Accessible. By Rail, Not So Much
For those with cars, Parkfairfax is very convenient. Located next to I-395 and near major northern Virginia highways like Route 1 and Route 7, nothing in Arlington or Alexandria is far, and the District is only minutes away by car. On-street parking is ample.
Without a car, it's a different story. The area's very well served by buses from both Metrobus and DASH that run to the Pentagon, Crystal City, Old Town, and the District, but there isn't a Metro station nearby, the closest probably being at Washington National Airport on the Yellow line.
The Bottom Line
Parkfairfax is definitely not the place for an urban experience: there's nowhere to go for coffee or a quick bite within the development. But its green lawns, tall hardwoods, and acres of explorable space give it an enchanting feel, the kind that acts as a balm to tired urban workers when they return home at the end of the day.
Amanda Abrams is a Washington, DC-based journalist who has written feature stories for The Washington Post, Christian Science Monitor, and Washington City Paper.
Zip Code: 22302
Schools: Charles Barrett Elementary School, George Washington Middle School, T.C. Williams High School
This article originally published at https://dc.urbanturf.com/articles/blog/parkfairfax_132_enchanting_and_commercial_free_acres/3958.
DC Real Estate Guides
Short guides to navigating the DC-area real estate market
We've collected all our helpful guides for buying, selling and renting in and around Washington, DC in one place. Start browsing below!
First-Timer Primers
Intro guides for first-time home buyers