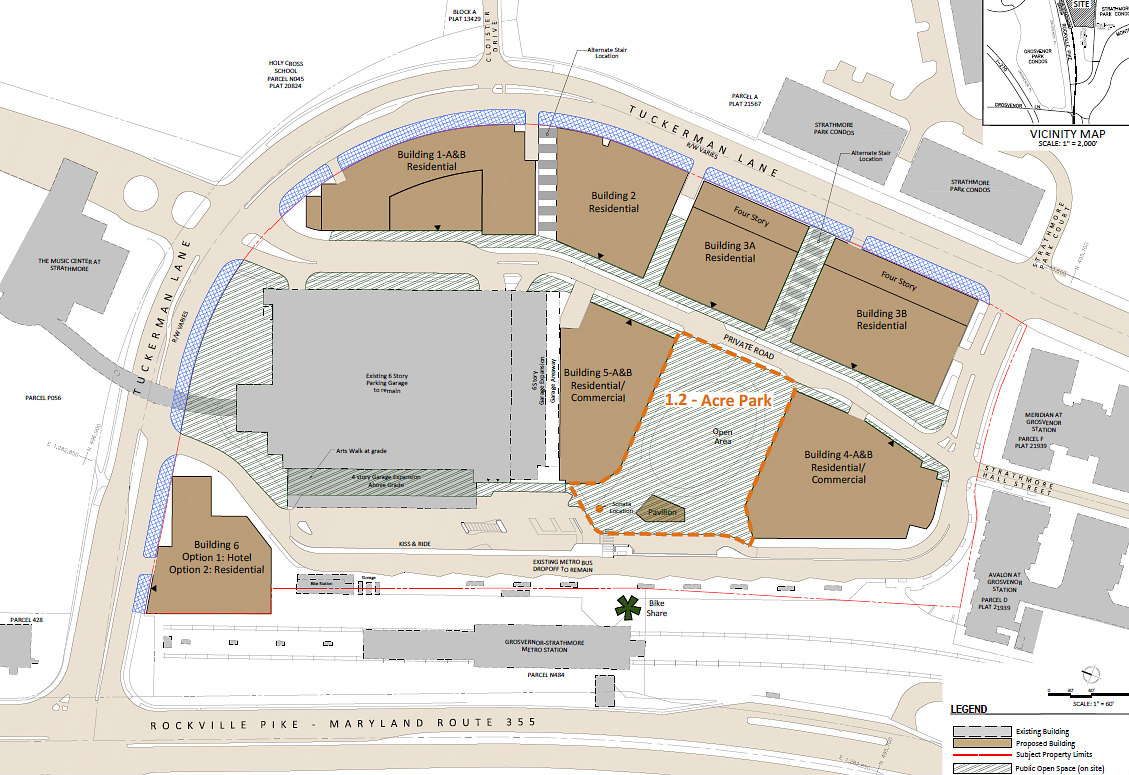 A massive mixed-use development is headed for upper Rockville Pike.
Fivesquares Development has filed a sketch plan application for a nearly two million square-foot development at Grosvenor-Strathmore Metro station. The project would replace a WMATA-owned surface parking lot and an adjacent wooded area east of the intersection of Rockville Pike and Tuckerman Lane (map).
The 14.7-acre site will be developed in accordance with last year's Grosvenor Strathmore Metro Area Minor Master Plan and feedback from the community and Montgomery County planning staff.
The application seeks approval of a multi-phase project that will eventually deliver 2,008 residential units and up to 317,537 square feet of non-residential space. Fifteen percent of the residential units will be moderately-priced dwelling units, although these will not count against the total development square footage. The project will also include a maximum of 2,008 parking spaces and up to 570 long-term bike spaces across the multi-family buildings; all above-grade parking will be concealed with architectural screening. A shared street, "Spine Road", will be paved bisecting the site, extending from the intersection of Strathmore Park Court and Strathmore Hall Street to Tuckerman Lane near the Strathmore Hall drop-off. "Central Park" will be a 1.2-acre space serving as the nexus of the site, a community gathering space that can be programmed for various events.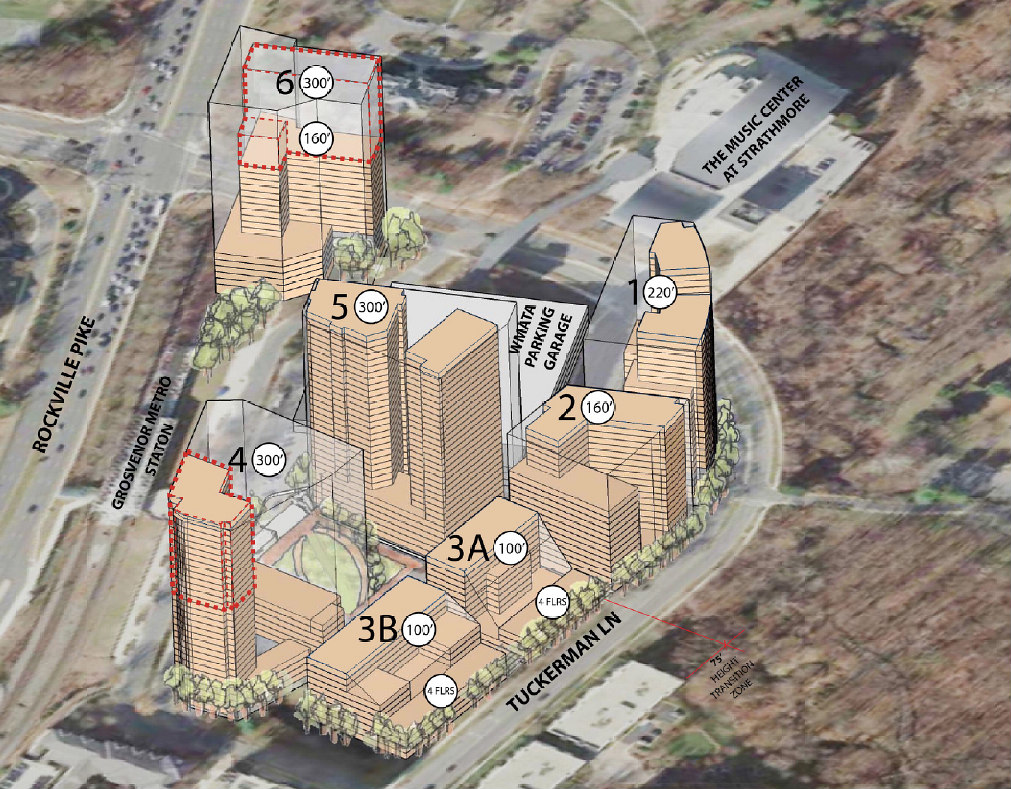 Following is a breakdown of what is envisioned for each of the six parcels in the project:
Parcel 1 is near the intersection of Tuckerman Lane and Cloister Drive (map). A 220 foot-tall building with a total of 430,000 square feet of residences is proposed, containing two 18-20 story towers with a five- or six-story structure between them, all atop a shared five-story parking garage. The southern tower, containing 230,000 square feet of residences, would be built in the first phase, while the northern tower, with 200,000 square feet of residences, would be built in the second.
Parcel 2 abuts "The Steps", near where Tuckerman Lane will intersect with Spine Road. A stepped building with a maximum height of 160 feet will contain 195,000 square feet of residences. The southeast corner of the building will be no more than four stories tall, while the portion along Spine Road will be up to 100 feet tall.
Parcel 3 will be in the "Transition Zone" of the development, containing two buildings which will also be four stories along Tuckerman Lane and 100 feet tall along Spine Road. Building 3A, on the western portion of the parcel, will deliver 265,000 square feet of residences; Building 3B, on the eastern portion of the parcel, will deliver 176,000 square feet of residences.
Parcel 4, fronting the Central Park, and Parcel 6, closest to the intersection of Tuckerman Lane and Rockville Pike, both have two development options dependent upon market conditions:

Option 1: Parcel 4 would be improved with a 380,000 square-foot, C-shaped building with some ground-floor restaurants and retail. The building will be up to 300 feet tall in the center tower and flanked by two volumes 85-120 feet tall along the ring road and stepping down to 6-8 stories toward the park. There will be parking below- and above-grade. In this iteration, Parcel 6 would contain an 11-story, 150,000 square-foot hotel atop four stories of parking, rising to a maximum total height of up to 160 feet.
Option 2: Parcel 4 would be improved with a 300,000 square-foot, H-shaped building with some ground-floor restaurants and retail. The building will be as tall as 160 feet, with 11 stories above a 5-story parking garage. In this iteration, Parcel 6 would contain a 31-story building with 385,000 square feet of hotel rooms and residences, rising to a maximum total height of up to 300 feet (including above-grade parking).

Parcel 5, toward the center of the site between the Central Park and the Metro parking garage, would have a 512,000 square-foot building with one or two towers atop a 2-6 story platform, rising to a maximum height of 300 feet. Ground-floor restaurant and retail space would be below residences; parking will be both above- and below-grade.
The development has a heavy emphasis on incorporating the arts, and the Strathmore Music Center (SMC) may use some of the ground-floor space for classrooms. The existing Metro Plaza will be converted into "The Plaza at Strathmore Square", with public art and other programs developed in partnership with SMC. This space will also include a retail pavilion, information kiosk, and a raised platform to display the brushed aluminum Sonata sculpture created by Jeff Chyatte, which currently sits at the Metro crosswalk entrance.
WMATA has filed a Mandatory Referral application in conjunction with this development, including improvements to the station, expanding the Metro garage to replace the lost surface parking, and enhancements to the existing Arts Walk.
Fivesquares is the master developer of the project; Perkins Eastman is the architect. Details on the various elements of the development will be further refined and are subject to change in subsequent application phases. Montgomery County Planning staff are reviewing the application.
See other articles related to: arts, fivesquare development, grosvenor, metro, metro-adjacent development, montgomery county, montgomery county planning board, perkins eastman, rockville, rockville pike, strathmore square, wmata
This article originally published at https://dc.urbanturf.com/articles/blog/over-2000-residences-and-a-central-park-the-plans-for-strathmore-square/14309.
DC Real Estate Guides
Short guides to navigating the DC-area real estate market
We've collected all our helpful guides for buying, selling and renting in and around Washington, DC in one place. Start browsing below!
First-Timer Primers
Intro guides for first-time home buyers