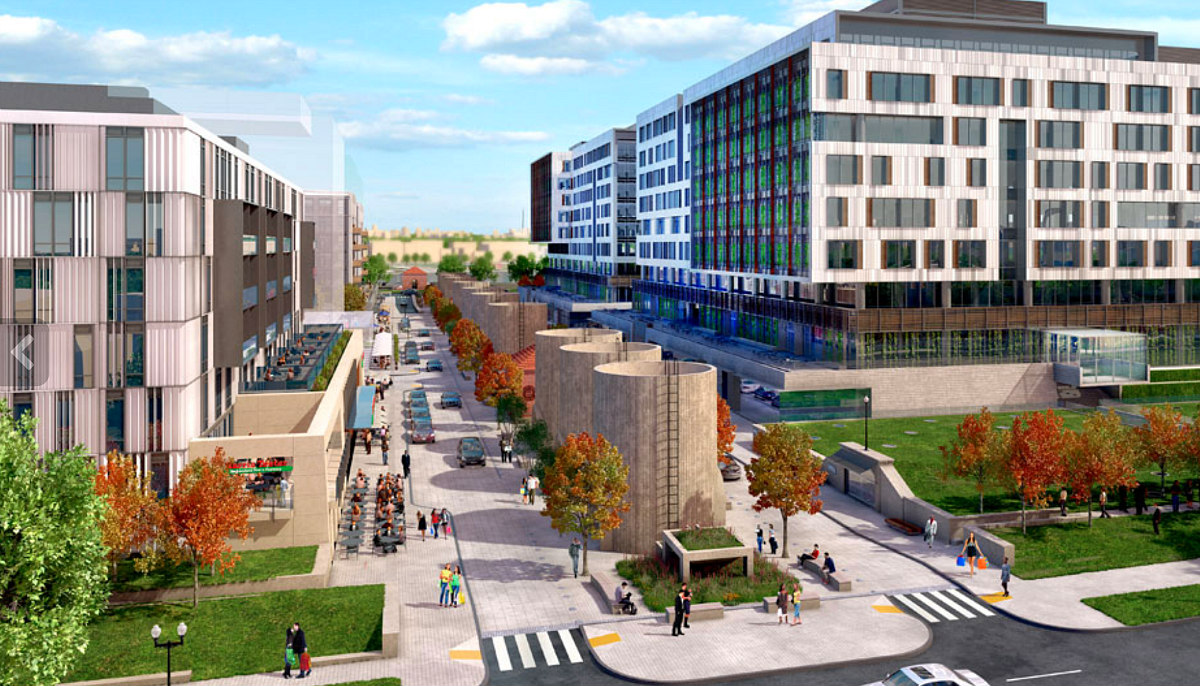 UPDATE: A response written by Bloomingdale resident Peter Galassetti, in collaboration with neighbors, has been added to the end of the article since publication.
Given the historical pattern of planning and development being used to create, enforce, and perpetuate racial inequities, housing has emerged as a key issue amid nationwide protests for racial and social justice. Now, that conversation is being tied to one particular development in DC.
The McMillan Sand Filtration site at Michigan Avenue and North Capitol Streets NW (map) has served as the theoretical battleground in DC for the debate around development, displacement, gentrification, affordable housing, and public space for years now. A 2014 decision by the Zoning Commission approved the first iteration of a planned unit development for the site proposing nearly 700 townhouses and apartments, medical office buildings, retail, a grocery store, and eight acres of open space.
The approval process was marked by vocal opposition throughout, however, and a series of appeals were filed within the year of the zoning decision. The day after a ceremonial groundbreaking ceremony in 2016, the DC Court of Appeals vacated the zoning order approving the development; very little work has occurred on the site since.
The current protest climate seems to have re-enlivened opponents' arguments surrounding displacement and gentrification. This week, Ann Wilcox, who is running for the DC Council's At-Large Seat as a candidate of the Green Party, sent out an email entitled "DeFund McMillen [sic], Fund Public Housing". "Defund police" has become a rallying cry in the past few months for Black Lives Matter and other organizations and individuals calling for jurisdictions to reroute funding from police forces to reinvest in community support, affordable housing, and other programs that redress harm. Chris Otten, a vocal opponent of several projects citywide in recent years, is listed as a contact person on the press release.
The Save McMillan Action Coalition (SMAC) also put out a press release entitled "Black DC Residents to City Council: #DEFUNDMCMILLAN", alternately attributing the campaign to Black residents and "the group".
A quick Twitter search of the hashtag shows recent posts made by nine separate accounts; one of the accounts is run by Friends of McMillan Park, another by SMAC contact Linwood Norman, another by Otten, and another by DC4Reality (co-facilitated by Otten).
Both the releases posit the McMillan redevelopment as an unjust use of city funds, calling for those funds to instead be invested in public housing "and other critical human needs and services". The SMAC release intersperses quotes from several Black city residents with assertions about the history of the site and how the development could perpetuate racial inequities.
The potential for the development to contribute to gentrification and displacement has long been a point of contention, and the Court of Appeals agreed with appellants that the Zoning Commission had inadequately addressed those concerns when the decision was remanded back to the commission. There have also been questions surrounding the legitimacy of how the city has pursued development at the site.
In mid-January, the Court of Appeals indefinitely barred any excavation or development work from being done on the site as demolition permits are under review. Friends of McMillan Park also filed another appeal in March, and the Board of Zoning Adjustment is scheduled to hear an additional permit appeal, filed by Otten, in August.
---
Update: Following publication of this article last week, Bloomingdale resident Peter Galassetti, with help from neighbors, submitted the following statement to UrbanTurf*:
For too long a lopsided view of the development of McMillan park has been published, due in part to the efforts of professional anti-development activists, who have a monetary interest pushing their agenda on the actual neighbors of the site in question. But their rebranding of the McMillan anti-development stance by using the words "defund", thus exploiting the movement against police brutality for their own ends that DO NOT represent the majority of the neighborhood in question, is taking a step too far. The petition they claim to have with "thousands of signatures" denouncing the project is suspicious. Why have many of us living in Bloomingdale never seen this petition? Anytime the topic of McMillan Park comes up on our local Nextdoor, one can read that the vast majority of actual neighbors WANT the development. Why wouldn't we want a neighborhood grocery store, a recreation center, and a usable park in place of a neglected, decrepit industrial site? Compared to the anti-development hopes for a financially unfeasible park on the site, at least the current plans in contention do offer about 20% affordable homes.
Notice that the quotes of the document for "defunding McMillan" come from people in Wards 4, 6, and 8. Here's a quote from Alice Thompson, who actually lives in Ward 5: "'The latest action of the anti-McMillan activists is shameful! My husband and I and many of my neighbors are longtime Bloomingdale residents and we support and need this project here in Ward 5! It is outrageous! that these anti-development activists, many of whom don't even live here, would dare to speak for African Americans citywide and say we are against this much needed project. DC has built parks and recreation centers as well as many services for seniors throughout all wards as well as committing $100 million to low income housing in the new budget but in Bloomingdale we can't even get a grocery store or a park that is walking distance! Our councilman, Kenyan McDuffie who has been a proponent of the project needs to speak up for us to counter the dishonest claims they are making in their new slogan "defund McMillan." Shame on them for conflating their opposition to McMillan with the cause of racial justice. They DO NOT speak for us!!"
*in its entirety, edited for spacing
This article originally published at https://dc.urbanturf.com/articles/blog/opponents-of-mcmillan-development-see-opportunity-in-social-justice-movemen/17037.
DC Real Estate Guides
Short guides to navigating the DC-area real estate market
We've collected all our helpful guides for buying, selling and renting in and around Washington, DC in one place. Visit guides.urbanturf.com or start browsing below!
First-Timer Primers
Intro guides for first-time home buyers