The Majestic on King Street
Old Town, Alexandria and Georgetown are frequently compared. They both have 18th century homes, narrow streets, and crowds lining main avenues on the weekend. But if you do compare Old Town with the oldest neighborhood inside the District borders, be prepared for some backlash. "Oh, we're much more southern than Georgetown," protested Delaine Campbell, a real estate agent who's lived in Old Town for several decades. "We move at a slower pace." Tom Walker, a former newscaster who's been in the area for thirty years, did concede that there are some similarities, but noted that Old Town is "a much more friendly, accessible, livable Georgetown" with quiet streets full of character that make for good wandering. "I can still walk down the street I've been down twenty times and see something I hadn't noticed before," he said. Though it shares some key characteristics with its DC neighbor across the Potomac, there is one main difference: living in this Northern Virginia neighborhood is not out of reach for the large majority of home buyers.
Everything But Those Glass And Steel Towers
Visitors to the neighborhood might think the name Old Town refers simply to the area's historic district, which clusters around King Street near the Potomac River and extends north, south, and west for several blocks. That's where the neighborhood's characteristic colonial homes, those square 18th century row houses, lie, as well as the boutiques, restaurants and shops to which most visitors flock.
But Old Town actually covers a much larger area. It runs from the Beltway in the south all the way to Slaters Lane in the north, and from the western line of Metro tracks (including the King Street and Braddock Road stations) to the Potomac River. The only section of that area that isn't included in the "Old Town" heading is the Carlyle District, a new cluster of condos and office buildings near the area's far southwest corner.
More Diverse Population and Housing Stock Than At First Glance
Virtually all of Old Town is densely built and walkable, with sidewalks running along tree-shaded blocks, exuding an overarching small-town feel. The housing stock ranges from old, well-maintained colonial row homes, the most prestigious of which are located in the southeast quadrant, to the condos, apartments and townhouses in the northeast section of the neighborhood. Along the western fringe of Old Town are row houses that wouldn't look out of place in the District.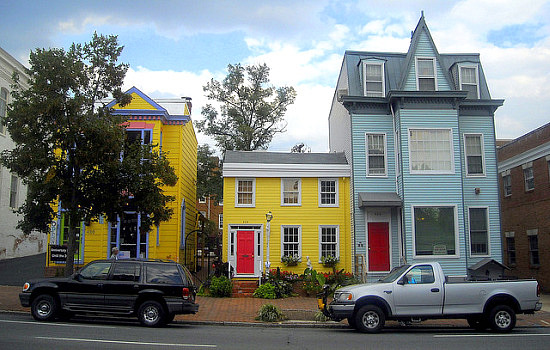 Houses on South Washington Street
Many Old Town residents go back generations and still look to the Gold Cup, an annual horse race in the area, as the highlight of their year. But an increasingly large number of young professionals, older folks working for the federal government or its contractors, and even retirees from the north have been settling down in Old Town. The neighborhood to the northeast near the Braddock Road Metro station, known as Parker-Gray, is traditionally African American.
Expensive, But Not Bank Breaking
Living in a neighborhood with a strong sense of history and character doesn't come cheap, even for a townhouse that wouldn't look out of place in the distant suburbs. A two-bedroom home in Old Town sells for an average of $543,300, and three-bedroom properties sell for roughly $857,000.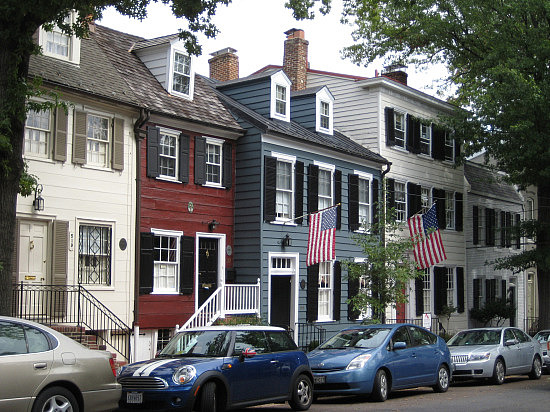 Old Town Row Homes
Prices for condos are more reasonable: one-bedroom units are currently selling for $283,682 on average; that goes up to $476,750 for a two-bedroom unit, according to Chris Upham, an agent with Coldwell Banker. Rental units are more affordable; it's possible to find a one-bedroom garden apartment for $1,200 a month. Two-bedroom rentals tend to go for between $1,700 and $2,500, and three-bedroom units can go as high as $3,000.
The Crowded Main Streets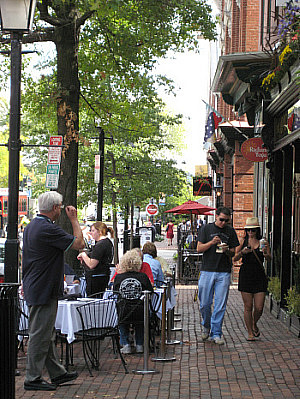 King Street on the weekend
Old Town's main avenues are lined with restaurants, bars, and independently-owned boutiques. King Street is particularly dense, home to high-end restaurants like Jackson 20 and The Majestic as well as lower-priced options like Layla's Lebanese. The area also has its fair share of funky hangout spots focusing on high quality beverages, such as the wine bar/wine store/coffee shop Grape + Bean, and Misha's, which claims to offer "the best coffee you'll ever have." The vibe down by the water is a little more historic, but be prepared for tourists. "It can get very crowded when a bus comes and drops people down at the corner and they all head down to the waterfront at once," sighed Delaine Campbell. Scattered throughout the area are supermarkets, including both a Trader Joe's and a Whole Foods at the neighborhood's southwestern edge.
For the Little Ones
Old Town is a great place for small families. While few of the homes (except those with astronomical price tags) have yards, green space is easy to find, especially down by the river. Annual events, like street fairs and the Christmas parade, are planned with children in mind, and kid-oriented shops and services are everywhere. "The streets are filled with baby carriages, and there are lots of parks and playgrounds," Campbell said. The neighborhood is dotted with public and private schools; the latter include Old Town Montessori and St. Mary's Elementary, a Catholic school. (See public school options in the section at the end of the article.)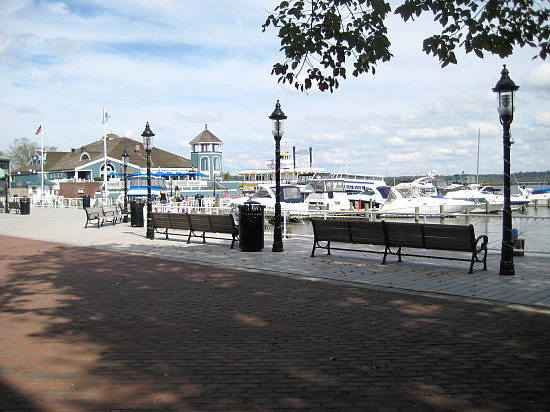 The Old Town Waterfront
Crime: Not Much to Speak Of
Given its location, Old Town is a generally safe area. "If there is crime, it's very little and I haven't heard of it," said James Best, 75, who's lived in the area for 30 years. "Everything's pretty quiet; that's why I still stay here." But that doesn't mean there's no crime. Several assaults have been reported in the last few months, and there have been thefts in areas that see a lot of traffic at night, like King Street and nearby side streets.
The Public Transportation and Parking Options
Old Town is serviced by two Metro stations, King Street to the south and Braddock Road a little further north, both of which are on the Blue and Yellow lines and located near the neighborhood's western border. Because they both sit so far west, they can be a 20-minute hike or longer from homes near the water. Still, having two Metro stations in one neighborhood outside the city proper is a big asset. Many of Alexandria's DASH bus lines -- the AT2, 3, 4, 5, 7, and 8 -- run through Old Town and connect the neighborhood to the Pentagon's vast set of bus lines covering Northern Virginia. While parking can be a little tough in some of Old Town's busier areas, such as the waterfront or King Street, there's generally ample on-street parking in the neighborhood. Most condo and townhouse developments come with parking lots or garages. The George Washington Parkway bisects Old Town, which means drivers can be crossing the 14th Street Bridge into DC from the heart of the neighborhood in about 10 minutes (no traffic). The Beltway is located immediately to the south of Old Town, which takes you into Northern Virginia heading west or across the Woodrow Wilson Bridge into Maryland heading east. I-395 is a couple miles to the northwest.
The Bottom Line
Some residents describe it as Mayberry (a reference to the idyllic small town in The Andy Griffith Show), and that probably isn't too far off. Sure, the area's becoming more cosmopolitan than many long-timers would like to admit, but it's still got a small town atmosphere. And while they aren't cheap, the variety of homes available in Old Town means that the neighborhood isn't totally out of bounds for those determined to live there. Amanda Abrams is a Washington, DC-based journalist who has written feature stories for The Washington Post, Christian Science Monitor, and Washington City Paper.
More Info on Old Town
Zip code: 22314
Schools: Old Town Alexandria students attend Jefferson Houston or Lyles Crouch Elementary School, George Washington Middle School, and T.C. Williams High School
Old Town real estate data and profile from Redfin
Old Town rental listings on Craigslist
This article originally published at https://dc.urbanturf.com/articles/blog/old_town_mayberry_by_the_potomac/2549.
DC Real Estate Guides
Short guides to navigating the DC-area real estate market
We've collected all our helpful guides for buying, selling and renting in and around Washington, DC in one place. Start browsing below!
First-Timer Primers
Intro guides for first-time home buyers