Mount Pleasant's lesser-know tagline is A Village in the City. But really, the neighborhood feels more like several villages. The first is centered around the neighborhood's main drag, Mount Pleasant Street, which is lined with restaurants of various flavors and price points, discount stores, dive bars and one iconic bakery. Clustered near this strip are several apartment and condo buildings, inhabited by long-time residents and recent move-ins. The third village is the neighborhood's western section, sloping side streets lined with beautiful row houses and a few detached homes that have steadily increased in value over the last decade. Not surprisingly, inhabitants of the different sections tend to disagree about the neighborhood's future. For now, the area's tucked-away location seems to have retarded investment in the commercial area; but given its high and climbing real estate prices, it's hard to imagine that won't change in the near future.
A Changing Demography
Mount Pleasant borders Adams Morgan and Columbia Heights, and is bounded by Piney Branch Parkway and Rock Creek Park to the west and north, Harvard Street to the south, and 16th Street to the east.
The demographic shifts in the neighborhood over the years have been noteworthy. Mount Pleasant was one of the city's early streetcar suburbs in the late 19th century with a population made up largely of middle to upper class government employees. White flight from the area began in the 1950s, and as the Washington City Paper notes, the 1968 riots following the assassination of Martin Luther King, Jr. "solidified the neighborhood's African-American/Salvadoran identity." Latin American immigrants new to DC continued to make the area home in the 1970s, and eventually, as white residents moved back in, Mount Pleasant became one of the city's more diverse neighborhoods, home to hippyish group houses, and a melting pot of artists, students, and professionals. The area's funky reputation persists; however, the group houses that used to be the norm are starting to disappear as rents and home prices increase.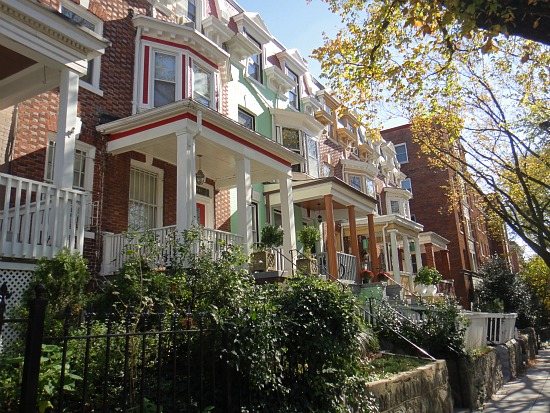 Row Houses Along 17th Street
Off the Market in Three Days
Mount Pleasant has become one of the city's most desirable areas for the 25 to 45 year-old set as the neighborhoods to its west and south have gotten prohibitively expensive. "Mount Pleasant has always been popular, but never more than now," said Rob Low, a real estate agent with Linda Low Realtors, who has lived in Mount Pleasant for 40 years. "It has a semi-isolation that's unusual among neighborhoods." Low noted that the area is also fairly quiet as only a small proportion of roads lead out of the neighborhood, which means most streets don't get much traffic. The western section of Mount Pleasant has a housing stock of largely two and three-story row homes built in the early 1900s, including a number of Victorians. Many come with gardens, large porches, and high, but not obscene price tags (at least relative to Kalorama and Dupont Circle). Low said that he recently held an open house for a for-sale home, and within three days, the seller had two offers and the house was under contract for close to the asking price of $869,000.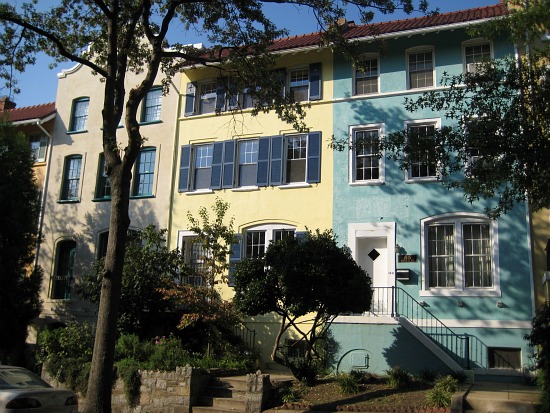 The average price of a three-bedroom home is $679,600; a four-bedroom goes for just over $700,000. Condos are cheaper: the average one-bedroom unit is $337,350, and a two-bedroom is $403,889. Most condos are resales in existing buildings; there isn't much in the way of new condo projects. The exception is The Embassy on Harvard Street at the neighborhood's southern edge. The 76-unit Art Deco building was constructed in the 1920s and was recently converted to a condominium after years as an apartment building. It is actively selling units. There are also tentative plans to renovate and convert a dilapidated mansion at 18th and Monroe into a 11-unit condo, but those homes wouldn't come available until at least 2012. Rentals—either in an English basement or in one of the larger apartment buildings—are relatively reasonable by downtown DC standards. A one-bedroom can be as cheap as $1,300; a two-bedroom unit might range from $1,800 to $2,500.
Still Hippy in Spirit
The hippy years may be long gone, but Mount Pleasant still has a reputation for civic activism, with residents weighing in on (and squabbling about) issues like business district revitalization and renovations to the public library. In June, there was extensive debate about whether or not the neighborhood should take a $242,000 grant from the city to refurbish lampposts, benches and other aesthetic improvements along Mount Pleasant Street. There are still a number of long-time row house residents who tend to be more diverse than newcomers, both ethnically and economically speaking. Little by little, though, those residents are declining in number. Low told UrbanTurf that the more residential area of the neighborhood is becoming limited to buyers with two professional incomes. Residents work as analysts with the World Bank, on the Hill, or as nonprofit leaders.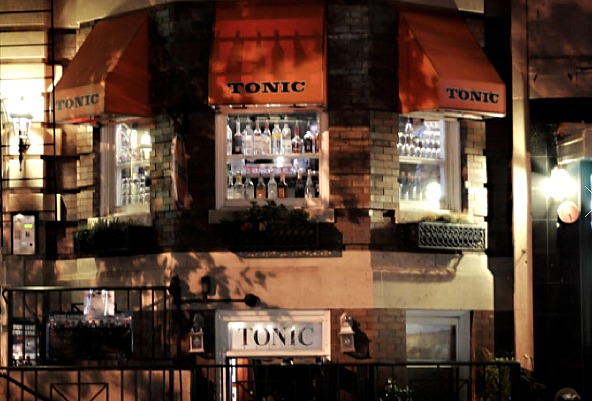 Tonic on Mount Pleasant Street
One Person's Hip is Another Person's Seedy
What you think of the neighborhood's main commercial corridor, Mount Pleasant Street, depends on the lens you view it from. For the area's Latino community, Mount Pleasant Street has historically been the gathering place. Dimly lit but popular dive bar, the Raven, neighborhood mainstay Marx Cafe, and several super-cheap ethnic fast food joints like Adam Express attract a youngish crowd that does not want to deal with the weekend crowds of Adams Morgan. The stretch also has its share of restaurant and bar staples like Tonic, Radius Pizza and Heller's Bakery, which has been operating in the same place along Mount Pleasant Street since 1922. The neighborhood has Best World Market as a grocery store, but for substantial grocery shopping, residents head to the Giant on Park Road in Columbia Heights, or the Safeway or Harris Teeter in Adams Morgan.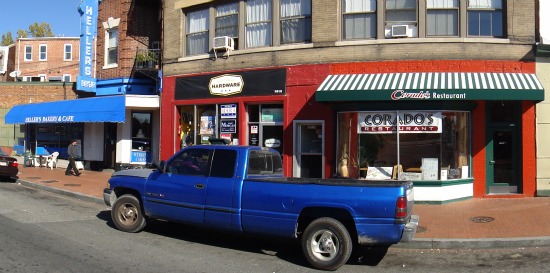 Heller's Bakery, Pfeiffer's Hardware and Corado's Restaurant
But if you're a slightly older professional who's watched Columbia Heights blossom, you might not be too happy with Mount Pleasant Street's hodgepodge of businesses. Some—like Patrick Ahern, 65, who's worked all over Latin America—appreciate the easy access to pupusas, but others are ready for something a little more glossy. "Our little downtown hasn't totally come around yet," said James Bailey, a professor at George Washington University. "It's a little bit seedy."
Hordes of Four-Wheelers
A quiet neighborhood usually means one thing: kids. Indeed, Mount Pleasant is full of them. "Oh, we're jammed with children right now," said Low. "The neighborhood is full of baby carriages being pushed around." Ahern agreed. "If you have a dog or kid, you're in." There are some kid-friendly amenities, like the Saturday farmer's market and the proximity to the Zoo, which is close enough that many residents can hear the lions roar. But the neighborhood doesn't have a public park or playground, something families have complained about.
Purse Snatching?
In past decades, the "pleasant" in Mount Pleasant was considered an oxymoron as the area was not the safest place to live or go out. While things have markedly improved in that area, Mount Pleasant is still an urban neighborhood and residents are careful. "The crime rate is higher than places like Cleveland Park, where I lived before, but it's mostly things like purse snatching on the street and maybe burglaries," said Bailey. "But I feel perfectly safe," he added. As the neighborhood has become a nightlife destination of sorts, incidents of intoxicated patrons being targeted by criminals have increased. In late October, a woman was accosted by two men on 18th Street late at night. An EMS spoke on Prince of Petworth about the prevalence of these incidents.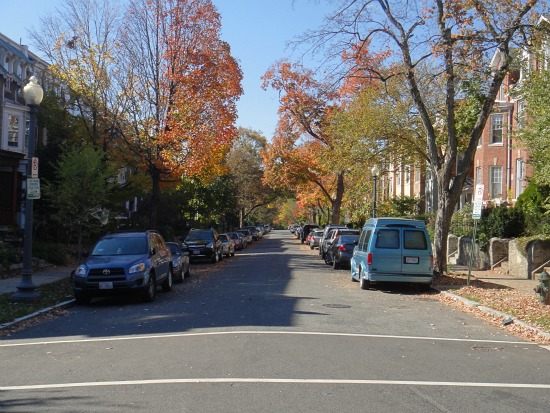 Looking Down Kilbourne Street
No Metro, No Problem
Mount Pleasant doesn't have a Metro station, but it's roughly a 10 to 15-minute walk to the Columbia Heights Metro on the Green and Yellow lines. The area is also served by the Circulator (running between Woodley Park and Columbia Heights, and south to McPherson Square) as well as Metrobuses 42, 43, H3, H4, H8, and W47. On-street parking isn't too hard to find, though home owners might not always find spaces on their block. Located in the center of the city, Mount Pleasant is close to Rock Creek Parkway, which leads to I-66, I-395, and the George Washington Parkway. Nearby 16th Street runs north all the way to the Beltway.
The Bottom Line
In the coming years, a streetscape plan for Mount Pleasant Street could widen sidewalks, re-route bus routes and generally provide a shot in the arm for a main street that despite residents' love for it, is still slightly ragged. But alas, this initiative combined with the neighborhood's growing popularity means that housing prices will continue to climb, making it largely off limits to the majority of DC homebuyers. Amanda Abrams is a Washington, DC-based journalist who has written feature stories for The Washington Post, Christian Science Monitor, and Washington City Paper.
More Info on Mount Pleasant
Zip code: 20009, 20010
Schools: Mount Pleasant students attend Bancroft Elementary School, Deal Middle School, and Woodrow Wilson High School.
Mount Pleasant real estate data and profile from Redfin
Mount Pleasant rental listings from Craigslist
This article originally published at https://dc.urbanturf.com/articles/blog/mount_pleasant_sought_after_homes_surround_main_street_in_transition/2634.
DC Real Estate Guides
Short guides to navigating the DC-area real estate market
We've collected all our helpful guides for buying, selling and renting in and around Washington, DC in one place. Start browsing below!
First-Timer Primers
Intro guides for first-time home buyers