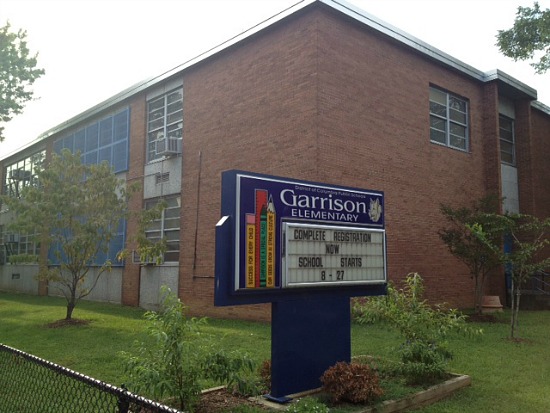 Last summer, UrbanTurf wrote an article on parents in the city who were taking school reform into their hands using listservs, Facebook and general activism.
Several of the parents we spoke with were involved in improving Garrison Elementary, a public school at the corner of 13th and S streets. With a new principal and increasing parental engagement, it seemed like there was a lot of momentum to create a better school.
So, UrbanTurf was a little shocked when, in November, Garrison showed up on DC Public School Chancellor Kaya Henderson's list of public schools that would be closed.
If we were a bit shocked, Garrison parents like PTA President Ann McLeod were completely stunned. "We were doing everything DCPS wants parent leaders to do," McLeod told UrbanTurf. "The proposal was boggling."
Using tactics familiar to advocates, activists and community organizers everywhere, Garrison's PTA immediately mobilized a grassroots campaign to save the school. And the efforts paid off: Garrison was taken off the closure list last week.
Based on interviews with Garrison parents, here are the steps that they said were instrumental in keeping the school open:
Construct and Organize Talking Points
The day the scheduled closure was announced, the PTA held a meeting to compile a list of compelling reasons for why the school should be kept open. At the top of the list, said McLeod, was that enrollment had increased since 2009-2010 and was continuing to move upward. (Low enrollment was one of the reasons that Garrison was places on the closure list.) In the fall of 2009, the group of parents found, there were only 15 lottery entries from out-of-bounds families wanting to send their children to Garrison; in 2012, this number jumped to 146.
"If they were going to merge us with Seaton [an elementary school nearby], the school would be over capacity," McLeod said. As they stated on their fact sheet, the move would require students to be placed in trailers due to lack of seats. "DCPS needed [Garrison] and the seats."
As the decision to close the school was based on DCPS's cost-saving efforts, the group of parents also laid out reasons that closing Garrison would not ultimately save money: the city will still need to maintain the building, re-opening it due to population growth in a few years may cost even more money, and renting trailers to accommodate the extra students at Seaton would be costly as well.
They also wanted to point out that Garrison was building strong relationships with surrounding churches, community organizations and residents. "Parents who don't even have children of school age were asking how to get involved [in the PTA]," McLeod stressed.
These arguments and others were organized and refined in order to be presented to the Chancellor and the Mayor, as well as distributed throughout the community. (See the last link on this page for the fact sheet that was compiled.)
Spread the Word (in a Variety of Ways)
Once they had their talking points in order, PTA members and allies embarked on several different simultaneous campaigns to spread the word.
An email blast encouraged residents and parents to testify before the city council. Though Henderson made the ultimate decision, the council's opinion could hold some sway.
Residents, businesses, churches and other bodies were encouraged to write letters to Henderson and Mayor Vincent Gray. Testimonies and other written arguments were made available to help people construct their letters.
In addition to a physical petition, a Change.org petition was created and passed around via email, Facebook and other internet-based means.
Anyone passing through Logan Circle in recent months has likely seen the child-made signs saying "We Love Garrison" and "Save Garrison." Beside putting them in front of the school, the

PTA

, working with the neighborhood community association, asked residents featured on the recent Logan Circle House Tour to place signs in front of their homes and provided tour docents with information.
A Facebook page and regular Twitter-ing kept community member abreast of important dates, action steps and successes.
Make it Easy For Residents to Get Involved and Communicate With Local Government Allies
Besides going door to door and filling residents' inboxes with emails, the group made it easy for those living around the school to attend meetings. For example, they organized a bus to take residents up to a community meeting at the Brightwood Educational Campus on December 5th to give them a chance to talk directly to Chancellor Henderson and DCPS. The meeting, with parents, teachers and students of Wards 1,2,3,4 and 6, was organized to give the community a chance to work with DCPS to make the transition smoother, and to hear their thoughts.
McLeod and others also often communicated with Councilmembers Jack Evans and Jim Graham, who supported their efforts. The councilmembers and their staffers gave the parents advice and argued on their behalf.
Develop a Counter Proposal
In addition to presenting their case for keeping Garrison open, McLeod and others developed a counter proposal. Knowing that Henderson initially made her decision based on DCPS's limited funds, the parents decided that if they offered to embark on concrete, actionable steps to support the school, Garrison would seem like a better investment. In their five-year strategic plan, outlined here, they promise to work with DCPS to increase enrollment at the school through open houses and outreach, to continue engaging the community, to create more volunteer opportunities for parents and to work towards modernizing the facilities.
Meet with the Decider
On December 18th, McLeod and a few other parents met with Henderson directly. They submitted their counter proposal, reiterated their argument, and had a discussion about what else they wanted from the school. While the conversation was extensive, McLeod left with no clear idea of what Garrison's fate would be. "[Henderson] holds her cards close to the chest," she remembers. "She gave no indication one way or the other."
Earlier this month, Henderson made up her mind: Garrison (along with four other schools on the list) would stay open. According to the Washington Post, "Henderson cited parents' willingness to help recruit new students and demographic data showing that Northwest neighborhoods, particularly around Garrison, are growing faster than officials previously understood" in her decision to reverse the closure.
The extensive efforts — it became a part-time job, said McLeod ("I'm lucky that my boss is so supportive") — were worth it. But there is still much work to be done to keep improving the school. At least now, the positive momentum is back on, and Garrison is on DCPS's radar.
One person slightly underwhelmed by the news? McLeod's young son, a Garrison student.
"When it was first announced, he thought that he wouldn't have to go to school anymore," she said.
This article originally published at https://dc.urbanturf.com/articles/blog/how_garrison_elementary_was_saved/6551.
DC Real Estate Guides
Short guides to navigating the DC-area real estate market
We've collected all our helpful guides for buying, selling and renting in and around Washington, DC in one place. Visit guides.urbanturf.com or start browsing below!
First-Timer Primers
Intro guides for first-time home buyers