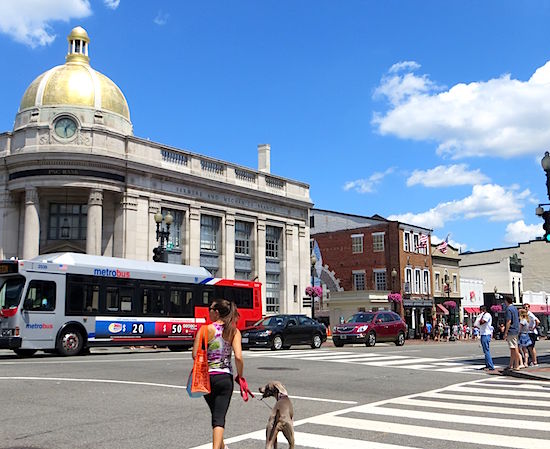 The intersection of Wisconsin Avenue and M Street NW.
Over the past five years, UrbanTurf has profiled more than 80 neighborhoods in the DC area. See them all here. We are revisiting each of those neighborhoods to update our profiles and see how they've changed over the years.
Despite conflicted feelings about Georgetown one thing about the neighborhood is indisputable: people near and far know its name. The idyllic waterfront neighborhood is famed for its historic cobbled streets, namesake university, high-end shopping and practically out-of-reach real estate. For decades, Georgetown was the "it" neighborhood in DC. However, as areas to the east have grown in popularity, the tony neighborhood finds itself needing to play a little catch-up.
High-Class from the Start
Georgetown was first established in 1751 in honor of King George II. Its prime location on the Potomac created a thriving shipping center to trade tobacco, military supplies and more. After a rough patch in the 1890s, the New Deal led the area's turnaround. Since President John F. Kennedy's residency in the 1950s, the neighborhood has been known for its elite status.
Georgetown is contained by the Potomac River to the south, Rock Creek Park to the east, White Haven Street cutting down 35th Street over to Reservoir Road to the north and Georgetown University to the west.
$1,500 a Square Foot in a Few Years
There are no two ways about it: Georgetown is an expensive place to live. For a two-bedroom home, homebuyers can expect to spend around $900,000, three-bedroom homes start above $1 million, and once four-bedrooms come into the picture, prices head into the multi-millions. The median sales price in the neighborhood in 2015 is $1.2 million, more than double the median price for the rest of the city.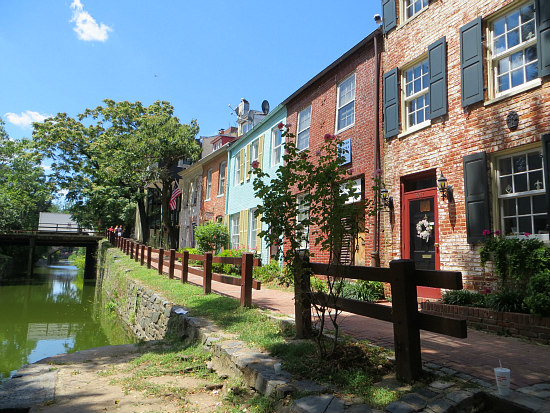 Georgetown homes along the C&O Canal.
A final housing statistic that helps give a sense of the Georgetown market, and the wealth of the buyer demographic, is that more than half of the homes purchased in the neighborhood in the first six months of 2015 were all-cash transactions.
Last year, Eastbanc's luxury 1055 High development made a splash when all seven of its units sold almost instantaneously to all-cash buyers who paid over $1,200 a square foot.
"I was surprised at the speed [of the sales], no one here expected it to sell in 6 days," admitted Philippe Lanier, Vice President of Eastbanc, who also said that $1,500 a square foot for new construction in Georgetown is possible in the coming years.
"It will depend on the product, and the quality to which it's built," Lanier said. "It's very difficult to build new residential units in Georgetown. For that reason, you have prices that go up."
Residents generally can afford these prices. Sixty-one percent of households within a half mile-radius of Wisconsin Avenue and M Street earn $100,000 per year, while 30 percent earn at least $200,000. It's also noteworthy that the number of people earning between $100,000 and $200,000 annually is spread equally across age brackets of 25-34, 35-44 and 45-54.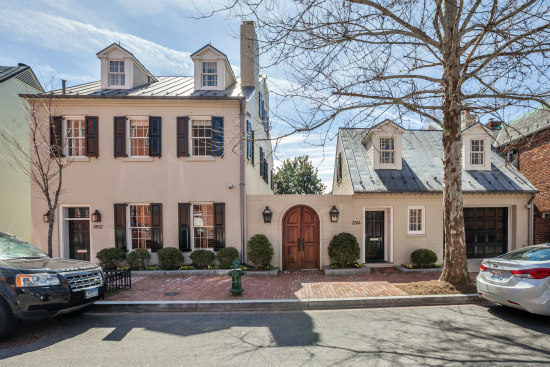 A home on the market on P Street.
Losing A Little Cachet
Georgetown will always have some of the city's most attractive housing stock and be home to a good portion of the city's glitterati. And while there is little doubt that Georgetown has maintained its elite status among DC's neighborhoods, there are a few reasons that it has lost a bit of cachet in the last decade.
For one, Georgetown is a notoriously difficult place to get new development approved. While many would say that the strict approval standards have kept the historic integrity of the neighborhood intact, the fact of the matter is that the neighborhood feels a little staid and new residents are heading to other parts of the city as a result.
The area's liquor license moratorium, which caps retail restaurant licenses at 68, is also a bane for new eateries trying to break through. In contrast, places like the 14th Street Corridor, Shaw, and City Center DC and Cathedral Commons, have become bigger draws for retail and dining options. As such, less people are going to Georgetown.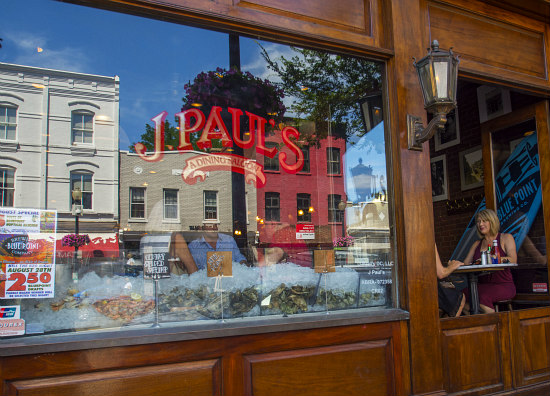 J. Paul's on M Street.
Topher Mathews, a neighborhood resident since 2003 and author of the Georgetown Metropolitan blog, sums up the transformation.
"I've seen Georgetown go from an established nightlife destination that, while a bit threadbare, was still among the few major options in DC, to one that has lost significant ground to neighborhoods that had almost nothing going on 12 years ago."
To be sure, there are residents who wouldn't change a thing. Melo Cicala has happily lived in Georgetown for the past 20 years.
On a recent stroll from his home on P Street to Il Canale, the Italian restaurant where he eats dinner nightly, Cicala explains why he likes it just the way it is.
"I come out of my house, and everything is in walking distance. Georgetown is the only urbanite area in Washington that's got a flavor of the world at large. As opposed to moving to Miami, surrounded by older people, I live here, surrounded by all these exciting young people."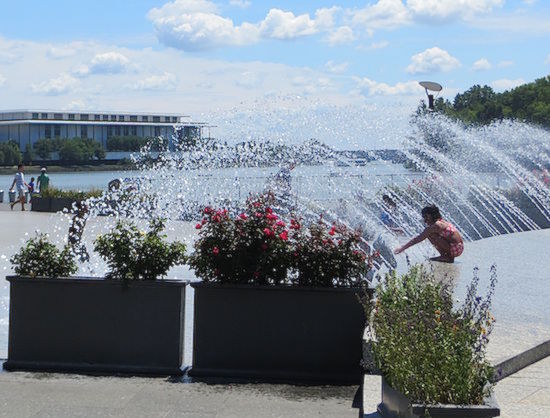 Summertime on the waterfront.
The Neighborhood's 13-Year Plan
While no one argues that the transformation of neighborhoods like Logan Circle and H Street NE is a bad thing for the city, it has given Georgetown something to aspire to.
"As long as the city is growing in population, we don't see it as competition, but as good for Georgetown and good for the city," Joe Sternlieb, CEO of the Georgetown Business Improvement District (BID), explains. "We're focused on keeping Georgetown's brand strong."
The BID intends to do just that with its action plan, Georgetown 2028.
The plan contains a list of 75 actions items, most of which target neighborhood issues like accessibility, parking, canal renovation, revamping retail and restaurants south of M Street and creating more pedestrian-friendly spaces.
"We're focused on a bunch of different things from transportation improvements to improving public transit in Georgetown, to access and mobility," Sternlieb says. "We've been talking to people about how the streetcar will come and be fast, frequent and reliable."
Along with more bike shares, more parking options, increased bus service and streetcar service, the transportation initiative making the most headlines is an aerial gondola connecting Georgetown with Rosslyn. The four-minute journey would allow riders to avoid street traffic while taking in views of the Potomac. Currently, the Georgetown BID has achieved commitments that total 83 percent of the funds needed to finance a feasibility study and is waiting to hear from Arlington County about the Rosslyn BID's request for the remaining 17 percent.
"It gets a lot of eye-rolling, but I love the idea of the gondola," Topher Mathews said. "If it properly connects to the university, it will satisfy a big demand."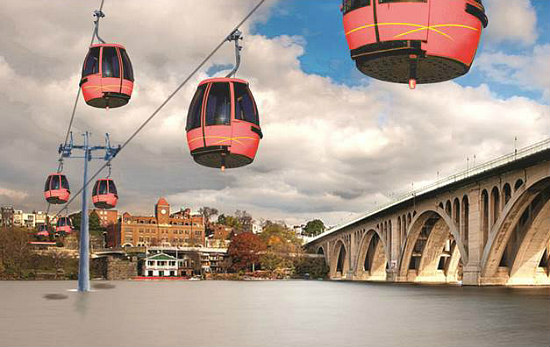 A rendering of the Georgetown gondola.
Rent and Restaurant Review
Restaurants and retail are also a point that the BID hopes to address.
"We're working with retail property owners on restaurant expansion and developing additional retail and restaurant space along Thomas Jefferson and 31st Streets between K and M Streets," says Sternlieb. "It's a bit more affordable than on M Street where rent's become prohibitive for restaurants."
The BID's State of Georgetown 2015 explains, "Well-financed brands are driving rental vacancy rates lower and rental rates higher – all to the effect of pricing out many potential and existing restaurants."
Mathews puts it a bit more bluntly.
"I think it's a problem that about the only type of store that can afford to open in Georgetown is women's clothing stores. We need variety. We need stores that residents and visitors will use. We need more restaurants. We could use another market. We don't need more money-losing national chains paying high rents simply to turn the store into a giant billboard."
Although closings in recent years of shops and restaurants like Furin's, Nathan's and Barnes and Noble disappointed residents, some notable new businesses have come in to replace them. Baked and Wired, Malmaison, Pizzeria Paradiso and Pinstripes (among a few others) have given the neighborhood some viable dining and entertainment options. With the opening of Fiola Mare last year and former Palena chef, Frank Ruta, relocating to Grill Room, Georgetown even garnered some award-winning eats.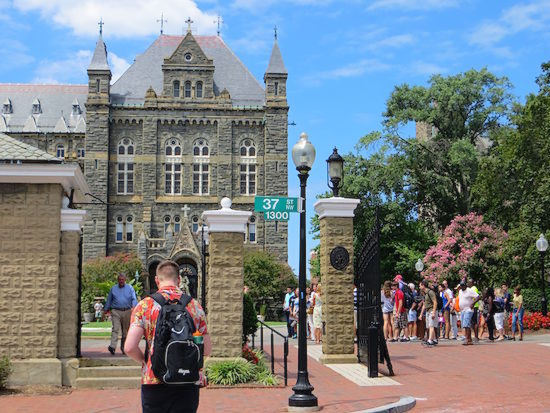 Georgetown University
Town Gown
Georgetown is somewhat of an anomaly in terms of a college location. While the university looms large on the west side of the neighborhood, its presence is hardly felt in Georgetown's epicenter at Wisconsin and M Street NW. The main streets aren't overrun with college students, and retail primarily caters to those with budgets well above that of the typical co-ed.
Yet, the university and its students maintain a presence, one that some residents might argue borders on too close for comfort. Only a few years ago, Georgetown and Burleith residents posted signs in their yards reading "Our Homes/Not GU's Dorm," a protest of the high ratio of student renters at the time. Complaints of excessive trash led to increased pickups by garbage trucks hired by the university under the Georgetown Community Partnership. The Student Neighborhood Assistance Program (SNAP), another initiative of the Community Partnership, was created to tamp down students' rowdy nighttime behavior.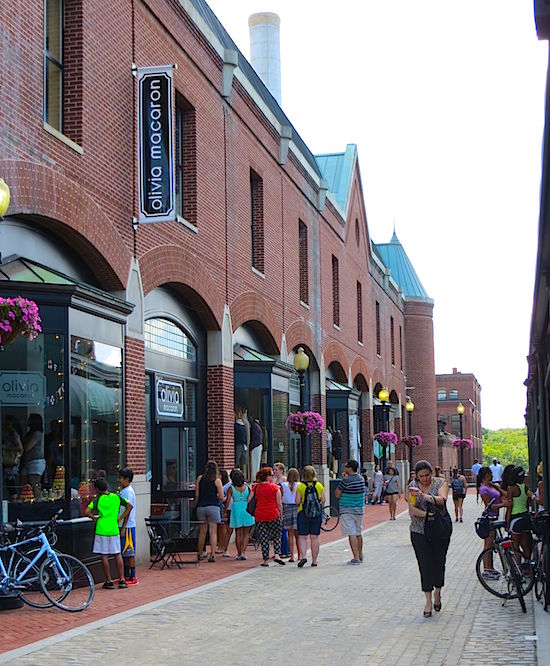 Martina Darragh, Deputy Director of Reference at GU's Bioethics Research Library, notes the feedback she's gleaned on the town/gown relationship of late.
"What I have heard is that the local community association doesn't want shuttles going through the neighborhood during the day a lot, which seems to me to be a little odd because it's a community service Georgetown is providing."
For some residents, however, university-related issues do not seem very prevalent. Veronica D'Almeida, who lives on the east side of Georgetown, says the university was one of the deciding factors for her when she moved to the neighborhood.
"My family has a very big academic tradition, and the academic feel is a side [of the neighborhood] I really enjoy," D'Almeida told UrbanTurf. "I think on the west side they might feel more of the bad effects of parties and things like that."
The Bottom Line
Georgetown's reputation as one of the premier neighborhoods in DC is not in question and many long-term residents are perfectly happy with the neighborhood as it is currently. Still, its brand is a bit diminished compared to years past. The initiatives in the works aim to get the neighborhood back on firm footing to the point where people are once again flocking to the area on the weekends and maybe enjoying an aerial view of the Potomac while they are there.
This article originally published at https://dc.urbanturf.com/articles/blog/georgetown_posh_if_a_little_passe/10236.
DC Real Estate Guides
Short guides to navigating the DC-area real estate market
We've collected all our helpful guides for buying, selling and renting in and around Washington, DC in one place. Visit guides.urbanturf.com or start browsing below!
First-Timer Primers
Intro guides for first-time home buyers