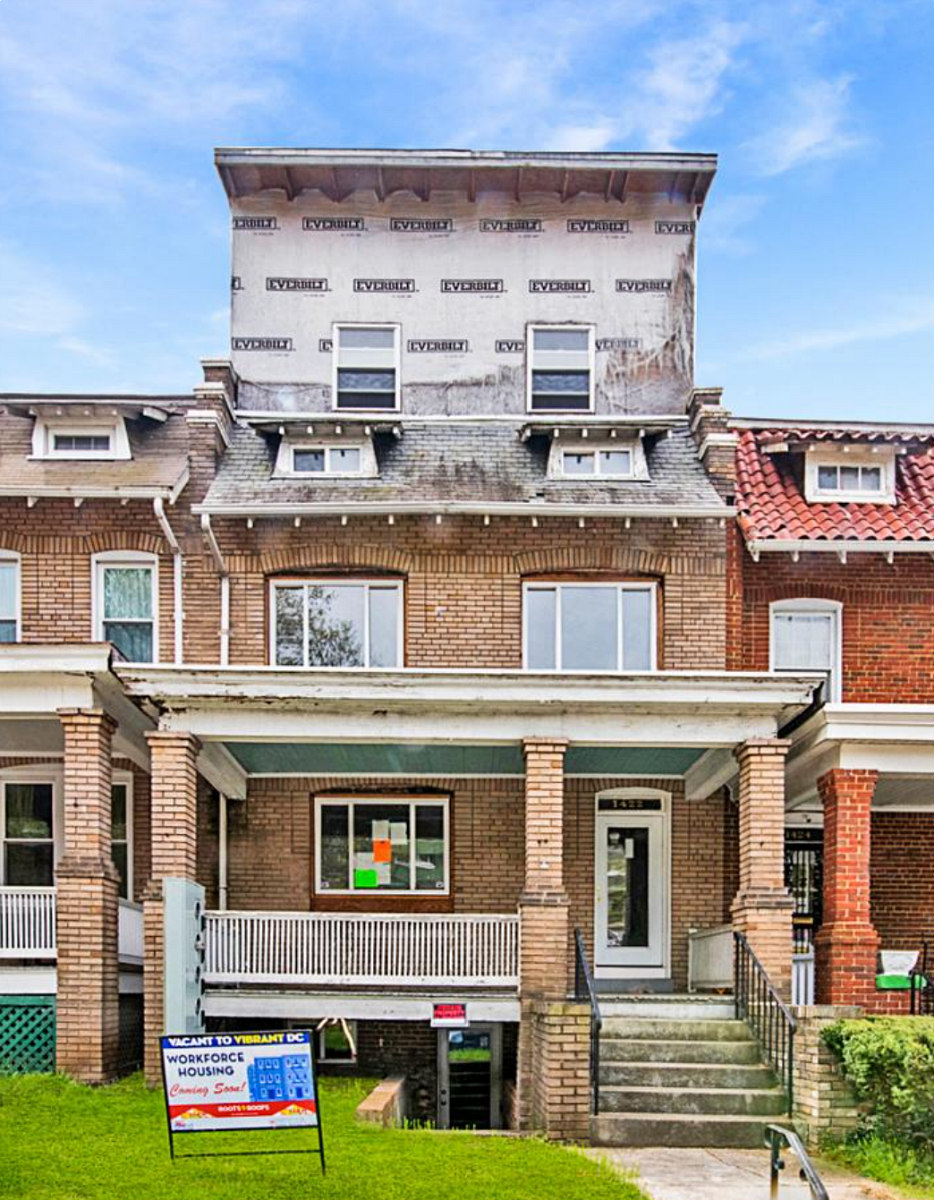 In August 2019, developer Ihab Mogassbi closed on 1422 Shepherd Street NW (map), a DC rowhouse with an unfinished pop-up that he won in the city's Vacant to Vibrant auction. The property was one of dozens of blighted properties citywide that the Department of Housing and Community Development (DHCD) auctioned off in 2018 and 2019 for restoration into livable housing, mandating that purchasers provide affordable or workforce housing in the process.
1422 Shepherd Street NW was billed as a three-unit property, but approved building permits for the conversion expired years before Mogassbi was awarded the property. He was surprised to learn during the permitting process that the property would need zoning relief before he could complete the conversion, an endeavor that added six months to the project timeline and six figures to the price tag.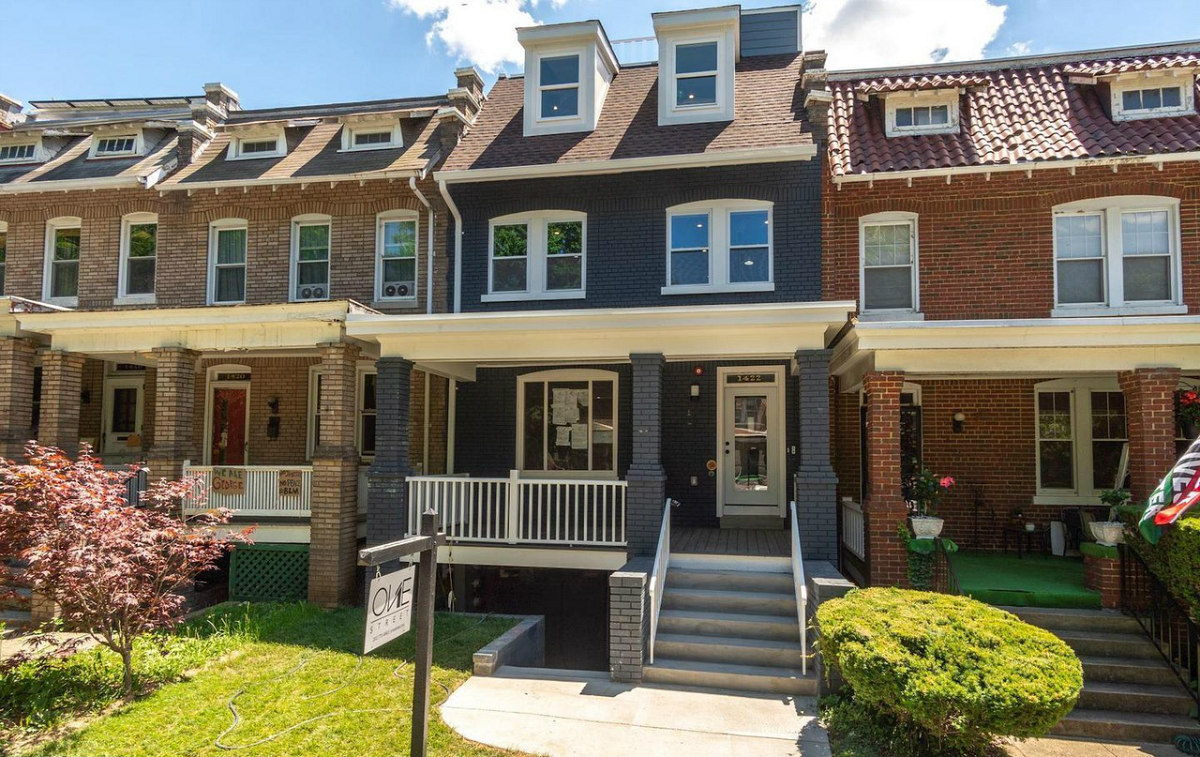 Mogassbi completed the development in May, delivering a three-bedroom market-rate unit and a pair of two-bedroom affordable dwelling units (ADUs) reserved for households earning up to 80% of median family income (MFI). However, it took more than ninety days to get DHCD's approval to list the ADUs. The units are expected to hit the market in the coming weeks.
Misleading expectations and delayed approvals are just two issues that ADU developers in DC are running into. Both developers and listing agents are also having trouble connecting with eligible ADU buyers, and the resources or help DHCD offers to bridge that gap appears inadequate or incomplete.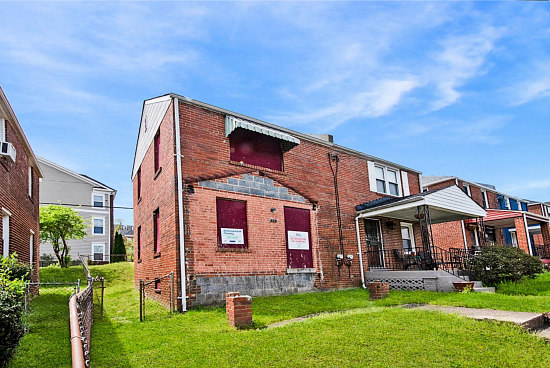 When Jennifer Isaacs had the winning bid on a blighted Michigan Park house in 2019's Vacant to Vibrant auction, she was excited to help enhance her neighborhood and add to the for-sale affordable housing stock. Isaacs closed on the property at 635 Emerson Street NE (map) in August 2019 and completed a gut renovation earlier this year, putting the house on the market in June.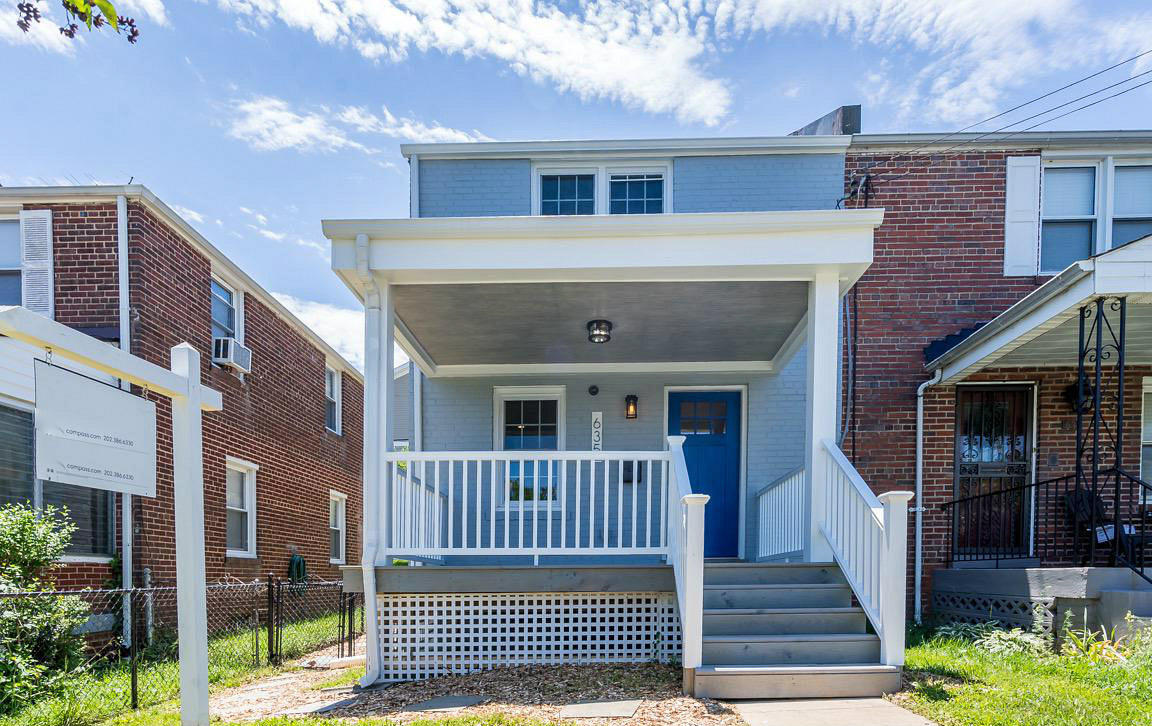 The covenants that accompanied her title to the property set the maximum buyer income at 120% of MFI. Because it is a three-bedroom, two-bathroom house, the city requires that it be occupied by at least a three-person household earning a total income of up to $136,100. Listed for $534,500, the house remains on the market.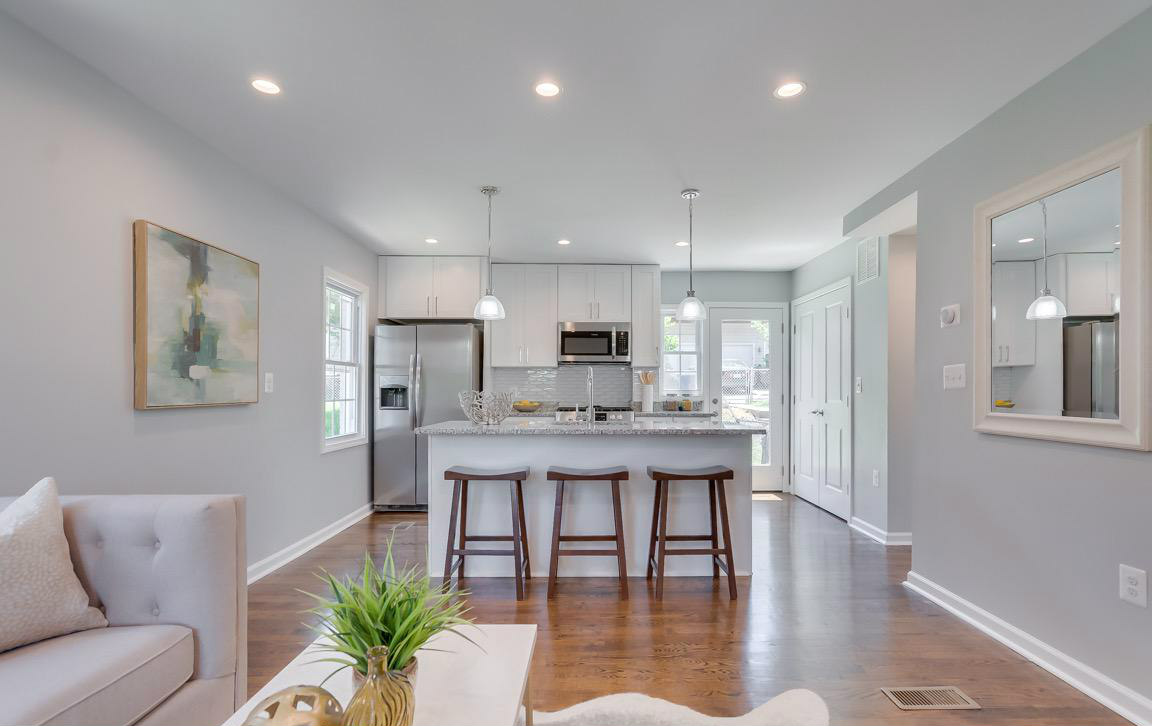 Isaacs explained that while the listing has generated a lot of interest, most of the inquiries come from buyers who don't meet one or both of the household size and maximum income requirements. While it seemed that DHCD would be more of a partner in getting ADUs in front of eligible buyers, the pipeline is rife with inefficiencies.
DHCD administers the city's ADU and Inclusionary Zoning (IZ) programs, as well as the city's first-time homebuyers programs. Typically, DHCD and affiliated housing counseling service providers recommend prospective buyers use DChousingsearch.org to search for available, affordable for-sale (and for-rent) housing.
But the website has a number of issues. It is often hard to tell whether a listing has been available for hundreds of days or if it was simply never removed. There also isn't a way to search for listings that aren't IZ (and thus only accessible through the IZ lottery) or to search based on maximum income.
Besides the typical channels and the DChousingsearch website, DHCD offers to alert households registered for IZ or ADU listings when those properties come on the market. Not all ADU developers have been given that offer; DHCD did an email blast for the house on Emerson Street only after Isaacs requested one. It should also be noted that DHCD doesn't have an aggregated list of prospects that are enrolled in the first-time homebuyers programs.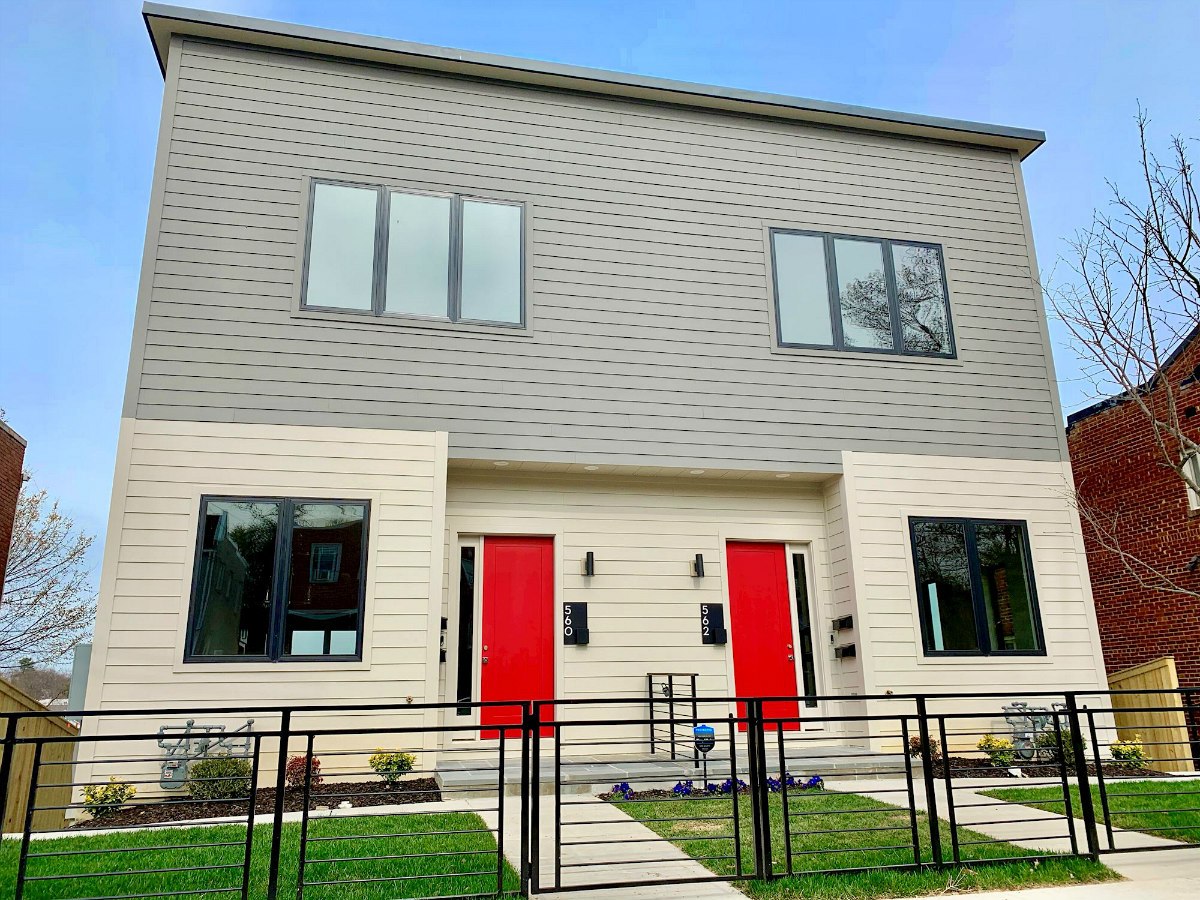 Jonathan Blansfield has an ADU listed at 560 Foxhall Place SE (map) in the Washington Highlands neighborhood, and his request for an email blast was denied. The four-bedroom, 3.5-bathroom semi-detached house sits on what was a vacant lot auctioned during the 2018 Vacant to Vibrant round.
Also reserved for a household earning up to 120% of MFI, the house was constructed simultaneously with the adjoining, identical house at 562 Foxhall Place SE; both were listed in March for $569,000. An eligible household would need to have at least four members earning no more than $151,200 total for 560 Foxhall Place SE, which remains on the market; 562 Foxhall Place SE, the unrestricted market-rate unit, sold in May.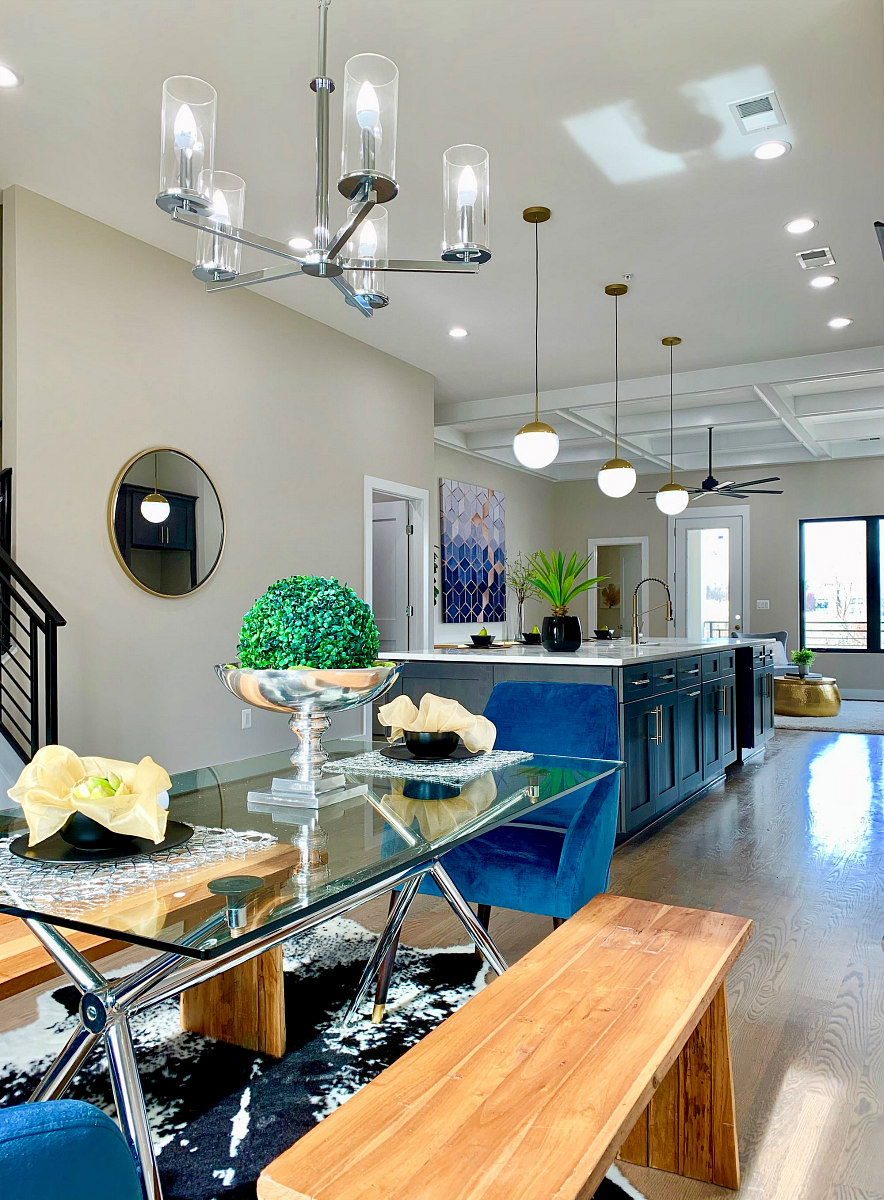 Blansfield has fielded a lot of inquiries from ineligible buyers for the property, and has found that more interest comes through the multiple listing service than through DChousingsearch.org. The ADU actually had a buyer under contract at some point who appeared qualified, but DHCD did not approve the purchaser through their Determination of Eligibility process.
It's possible that, when it comes to the particular difficulties in finding an eligible buyer for the houses on Emerson Street and Foxhall Place, there are fewer appropriately-sized households looking for ADUs at the 120% income level.
"Our experience has been that there is much greater demand for the homes at the lower affordability level," DHCD's Richard Livingstone told UrbanTurf.
While frustrated, Isaacs and Blansfield's client (who developed the Foxhall Place townhouses) are still optimistic about the ADU program's potential — if it had the infrastructure to run more efficiently.
"It's a well-intentioned program that could benefit from a more integrated and targeted approach to reach eligible buyers," Isaacs explained to UrbanTurf.
Meanwhile, Mogassbi has grown jaded from the experience. "DHCD doesn't encourage developers to implement their policy for affordable housing in DC. From the bottom to the top."
Correction: The article previously misstated what kind of zoning changes needed to be made to develop 1422 Shepherd Street NW.
This article originally published at https://dc.urbanturf.com/articles/blog/from-vacant-to-vibrant-to-vexed-the-inefficiencies-of-selling-adus/17390.
DC Real Estate Guides
Short guides to navigating the DC-area real estate market
We've collected all our helpful guides for buying, selling and renting in and around Washington, DC in one place. Start browsing below!
First-Timer Primers
Intro guides for first-time home buyers