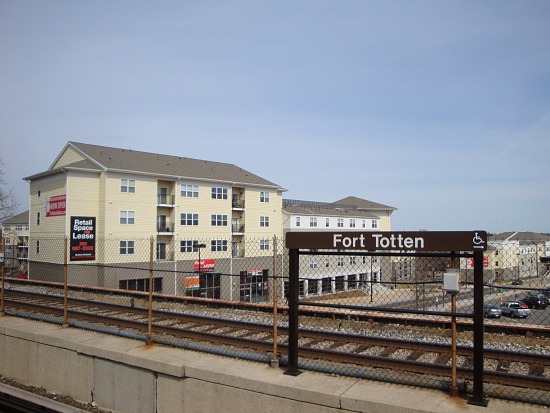 Fort Totten Metro Station
For most DC residents, Fort Totten is little more than a transfer point for Metro's Red, Yellow and Green lines.
But from the Red Line platform one might see a sign, slightly beyond the bus stops and parking lot, beckoning to "Live THIS CLOSE to the Metro." That's the other Fort Totten Station, three suburban-looking apartment buildings with approximately 300 units. The Fort Totten Station apartments were the first step toward bringing more high-density, transit-oriented housing to the neighborhood. Now, there are several massive projects that could completely alter the area's subdued, family-oriented spirit, and perhaps turn it into a destination.
But in an area that prides itself on neighborly camaraderie, the apartment-dwellers are still seen on the periphery.
"They are kind of isolated from the rest of the community by the parks and train tracks," Joe Finley, a neighborhood resident and writer of The Totten Life blog, said. It doesn't help that the sidewalks surrounding the station's land are crumbling or nonexistent, although WMATA has met with the community and is planning pedestrian improvements.
Whether it's the broken sidewalks or the fact that there isn't much around the apartments, it is too bad that there is a disconnect between the apartment residents and long-time inhabitants of the area.
"When I show properties, neighbors who are retired are out working in their yards, and they'll talk to the people I'm bringing around," said Tanya Slade, a realtor for Long & Foster who also lives around Fort Totten. "In some areas, we have what we refer to as block mothers, the ladies who have lived their the longest."
Named for the nearby park that once encompassed a Civil War-era Union Army outpost, Fort Totten is technically bounded to the north by Riggs Road NE, North Capitol Street to the west, Hawaii Avenue NE to the south, and the tracks of Metro to the east. The Metro, however, is within walking distance of the Lamond-Riggs and Michigan Park neighborhoods, and the main intersection at South Dakota Avenue and Riggs Road – seen as the centerpiece of Metro-proximate development — is geographically part of Lamond-Riggs.
When Finley moved to Fort Totten eight years ago, he was initially attracted to the neighborhood's reasonable prices. But he also had a sense of where the area might be headed.
"I knew that being by a Metro and the sheer amount of land the city owned at the Fort Totten station lent itself well to development," he said. (WMATA owns two large parcels of land on each side of the station.) But for now, Fort Totten is mostly long, hilly streets populated with red-brick, semi-detached single-family homes built in the 1950s.
"Quite a few residents have been there for 30 years or more," Slade said. "So, most of the houses that hit the market do need some updating." She noted that a home in need of work runs around $230,000 to $250,000 when it hits the market, while houses in turn-key condition cost somewhere in the low $300,000s. Finley bought his home on Farragut Place NE in 2003 for just over $210,000.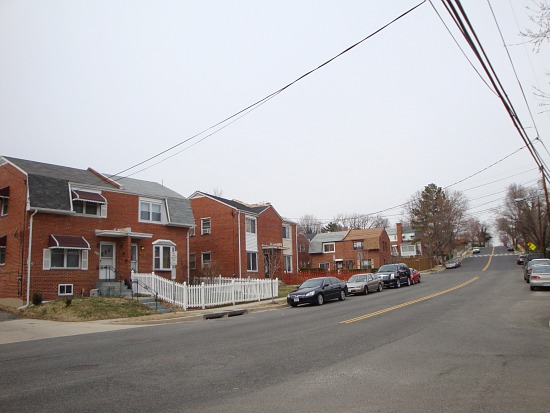 Red-brick semi-detached homes
"It was definitely a fixer-upper," he said. "But like most houses in the area, it had not been updated since it was built in the 70s."
Antony Santiago bought his home on Emerson Street 18 months ago for around $200,000. He was attracted to the home prices in the neighborhood, but also noted that there "is virtually no crime." (As of this writing, MPD's crime mapping tool showed an overall decrease in violent crime in the area around the intersection of Riggs Road and South Dakota Avenue over the past year.)
"Everybody is really friendly, so you're kind of living in the city, but also everybody knows you," Santiago said of Fort Totten.
But Santiago also bought around Fort Totten in the hopes that more amenities would soon come to the area, something that hasn't really happened yet.
"The only disadvantage right now is that there isn't much around," he said. "There are no true restaurants. You have to go to Brookland for that."
If the neighborhood's near-term zeitgeist is defined by a sense of potential, whether that's a positive thing depends on when you moved to the neighborhood.
"Long-time residents who have been here for close to 50 years don't want anything," said Finley. "I think people fear that developers will just plop in massive apartments that loom over the neighborhood and really change its aesthetic."
But Slade said developers have been consulting the Lamond-Riggs Civic Association for several years as new projects have been in the works. Neighbors have made clear that they want the "new things to reflect what the neighborhood looked like," Slade said, adding that Ward 4 Councilmember Muriel Bowser, who lives nearby, has been a strong ally in echoing residents' concerns. "Anything that happens in that area, she's on top of it."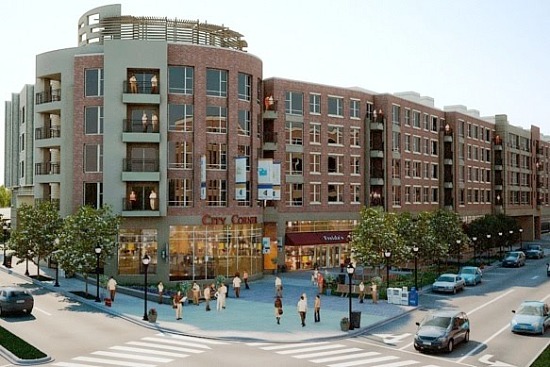 Rendering of Fort Totten Square
Less than a 10-minute walk from the Fort Totten Metro station is a giant, barren field wedged north of the highway-like intersection of South Dakota Avenue and Riggs Road NE. Currently, its neighbors to the east are a store specializing in African movies, a KFC-Taco Bell, and a liquor store. To the west across Riggs Road is a Chinese carryout and another liquor store. But by the fourth quarter of 2013, Joe Carrol of Lowe Enterprises told UrbanTurf that "the streetscape will look totally different than it does today," as it will be the site of the massive mixed-use development Fort Totten Square.
The plan is for the first phase of the project to include between 260 to 300 apartments, totaling 240,000 square feet, around 20 percent of which will be rented at below-market rates, according to Carrol. There will be a retail component totaling 70,000 square feet fronting Riggs Road, the majority of which will be for an as-yet unconfirmed grocery store. Phase two of Lowe's plan calls for around 400 more apartments and more retail, although planning on this aspect of the project isn't very far along.
If you head south a few blocks, there's another fenced off section of land between Hamilton and Galloway Streets. On this land (owned by the Morris and Gwendolyn Cafritz Foundation), three apartment buildings stand off-set from the street, waiting to be razed. This will be the first section of the Art Place and Shops at Fort Totten, another mixed-use residential and retail project. The foundation's Jane Cafritz said that the initial phase will have approximately 530 residential units, 100 of which will be reserved for seniors.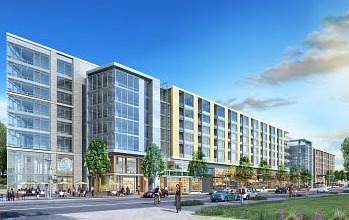 Rendering of the Art Place and Shops
The foundation owns almost 17 acres near the Fort Totten Metro station, so eventually, almost all the land bounded by Riggs Road, South Dakota Avenue, the Metro tracks and Galloway Street could be developed. According to the website of project architects Ehrenkrantz Eckstut & Kuhn, the plan is for the site to eventually have a total of 929 residential units, including 171 affordable and 358 multifamily homes, and about 250,000 square feet of retail. But Cafritz told UrbanTurf that in addition to new housing and retail, she hopes that the Art Place will contribute to the neighborhood's quality of life in other ways.
"We plan to create a children's museum and other art opportunities — which are not clear at this moment — but we want a heavy emphasis on availability of art in this project," Cafritz said.
A few weeks after UrbanTurf's interviews with Cafritz and Carroll, DCMud reported that both developments had been put on hold, citing the dismal experience Clark Realty Capital had with Fort Totten Station, which it ultimately sold to real estate management and development firm Greystar.
In response, Lowe Enterprises' Carrol told UrbanTurf that Fort Totten Square is still going ahead as planned. "We think that the mixed-use place-making project that we will deliver will be successful in this market."
This article originally published at https://dc.urbanturf.com/articles/blog/fort_totten_five_years_could_make_a_big_difference/3324.
DC Real Estate Guides
Short guides to navigating the DC-area real estate market
We've collected all our helpful guides for buying, selling and renting in and around Washington, DC in one place. Start browsing below!
First-Timer Primers
Intro guides for first-time home buyers