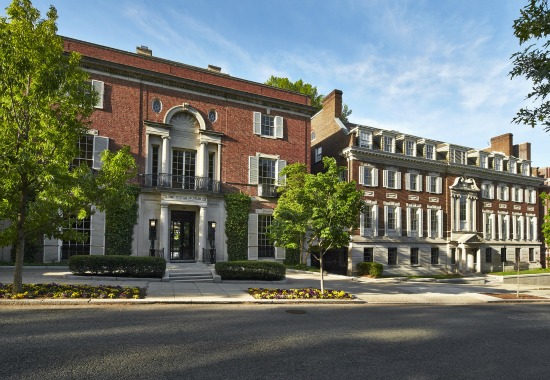 2320-2330 S Street NW
After a recent renovation attempt stalled, the new owner of the former Textile Museum at 2320 and 2330 S Street NW (map) is planning a renovation that will create one of the largest homes in DC, UrbanTurf has learned.
While the 29,000 square-foot property was purchased anonymously in 2015 for $19 million, it quietly changed hands in 2016 to the current owner that will renovate it as a private residence.
The 16,000 square-foot building at 2330 S Street NW was designed by Waddy Wood and partners and built in 1908 on an L-shaped lot. In 1912, the Myers family constructed the nearly-13,000 square-foot John Russell Pope-designed building at 2320 S Street on the lot cradled by the Wood house, along with the carriage house fronting R Street. There are ten bedrooms and eleven bathrooms between both four-story houses.
The properties were joined in 1915 when the Myers family purchased the Wood house to use both as residences and to store and display their textile collection. The properties housed the Textile Museum until 2015 when the museum moved near George Washington University.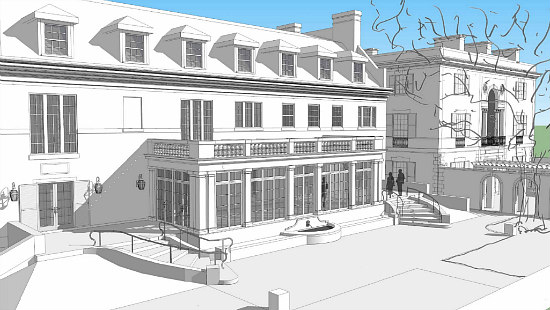 A rendering of the rear addition
As these are historic properties, the renovations led by Barnes Vanze Architects will be major undertakings with minor aesthetic effects, such as a restoration of the exterior, repairing and/or replacing the roofs and driveways of the houses, and installing a geothermal system that will allow the pipes and HVAC connections on the sides of the houses to be removed, opening up the 10-12 foot areaway between the two houses.
The original pergolas at 2320 S Street NW will be restored and the crushed stone terrace will be expanded, and a kitchen will be added to the main floor of that building, which only houses a service kitchen in the basement. The major renovation will be at the rear of 2330 S Street NW, where a limestone-and-glass garden room will be added at the rear terrace, framed with restored French doors and two curved staircases that lead onto a backyard with 7,000 square feet of gardens.
The carriage house, which includes a one-bedroom apartment above a two-car garage, will also be restored as a groundskeeper's residence. A decorative fence will be extended atop the existing wall on the side of the property abutting the Embassy of Myanmar, while a more-secure fence with evergreen plantings will be erected abutting the more-public Woodrow Wilson House.
On Monday night, ANC 2D unanimously approved the plans, although they would like to see the design of the fence amended to have similar fencing on both sides of the property. Construction is expected to start this year with a 14-month timeline to delivery.
Update: The Washington Post is reporting that Amazon founder and Washington Post owner Jeff Bezos is the new owner of this home.
This article originally published at https://dc.urbanturf.com/articles/blog/former_textile_museum_to_be_refurbished_as_private_residence/12031