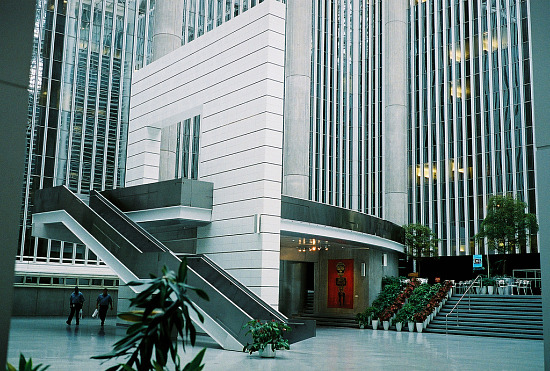 Atrium of World Bank. By
Ghost-Rider
.
Driving through the Foggy Bottom and West End neighborhoods can feel a bit like passing through a vast canyon: high, anonymous buildings line the streets with nary a restaurant, café, or even convenience store for blocks. However, long-time residents -- and some newcomers, too -- swear that the neighborhoods located just south of Dupont Circle and east of the Potomac River are two of the city's most underrated spots, with neighbors who know each other and some of the cheapest studio and one-bedroom units in the city.
Sandwiched Between Downtown and Georgetown
We have lumped Foggy Bottom and West End together into one profile because as rather small, adjacent neighborhoods with similar characteristics, we felt it more accurate to consider them as a whole rather than two separate parts. The combined neighborhood is roughly bounded by Rock Creek Park to the west, N Street to the north, 19th Street to the east and E Street to the south. The east-west dividing line between the two neighborhoods is K or L, with West End the smaller area to the north and Foggy Bottom the larger to the south. Also note that due to George Washington University's dominant presence, people often use "Foggy Bottom" and "GW" interchangeably when referring to the neighborhood.
Just Passing Through
Part of what gives Foggy Bottom its character -- or lack thereof, depending on whom you talk to -- are the institutions in and around it. In the southeast corner of the neighborhood are some of the world's most venerable diplomatic institutions: the World Bank, International Monetary Fund (IMF), and U.S. State Department, among others. At the southwest corner sits The Kennedy Center and smack in the center of the neighborhood is George Washington University. What these institutions provide is a revolving door of students, young professionals, and mid-career internationals who inhabit the neighborhood for a few years at a time. Foggy Bottom is a textbook example of what people mean when they describe Washington as a transient city. Many of Foggy Bottom's transients wind up living in the faceless apartment and condo buildings that are ubiquitous in the area surrounding GW. While the housing options may be rather dull, the college students provide vitality to the area, and the international set gives the neighborhood a welcome cosmopolitan flair. But not everyone is transient. West End has become one of the glitzier places in the city to live in recent years and consequently home to corporate lawyers, doctors and wealthy retirees who can afford the area's high-end residential offerings and enjoy the proximity to Georgetown, Dupont Circle and I-66.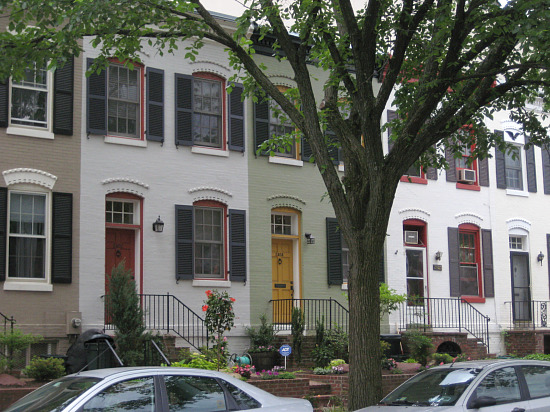 Row Houses in Foggy Bottom
And there are older couples like Dixie and John Woodard who have lived in the area for years, developed good relationships with their neighbors and have seen their property prices appreciate significantly. "This is a secret place, let me tell you," Dixie Woodard commented to UrbanTurf while she packed up the leftovers from a garage sale. "The neighbors all know each other."
You Have to Like Big Buildings
The most obvious elements of Foggy Bottom's housing options are the enormous condo, co-op, and apartment buildings that line the neighborhood's streets. Mostly built in the 1970's, their anonymous faces belie what are often reasonably modern and relatively inexpensive units. West End, on the other hand, is home to some of DC's highest-end condo buildings: 22 West, the Ritz-Carlton, and The Columbia just to name a few. And then, of course, there's the recently sold Watergate at the eastern end of Foggy Bottom. It has lost its luster somewhat over the years, but is still one of the city's most recognizable addresses.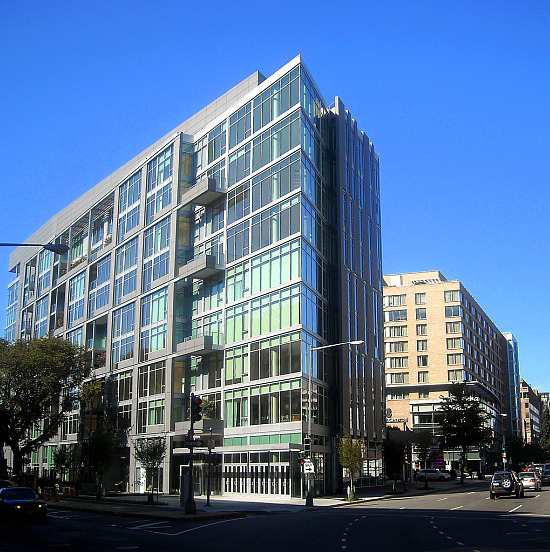 22 West at M and 21st
Single-family homes are scarce in Foggy Bottom/West End, but nestled into a bend in the network of blocks around 24th, 25th, and 26th streets between K and I are a collection of brightly colored row houses. A smaller set of similar row houses exists in West End, just north of Washington Circle.
Housing Highs and Lows
The price range for homes in the West End is fairly wide. Luxury West End units are predictably expensive: one-bedroom condos can sell for $800,000 and up and two-bedrooms go for more than $1 million. Row houses and historic homes as small as 700 square feet cost at least $500,000, and well-renovated and maintained houses go for over $1 million, according to T.J. Murphy, a longtime real estate agent in the area. Condos and co-ops are the neighborhood's prevalent property types, but many of these units are unavailable to the average buyer. Because the neighborhood is so transient, many condo and co-op owners rent out their units not long after buying them as their professional lives take them to another city, state or country. FHA guidelines require a larger down payment for a unit in a building that is more than 50 percent investor owned, so buyers in the neighborhood often have to put down 20 to 30 percent rather than the usual 5 to 15 percent. This makes many of the unit prices -- as low as $180,000 for a studio or $300,000 for a low-end one-bedroom -- seem like far less attractive options when you consider the money you have to plunk down. "It's a real problem," said Murphy. "People who buy are people with a lot of cash." However, the neighborhood has a surprisingly large number of co-op buildings that are not dominated by investor owners. That means buyers can get "a very nice, spacious co-op studio for $175,000," said Murphy. Look out for co-op fees, though. Like condo fees, their amount depends on a property's size and value, but because co-op fees include property taxes, they can appear surprisingly high. Jen Angotti, an agent who specializes in Foggy Bottom real estate, said the neighborhood will probably always be a good bet for buyers. "Because of the number of people coming in and out and the fact that prices have stayed stable, its investment and resale potential is very strong." Currently, 145 area properties are on the market including 85 condos, 53 co-op units, and seven single-family homes.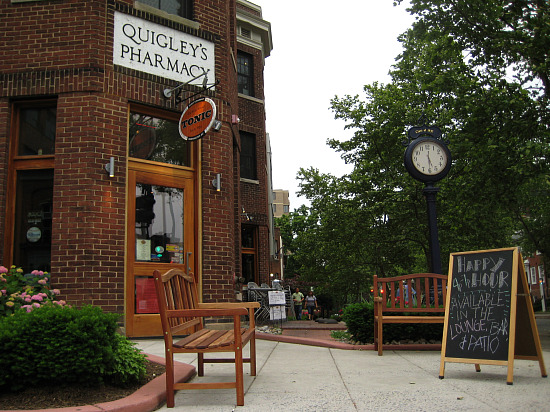 Quigley's Pharmacy
Quiet, But Not Desolate
Foggy Bottom and West End are not areas known as restaurant and bar destinations (unless you are looking for a place to go right after work), but that doesn't mean the neighborhood is absolutely dead. High-end American comfort food can be found at Founding Farmers, Tonic at Quigley's Pharmacy is a GW brunch spot and The Hudson is known for its after-work bar scene. However, when it comes to talking about places to go in these areas, the conversation basically begins and ends with one destination: Trader Joe's. As it is the only outpost of the nationally-famous bargain grocery store within the DC borders, the Trader Joe's on 25th Street just north of Pennsylvania is perpetually packed.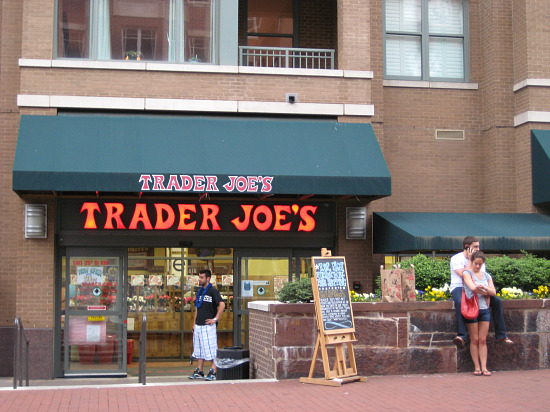 Trader Joe's
Overall, there's not much of a central commercial district, and the neighborhood streets can feel awfully quiet at night compared to Georgetown and Adams Morgan. But T.J. Murphy says that's part of its charm. "It's like having a party next door, instead of having it at your house -- you can go to the party and then you can go home."
Families? What Families?
The lack of elementary schools, decent green space and suitably large homes means that Foggy Bottom and West End are not the ideal areas to raise a family. According to The Washington Post, only two percent of the neighborhood's households include children; the average home has one occupant.
Quiet Means Safe
One of the advantages of having institutions like the State Department and the World Bank in Foggy Bottom is that the police and security presence is fairly constant. Over the past year, there were no homicides, only one assault with a gun and property crimes dropped 21 percent, according to the DC Police Department.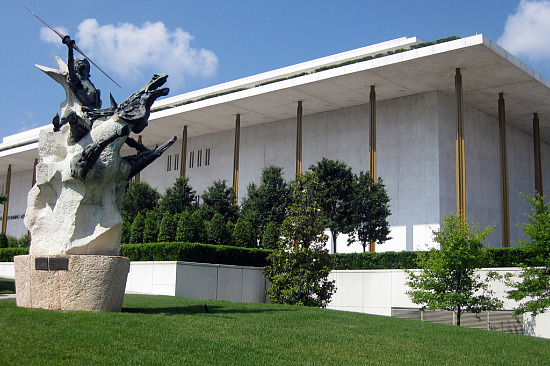 The Kennedy Center
Easy To Get To and Around
Foggy Bottom and West End are centrally located and a hub for public transportation. In the center of the area is the Foggy Bottom Metro station on the Orange and Blue lines, and the area is also well served by numerous bus lines including the 31, 32, 36, H1, L1, and N3. That doesn't include parking, which, like just about everywhere in central DC, can be a hassle. "You might have to circle the block a few times," said John Woodard. The tight parking notwithstanding, drivers appreciate the neighborhood's proximity to a number of key highways, including I-66 and the George Washington Parkway.
The Bottom Line
Foggy Bottom and West End aren't for everyone. They don't have most of the urban amenities and services that usually draw in young home buyers nor do they provide the extras that older family-oriented buyers like about the suburbs. But many who live there love the area's rather unique charm, and persistent home hunters might find that they can get a better deal in Foggy Bottom or West End than in neighboring areas. Amanda Abrams is a Washington, DC-based journalist who has written feature stories for The Washington Post, Christian Science Monitor, and Washington City Paper.
More Stuff about Foggy Bottom & West End
This article originally published at https://dc.urbanturf.com/articles/blog/foggy_bottom_west_end_where_the_institutional_meets_the_international/2122.
DC Real Estate Guides
Short guides to navigating the DC-area real estate market
We've collected all our helpful guides for buying, selling and renting in and around Washington, DC in one place. Start browsing below!
First-Timer Primers
Intro guides for first-time home buyers