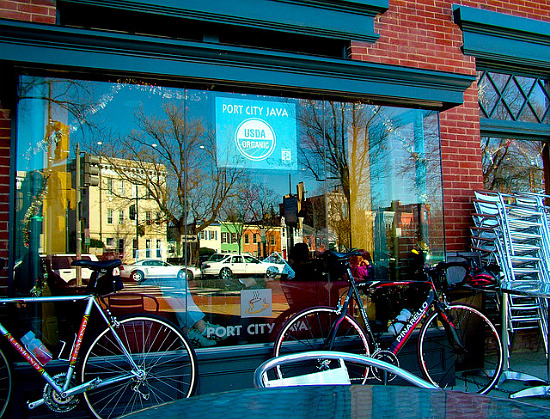 Port City Java in Eastern Market By
katmere
People who live in the Capitol Hill sub-neighborhood of Eastern Market will tell you that the name refers to much more than simply the century-old market most associate with the area.
According to natives as well as those who live there now, Eastern Market's got it all: great homes, fresh food available on a daily basis, a wide variety of independently owned stores and restaurants within walking distance, and an engaged population that cares deeply about the area.
A Market and a Neighborhood
Because Capitol Hill is one of the city's largest neighborhoods, it's natural that sub-communities have formed within it, explained Tyler Garrison, an agent with Hounshell Real Estate. However, the boundaries for Eastern Market are a regular topic of debate among residents. For the purposes of this profile, we put the neighborhood fully within the Capitol Hill Historic District, bounded by 3rd Street to the west, East Capitol Street to the north, 11th Street to the east, and Pennsylvania Avenue to the south. (Whether the neighborhood extends to include Barracks Row to the south is a common neighborhood debate.)
Eastern Market was one of DC's earliest neighborhoods to develop, and now has a maturity that's unusual compared to many of the city's other centrally-located neighborhoods. Amenities are well-established and many residents have been there for years, if not decades.
There's the stroller crowd — "It's all puppies and kids here," said Dan Rauch, 38, a biologist who's been in the neighborhood for three years — and less obvious are the older families with kids in their teens, and of course, the ubiquitous single professionals, both young and old.
Think Brick, Wrought Iron, and Cute Gardens
With so much else going on, the neighborhood's homes aren't the first thing visitors notice. But they are lovely: predominantly row houses, they're generally either Victorians or Federal style homes that have been well maintained and are strictly covered by the historic district's regulations. Most have small gardens out front, and a few have the big porches that are common in the Northwest quadrant of the city.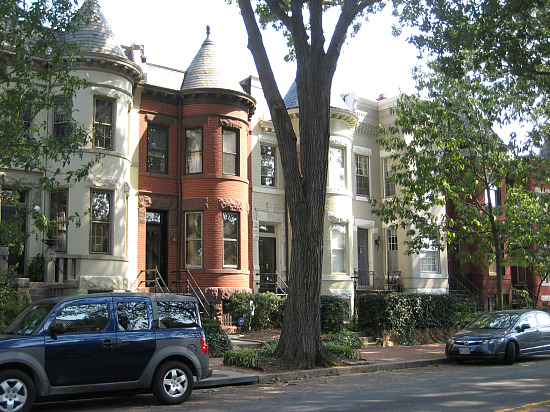 Victorian row houses near Eastern Market
Eastern Market is very densely built, so there hasn't been much room for development. There's the odd row house conversion, and Grace Church was developed into 18 condos a couple decades ago, but there aren't any big new condo developments worthy of note.
But development might be coming. Hine Junior High, a school building almost directly across from the market, is slated to be redeveloped to include a 500,000 square-foot mix of office space, retail, a preschool, and 150 units of rental housing. Currently, though, plans are languishing, and a construction start date is uncertain.
Prices Are In Line With Reputation
In a neighborhood as desirable as Eastern Market, home prices are naturally high. Currently, there are 20 single family homes on the market, a mixture of two, three, and four bedroom row houses. According to Tyler Garrison, the median sales price for a two-bedroom is $651,000; three-bedrooms are going for $715,000, and four-bedrooms $895,000.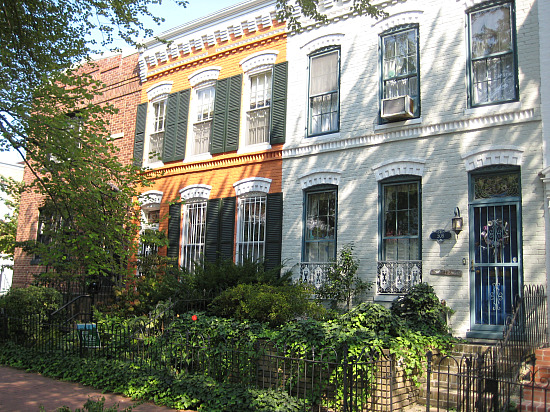 There are only three condo units on the market; the median sales price for a one-bedroom is $383,000 and $502,000 for a two-bedroom.
Rentals in the neighborhood are similarly expensive: one-bedrooms rent for roughly $1,400 per month, and two-bedrooms hover around $2,600.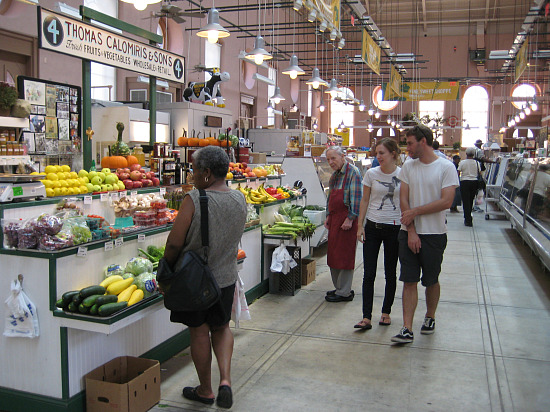 Couple strolling around the new Eastern Market
The Market: The Real Reason to Live in Eastern Market
Eastern Market's biggest draw is the market itself, which reopened last year after being gutted by a fire in 2007. Inside are a variety of small shops selling produce, cheese, meat, and flowers. Outside on the weekends artists of all varieties sell their wares.
"Most people I know who live there go to the market daily to buy fresh produce during the day or after work," explained Kathy Brandel, an agent with Urban Pace who used to live in the neighborhood. "It's a more European way of living."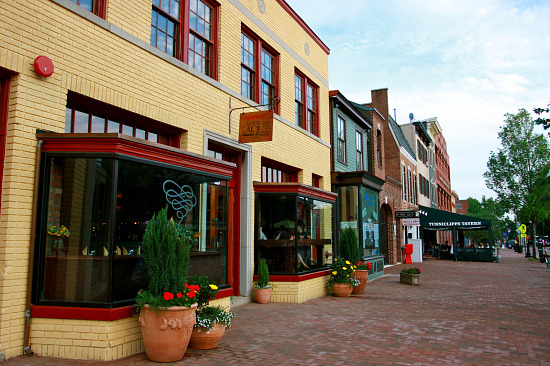 Acqua al 2
On the weekend, the area is packed with neighborhood locals and other DC residents buying produce from vendors at tables outside the market, browsing for crafts in the nearby flea market, or simply enjoying the scene over brunch at Tunnicliff's or cappuccinos at Peregrine Coffee. At night, restaurants like newcomer Acqua al 2 are packed.
Barracks Row, a long strip of shops and restaurants south of Eastern Market on 8th Street, is also becoming a destination for residents from all over the city. Newish bars and restaurants that have already developed a fan base include Matchbox, Ted's Bulletin, Lola's, and Cava. 8th Street is also home to The Fridge, a versatile art gallery and performance space.
Families: You Can't Miss 'Em
Eastern Market is nothing if not family-friendly. Streets are calm and leafy, and there are a number of amenities that appeal to those with children: the row of kids' shops on 7th Street, the branch library just across from the Metro station, and organizations like Capitol Hill Arts Workshop and Sports on the Hill.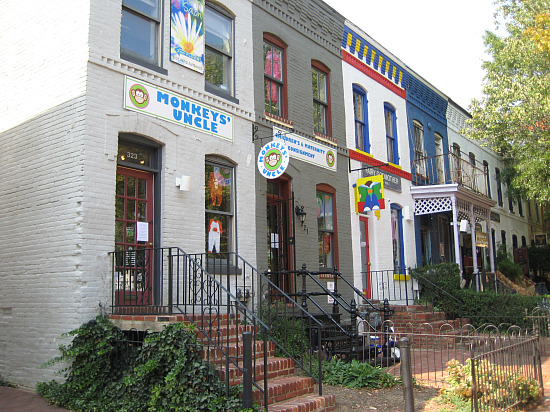 A toy store in Eastern Market
As for schools, things have improved. Laurie Gillman moved to the neighborhood 17 years ago (back when it was cheap, she said); her three daughters attend private school, but she noted that a lot of her friends' kids are in public schools.
"Actually, it's hard to get into a lot of schools now because they're full," Gillman said.
Metro, Bus and Parking Isn't Even That Bad
The Eastern Market Metro station on the Blue and Orange lines is located at the center of the neighborhood. There are also several bus lines that run through the area including the 32, 34, 36, 90, 92, 93, A11, and the Circulator.
Parking in the neighborhood is generally not challenging, though residents who live within a few blocks of the market do have trouble finding spots near their homes on the weekends. The area is very close to I-295 and the Southeast Freeway, which turns into I-395 and also leads to Virginia highways like the George Washington Parkway and I-66.
Just Lock Your Doors
Gillman pointed out that the area has become considerably safer over the years. Dan Rauch agreed.
"It feels safe," he said. "I'll walk home from the Metro at 10, 11pm at night, no problem."
In fact, there have been no homicides in the area in the past two years, though property crimes, particularly thefts from cars, do occur.
The Bottom Line
Home prices aren't a bargain, but Eastern Market is a DC neighborhood that will always be sought after, and if it's not fully recession-proof, it's close.
As Laurie Gillman put it: "You can go days without getting in a car. Everything you need is right there in the neighborhood."
Amanda Abrams is a Washington, DC-based journalist who has written feature stories for The Washington Post, Christian Science Monitor, and Washington City Paper.
More Info on Eastern Market
Zip code: 20003
Schools: Area students attend Brent Elementary School, Jefferson Middle School or Elliot-Hine Middle School, and Eastern Senior High School
Eastern Market real estate data and profile from Redfin
Eastern Market rental listings on Craiglist
This article originally published at https://dc.urbanturf.com/articles/blog/eastern_market_a_more_european_way_of_living/2528.
DC Real Estate Guides
Short guides to navigating the DC-area real estate market
We've collected all our helpful guides for buying, selling and renting in and around Washington, DC in one place. Visit guides.urbanturf.com or start browsing below!
First-Timer Primers
Intro guides for first-time home buyers