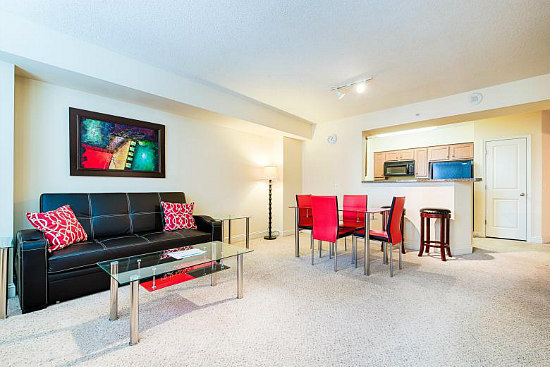 The interior of one of Ginosi's listed DC "apartels"
On Wednesday, the DC Council's Committee of the Whole held a public hearing on the "Short-term Rental Regulation and Affordable Housing Protection Act of 2017", a bill put forth to create a regulatory framework surrounding the short-term rental phenomenon epitomized by Airbnb.
The hearing comes on the heels of news that Attorney General Karl Racine is suing Armenian company Ginosi for operating four apartment complexes in DC as "illegal hotels".
Ginosi's listings of units use the term "apartel" to refer to the short-term rentals, likening them to apartments that provide a hotel-like experience. The proposed bill is intended to prevent this sort of commercial short-term rental activity from happening in the District in order to mitigate any impact on the availability of long-term rental stock (especially where affordable housing is concerned).
Since the introduction of the bill, contradictory information on the share of commercial vs. individual Airbnb hosts has come to the light, with a DC Working Families (DCWF) report asserting that 37 percent of listings are commercial.
"Airbnb alone is illegally taking thousands of homes and apartments off the market," DCWF senior advisor Valerie Ervin testified Wednesday. "It is clear that our current enforcement regime is broken, and we need the leadership of the council to demonstrate that the District of Columbia will not tolerate investors converting our badly-needed housing into commercial operations. Make no mistake: when not properly-regulated, Airbnb and platforms like them are tools for gentrification."
Airbnb's director of public policy countered in a letter to bill sponsor Councilmember Kenyan McDuffie that "88 percent of Airbnb hosts in Washington, DC are sharing space in their permanent home ​and hosts with one Airbnb listing represent over 90 percent of DC residents who share their entire home​."
While Councilmember McDuffie pointed out that the CEO of Airbnb has previously said that the platform is intended for hosts to rent out their primary residences only, Airbnb director of public policy Will Burns hesitated to agree that this principle applies to DC. Burns would prefer that hosts be allowed to list a maximum of three properties in the city rather than just one and testified that although he is concerned over the loss of affordable housing in the city, he does not agree that Airbnb is directly responsible. "We are just as concerned about affordable housing in the District as other community groups and believe that an important step to protect affordable housing and middle class people sharing their homes is to create clear, comprehensive rules to regulate short-term rentals," Burns has stated.
When asked by Councilmember Trayon White, Burns did concede that some managers of multi-family buildings in various cities may profit from lessees listing their units.
"Different apartment building owners have different philosophies on short-term rentals. [Some] owners say that if short-term rentals are going to happen, we would like to be a part of that agreement with our tenants to ensure that the building is actually getting resources from that short-term rental program to keep up the building and take care of other issues."
Members of the council as well as the public largely seemed to agree that individuals should be able to rent out all or part of their primary residences in order to take advantage of the potential revenue a short-term rental could provide; the question is one of where and how to draw a line that would prevent abuse of platforms like Airbnb — and whether residents of multi-family buildings would be able to host short-term rentals similarly to homeowners.
As currently written, the bill would give the Department of Consumer and Regulatory Affairs (DCRA) oversight of and right to inspect all short-term rentals, creating a separate license category for which hosts would have to apply. Individuals could rent their residence for fewer than 30 days at a time and would have to keep and maintain records. At Wednesday's hearing, Councilmember Robert White questioned whether DCRA could be relied upon as a regulatory agency over short-term listings — perhaps a valid point given Ervin's testimony that the Latino Economic Development Center had reported the illegal Columbia Heights rent-controlled building-turned-Airbnb haven a year prior to recent media attention.
At least two ANCs have passed resolutions stating their opposition to the bill as written. ANC 1D, the tract that covers Mount Pleasant, beseeched the Council not to make regulations unduly burdensome based on how few Airbnb listings were found in the neighborhood as compared to the larger number of rental units there. ANC 2B agrees that the bill would create burdens on short-term rental hosts as-written and would do nothing to address the concerns over loss of affordable housing units.
Although the bill may not be marked up until after the Council completes their budget proposal at the end of May, the public can continue to submit written testimony and rebuttals through May 10th. UrbanTurf will continue to monitor this legislation as it moves forward.
This article originally published at https://dc.urbanturf.com/articles/blog/dc_council_committee_holds_hearing_on_anti-airbnb_abuse_bill/12497.
DC Real Estate Guides
Short guides to navigating the DC-area real estate market
We've collected all our helpful guides for buying, selling and renting in and around Washington, DC in one place. Visit guides.urbanturf.com or start browsing below!
First-Timer Primers
Intro guides for first-time home buyers