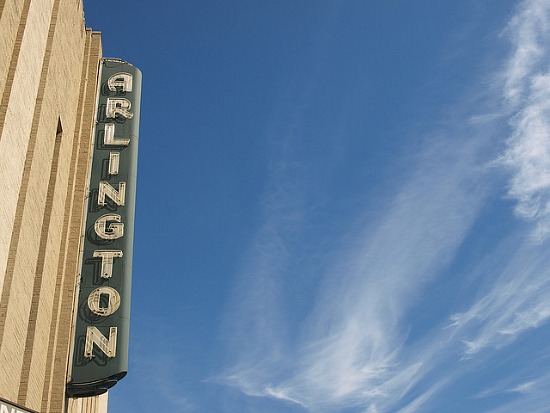 Arlington Cinema and Drafthouse. Photo by
wfyurasko
Right now, Arlington County's Columbia Pike corridor has lots of dedicated fans, those who celebrate its ethnic and economic diversity and appreciate the small businesses that dot the thoroughfare. But there are many DC-area residents who think of the area as simply a bland, car-oriented strip running through south Arlington that has little to offer beyond a string of apartment buildings.
While the Columbia Pike region is simultaneously car centric and community oriented, it's also the focus of a long-time county-led revitalization effort that finally seems to be bearing fruit, which means that the opinions of those love it/hate it groups may wind up moving a little closer to each other in the not-too-far-off future.
A Pretty Big Swath of South Arlington
Columbia Pike is a long four-lane highway that travels southwest from South Washington Boulevard, near the Pentagon, to Bailey's Crossroads in Falls Church. The Columbia Pike region, though, is a larger area that includes several smaller neighborhoods under its umbrella. It runs north almost to Route 50 and south to Leesburg Pike and South George Mason Drive, and across to the Army and Navy Country Club.
For years, urban planning efforts on the part of Arlington County officials focused primarily on neighborhoods near Metro stations, which meant that Columbia Pike was largely neglected and left to serve as a transit corridor to DC.
It also developed into one of the county's strongest sources of affordable housing—not subsidized public housing, but long stretches of relatively simple garden apartments and low-rise complexes that line the road and the blocks immediately north and south of the boulevard. Rents in these developments remain relatively cheap (compared to those in the District) and can go as low as $900 for a one-bedroom unit.
Residents of these rental communities are very diverse, giving the area an overwhelmingly international flavor that's friendly and laid back. East Africans, East Asians, and Latinos, including Bolivians and Salvadorans, are all well represented.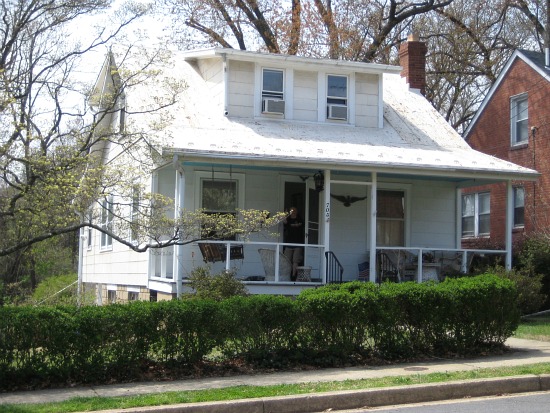 House north of Columbia Pike
Typical Washington Area Housing Styles
Columbia Pike's housing stock is not entirely made up of low-level apartments. There are also some detached single-family homes in neighborhoods like Alcova Heights and Columbia Forest to the north and south of the Pike. The housing styles run the gamut and include bungalows, Cape Cods, brick ramblers, and colonials, and tend to be populated by professionals who work downtown or in federal agencies.
Because of their Arlington County location and the access to its good schools, these houses don't come cheap: a four-bedroom home could run from close to $500,000 to up to $800,000, said Patrick Evans, a Long & Foster real estate agent in Arlington. However, homes to the south of the Pike tend to be more modest and slightly cheaper.
Loren White, 30, has been renting an apartment in the area since July and told UrbanTurf that, while it's close to DC, he has observed that the region doesn't seem to have gained a following among young singles and married couples with disposable incomes. It's true: for decades, there were few housing options targeted specifically to young professionals, the type of residents that have been behind the nearby Rosslyn-Ballston Corridor's boom.
Siena Park
That's changing, though. Several large new apartment buildings have been constructed along the Pike in the past couple of years, and more are planned. The area where Walter Reed Drive intersects with the Pike has been a particular focus for new construction, and now includes large apartment buildings like the Halstead, Siena Park, and Penrose Square (which is still under construction). Farther west is the 55 Hundred, and a few other developments are still on the drawing board. Rents at these apartments aren't cheap; a two-bedroom unit in Siena Park, for example, rents for almost $3,000 a month.
A Carefully Choreographed Plan
The new residential buildings are the most obvious addition to Columbia Pike, but they're part of a much bigger plan to make the area a destination, rather than simply a pass-through to DC. The county approved a comprehensive revitalization plan in 2002 that encourages the development of a walkable, mixed-use urban "village" along the Pike—without, they hope, supplanting the affordable units that are currently there.
So most of the new buildings were constructed on infill sites that had formerly been empty or underutilized, all of them have ground floor retail, and some—like Penrose Square—will include a public green space once complete.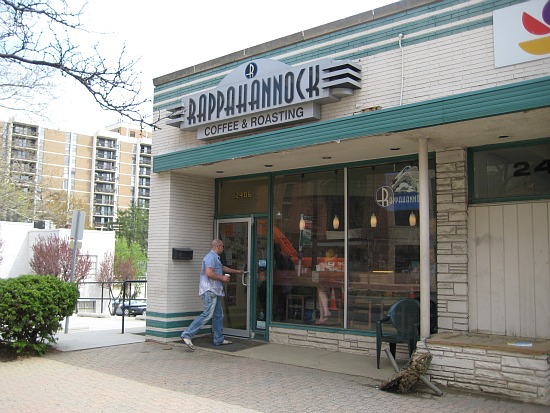 Rappahannock Coffee
"I think eventually, this'll look like another Clarendon," observed Mark Anthony Torres, a longtime hairstylist at Nancy's Unisex Hair Salon, located just across the street from Penrose Square. Torres wasn't complaining, though he added that he loves the area just as it is. "It's phenomenal. The people here are from all different parts of the world, and it's always changing."
The vibe is already changing a bit. While shops and eateries that have long characterized the area, like Bob and Edith's Diner, Santa Ana Bolivian restaurant, Rappahannock Coffee, and the much-loved Arlington Drafthouse and Cinema are still there, new going-out options have sprung up, including the Lost Dog Café, P. Brennan's Irish Pub, and Twisted Vines bistro and bottle shop. More are on their way, including William Jeffrey's Tavern, which will be located at the foot of the Siena Park apartment building, as well as a new Mexican restaurant nearby.
As for worries that these businesses might eventually push out long-time establishments, Takis Karantonis, executive director of the Columbia Pike Revitalization Organization, says it's not going to happen. "I believe we'll be able to enlarge the pie," he said, explaining that the additions to the area's housing options will bring new residents with more dollars to spend, and everyone will benefit.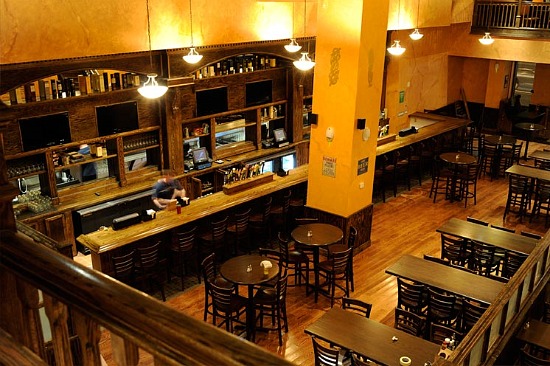 P. Brennan's Irish Pub
The Final Piece of the Puzzle
Those who live on or near the Pike know that the road is particularly well served by buses, both from WMATA's Metrobus service and Arlington Transit lines, which run to the Pentagon City station on the Blue and Yellow Lines, to Ballston-MU on the Orange Line, and to the Pentagon, where riders can connect with a vast network of buses running through northern Virginia and into the District.
But for those who are used to having Metro access close by, Columbia Pike might seem a bit out of the way. In response, the county is on its way to developing a streetcar line that will run from the Pentagon City Metro to Bailey's Crossroads and beyond. While some funding is still pending, the line could be up and running by 2016.
The Pike's boosters love to point out that the area is remarkably convenient for drivers: the road is virtually a straight shot to the 14th Street Bridge, bringing commuters into the heart of DC within ten minutes (on a good day). The area is also close to Route 50, and is situated about halfway between I-66 and I-395.
The Bottom Line
It's not much to look at if you're just driving by, but spend some time wandering around sections of Columbia Pike and it's hard to miss the sense of authenticity emanating from the area's independently-owned businesses and their proprietors. Whether that will remain as the area begins to grow and modernize is uncertain, but those involved in the planning process—as well as many of the folks who currently live on or near the Pike—sure hope so.
Amanda Abrams is a Washington, DC-based journalist who has written feature stories for The Washington Post, Christian Science Monitor, and Washington City Paper.
Zip Code: 22204
Schools: Abington, Barcroft, Henry and Randolph elementary schools; Gunston and Thomas Jefferson middle schools; Wakefield High School
Columbia Pike real estate data from Redfin
Columbia Pike rental listings from Craigslist
This article originally published at https://dc.urbanturf.com/articles/blog/columbia_pike_arlingtons_neglected_stepchild_is_getting_a_makeover/3346.
DC Real Estate Guides
Short guides to navigating the DC-area real estate market
We've collected all our helpful guides for buying, selling and renting in and around Washington, DC in one place. Start browsing below!
First-Timer Primers
Intro guides for first-time home buyers