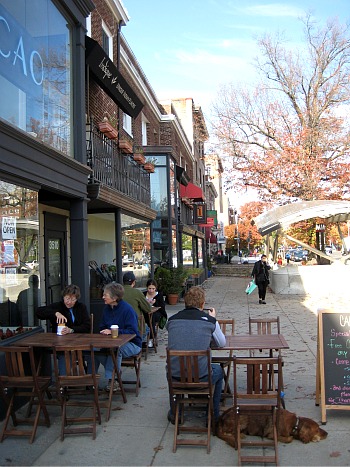 Connecticut Avenue in Cleveland Park
2009 wasn't a great year for Cleveland Park. The tony Northwest neighborhood appeared to be swiftly headed downhill: retailers were closing up shop along one of the area's main commercial corridors at an alarming rate, deliberations on renovating a 1950s-era grocery store drew out endlessly, and bickering between opposing camps in the Cleveland Park Citizens' Association was fast turning into outright war. However, one year can indeed make a difference and the area now seems to be turning around. With a new head of the citizens' association whose priority is reuniting the community and a new business association covering the strip of shops along Connecticut Avenue, Cleveland Park is on its way to reclaiming its reputation as one of DC's most sought-after neighborhoods to live in.
Once a Summertime Suburb
Cleveland Park straddles Connecticut Avenue and is bounded by Rock Creek Park to the east; Tilden and Upton Streets to the north; 37th Street, Wisconsin Avenue, and 34th Street to the west; and Woodley Road and the southern border of the Washington International School to the south.
Like Woodley Park, its neighbor to the south, hilly Cleveland Park tends to be a bit breezier than central DC, and the neighborhood started out as the site of summer homes for well-to-do folks like President Grover Cleveland, who gave the area its name, and Gardiner Greene Hubbard, the first president of the National Geographic Society.
Not Just Huge Homes
Lining the neighborhood streets that run between Connecticut and Wisconsin Avenues are large, detached homes in a variety of styles: bungalows, colonial revivals, mission revivals, and tudors. Many have wide porches, decent-sized yards, and driveways.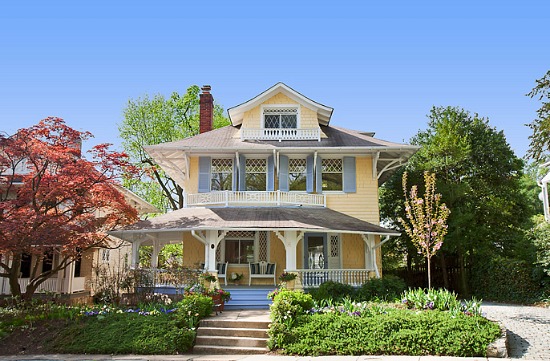 Home on the market on Highland Place
"Cleveland Park has some of the most gorgeous and expensive homes in the city," said Pamela Wye, a real estate agent with W.C. & A.N. Miller, a Long and Foster company. In contrast to the large homes on the neighborhood's interior, Connecticut and Wisconsin Avenues are lined with apartment, condo, and co-op buildings. Many were built in the 1940s or earlier, rising to only three or four stories. The larger buildings, meanwhile, were built around the 1960s.
An Active and Well-Heeled Population
Cleveland Park's residents tend to be at the higher end of the income spectrum, and a very active lot. The Washington City Paper recently reported that the neighborhood's branch library is the busiest in the city, and the community listserv (which features an advice columnist) is one of the largest listservs in the country with over 10,000 members. However, it's hard to generalize who lives in the area. "It's folks who do a bunch of different things," said Josh Wachs, the chief strategy officer at a nonprofit organization who moved to the neighborhood a year ago. "There are people who've been here a long time and already raised their kids, and then there are younger folks who are just starting their families."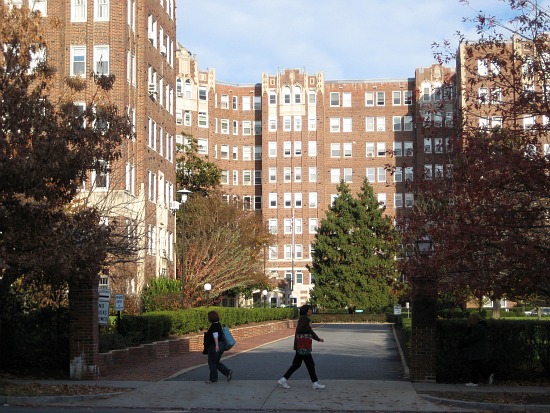 A large residential building along Connecticut Avenue
But Pam Wye noted that the neighborhood isn't very affordable for young couples, pointing to the high price point for single-family homes near Connecticut Avenue. She said that many of the neighborhood's younger families live in condo complexes like Ordway Gardens, which includes two, three, and even some four-bedroom units.
Ideal Family City Living
"It's a great neighborhood to raise kids because you have the best of both worlds," Josh Wachs said of Cleveland Park. "You can have a house with a yard near the best playground in the city—Macomb Street Playground—and yet you're still close to downtown." The neighborhood also has a number of public green spaces, like the Tregaron Conservancy and the neighborhood is surrounded by good schools both public (Oyster Bilingual, John Eaton Elementary) and private (Washington International, Maret, Sidwell Friends).
You Can't Buck The Laws of Supply And Demand
As indicated above, the single-family homes in Cleveland Park don't run cheap. And it's not just because they're large and lovely; the turnover is pretty low, which boosts value even more. Currently, for example, there are roughly ten single-family homes in Cleveland Park on the market. The average price for a three-bedroom home is $829,000; a four-bedroom is only slightly more expensive at $856,667.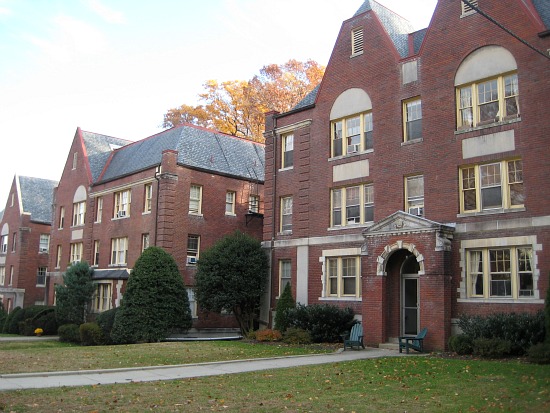 Coops along Porter Street
Condos and co-ops are more readily available: right now approximately 25 units are for sale. The average price of a one-bedroom is $312,744; two-bedroom units average $424,483; and three-bedrooms and up, $553,250. Rentals don't come cheap, either. The neighborhood's lack of row houses means that D.C.'s inexpensive standby, the basement apartment, isn't readily available. So most apartments are in large, multi-unit buildings. Rents for one-bedrooms average roughly $1,500 to $2,000 per month and two-bedrooms average between $2,200 and $3,000.
Cleveland Park's Challenge And the Neighborhood's Response
One of Cleveland Park's big draws has always been its commercial areas, particularly the dense strip of shops and restaurants along Connecticut Avenue. Back when many of DC's neighborhoods had little to offer in the way of amenities, Cleveland Park was viewed as a kind of quaint small town in the middle of the big city, with a variety of services available within walking distance. As Cleveland Park's business owners grew complacent, the city changed. These days, DC is home to a variety of dynamic, walkable neighborhoods, with hip new establishments popping up virtually every week. In contrast, Cleveland Park's offerings didn't seem so exciting—and gradually, commercial tenants found themselves unable to pay the area's high rents. Last year, both neighborhood staples (locally-owned grocer Magruder's) and national chains (Starbucks, 7-11) closed their doors along Connecticut Avenue.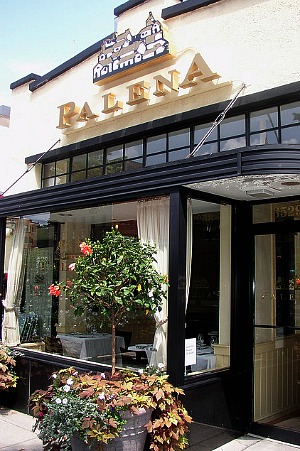 Palena
However, last year's commercial crisis is already beginning to fade away. Chalk that up in part to the efforts of Susie Taylor, the new president of the Cleveland Park Citizens Association. Taylor is determined to bring residents back together—both those who are hoping the area will grow and change, as well as the ones who'd like it to stay pretty much as it is—and to burnish the neighborhood's assets at the same time. "The philosophy behind what we're discussing is that the area has to give itself an identity—we need to brand ourselves," she explained. Taylor has organized a coalition of stakeholders focused on Connecticut Avenue in order to discuss the much-publicized vacancy issue. In addition, major streetscape improvements to the Connecticut Avenue commercial district are planned, including new streetlights, metal banners, benches, and a mid-block crosswalk—all part of a $1.5 million grant from the District Department of Transportation that was written with community input. The area is already looking better. Vacancies are down, and new restaurants like Ripple, with a lounge-y vibe and extensive wine list are drawing visitors from outside the neighborhood. Longtime favorites like Palena, a restaurant that is a fixture on DC's best restaurant lists and the modern-American Ardeo, which is upgrading its digs, are still drawing patrons. And of course, the marquee of the iconic Uptown movie theater still lights up the block and draws big crowds for blockbuster movies.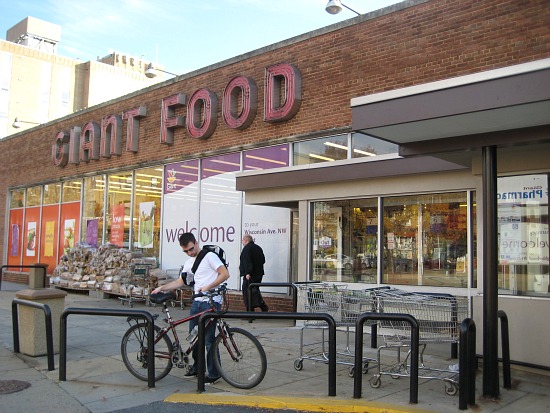 The controversial Giant.
The commercial area of Cleveland Park on Wisconsin Avenue is smaller than its cousin on Connecticut, but it features a few beloved restaurants, most notably Two Amys, perhaps DC's most popular restaurant dedicated to pizza. However, this section of the neighborhood is also home to a controversy-inducing supermarket. The renovation of the outdated Giant grocery store on Wisconsin Avenue is at the heart of a bitter debate that started on the neighborhood listserv and ballooned into a lawsuit filed by a small group of neighborhood citizens who believe that the new Giant will cause traffic and parking issues. How this divisive issue will be resolved remains quite uncertain.
In the Heart of Northwest
Cleveland Park is almost in the exact center of northwest DC. The neighborhood has a Metro station on the Red Line and is served by several bus lines, including the D32, H2, H3, H4, L1, L2, and L4. Parking isn't particularly difficult along the neighborhood's more residential blocks, but closer to Connecticut and Wisconsin Avenues, residents do have trouble finding spots from time to time.
Suburb Safety
The Cleveland Park residents that UrbanTurf spoke with reported feeling very safe in their neighborhood, and DCPD crime statistics back up that feeling. Only one violent crime occurred in Cleveland Park over the past year, and the number of property crimes was roughly one-tenth of those that occurred in a comparably-sized area in Dupont Circle.
The Bottom Line
Cleveland Park has long been viewed as one of those ideal Washington neighborhoods where residents who can afford to live there buy into a lifestyle that includes cosmopolitan neighbors, great schools, and beautiful homes. For a long time, that package also included cute business districts offering a range of amenities, but these days, the allure of competing commercial areas is forcing Cleveland Park business owners to up their game and become a little more sophisticated. It looks like they're up for the challenge, which should benefit everyone, neighborhood residents and visitors alike. Amanda Abrams is a Washington, DC-based journalist who has written feature stories for The Washington Post, Christian Science Monitor, and Washington City Paper.
More Info on Cleveland Park
Zip code: 20016
Schools: John Eaton Elementary School, Alice Deal Junior High School and Woodrow Wilson Senior High School
Cleveland Park real estate data and profile from Redfin
Cleveland Park rental listings from Craigslist
This article originally published at https://dc.urbanturf.com/articles/blog/cleveland_park_coming_back_after_a_rough_year/2704.
DC Real Estate Guides
Short guides to navigating the DC-area real estate market
We've collected all our helpful guides for buying, selling and renting in and around Washington, DC in one place. Start browsing below!
First-Timer Primers
Intro guides for first-time home buyers